Sweet Baker's Kitchen™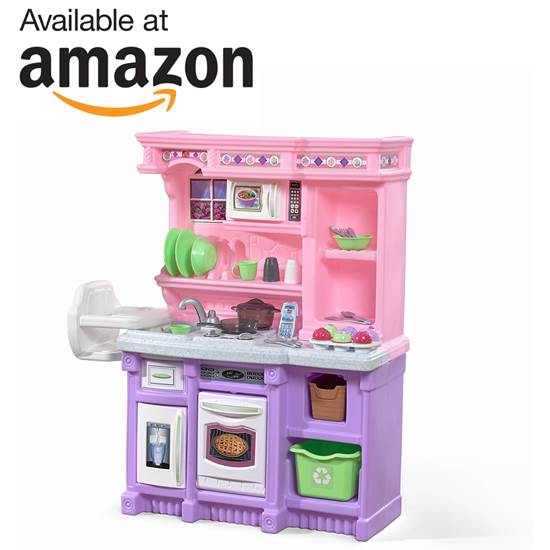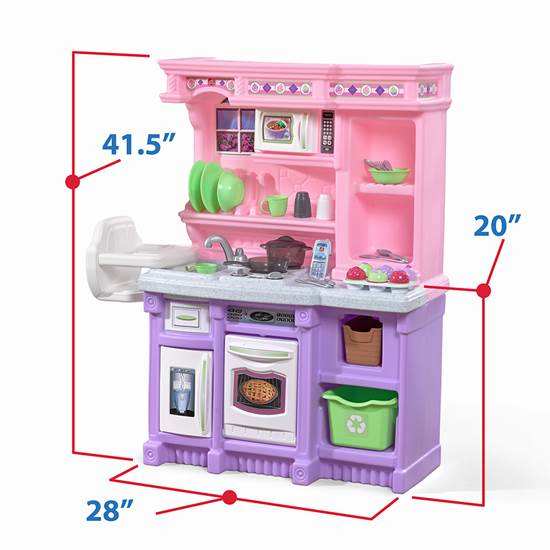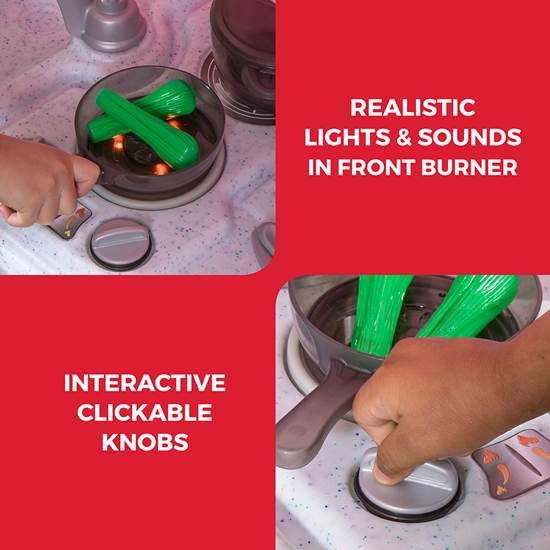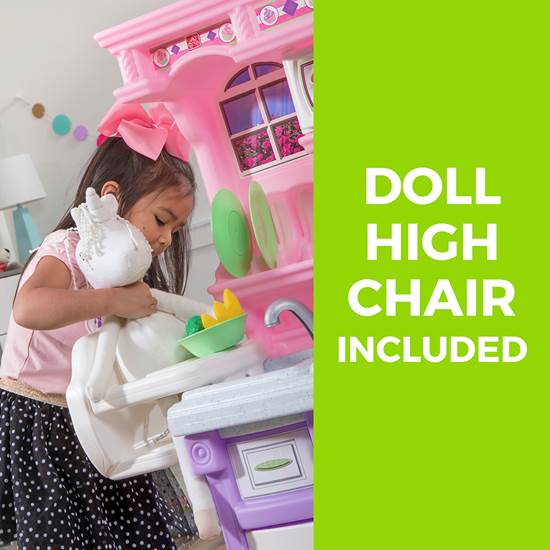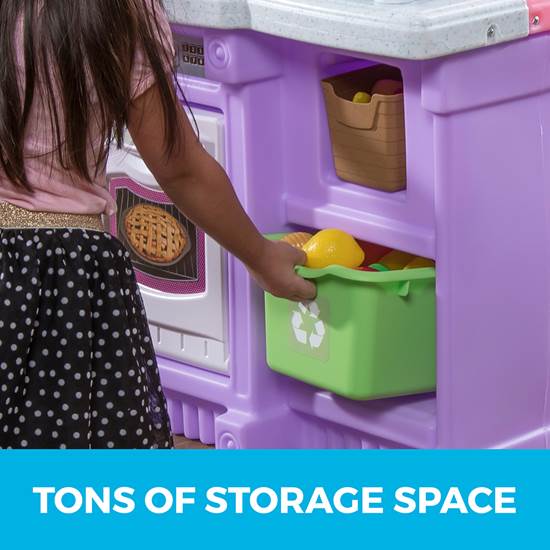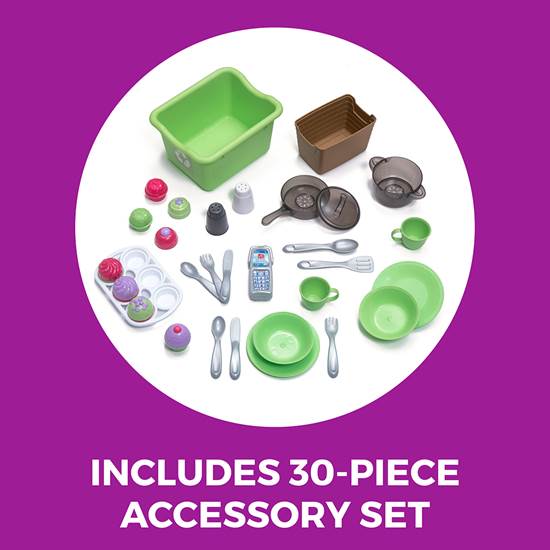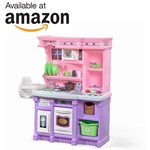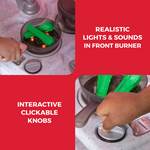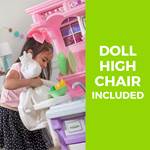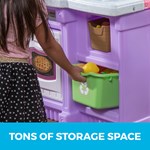 Sweet Baker's Kitchen™
Little pastry chefs will enjoy hours of pretend play fun with the Step2 Sweet Baker's Kitchen™.
IS THIS A GIFT? DON'T SPOIL THE SURPRISE!
This item ships with an image of the product on its outer packaging.
Rated 4 out of 5
by
GracesGum
from
Step 2 Does it Again!
I purchased this kitchen for my granddaughter's second birthday, and all I can say is: Step2 does it again by providing quality OHIO MADE products at exceptional value. The attached highchair was what made me chose this model over countless others on the market. She loves the light and sound from the stove! This product is unique in that older children can play with it as well, although I'm not sure how practical the colors will be if she receives a baby brother one day!Yes, the assembly was a pain in the butt, but I figure this is simply my payback for everything my own father had to put together in the 60s and 70s for my brothers and myself.Buy Ohio!
Date published: 2015-08-30
Rated 5 out of 5
by
Anonymous
from
LOVE, LOVE, LOVE!
I purchased 2 of these Little Baker's Kitchens for my 2 granddaughters, and they could not have been better! They take a little time to put together and put the decals on, but well worth the little effort! Everything is very sturdy and so cute! The girl's went right to playing and were very excited! I topped it off with little aprons and food for the girl's. The order process was fast and the shipping was even faster right to the door! I would definitely purchase these again and will definitely recommend the "Little Baker's Kitchen" to my friends. Thank You to Step 2 for making our Christmas "Bright"!
Date published: 2017-01-11
Rated 4 out of 5
by
Gramma
from
Perfect!
This kitchen is everything I hoped for and more! My granddaughter ignored all the presents under the tree because she was so busy 'cooking'! Four stars instead of 5 because it was very difficult to put together. My son said the instructions were not very helpful, and he had difficulty even using a pistol drill - no way a screwdriver would have gotten the job done. But, once together, it's fabulous! A great size - not too small for an almost-3-year-old, and not so big it takes over the whole room. The accessories that it comes with make it ready to play with without added expense - and the cupcakes were a great hit! Overall, very pleased.
Date published: 2020-12-27
Rated 3 out of 5
by
Koko
from
A little difficult to assemble
I bought for my 8 year old daughter for Christmas. She is very happy with it. Things are very durable. Children will have no complaint about it.I would like to give parents a head up for assembling.I decided to assemble before Christmas so it would be ready to use in the morning. I am very glad that I came up this idea. You need to secure the parts with some screws but there are no holes for them. You have to poke screws into very sturdy plastic. I was sweating and took about 30 - 40 minutes to get things together. Get your awl and candle/match ready before you start. They will be helpful.
Date published: 2014-12-30
Rated 5 out of 5
by
Anonymous
from
step 2 is an aesome olace to shop!
granddaughter LOVES the product which arrived in time for Christmas at an awesome deal of a price, with free shipping , too!! orher stores online or when i checked physically, priced the same kitchen set for $25 - $40 more than what Step 2 charged me !!!!the colorful product is eye-catching and it is made durably. accessories were great. theservice agent was so helpful and friendly, especially since it was a peak period ar Chrustmas time.i highly recommended you shop at Step 2 and buy this kitchen for you toddler princess.i will definitely purchase more toys from step2.
Date published: 2016-12-29
Rated 3 out of 5
by
AT
from
Alright.
Bought as a gift for my niece,openned it 2 days before her party & there was no instructions or stickers,called lady kept saying you can look instructions up online,yeah yeah I get that,you know how annoying it is looking turning phone on so it'll light up every few seconds to see what goes where,although it's pretty self-explanatory where the screws go,they do not poke the holes in the plastic you have to make them yourself. I do own another step 2 kitchen bought for my daughter 4 years ago,much much better then this one.by all means.
Date published: 2016-06-13
Rated 4 out of 5
by
Anonymous
from
Beautiful, easy to build kitchen!
We bought this kitchen for our 2 year old daughter for Christmas. The colors are great and it was easy to assemble, except you need a power drill for the screws. My daughter was so excited when we were assembling it, but as soon as it was done, she was less interested in playing with it. Her 2 year old cousin though, who came to visit us for the holidays, played with it all the time. She probably needs some time to get used to it and understand how to play with it. Besides that, it's a beautiful kitchen with very nice colors.
Date published: 2015-12-29
Rated 5 out of 5
by
darcy49
from
Great Product!
We purchased this kitchen for my 2 yr. old granddaughter as a Christmas gift. She LOVED it! We actually thought she was going to cry when she saw it. The highchair was the reason I chose it because she loves her babies. It ended up being her favorite gift & she spends hours playing with it.
Date published: 2018-01-04
What is the width including the high chair?
It's 3 feet wide including the high chair 
Date published: 2020-10-17
Can I buy all the accessories seperate ?I have the kitchen only.
Please contact our Consumer Specialist Staff at 1-800-347-8372, Monday through Friday, 8am-5PM Eastern Standard Time for assistance.
Date published: 2021-07-24
Hello, how can I learn the measure of toy, from floor to sink please? It's very important because if it's low she can't use this. Step 2 little bakers kitchen pink and purple  Could you Please answer this 
Looks like 20 inches
Date published: 2019-05-08
Is there a shut off switch for the burner
No, but it only turns on when the little pot is put on it and then it only stays on for about 15 seconds making cute noises. The rest of the time it's off. But I dont think theres a switch to turn it off completely. Youd probably have to just take out the batteries for that.
Date published: 2019-01-06
Do the oven, microwave and fridge door open?
Yes. My granddaughter LOVES this kitchen!
Date published: 2018-03-20
Is this set BPA free?
All Step2 products and accessories are BPA free including the Little Baker's Kitchen™.
Date published: 2018-02-22
We did not get the white/grey sink piece in our box. Does anyone know anything about this issue?
 I was missing the countertop/sink part. I just spoke with customer service. They are  sending the replacement part at no cost. It was super easy to get ordered and should be here  between 7 to 10 business days. Thank you Step 2! Your customer care ladies were very  helpful!
Date published: 2020-07-07
Any idea when this will be back in stock? Even an estimate would be great! Wanted for Christmas but willing to plan for my daughters birthday party January 12! 
Unfortunately, we do not have an ETA as to when the Little Baker's Kitchen™ will be available.
Date published: 2017-12-15