Thomas the Tank Engine™ Up & Down Roller Coaster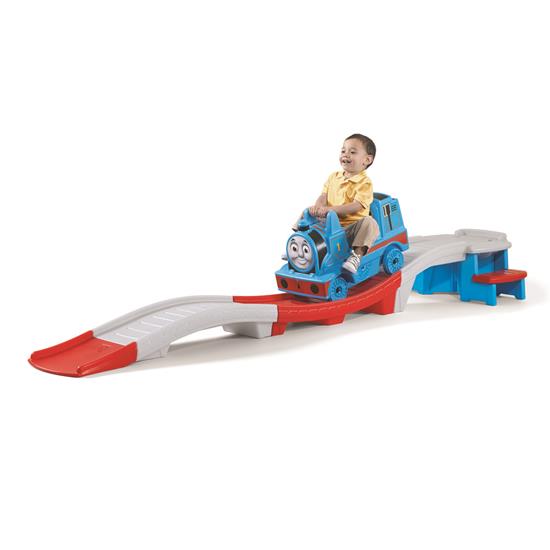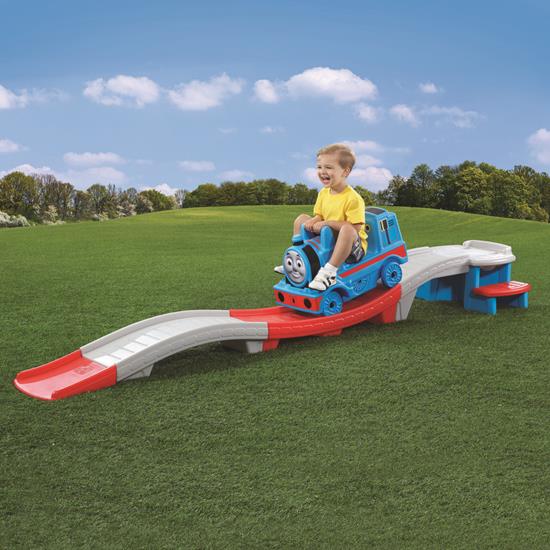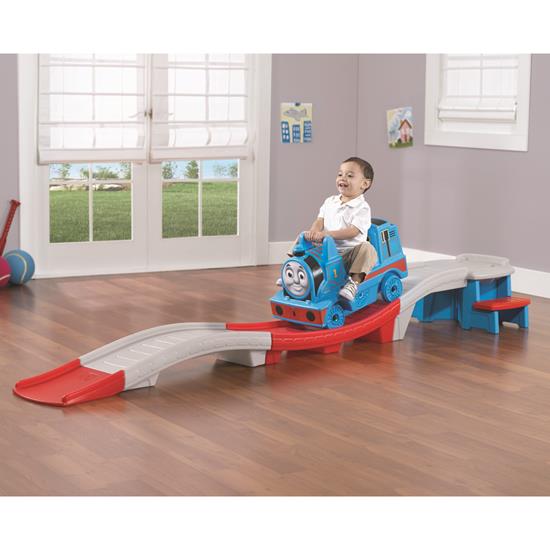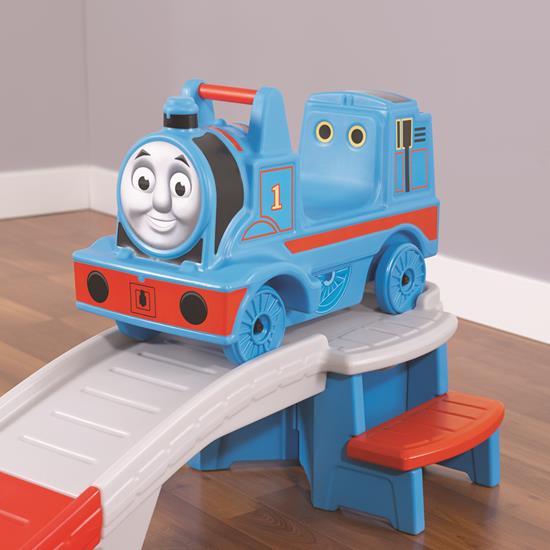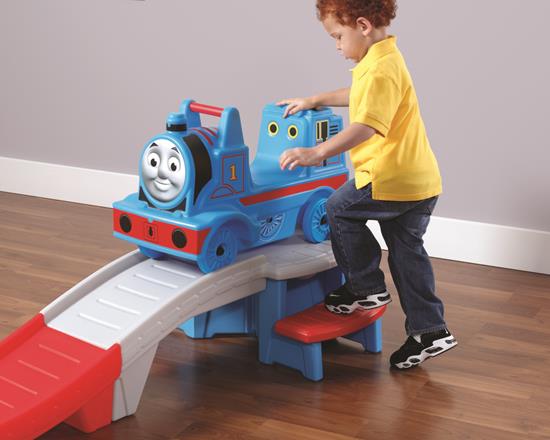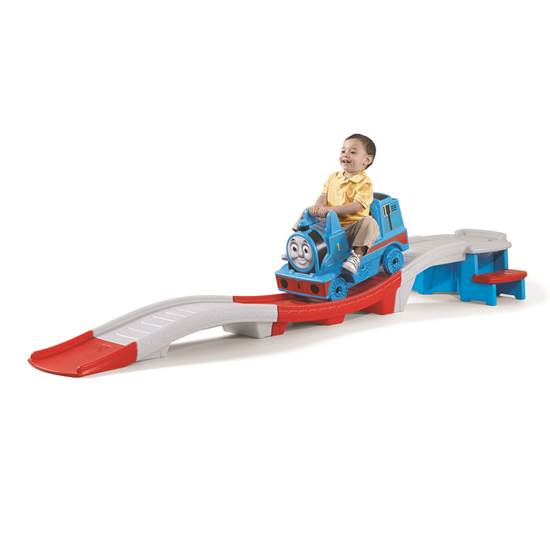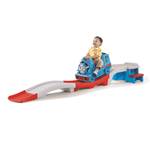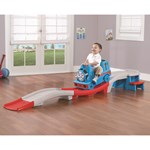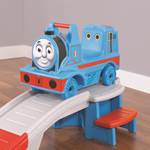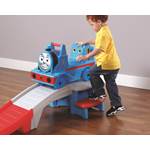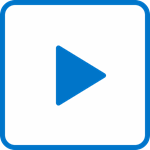 Thomas the Tank Engine™ Up & Down Roller Coaster
In stock
$129.99
+4.99 shipping (via FedEx) When will my item arrive?
All aboard for a fun time with this kids Thomas Roller Coaster by Step2!
IS THIS A GIFT? DON'T SPOIL THE SURPRISE!
This item ships with an image of the product on its outer packaging.
Rated 5 out of 5
by
Syril
from
Would literally buy another one, I love this so much
This was originally a Christmas present for our then 2 year old son and 9 month old daughter. The assembly went very quickly on Christmas Eve, but we have experience with other Step2 products that require assembly. The toy started out indoors for several months due to Pennsylvania's long cold season, then was transferred to the backyard. This toy is so much fun! I have been a passenger as well, purely for safety assurance purposes only. The only downfall is that no matter how much weight we place on it, or what we hit it with, we just can't get the platform flat. When Thomas is ready for launch, he rocks a bit unsteadily. Aside from that, this has been our best purchase yet.
Date published: 2016-05-08
Rated 1 out of 5
by
Anonymous
from
Very upset with this product.
I purchased this train for my two year old grandson for Christmas. This was to set out as his large gift from Santa. It had clearly been a returned train from someone else, pieces missing, tape on the train itself from someone else's home. I have tried to contact Step2 for two days now to no avail. Extreme poor quality control and customer service so far.
Date published: 2016-12-27
Rated 5 out of 5
by
Anonymous
from
Fantastic purchase and customer service!
Excellent customer service! We opened the box a few days before Christmas to put it together (and hide!) and there was a piece missing. We contacted customer service and told them this was supposed to be a gift from Santa. They expedited the part and it arrived on Christmas Eve! Santa pulled through and our kids are in love with it! Highly recommend!!
Date published: 2016-12-27
Rated 5 out of 5
by
Anonymous
from
Stole the show!
The Step 2 Coaster was a last minute decision, but it ended up being the most loved gift. Not only did my 1 year old love it, but my 4 year old loved it as well! They have been playing with it daily too and for hours at a time. They also love the track to "slide" on and my 1 year old loves to just ride the train around too. Plus it was easy and quick to assemble. It also disassembles quickly if one wants to move it to a new location or put it away when not in use. It is very well made. I would highly recommend it to anoyone looking for a great toddler gift.
Date published: 2017-01-04
Rated 5 out of 5
by
Anonymous
from
Perfect for any Thomas fan!
The Thomas the Train Engine Up & Down Roller Coaster was all that I expected it to be and more. It took about 10 minutes to set up the majority of that time was putting stickers on. We use the coaster inside and outside and the kids play on it for hours. It it the perfect size for my 2 year old to use and not be scared, but just as fun for my 6 year old to ride!Thank you to Step2 for letting me test drive this item as part of the Step2 Test Drive Blogger program.
Date published: 2013-08-24
Rated 5 out of 5
by
Anonymous
from
Love this toy
From the first day we unpacked this our girls (ages 1 & 2) loved it. To see them working together to push the little car back up the ramp and ride down is adorable. It brings such a sense of accomplishment and they entertain themselves for long periods of time - bonus for us tired parents! We used it in our basement during the winter and put it on the deck for the summer. It washed up beautifully and didn't fade thus far. We are super happy with this product.
Date published: 2016-02-23
Rated 5 out of 5
by
Anonymous
from
Keeps my 23 month old busy
My boy can use this all by himself. He can get on, thrust forward, and go down the coaster. It was a little frustrating for him the first couple days, because he hadn't discovered he could do it on his own yet. He seems happy with it now, even taking his teddy bear with him or sending some of his other cars down the track.The only con I would say is that it doesn't turn. So, he can't "easily" ride it around the room.
Date published: 2015-01-08
Rated 5 out of 5
by
Anonymous
from
Entertainment for hours!
My son is 2 1/2 and we got this for him for Christmas and he LOVES it! Wants to go again and again; and can do it all by himself (because he's a toddler and of course he can do everything by himself). In his words "I got this".Pretty easy to assemble; thought the bars were missing at first but they are taped under the train. We have it indoors right now but once summer comes we will move it outdoors.
Date published: 2016-12-26
My son received this for this for his birthday. There were no stickers in the packaging. Do I need to buy them or will they be sent to me
Please contact our Consumer Service Specialists at step2-company@step2.net or 1-800-347-8372 Monday through Friday, 8AM -5PM Eastern Standard Time and we will be happy to help you.
Date published: 2019-01-24
How is the train and the track packaged and what size/weight are they? Thanks
Everything is packaged in one large box. It's not that heavy but it is awkward due to the size. There are pictures of the contents on the outside of the box when delivered.
Date published: 2018-12-10
Can you purchase a separate train alone? We received the coaster as a gift but we have twins and would like a second train. 
How can I purchase more track?
Date published: 2018-12-06
Is there a weight limit on this my 4 y.o is about 34 pounds hes in the 1% but growing perfectly for his growth curve. Hes a huge thomas super fan and would love this coaster! Thanks! -AS
The Thomas the Tank Engine™ Up & Down Roller Coaster has a maximum weight limit on the car, it can hold :up to 50 lbs.
Date published: 2018-11-05
Does anyone know where i can buy a new pair of stickers online?
Please view the following link to view the Thomas The Tank Engine™ Up & Down Roller Coaster parts on our website: https://www.step2.com/parts/p/thomas-the-tank-engine-up-down-roller-coaster
Date published: 2018-11-05
Hi there - I'm wondering if it's possible to ship this to New Zealand? I reside in New Hampshire but would like to send it as a gift to my sister in NZ. What would the shipping cost be?
Step2 Direct ships within the Contiguous United States only.
Date published: 2018-06-26
can you add extra track exstentions on thomas train roller coaster
Yes you can purchase extra tracks.
Date published: 2018-03-02
Hi would love to get this for my daughter. Is it possible to ship to New Zealand and if not, whats the best way to get this?? Thanks!
Step2 Direct ships within the Contiguous United States only. Thank you for your interest in Step2 product retailers in New Zealand. Specific products and quantities vary by retail location, please contact Steptino with your specific request. Steptino 3 Moreton Drive Manly 0930 Auckland New Zealand 0274 741640 (p) www.steptino.com (w) sales@steptino.com (e)
Date published: 2018-02-26