Timeless Trends Kitchen™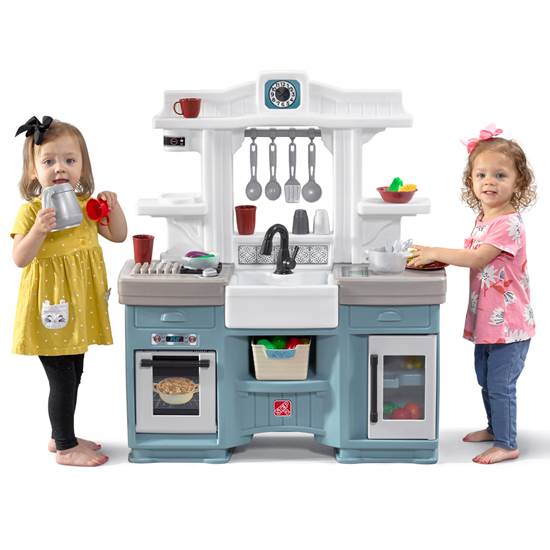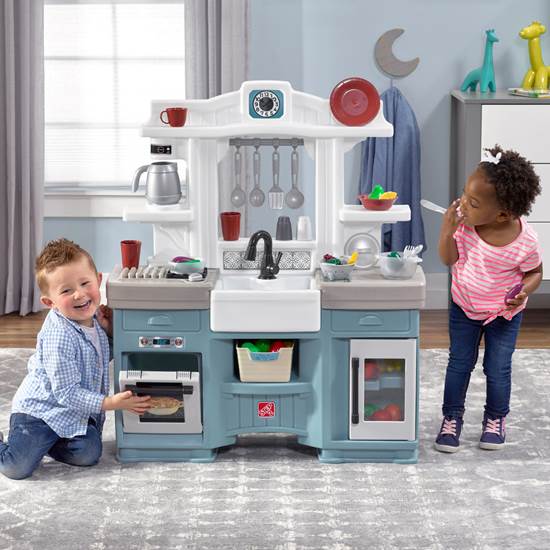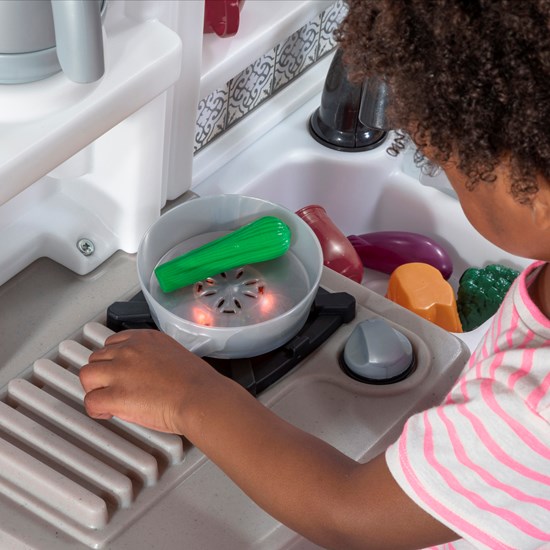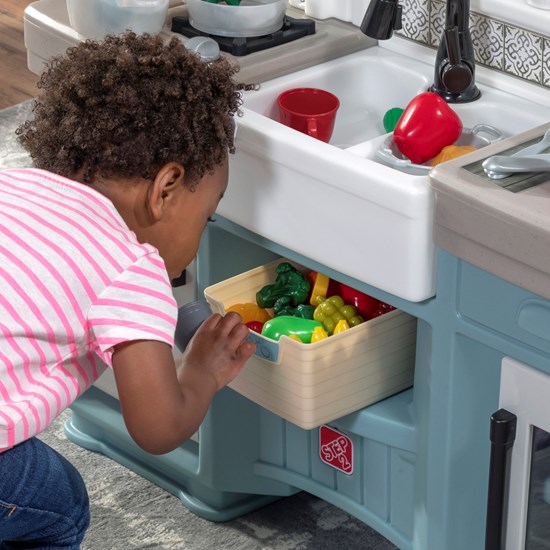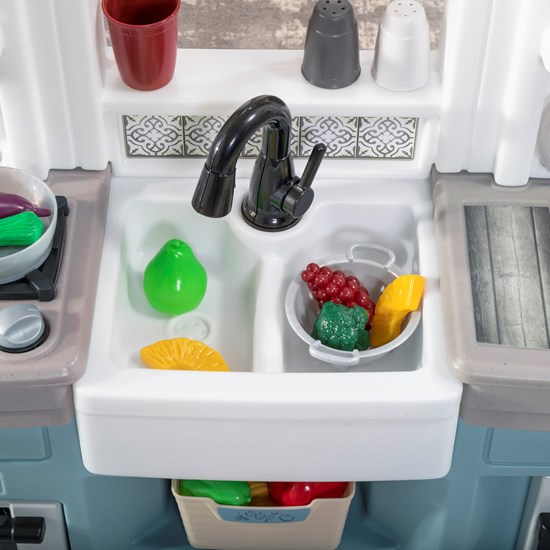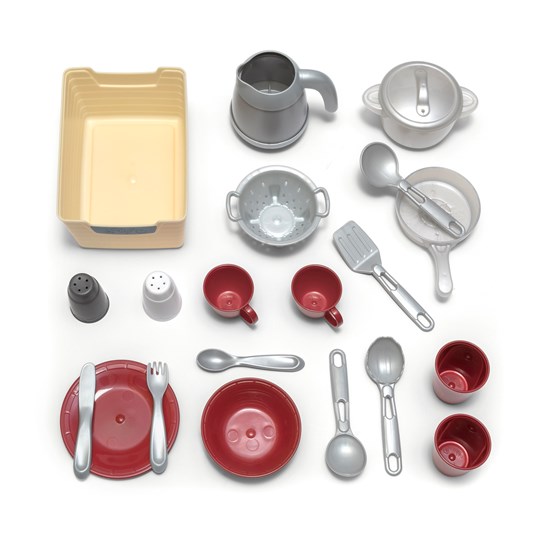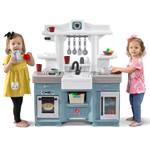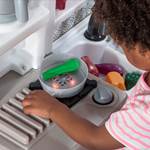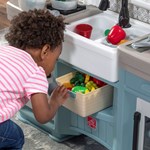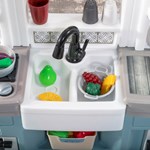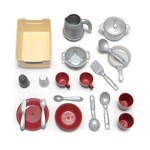 Timeless Trends Kitchen™
IS THIS A GIFT? DON'T SPOIL THE SURPRISE!
This item ships with an image of the product on its outer packaging.
Rated 4 out of 5
by
Jenn
from
We love this kitchen set!
I'm a mom that really appreciates aesthetically pleasing kids toys. This kitchen set exceeded my expectations on its modern design and color scheme. It's so cute it lives in our living room and matches perfectly. The tile design on the sticker backsplash makes me so happy. I put this kitchen set together myself except for making a few of the holes. I had to call on my husband for some more muscle to assist with this so my only complaint is it would have been a much easier to assemble had the holes already been there. My daughter continues to giggle when the burner makes the realistic bubble and sizzle sounds. So far that's her favorite part. She enjoys opening and closing the oven and fridge door and stocking it with the cups, bowls and silverware that it came with. The clock sticker is a nice touch, she really likes to point to the numbers and count. The set itself is very sturdy, easy to clean and very easy to use. Thank you Step2 for letting me test this item as part of the Step2 Toy Tester Program!
Date published: 2020-09-01
Rated 5 out of 5
by
Liisa25
from
Great kitchen!
The Timeless Trends Kitchen is a hit with my 4 year old! He spends hours pretending to cook the family dishes. The kitchen is sturdy and durable. It also comes with cookware and a bin to store them in. Your little ones (and older ones) will love it!!
Date published: 2020-09-10
Rated 5 out of 5
by
Anonymous
from
Awesome Toy!
My son loves his new kitchen! He's 4 years old so this toy is the perfect way for him to use his imagination. The kitchen was easy to assemble, and it came with a bunch of a accessories. I purchased play food at the dollar store to make it complete.
Date published: 2020-08-31
Rated 5 out of 5
by
Shnickerdoodle18
from
Best toy ever
My son absolutely loves this kitchen set. He never plays much with just 1 toy but this has worked. He loves to pretend hes boiling me some eggs or frying me some vegies. The sounds the pots makes is amazing and helps to keep his imagination going.
Date published: 2020-08-26
Rated 5 out of 5
by
DAB2020
from
Love this Kitchen!!
This kitchen has been a wonderful addition to my kids toys! They love playing with it! The sound when you put something in the stove is so realistic! They spend hours playing with it!!!
Date published: 2020-08-26
Rated 5 out of 5
by
Nschuyler28
from
Play Kitchen
this is a really nice play kitchen. My kids love it. They always wanted one and they love playing with with it on daily basis this is really well made. I like how they can pretend.
Date published: 2020-08-13
Rated 5 out of 5
by
AlexisB
from
We LOVE out Timeless Trends Kitchen!!
The Timeless trend kitchen is not only durable but so cute and stylish. We foresee many laughs and memories made in this kitchen.
Date published: 2020-10-27
Rated 4 out of 5
by
Slane
from
Great for Toddlers!
Packaging was perfectly appropriate. The product is durable enough that there does not need to have any excessive Styrofoam or padding falling out on open; it was a perfectly fit puzzle in the box with no damages. The pieces are large and go logically together. Directions were picture driven and very easy to follow. Sticker application was very easy with guided indention's for placement. There are no holes or pilot holes for screws; but there were markings and the pieces easily maneuvered to get all screws in place. By having real screws and the amount gives confidence in the durability and stability of the product. The colors are great; non gender specified, not too muted, not too overwhelming or too many different colors. Food accessories are not included but the other kitchen hardware pieces go well and are enough to fill the product for play. The sounds are playful and an added bonus is the sensor turns itself off so to not sizzle or bubble forever. Our daughter from day one has been able to use her imagination with all the fun pieces and sounds exploring her new kitchen. She's played with it everyday since we've received the product and says "bye-bye kitchen" whenever we must leave the room. Thank you Step2 for letting me test this item as part of the Step2 Toy Tester Program!
Date published: 2020-09-04
Rated 5 out of 5
by
Melinda
from
The perfect size for a 2 1/2 year old!
My 2 ½ year old daughter absolutely loves her Step2 Timeless Trends Kitchen. It keeps her busy for hours while she plays with its many features. She loves cooking on the stove top, with the included pot an frying pan. The burners even light up and make boiling or frying sounds. (The stovetop requires 2AA batteries which were not included.) The refrigerator and included storage basket give her lots of areas to store her play food. She loves baking in her oven and opening/closing the oven door, which pulls down to open just like a real oven. She even makes coffee in the morning with her coffee maker! One of her favorite features and maybe the simplest are the various spoon and spatula hooks located above the sink. I am also a fan of these simple hooks because they make it easy to keep this play kitchen neat and organized when it is not in use. Overall, the appearance of the Step2 Timeless Trends Kitchen is adorable with its modern colors and farmhouse sink. It blends in nicely with our living room that also functions as a play room. The Step2 Timeless Trends Kitchen is very sturdy and well made. I am not a handy person, but I was able to assemble this kitchen by myself. It was fairly easy to assemble and only took me about 40 minutes from start to finish. Some of the holes were not pre-drilled, but the plastic was marked and it was easy for even me to push the screws through the plastic with a screwdriver. Thank you Step2 for letting me test this item as part of the Step2 Toy Tester Program!
Date published: 2020-09-07
What kind of plastic is used for this item and the accessories? Is it all non-toxic? Is it BPA/BPS, Phthalate, PVC, Lead free? 
Step2 products are manufactured from Polyethylene and/or Polypropylene plastics. Step2 products are third party tested and are compliant to the CPSIA phthalate and heavy metal requirements per ASTM F-963 Toy Safety Standards as well as EN71 - Part 2 and 3 for UK chemical requirements.
Date published: 2021-01-19
The coffee pot and fry pan sensor ? What kind of sound ? How can we hear that sound ?