Tool Chest Dresser™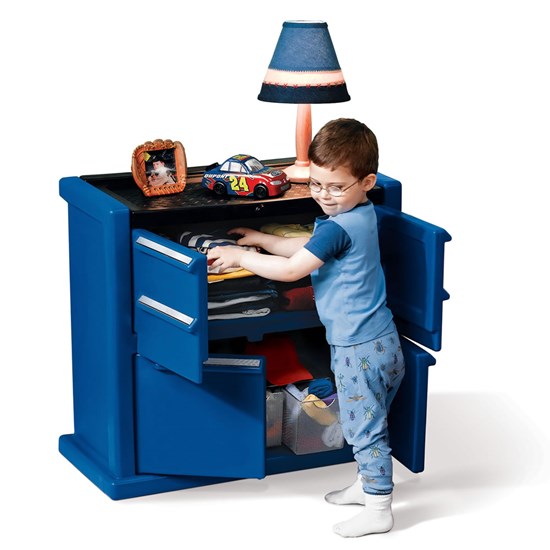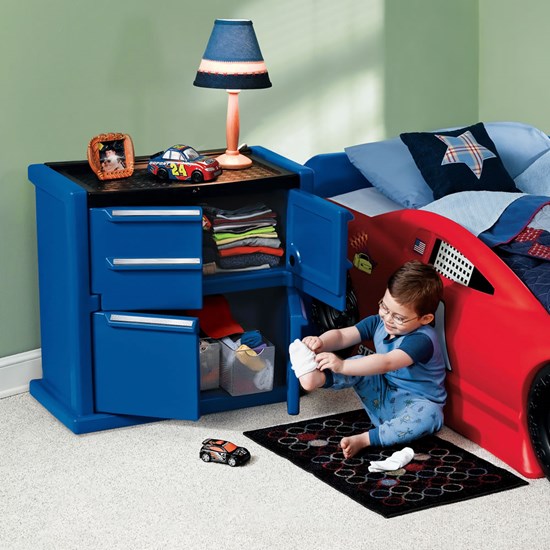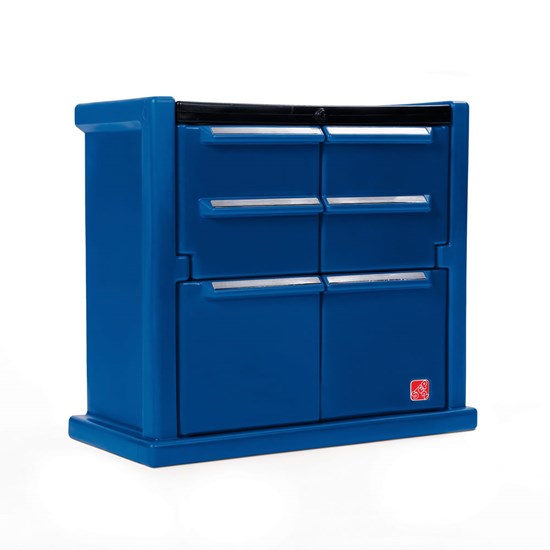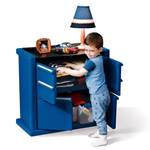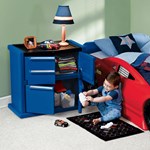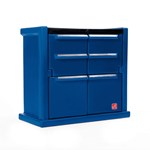 Tool Chest Dresser™
In stock
$104.99
+4.99 shipping (via FedEx) When will my item arrive?
Your little one's bedroom is ready for a tune-up with the Step2 Tool Chest Dresser.
IS THIS A GIFT? DON'T SPOIL THE SURPRISE!
This item ships with an image of the product on its outer packaging.
Rated 4 out of 5
by
Anonymous
from
Cute dresser!
This dresser looks great in my 2 1/2 year old sons Nascar themed bedroom. We also have the racecar bed. The only concern is that the doors are a little difficult for him as well as myself to open. Would suggest a handle or making the grips on the doors curved a little more so you can actually grab onto something to open them. Right now we just leave the doors semi-closed but not fully pushed in so that he is able to open them.
Date published: 2007-10-25
Rated 5 out of 5
by
Anonymous
from
Great gift
I bought this for my son, hes only 27 months old but he loves everything that has to do with cars. He has not yet seen it since its part of his Christmas present. I love that is a heavy duty plastic, we've bought other items with the same material and after one year it still looks new. Easy to assemble other than placing the decals you just need to screw in the wheels that go on the bottom. It's perfect for a little boys room.
Date published: 2008-12-10
Rated 4 out of 5
by
Keithsmommy
from
Great buy for the price!
I use this for my son who is 2 yrs. old. I knew it wasn't going to be big ordering it but I realized how small it was after setting it up. Don't plan on storing a lot of clothes. It is filled to the max. But he loves it and it goes really well with the rest of the room. With a child so young and a race car bed you never want to spend a ton of money on it cause I will be replacing his bed set around five or six again.
Date published: 2008-09-20
Rated 5 out of 5
by
Granmma Val
from
Very cool.
We got this and the stock car bed to go in my 21month old grandson's room. It's his first bed and his first room of his own. He loves his room. The dresser goes great with the bed and is very sturdy. But you need to by some bins because it just has shelves. As is everything by Step 2 -- it's very well made and very durable.
Date published: 2007-10-19
Rated 4 out of 5
by
Creative Mom
from
Perfect for our three year old.
We had a racing car theme for my son's room, and the design fit perfectly. My only wish is that it was a little bigger, so that it could grow with my son as he gets older. Perfect for 2-4 year olds, seems really safe for his age, maybe good for older but I imagine we will need to get more adult furniture in about 2 years.
Date published: 2010-01-13
Rated 5 out of 5
by
Sam's Nana
from
Awesome FUN !!
My four year old grandson is enchanted with it.We bought it as a "dresser-night stand", but since we put it in his room (three day ago)he has already found about a dozen other uses for it.It is his detective cabinet, his tool cabinet...etc..etcWe got it to accent his red race car bed, it all ties in terrific together !!!
Date published: 2007-07-09
Rated 4 out of 5
by
Anonymous
from
PERFECT NIGHTSTAND/ DRESSER...
MY 5 YEAR OLD USES THIS FOR HIS NIGHTSTAND. IT'S GREAT HE PUTS ALL HIS PJ'S, SOCKS, AND UNDIES INSIDE AND HIS LAMP, CLOCK, AND PICTURES OF HIS FAMILY ON TOP. IT'S PERFECT NOT TO BIG NOT TO SMALL. I WISH THE DORS WERE EAISER TO OPEN THE GET STUCK SHUT AND REQUIRE A GOOD TUG TO OPEN IF YOUR LITTLE.
Date published: 2008-01-03
Rated 5 out of 5
by
Anonymous
from
so glad we bought this
This dresser is in our grandkids room at our house and they all love it! There are 7 of them, 4 and under. They can open the doors and put things in and out. I don't have to worry about it falling over on anyone, it is easy to keep clean and looks so great in the room.
Date published: 2007-09-06
suggested bin that will fit on the bottom shelf?
My son put blanket he love it I'm going to buy 2 more
Date published: 2019-08-05
does this blue match up with the blue on the hotwheels bed??
The blue color of the Tool Chest Dresser™ compliments the Hot Wheels™ Toddler-To-Twin Race Car Bed.
Date published: 2018-03-27
do the racecar stickers come separate so i can leave them off so it can be more girly?
The decals come with the dresser but you don't have to stick them on.
Date published: 2018-03-27