Turbocharged Twin Truck Bed™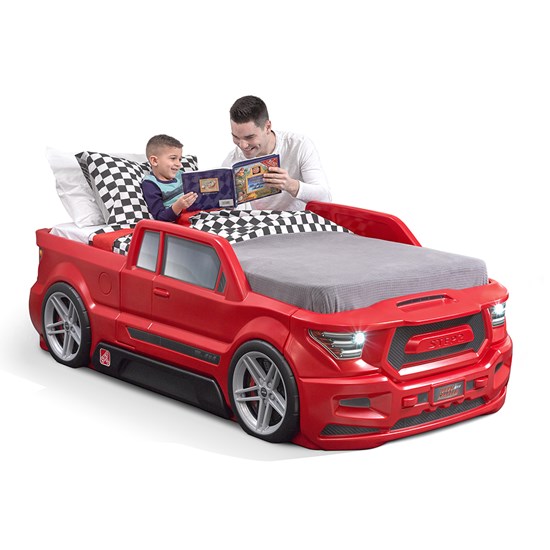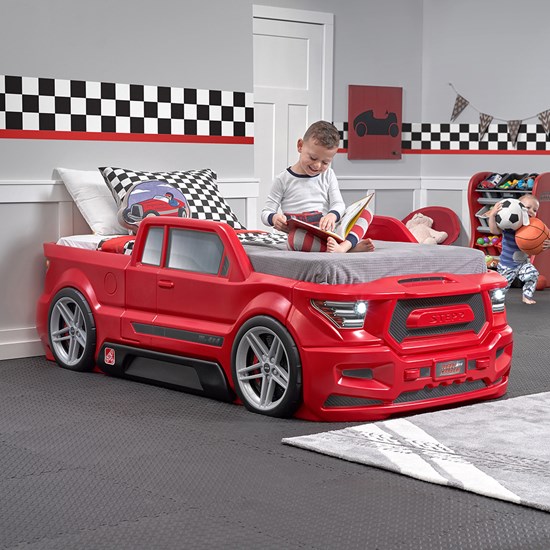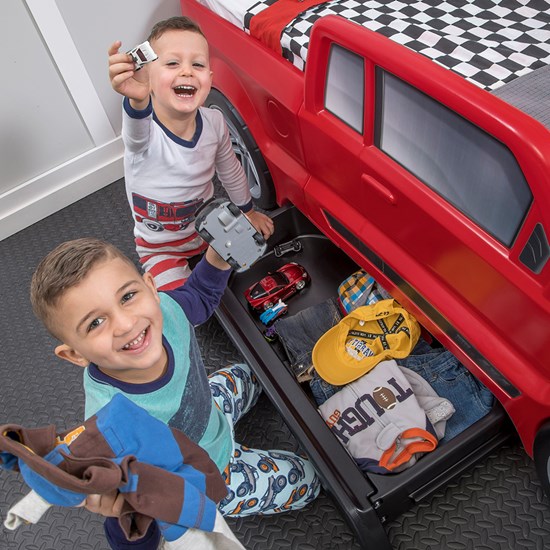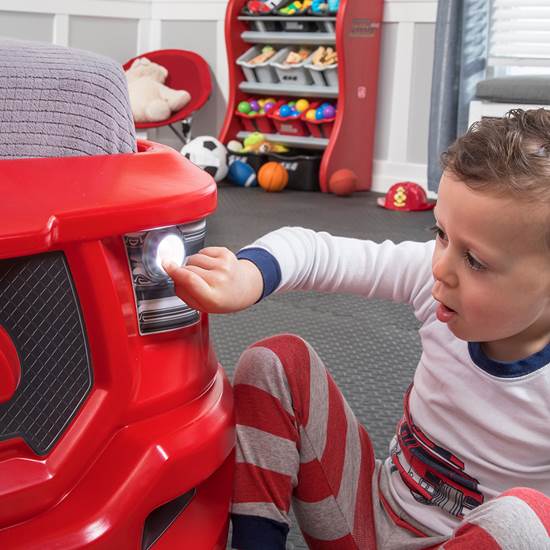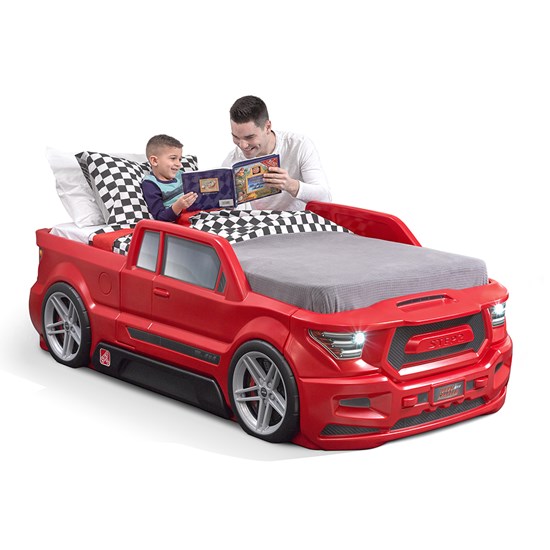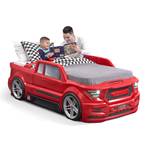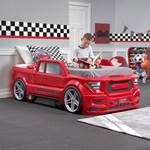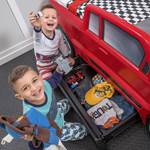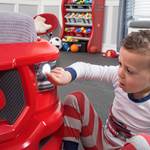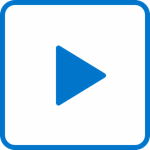 Turbocharged Twin Truck Bed™
Out of stock
$299.99 $279.99
+9.99 shipping (via FedEx)
Get ready to load-up on tons of bedtime fun with The Turbocharged Twin Truck Bed by Step2.
IS THIS A GIFT? DON'T SPOIL THE SURPRISE!
This item ships with an image of the product on its outer packaging.
Rated 5 out of 5
by
Momof3monkies
from
My son has the coolest room in town!
This bed looks so cool! My oldest child is going off to college so we are moving rooms around. My son (5) and middle child (7) shared a room but the middle is moving up to the room my oldest is moving out of. That means he gets his own "Big Boy" room complete with this awesome bed! The quality is great, I even lay in it with him occasionally. It was easy to put together with 2 people! This is definitely a must, it even says so in the instructions. One of the best parts (there are so many) is the storage drawer underneath. We still debate on what to put in it. Pajamas, extra blankets... for now it has bedtime stories in it. The headlights actually light up! They are battery operated so no wires or plugs. Just press the light and it pops on! I would like to share a tip for assembly: Put the stickers on first! Some of the stickers are underneath other parts that are assembled on top. Also note that when getting a mattress you need a boxspring or bunkie board. They were easy to find since it fits a standard twin. Thank you Step2 for letting me test this item as part of the Step2 Toy Tester Program!
Date published: 2018-08-14
Rated 4 out of 5
by
MamaShops
from
Very cute, could be more sturdy
Shipment comes in 3 boxes and we only received 2 of the 3 on the first day of delivery. We received the third box the next evening. Not sure what happened there but once we put it together it's very cool and our little boy loved it. Only concern is there should be more screws to hold it altogether rather than just snapping 2 sides in place. It does not fall apart but being plastic we would like it to feel more sturdy. We used a twin bunkie board and works great. We would recommend this for little kids like our 3 year old. We imagine he will enjoy this bed till he is maybe 9-10 years old.
Date published: 2020-04-19
Rated 4 out of 5
by
LAwoman
from
My son loves this bed
Thank you Step2 for letting me test this item as part of the Step2 Toy Tester Program! The bed parts arrived in three boxes. Directions were clear, though attaching the head and foot of the frame was not indicated in the steps-it was apparent enough how to do it. Easy to put together, adhering the decals probably took the most time. We placed the mattress on a bunky board, it doesn't need a box spring. I like how the truck windows serve as a barrier to prevent the child from rolling out of the bed. Son enjoys putting his blankets in the shallow storage drawer under the bed. It's sturdy and looks nice in his room and isn't overly wide or bulky. I have minor concern that the decals will peel with cleaning, plastic and decals aren't necessarily my aesthetic for furniture, but I was impressed with this bed and, most importantly, my son loves sleeping in it and just hanging out on it with his toys!
Date published: 2018-08-16
Rated 5 out of 5
by
Smosley
from
Great bed for a boy or even a little girl
This is one of the last beds i would of ever thought i would have in my house considering im a mom of 3 girls,but as my youngest has grown and developed her own personality. It has been clear that she is more onto cars amd truck than dolls. This bed was overall easy to put together we used a screw gun after a couple screws because it takes alot of musle. The stickers are pretty easy to put on. My daughters favorite part is by far is the headlights that light up. She wants them on everytime she is in her room. The storage under is a plus too. My only suggestion would be for the bed to be available in different colors such as grey black or even pink. Thank you Step2 for letting me test this item as part of the Step2 Toy Tester Program! This has mad bed time fun for our 3 year old.
Date published: 2018-08-11
Rated 5 out of 5
by
Shawn
from
A Red Truck Just Like Daddy's
"Thank you Step2 for letting me test this item as part of the Step2 Toy Tester Program!" I'd like to first start off by saying Thank You Step2 for allowing our boys to be toy testers for the Red Turbocharged Twin Truck Bed. I feel this Step2 product was constructed with high quality plastic and the bed is so life-like with the overall design and decals. Our boys love it. **If you don't read any other part of this review, please note that they bed requires a separate purchase of a slat system, bunkie board, and twin mattress to be functional. I feel that this is important to note in cases you are setting up the bed AFTER your kids are in bed like we were.** We were able to make do with other pieces in the house in order to surprise our kids, but it's definitely something to note when purchasing this item. The truck bed was shipped through a shipper and we were given a tracking number to track the package and was delivered on scheduled time. The truck bed comes in 3 oversized lightweight boxes that was place on our doorstep, in great shape, not damaged and easy to handle. Pieces were clearly labeled and easy to understand and read. It was great that there weren't any pictures on the box. That way our boys didn't know what was in them. However, the boxes do list the name of the product (FYI- in case you have any readers in your house). The installation directions included clear pictures for reference of the pieces. I feel there really wasn't much detail to the text directions. Directions contained a small blurb or small phrase on each step (repeated in several languages), but I felt there could be a little more detail to what the step was pointing out. I think that they would have been easier to read had the languages been separated more clearly or if there were separate directions for each language. Installation of the bed was fairly easy because it was mainly larger pieces, directions require a screwdriver, but I would highly recommend using a cordless drill with a phillips bit, as it makes assembly so much easier with punching the screws through the plastic as long as you don't overtighten and strip out the plastic. Pieces were constructed of a fairly hard durable plastic that will withstand a beating from your child. The piece edges were very smooth and rounded over. It was basically seamless. I'm very impressed by the great craftsmanship and high quality standards that are set for Step2 employees to construct high quality products for kids to enjoy. Adding the decals for me, since I'm very particular about looking nice and not wrinkled, took a while to place, about 1½ hours . Placement of the decal was a little tough since the plastic area that needed the decal was a little larger than the decal, leaving space around the decal and not easily lined up, so I neatly centered my decals in the given space. Decals looked life like and very durable. If the decal was put on a little crooked or had a wrinkle in it, you could pull it off with care to reposition it. Definitely a good quality decal, it was NOT like the cheap ones from other manufactures that the backing would tear off. Would be great to have pieces come pre labeled, but I understand from a manufacturing stand point, it would be extremely tough to do so and/or they would have to hire someone to hand place decals. Definitely not feasible. After it was all said and done, construction took roughly 4 hours from start to finish and another half hour in the morning to make the bed and have everything set up for the surprise! Enough about the construction, our kids (3 & 6) LOVE the bed! We specifically wanted this because daddy (and everyone at daddy's company) drives red trucks. Our boys point out every red truck on the road and our three-year-old asks if they are daddy. They are SO ecstatic to have something 'just like daddy's' in their room. They are actually EXCITED to go to bed… now only if we can get out three-year-old to stop playing with the LED headlights! Thanks Step2. We are so excited to give our kids the 'ride of their lives' in this truck as they drift off to sleep! We appreciate the opportunity to be toy testers and would welcome any future opportunities to do so.
Date published: 2018-09-05
Rated 5 out of 5
by
Kristinamarie
from
Amazing twin bed!
Thank you Step2 for letting me test this item as part of the Step2 Toy Tester Program! It is the perfect twin bed for our son Coltin. He turned 3 in May and he is pretty big for his age so his toddler bed was becoming cramped. Our son is also special needs so we are greatful for the safety of this bed. I put it together myself in just a few hours but had I of had help it would have went much quicker. The directions were very clear and parts were pretty easy to assemble. I had a little trouble when it was time to screw, but again it would have been easier with someone to help. Coltin really enjoys the lights in the front of his truck bed. He likes to push them on and off, it's a super cute accessory to the bed! Coltin is so much more comfortable in his new bed! We can't thank Step2 enough for such an amazing bed that is not only super cool to look at but absolute great quality.
Date published: 2018-08-16
Rated 5 out of 5
by
4649miranda
from
Epic Kid's Bed
In short, we LOVE this Turbocharged Twin Truck Bed! Assembly: Typical assembly required. It took us just under an hour which included putting on stickers, assembling, and fixing the bed for use. The step-by-step instructions were easy to follow. Bed Features: Really cool bed. Kids love the realistic design, tires, and drawer. I love that the windows double as rail guards to help prevent anyone from falling out. The most popular feature is probably the headlights. They click on and off with a simple push and work great as a night lights. Not too dim and not too bright. Overall Thoughts: I can't think of anything we don't like! While not space-saving, the design is actually slimmer than the previous bunkbeds we had in the room. So the kids love the extra space. Every child that sees this bed wants it. And bedtime is a fun event now. **We'd highly recommend!
Date published: 2018-08-22
Rated 5 out of 5
by
Abby
from
SO.COOL.
This bad is so awesome. My son went nuts and has to show everyone that enters our house. My husband said it was easy to assemble :) I didn't know I would need a frame for below the mattress so that was a bummer (but my fault) and we figured it out. I think the best part is the headlights that detach! Thank you step2 for allowing us to test this bed as part of the toy tester program!!!!
Date published: 2018-08-29
How wide of slats are needed for this bed? I ordered the bed but would also like to order slats for when it comes in. Does if have a lip for them to sit on? Thanks
Yes, there is a ledge for a slat to be installed. Assembly instructions states the size needed for a slat is 38 x 74 1/4 inches.
Date published: 2020-04-06
Where can I get tire rims and decals for step 2 red truck bed
Please contact our Consumer Service Specialists at 1-800-347-8372 Monday through Friday, 8AM -5PM Eastern Standard Time and we will be happy to help you.
Date published: 2019-11-18
Do you need a box spring for this?
Does require a mattress support system as noted in the instructions
Date published: 2019-11-14
By any chance twin xl is available?
The Turbocharged Twin Truck Bed™ is available in the regular twin size only.
Date published: 2019-10-28
I'd like to know the packaging dimensions for shipping, I want to send it a forwarder, thank you.
The Turbocharged Twin Truck Bed™ arrives in three boxes. Please see below for the dimensions : 28.875 x 9.375 x 45.375 inches 16.125 x 22.125 x 46.5 inches 22.25 x 16 x 40.5 inches
Date published: 2019-08-13
We want to purchase this for our grandson but want to check a safety issue that is posted on Walmart's site that says the bed has chemicals in it that may cause cancer or birth defects.  Is It accurate & what are the chemicals?  Its  PROP 65 Warning
The prop 65 warning notice on the Walmart webiste pertains to the state of California which according to that state certain chemicals pose a risk to cancer. In order to sell in that state the warning must be on all products. We cannot sell the product in California unless that statement is shown. The ASTM F963 toy safety standard has been mandatory since 2008. That includes physical, mechanical, chemical and flammability testing. All our toys put into the marketplace must be tested to all the requirements and specifications noted in that standard. Prior to that the standard was voluntary. If our product do not pass any of those requirements they cannot be put into commerce or the marketplace. All Step2 toy or playground products produced and their components whether indoor or outdoor that placed into the marketplace are indeed tested to the flammability requirements of 16 CFR 1500.3©(6)(vi), "Flammability of solid" (16 CFR 1500.44) by a certified independent test lab approved by the CPSC. We have CPSIA certifications of compliance and valid annual test reports for all products which are required to sell product in the marketplace.
Date published: 2019-07-22
How thick of a mattress would be needed ? I wouldn't want it to go overboard but just right on.
Turbocharged Twin Truck Bed™ requires a standard twin mattress: - size: 38 in (96,52 cm) x 74-1/4 in (188,60 cm) x 7 in(17,78 cm
Date published: 2019-06-17
Is the truck bed the same color as the corvette?
The Corvette® Z06 Toddler to Twin Bed is a different shade of red than the Turbocharged Twin Truck Bed™.
Date published: 2019-09-21