Unicorn Rocking Horse™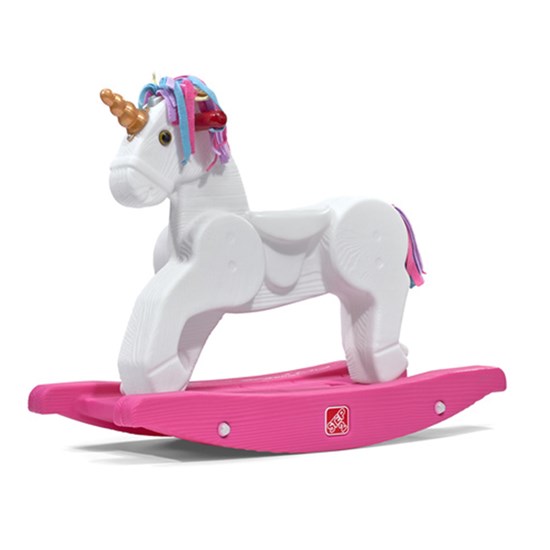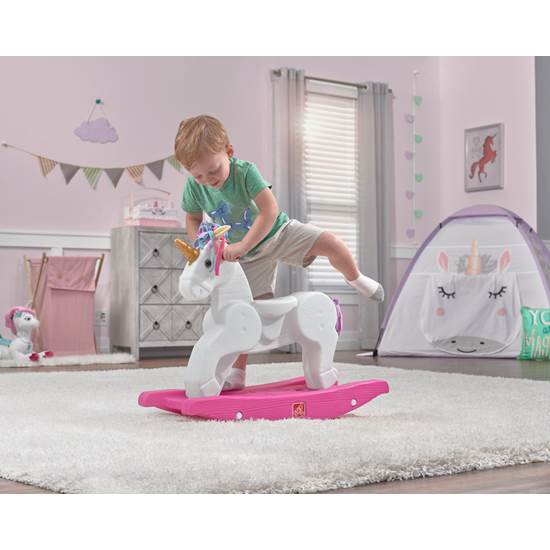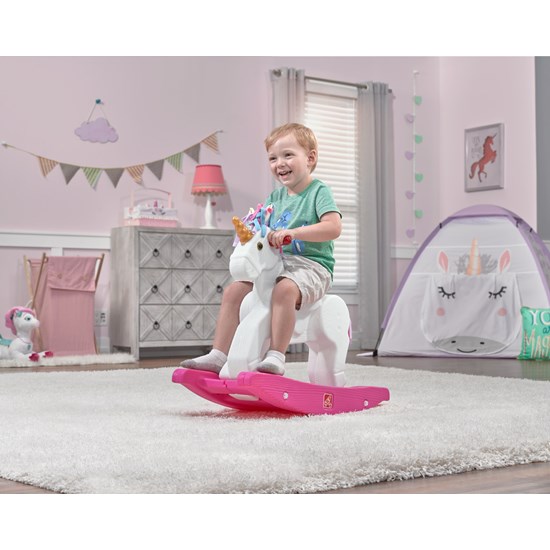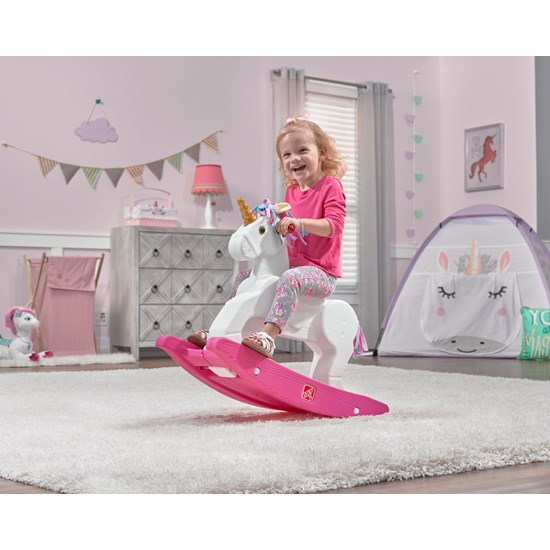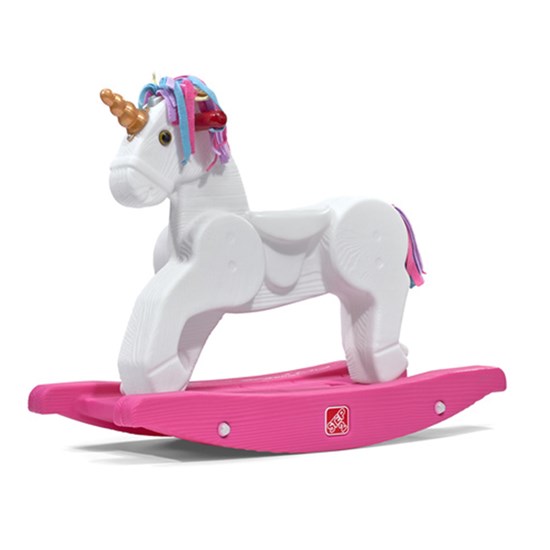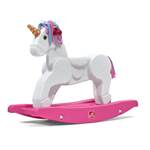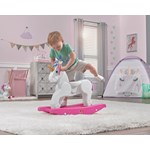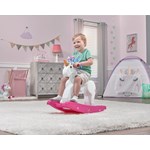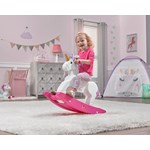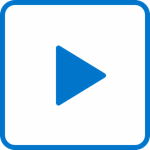 Unicorn Rocking Horse™
In stock
$59.99 $54.99
+$5.99 shipping (via FedEx)
IS THIS A GIFT? DON'T SPOIL THE SURPRISE!
This item ships with an image of the product on its outer packaging.
Rated 5 out of 5
by
Kelc_h
from
Super cute!!
We've had this rocker for almost 2 weeks and my 22 month old loves it!! She likes to copy the neighing sounds it makes when she rides it, and I appreciate that the sound can be turned off easily too. It looks so cute in her room but is light enough that we can easily take it outside in the front or on the porch to let her play outside too. My 6 year old has had a few gos on it as well and we've had no issues with tipping. Very simple to put together. I was able to do it by myself in about 10 minutes while I'm 8 months pregnant with twins. My only complaint is the red rubber handles, wish it was purple or pink to match the rest of the unicorn!
Date published: 2019-09-18
Rated 5 out of 5
by
mariamak
from
We love this rocker!
This rocker is absolutely adorable! It is definitly the cutest plastic rocker out there, which we love because it is so easy to keep clean. My 17 month old and 3 year old daughters love this rocker! Assembly was really easy and straightforward, and only took a few minutes to put together. I love the faux wood look to the Unicorn that gives it a real rocking horse feel. The actual unicorn horn piece is separate from the horse, so it does wiggle a little after assembly. The rocker does make noises when it rocks, which was a pleasant surprise. My girls love the "neighing" and it has a trotting noise and a magical tune. I was surprised it had enough space to fit both of my daughters together, and they had zero issues with tipping. I even had my 5 year old boy give it a ride, and he couldn't tip it with the solid pink base. My daughters also loved the Unicorn hair and colors, and even pretend to "brush" the hair. My honest opinion is that this Unicorn rocker is constructed well and sturdy, I just wish the actual horn was one piece with the horse so it wouldn't wiggle and look more aesthetically pleasing. The colors are great and perfect for any little girl. Overall, this rocker is really cute and most of all fun. Thank you Step2 for letting me test this item as part of the Step2 Toy Tester Program! My girls will continue to have fun with this rocker for years!
Date published: 2019-09-18
Rated 5 out of 5
by
CGranma
from
Awesome Product
AWESOME PRODUCT. As usual for Step 2. This is a great gift. Made very well, easy to assemble, and will light up any toddlers eyes. This was for a 1-year old so a little to tall and not adjustable in height, but we put a stuffed animal on top of the rocker-under the horse for foot placement until she grows into it. But by 1.5 age, Im sure the height will be perfect. I would say water resistent but the maine on the horse is felt-like, so not real sure.
Date published: 2020-05-29
Rated 5 out of 5
by
Anaamariee05
from
Amazing product!
We received this toy about a week ago and it's impossible to get my daughter off of it. From playing on it to always having to sit on it while watching tv, she loves it! My daughter combs the fabric hair and mimics the sound box! The assembly was extremely easy and only took my husband about 2-3 minutes. The pink base on the bottom is extremely sturdy and allows me to let her play on it freely without the worry of it tipping forward or backwards like most rocking horses do. Thank you Step2 for letting me test this item as part of the Step2 Toy Tester Program!
Date published: 2019-09-14
Rated 5 out of 5
by
Jenny2100
from
Awesome product
The unicorn rocker is a big hit in our house! My almost 2 year old daughter loves it! First it's super easy to put together, only takes a few minutes. It has nice pleasant pastel colors. The base its solid so no flipping off of it. It's very well made and sturdy. Easy for my daughter to get on and off. The biggest surprise was it makes neighing noises and has a little tune and trot noise to!!! My daughter just loves rocking on this. Thanks step 2 for a great and fun product!!
Date published: 2019-10-14
Rated 5 out of 5
by
Alex529
from
Cute and Fun!
This is a very cute toy! Assembly was easy (with the exception of trying to hammer the rods into the caps - that was a little tricky, but manageable). The horse seems very sturdy and makes cute horse noises! My 14 month old is still a little short for it, but loves it! And my 2.5 year old loves it more! He will sit and hang out on it often. Not only is it fun, but it's a cute piece for any play room or bedroom!
Date published: 2019-10-03
Rated 5 out of 5
by
Leigh S
from
This toy was an instant hit!
We received this unicorn this week and I've been so pleasantly surprised at how immediately my 17 month old figured out how to get on it and rock herself! She seems super entertained by it and it's a great addition to her back deck toys. She can be a little rowdy for her age and I can tell she's trying to figure out if it can tip over either forwards or backwards - fortunately, the pink base is super solid and doesn't even come close to tipping over. The design and safety seems really great in this sense. I was also pleased that I was able to put the rocker together myself with minimal experience and tools - some of the parts were a little stiff and awkward, but there was no way to mess it up and I was successful in the end. Thank you Step2 for letting me test this item as part of the Step2 Toy Tester Program! We are excited to play with our unicorn for many months and years to come!
Date published: 2019-09-12
Rated 5 out of 5
by
Sarah675
from
So cute!
My 2 year old daughter absolutely loves this unicorn! She is obsessed with unicorns and is so happy she has one she can ride! It's great material perfect for indoor our outdoor use. It was super easy to put together. The rubber on the handle was a little tough, but it's easy if you use soapy water like the directions say. Overall it's perfect and a great fit!
Date published: 2019-09-24
Nothing to attach unicorn horn
Mine came with the horn attached. Perhaps you received a defective one? Maybe try just pushing the horn in until it snaps into place.
Date published: 2020-12-17
What is the age/weight limit on this?
I saw on Amazon that the age was up to 10 and weight was up to 70lbs.
Date published: 2019-12-11
The battery was placed wrong is there a way to take the rocker apart? 
Please contact our Consumer Specialist Staff at 1-800-347-8372, Monday through Friday, 8am-5PM Eastern Standard Time for assistance.
Date published: 2019-11-07
Is there a weight limit on this unicorn rocking horse?