Up & Down Roller Coaster™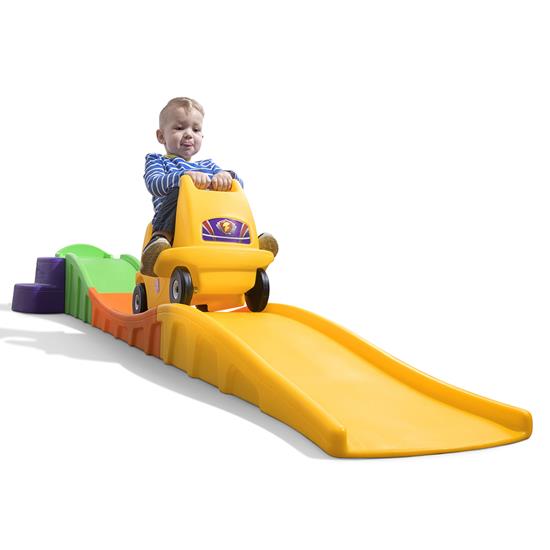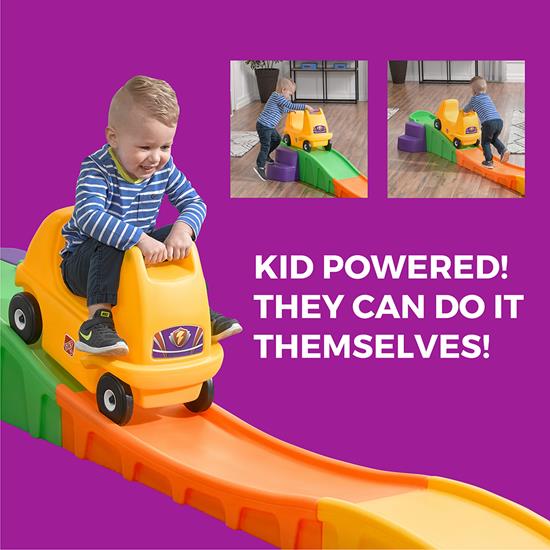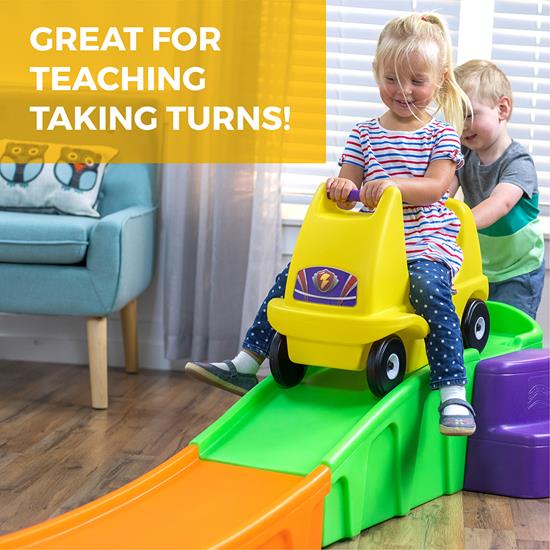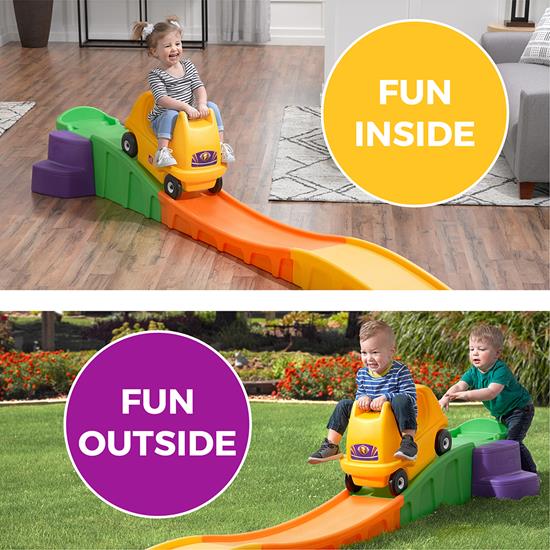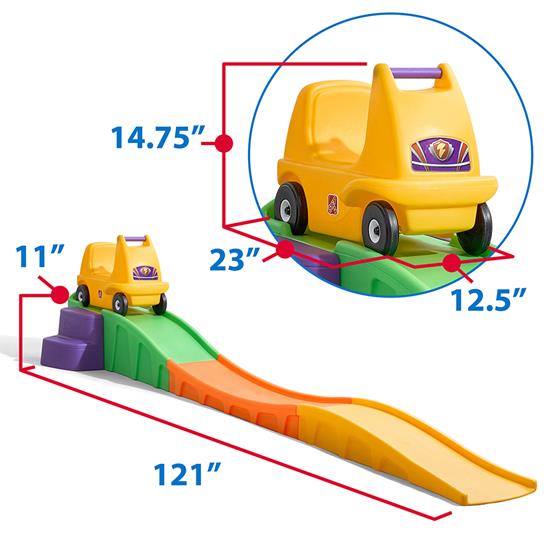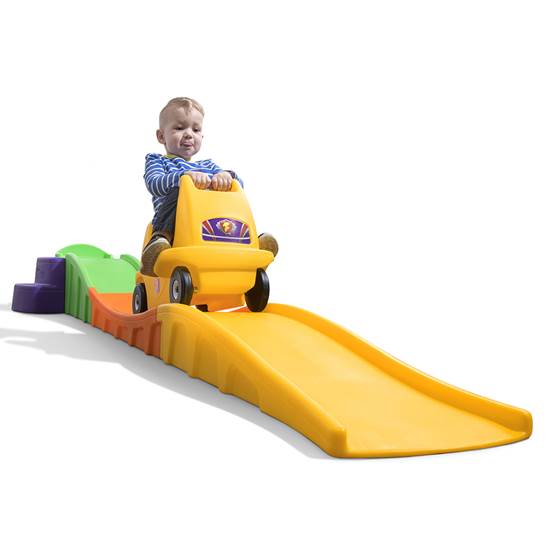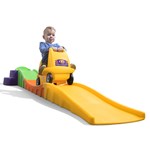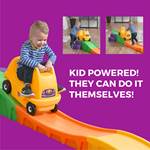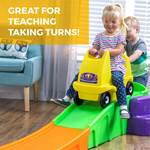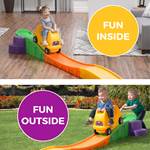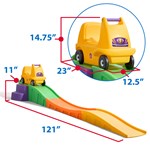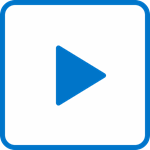 Up & Down Roller Coaster™
In stock
$129.99
+4.99 shipping (via FedEx) When will my item arrive?
This Step2 Roller Coaster is designed for durability and tons of fun.
IS THIS A GIFT? DON'T SPOIL THE SURPRISE!
This item ships with an image of the product on its outer packaging.
Rated 5 out of 5
by
curlylocks1976
from
Awesome!
Awesome roller coaster! We have had this outside for 8 plus years and it has been used year round by more children then we can count! It is still in great shape and is not faded or cracked anywhere! I know what the weight and age limit is and I'll tell you that much, much heavier and older children have used this with no problems! They just hold their legs up and out and go for a ride! We have it going down a slight incline too because the kids are older, but even our three year old uses it like that. Fabulous product! We will be upgrading to the new Extreme Roller Coaster this spring for even more thrills! This one will get passed to a family member for her yard!
Date published: 2009-03-30
Rated 5 out of 5
by
I love spoiling my boys!
from
This coaster IS A MUST BY!
I purchased the extreme coaster first and my 18 month old loved it. So much I deccided to purchase the smaller coaster (Against my wife's wishes) Well my son loves them both and plays with the smaller one more. On the extreme coaster I have to push him off, but on the smaller coaster he pushes himself off and have just as much fun. He runs up and down the both tracks. It's just money well spent. I could not recommend a product more! The set up time is really under 4 minutes! I beleve in and support these products! You can't go wrong. They look like they will last for years! It makes me happy watching my son play. You will smile as much as your children. (BUY THEM BOTH!)
Date published: 2011-04-22
Rated 5 out of 5
by
Anonymous
from
My children love it!
We bought this for our 19 month old son. My eleven year old had it put together in under 5 minutes, and then my nine year old was riding it! The older kids love it.Our 19 month old son loves it too. He pushes the cart up the track, and then he steps down, climbs the little steps, gets on his cart, and off he goes! He is completely independent at using the roller-coaster. We also throw the little cart in the back of our vehicle when we are going to the park, or over to someone's house. Our son loves to ride the cart anywhere, anytime. This is a great toy and have recommended it to others with toddlers.
Date published: 2009-01-04
Rated 5 out of 5
by
MBT
from
Great purchase....great toy!
I bought this roller coaster for my 22 month old grandson's birthday. After receiving the gift, there was no way I could wait a month for his birthday, so I gave it to him 6 weeks early. The look on his face on his first ride was priceless. He learned to ride, then replace the coaster within 10 minutes. I have mine set up indoors, with the end of the track extending on to a long hallway (hardwood floor). He has a blast on this thing! I was also thrilled to see that there was virtually no assembly....you just hook the track and the steps together, which literally takes less then 30 seconds. The "car" comes fully assembled. To date, this is the best toy I've ever purchased!
Date published: 2009-05-03
Rated 5 out of 5
by
Anonymous
from
Fun roller coaster for the little ones!
LOVE, LOVE, LOVE this product!!! Our little one loves this thing as much as he loves his blankie! It is extremely easy to put together and transport if needed! It consists of 6 pieces including the coaster car. I have little 18 month olds to older 9 yr. olds using this thing! Occasionally, you might even find an older aged person using it. :o) Extremely fun and well worth the price, considering that it will be around for years with the durable construction. The only con is that I wish you could purchase a second or third coaster car so that the little ones don't have to wait so long for their next turn.
Date published: 2009-08-12
Rated 5 out of 5
by
Gael
from
Up and Down Roller Coaster
We love this simple, fun roller coaster. I first learned about it in our community center's toddler gym. My kids headed for it every time we went, so I got one for our basement playroom (with the winter rainy season coming on, I thought it would be a good way to get some indoor exercise). It's pretty good exercise, pushing the car back up the roller coaster over and over for the next 'launch'. You do need enough space for the length of the roller coaster plus some 'runway' room after it rolls off. We propped up an exercise matt against the wall where the car rolls to an end as a buffer for stopping. My kids are 2 (boy) and 4 (girl). They seem to be good ages for this product.
Date published: 2010-01-11
Rated 5 out of 5
by
flickos
from
As good as expected
I love the rollercoaster. In previous jobs I have had the roller coaster for my charges, and I knew it would be a great hit. What was really great was the that the woman I spoke to on the phone at step 2, before I ordered it, was really helpful and went out of her way to make sure my email address was correct and checked on availability. it also arrived right in time for christmas, which was perfect. We have the rollercoaster inside, as it's winter, and it runs down the basement hallway, so when I go down to do laundry, my two year old charge is overjoyed to go on down and spend some minutes riding it.
Date published: 2009-01-08
Rated 5 out of 5
by
Anonymous
from
I would buy this product again....
We bought this for our 3 year old grandson because he had played on one at our friends house. He loves it. He could play on it for hours and be happy. He is an active boy and this is a physical play toy that keeps him entertained and laughing. Would recommend it for anyone. The only negative thing I can add is I was worried when I saw how damaged the box was from being shipped, but nothing inside was damaged and everything was there. It was quick and easy to snap together with only five pieces. Our grandson now has a little brother who will hopefully have as much fun playing on it when he is older.
Date published: 2017-04-10
Rated 5 out of 5
by
Mom to Kay&Con
from
Fantastic fun product!
We bought this for our then 13 month and 2.5 year old children. They both love it and 5 mos later, they still do! We keep it inside the house,down the long hallway and just push it aside when not in use. It is much sturdier than it seems. Our son couldnt get on it by himself for a month or two, but now it is no problem. Our daughter loves to push him back up the ramp. There are indentations for the wheels so she cant push him over the back :) The kids love this toy and I have recommended it to everyone I know with small children. It is a stellar price for such a fun, well made toy that will last!
Date published: 2007-04-19
Rated 5 out of 5
by
Anonymous
from
Best money ever spent!
I got this for my 2 yr old and he loves it. He is a typical toddler so its hard to keep his attention on one toy at times but he hasn't stopped playing on it since we got it. I have a 10 month old also who I'm positive will also make good use of it as he gets older since it is made of durable plastic. I have two older children that help him get on and off it and make sure they stand at the end of it. It is safe to use but has a little pick up at the end and it makes it so much fun for him. Overall it is fun, durable, safe and easy to assemble. As usual step 2 has made another quality product. :)
Date published: 2013-02-28
Rated 5 out of 5
by
Adele
from
Big hit with the grandchildren
I bought two - one for each grandchildren household. My 16 month grandchild can push herself off and loves it. Both the 15 month old and the 16 month old love just climbing up the track and sliding down on their behinds/bellies or just riding on the car around the house too. The 4 year old loves it and even enjoys helping the younger ones. It was easy to put together and very sturdy. You do need some straight space and most likely it's best that the space not be carpeted for them to get the longest ride. We set one up over Christmas in the family room and they rode through the kitchen and into the dining room. It was fun just watching them. I highly recommend it if you have the room.
Date published: 2017-01-04
Rated 5 out of 5
by
"Monkey's" mommy
from
Worth every penny
My husband and I bought this for our daughters 2nd birthday/party. When we received it, the weather was horrible for about 3 days, so we decided to set it up in the house. It was extremely easy to assemble (I love that it doesn't take any tools). She loved it! It was so much fun since we couldn't go outside. Once the weather cleared, it was very easy to disassemble and place outside. The "ready, set, go's and wee's" that we get out of her are priceless. Where were these toys when we were young? The roller coaster is lightweight, durable, and mobile. All things you need with toddlers.
Date published: 2009-03-30
Rated 5 out of 5
by
Anonymous
from
It's a BLAST!!
I bought my grandson an Anniversary Step 2 Up and down when he came to visit, he loved it so much I wanted to send it home with him well then i decided to buy him the original when I called the main office in Ohio they were so helpful and pleasant. I also purchased him the Thomas the Train Engine when he comes to visit he will have a new adventure ..I have another grandchild on the way and he or she will love it too!! One of my favorite things about it , it doesn't require charging it runs on kid energy and gravity, he gets plenty of exercise which kids sometimes don't due to tv viewing etc... Thanks for a great product that can be enjoyed for years, and is so well made will last for years too!!
Date published: 2016-11-02
Rated 5 out of 5
by
mommy to one
from
LOVE IT
Bought for our 1 year old as a "grow with me" 1st birthday toy. We didn't expect him to already be able to ride it and hold on well. We can push him and off he goes with the biggest grin and laugh that you have ever seen and heard! Once he can do it himself it will sure be a hit. He likes to crawl to it and push the car with no rider. He also likes to play with just the car or run balls and other cars down the ramp. My 3 year old and 11 year old neices ride it too. There are no problems with the 11 year old although she is too big. What fun the three of them have with it! Get it for sure!
Date published: 2009-03-22
Rated 5 out of 5
by
NewMom29
from
Love it!
My little boy (not quite 2) loves this! We think it is great as well. We get to see the biggest smile on his face when he is flying down the coaster! He also had a friend over who is a little older than him (age 3) and it works great for her as well. Even my 9 year old nephew gave it a try and it worked (as long as he kept his legs up!). Also, it is even better if you can use it on a hard flat surface (like a paved driveway or a large deck) because you get a longer ride than you would on the grass. So, I would highly recommend this.. I am guessing it will be fun for years to come.
Date published: 2010-04-05
Rated 2 out of 5
by
Mom of 2 sweet boys
from
Excitement doesn't last
I was very excited to purchase this toy due to all of the great reviews I read about it, but as of right now I don't know what all the fuss was about. My 2 boys (3 years & 1 1/2 years)got this for Christmas and it was a huge hit - for that one day! We had to push them to make it more exciting as well, since it goes a bit slow for their liking. When we brought it home they didn't really care for it anymore - unless we pushed them which is a little hard on the back after so long. I thought they would enjoy doing it all by their selves, but that wasn't the case. So, for the past 4 months they have just been running up and down it. Now we have it packed away, since it does take up quite a bit of room!
Date published: 2007-04-19
Rated 5 out of 5
by
Tx-gmom
from
Stands up to triple the use!!!
I bought the roller coaster for my 18 month old triplet grandchildren for Christmas '06. They used it inside until just this month when it got warm enough for outside use. They love it, have learned to take turns with it, and have never gotten hurt playing on it. I wish I could buy more track to extend the ride, but I would definitely buy it again, infact, I bought this same roller coaster for my now 12 year old granddaughter who had many years of fun out of it until it was sold in a garage sale....and sold very quickly, I might add. The roller coaster is well worth the money!!
Date published: 2007-04-19
Rated 5 out of 5
by
ms. peabody
from
big hit
My daughter saw this set up in the store and we couldn't get her off it. She got it for Xmas and loved it. ignored everything else xmas morning for 30 minutes. she loves to do a countdown and then ride down the coaster. even more fun is when we build a wall of cardboard for her to smash at the end of the ride. sometimes even her stuffed animals have to ride it. she can push it down and return the car to the start all on her own (<2yo). the only flaws are it is really hard to store such a big item and until the wheels get worn in, it sticks part way down without a push.
Date published: 2010-02-10
Rated 5 out of 5
by
Mimmay
from
Up Down Roller Coaster by Step2
My two year old granddaughter comes to visit every Saturday. Because of my health issues and her age I cannot take her outside.I wanted something to allow her to use up her energy and to entertain her.I have had the Up and down Roller Coaster for three weeks now and she loves it.I was surprised at how fast she learned to get on the roller coaster safely, start it and when she had stopped, how she was able to push it back up and go again and again and again.I just sat there and enjoyed her.It is so easy to assemble and take apart, she brought it home and brings it back with her.
Date published: 2010-01-19
Rated 4 out of 5
by
womanintheshoe
from
Excellent investment
Every year we invest in a large piece of play equipment for our little ones (ages 4, 3, 2, 1 and 1). After seeing how much fun the kids had riding this toy at a play place we decided this was our next purchase. I wish we had bought this years ago for our older and middle kids! The size is just right - perfect for our living room. The range of ages able to use this piece is fabulous. We noticed that the plastic is a bit flimsy but then we are comparing the quality to our older pieces that are much more durable (hence the reason the older pieces have lasted us over 15 years).
Date published: 2013-01-26
Rated 5 out of 5
by
Miss Bob
from
Wonderful Ride
I first saw this when I took my preschool class on a field trip to a pumpkin farm. The farmer had this toy as part of his playground area. The children from our school couldn't wait for their turn to ride this coaster. Our staff of ten has decided to buy several of these toys for our new school's playground because the children loved it so. I purchased this coaster as a present for my grandson's two year old birthday. I gave it to him tonight, and he loved it. I like to purchase Step 2 toys because they are so well made and durable for our class of twenty preschoolers!
Date published: 2013-11-01
Rated 4 out of 5
by
Anonymous
from
My 2 yr old son loves it!
This is a great toy. My son beelined for it as soon as he saw it, jumped on it, and rode it without any troubles. We had it set up in the family room but because of its size and the height of the steps it needs to be in a pretty open area. My son took a tumble off the steps and hit our coffee table even though it was what we thought, quite a distance away. Needless to say we removed the table for the time being. Other than that he has had a blast riding it forwards and backwards. We haven't had it long enough to see if he will get bored with it quickly or not.
Date published: 2007-07-15
Rated 5 out of 5
by
Anonymous
from
BUY IT! BUY IT! BUY IT!
This product was the hit of Christmas- Both of my children (3 and 1) are still playing with it. If I knew it was going to be this great, I would have purchased two. We are definately going to get the larger coaster when ready. Although its a tight fit; we use it indoors until the weather gets better, but it is SOOOOOOO WORTH IT! If you need a "break" to get the dishes done, etc... this product is for you! You will not regret it! My husband was pessimistic due to the size (in our living room), but now loves it. My kids even learned to take turns. WONDERFUL PRODUCT!
Date published: 2008-01-25
Rated 5 out of 5
by
Brunam57
from
My kids LOVE this product
My kids, ages 4, 2 & 2, all love this product! It is easy to assemble and easy for young kids to use. My twins figured out how to do everything themselves within the second hour. The speed of this roller coaster is the perfect balance for fun and safety. The sides of the track are raised to keep the car secure, and there are slots at the top of the track which help the children guide the car back into place. This is definitely a must-have item for your playroom during these cold winter months. I know that my kids will be entertained with this for years!
Date published: 2018-01-04
Rated 5 out of 5
by
Sheesh
from
Best Toy Money Ever Spent!
This may be the toy that has been the biggest hit in our house! I bought this when my son was three and he is now almost nine. It has been played with by my two children (8 and 5)and countless neighborhood children..it still looks spectacular and we have not had ONE prolem with it! We keep it in the basement and the children love it so much I even bought the larger extreme coaster to keep outside. They are both always a big hit whenever any other children come to play...you will get your money's worth and then some out of this fantastic product!
Date published: 2011-02-21
Rated 5 out of 5
by
Anonymous
from
We hit the jackpot with this purchase!
I was having trouble coming up with the perfect gift for my almost 2 year old son. While browsing the internet I found this roller coaster. Since I saw this in action a few years ago at a neighborhood party and knew it was a huge hit with all of the kids I realized I had found the perfect gift. He absolutely LOVES it. His older brother even loves it & after showing him how to do it once he was able to push the coster up and climb aboard & off he went. Over and over again. I couldn't be happier with the Up & Down Roller Coaster.
Date published: 2009-01-02
Rated 5 out of 5
by
Anonymous
from
Fun For everybody!
I just bought this and my grandsons LOVE it. Because the boys are 7 yrs & 21 months it is very hard to come across a toy that interests both of them. The roller coaster was an instant hit. The older one is probably technically too big for it but he's had so much fun that if it shortens the durability..oh well, worth it to me. The little guy also has a blast and is really getting the hang of waiting his turn.Right now it's smack in the middle of the living room and it entertains us adults watching them, so it's a win/win at grandma's house.
Date published: 2013-12-23
Rated 5 out of 5
by
cindy
from
Amazingly durable
I initially bought this for my 4 year old granddaughter to play with at my house six years ago. My 2 year old grandson loved it just as much. After about 3 years, it seemed to just sit in my yard, so I took it to another son for his 6 year old daughter and 2 year old grand who both love it and ride on it. It has been used by 4 kids over the course of 6 years and has always been outside. Yeah, some fading, but it is still as much fun for kids as when I first bought it. Even the now 8 year old grandson rides it when he visits his cousins.
Date published: 2017-10-08
Rated 5 out of 5
by
epattyj
from
Long lasting fun
I bought this for my two year old grandson's birthday and after three years it is still in use and great fun. With the addition of new grandchildren I decided to purchase one for my own yard. The youngest, only a year old, rides it endlessly and my 7 year old granddaughter still finds it fun. I place it near a downhill slope in my yard to extend the fun for her. It is so durable and easy keep clean, store and the color is still vibrant. I take it apart when not in use and just stack the pieces up for neat easy storage. I HIGHLY recommend it!
Date published: 2014-06-12
Rated 5 out of 5
by
elcee234
from
Absolutely love!
I bought this for our 20 month old granddaughter for Christmas and she loves it! I love Step 2 products as it is because they are heavy duty and will last forever, and this roller coaster is very fun for her. I like that she can push the car back up the roller coaster herself, and get back on by herself and ride down again. It is very study and stable so neither she or the car will fall off. It is extremely easy to put together and take apart for storage. I can't wait till she gets older so we can buy the larger version for older kids!
Date published: 2012-12-28
I was wondering what the weight limit was for this? My 2 year old weighs 35 lbs.
mine is  4 yr old & 37lbs and is fine on it. However, if he's on the taller side I'd say don't get it bc the rollercoaster is low to the ground.
Date published: 2019-06-16
can someone tell me how to get ut back in the box for storage?
Please contact our Consumer Specialist Staff at 1-800-347-8372, Monday through Friday, 8am-5PM Eastern Standard Time for assistance.
Date published: 2019-05-06
Do you ship to Israel?
I shipped to Isreal.
Date published: 2019-02-19
Do you ship to the uk and what is the cost 
Step2 Direct ships within the Contiguous United States only. Please view the following link to visit our UK website : https://www.step2uk.com/
Date published: 2019-01-21
Do you do the shipping to South Korea? if yes , how much would it be? Thank you
Step2 ships directly to the Contagious United States Only. Thank you for your interest in Step2 product retailers in Korea. Specific products and quantities vary by retail location, please contact The Gunica Company with your specific request. The Gunica Company 011-82-2-592-0614 (p) 011-82-2-592-0613 (f) www.igunica.com (w) gunica@igunica.com (e)
Date published: 2019-01-16
How much does it cost if i would like to buy just the car for the up and down roller coaster?
Please contact our Consumer Service Specialists at 1-800-347-8372 Monday through Friday, 8AM -5PM Eastern Standard Time and we will be happy to help you.
Date published: 2018-12-03
Ours doesn't glide as well anymore. IS there something I can do to make it glide well again?
Please contact our Consumer Service Specialists at 1-800-347-8372 Monday through Friday, 8AM -5PM Eastern Standard Time and we will be happy to help you.
Date published: 2018-10-23
I'd like to know if Step2 toys are tested and meet ASTM F963-16 /-17, CPSIA standards?
Step2 products are manufactured from Polyethylene and/or Polypropylene plastics. Step2 products are third party tested and are compliant to the CPSIA phthalate and heavy metal requirements per ASTM F-963 Toy Safety Standards as well as EN71 - Part 2 and 3 for UK chemical requirements.
Date published: 2018-10-19