Urban City Kitchen™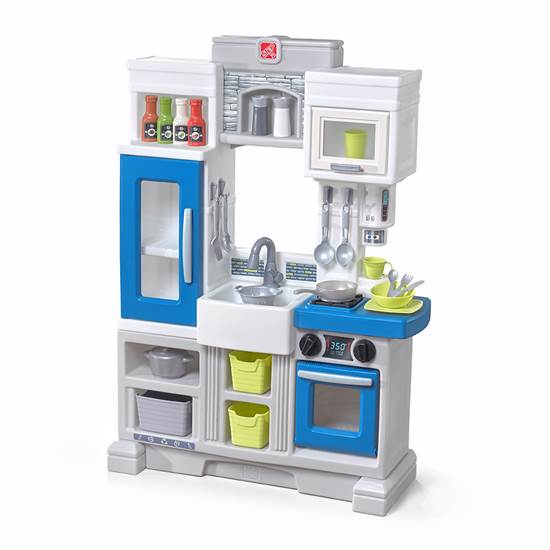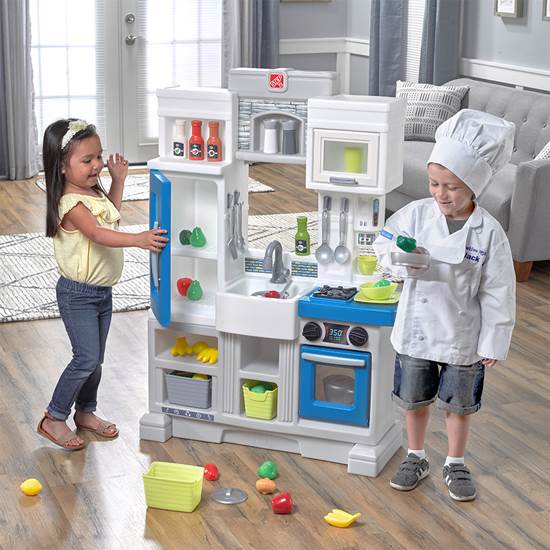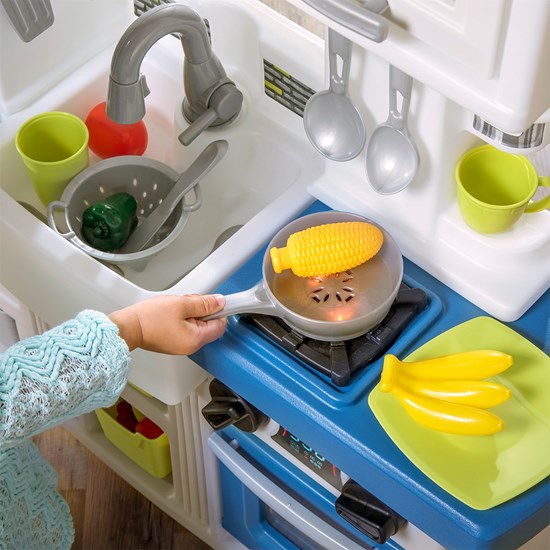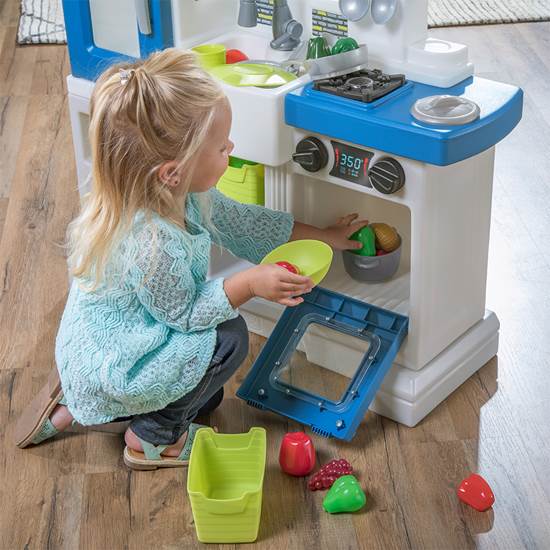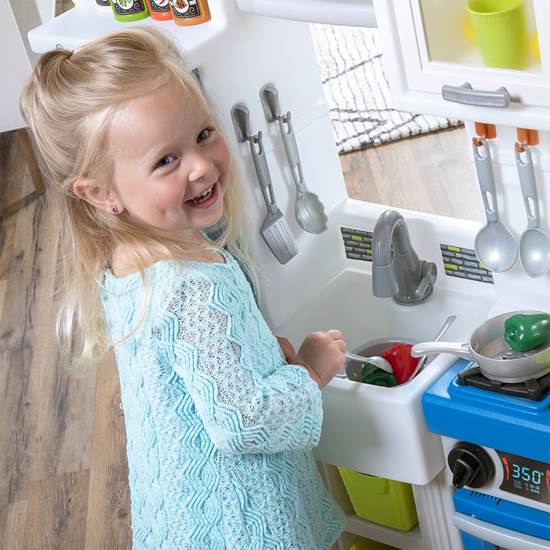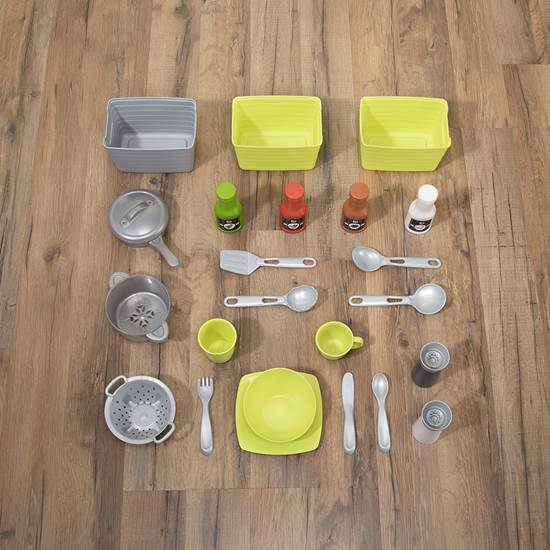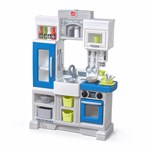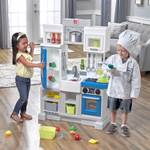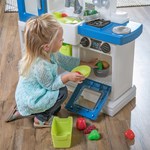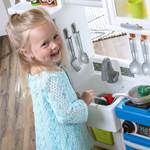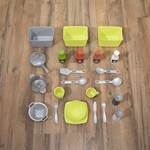 Urban City Kitchen™
Out of stock
$109.99 $99.99
+$12.99 shipping (via FedEx)
IS THIS A GIFT? DON'T SPOIL THE SURPRISE!
This item ships with an image of the product on its outer packaging.
Rated 5 out of 5
by
Jack
from
Amazing Kitchen set!
My son is in love with his new kitchen set. We easily assembled it and put it in our kitchen so he can "cook" right next to me! It's small enough to be out of the way but the perfect size for him to play with. It has all the basic essentials a child would need in their first kitchen and he has been entertained for hours discovering new ways to cook. I especially like the sound the pots make when you put them on the stove, as if they are really cooking! Thank you Step2 for letting me test this item as part of the Step2 Toy Tester Program!
Date published: 2018-09-23
Rated 5 out of 5
by
Ashmarie
from
Great for imagination !
We love this kitchen! This product offers all the features of a kitchen, but in a small compact space, which is great to help not take up an entire wall! From the life like sounds and lights to give the full kitchen experience, multiple storage spots for food, plates, pots and pans. A very sleek look. My son has loved to take orders and create masterpieces for us to eat! His favorite are the condiments, he loves to add pepper sauce & see our reaction to spicy food ha!
Date published: 2018-10-01
Rated 5 out of 5
by
Mariah12
from
GREAT PRODUCT!
This kitchen arrived in one big box. Packaged nice and neat. I was thinking I would need a power drill, but a manual screw driver worked perfectly, per directions. It was a little tough getting the hooks in to hang the cooking utensils. Other then the hooks, assembly was simple and easy. I love the unique and modern look. My children really love the flickering lights and bubbling sounds on the stove. The big sink also adds a great touch. It is very durable with easy open and close refrigerator, oven, etc. This kitchen is a perfect size for an apartment or town-home. It is big enough to have 2 children stand side by side and play. Also it has extra storage for other toy food and dishes. My children are having a blast using their imagination and learning to share/ take turns. Overall this product is excellent and I definitely recommend! Thank you Step2 for letting us test this item as part of the Step2 toy tester program!
Date published: 2018-10-05
Rated 5 out of 5
by
CoRe7
from
The Features Go Above and Beyond!
I'm blown away by the quality of the Step2 Urban City Kitchen! The blue, green, gray, and white colors of the kitchen are extremely eye catching! The features are amazing! My son's really enjoyed cooking on the stovetop that is electronic! The large pot and large frying pan have their own distinct sounds they make when on the stovetop such as a frying sound and the sound of boiling water! I think it's great that it also has an oven, microwave, and a large refrigerator! There's so much to play with! It's perfect for multiple children! I like that the kitchen came with utensils, a plate, a bowl, 2 different cups, a strainer, a large pot, a frying pan, as well as 4 different play sauces! The salt and pepper grinders were a big hit with my son's! It's such a durable and fun kitchen that my son's have played with for hours and hours! Overall we are very satisfied and will be purchasing more Step2 products! It's a company I feel that I can trust! Thank you Step2 for letting me test this item as part of the Step2 Toy Tester Program!
Date published: 2018-10-07
Rated 5 out of 5
by
Teddy
from
Step2 Urban kitchen set it all of that and more!
Let me just tell you how impressed that I am with this new Step2 Urban kitchen set. I was a little worried at first because I didn't know if the kitchen set had made any noise when cooking on the stove like our last one did. But it does and once I saw that I was completely sold. I love how its slim and tall but it still has enough space for two to play. It looks and feels more like a grown up kitchen because if you have kids then you know they get to a certain age when they don't want baby toys so this is perfect set for them. My girls love it. I'm in school for culinary arts so i've been cooking a lot my girls call me chef mommy, and whatever I have to make for class that week they go right to their kitchen set and pretend they are making the same thing. I love everything about this product from the sleek design to the beautiful vibrant color of the cups and plates. it has everything that a kitchen needs cups, plates, spoons, spatula, serving spoons, cabinets to hold the plates and hooks to hang the spoons on. Thank you Step2 for letting me test this item as part of the Step2 toy tester program!
Date published: 2018-10-04
Rated 4 out of 5
by
ShawnB1983
from
Great little childrens kitchen overall
I definitely love the product because it is something both my children and my older nieces and nephews can mutually play well together on. The kitchen is very sturdy especially with the way the parts interlock and then screw together with a deep threaded screw that really bites in. I do have to say however about the screws they were not my favorite part about the assembly. You have to put some of the screws in at fairly interesting angles which can be a little trying. Aside from that assembly was a breeze and I actually had my oldest daughter help me with it, as she enjoys doing that type of thing. The kitchen itself contains pretty much everything you would see in a normal kitchen, a sink, oven, microwave, several little cupboards, lots of little utensils, and a stove top. The stove top is impressive as it has to little battery operated buttons which are activated depending on one of two pans you put on there. With the skillet you get a frying noise, and with the pot you get what i might call a boiling water noise. It is a very interactive kitchen which i think is optimum for children to interact together with, but is definitely suitable for one child as well to let their imagination run. I did receive this kitchen as an incentive from Step2 the maker of the product. Thank you Step2 for letting me test this item as part of the Step2 toy tester program!
Date published: 2018-10-06
Rated 5 out of 5
by
Pulleyama
from
My two children can't get enough of this kitchen!
I have two rowdy boys that love to play, a five year old and one year old. That being said, my five year old loves to play on the tablet, when he is allowed. When we received the kitchen set in the mail, he was very excited. He could not wait for me to put it together. It took some time to put together and had to wait for my youngest to be asleep. It looked really amazing and like a kitchen you would have downtown home. My eldest started to play with the kitchen set as soon as I put the last sticker on!! He did not want to go to bed that night. The next morning, both of my children started to play with the kitchen set as soon as they woke up. They played with it non-stop all day. Even though my oldest was aloud on the tablet that day, he gave up his tablet time to just play with it and he is only aloud on the tablet twice a week! My oldest made me all kinds of meals and my baby would open and shut doors. I really don't have any major complaints about this set. The only things I have to say is a con is putting the utensil hangers on was really hard and it didn't come with any food items. It did come with pots and pans, cups, etc but no food. It really didn't matter to us because we already had some toy food from their out door patio/ grill set, though. I can see many years of enjoyment out of this kitchen set! Thank you Step2 for letting us test this item as part of the Step2 Toy Tester Program!
Date published: 2018-09-23
Rated 4 out of 5
by
Dmchavez0
from
Quality product with a small footprint.
Overall our family really enjoys the Step2 Urban City Kitchen. Putting the kitchen together was fairly easy and the directions were simple and to the point. Having two people to build was very handy though and I also suggest using a power drill if possible. You can put together with a traditional screwdriver, but be prepared to take turns/breaks. One thing I really liked about this model specifically is the smaller footprint. It's not huge and massive but the small size doesn't sacrifice any of the play. You still get all of the features of one of the larger models but in a more compact size for apartments or smaller spaces. The kitchen also makes all of the fun sounds like the frying pan sizzling for more realistic play. I also really liked the storage bins. While they are smaller, there are 3 bins making storage for some play food and for the plates/silverware/etc. readily available and simple. The only thing I would have done differently would be to change the white portion of the kitchen to the grey color as well. Simply as white is more susceptible to scuffs and marks. However, this doesn't affect functionality so not that great of a concern. Overall this is a great kitchen for toddlers to play with and for parents looking for that space saver type design. Thank you Step2 for letting me test this item as part of the Step2 Toy Tester Program!
Date published: 2018-10-08
Will the coffee pot from other step2 kitchens fit where the teacup is pictured? In that little coffee spot.
Please contact our Consumer Service Specialists at 1-800-347-8372 Monday through Friday, 8AM -5PM Eastern Standard Time and we will be happy to help you.
Date published: 2019-01-25
What are the dimensions of the shipping carton of the Urban kitchen set? 
Please see below for the packaging dimensions of the Urban City Kitchen™: 30 x 9 x 43.5 inches
Date published: 2018-10-08