Waterfall Discovery Wall™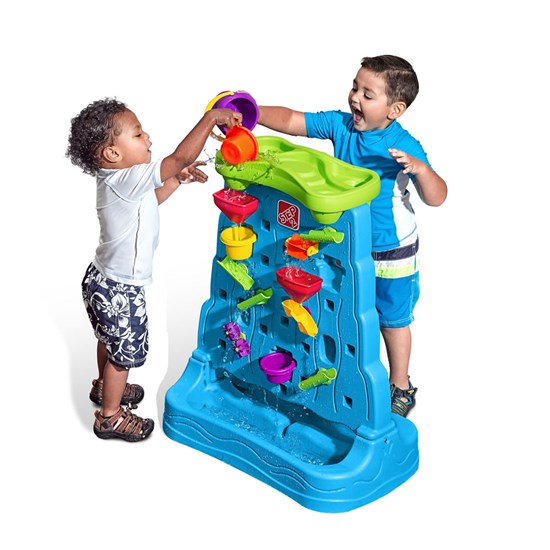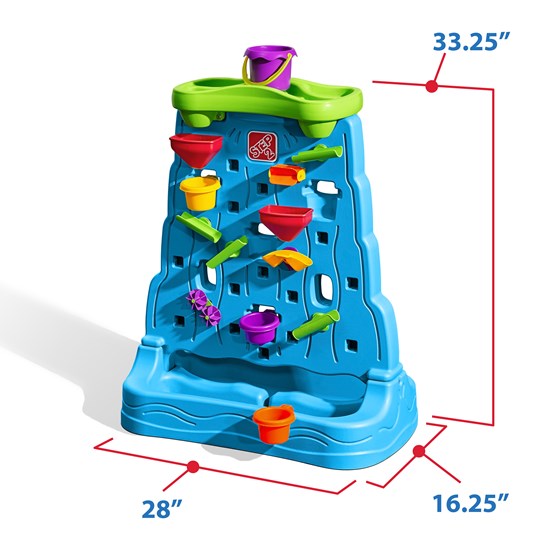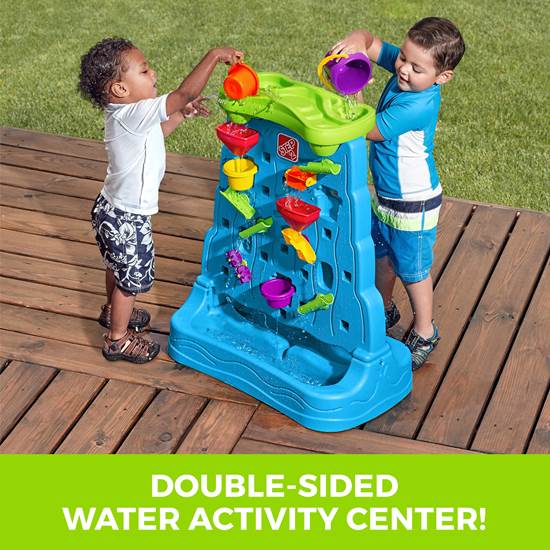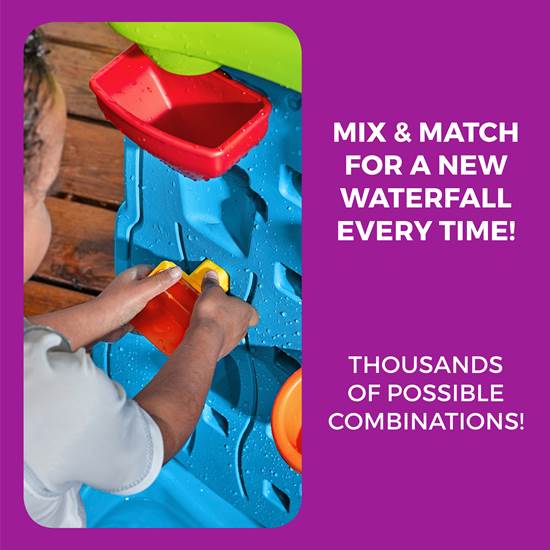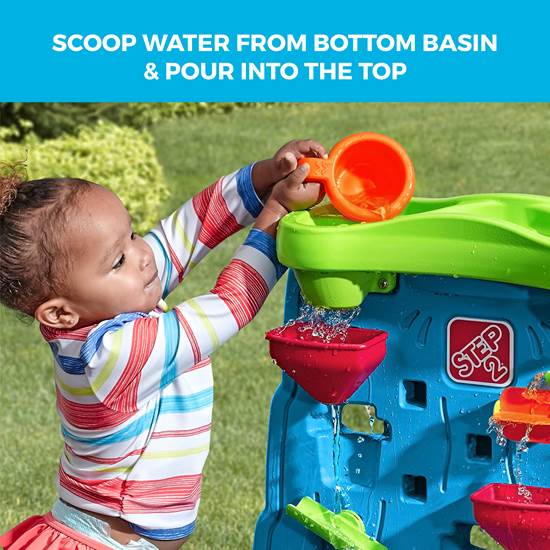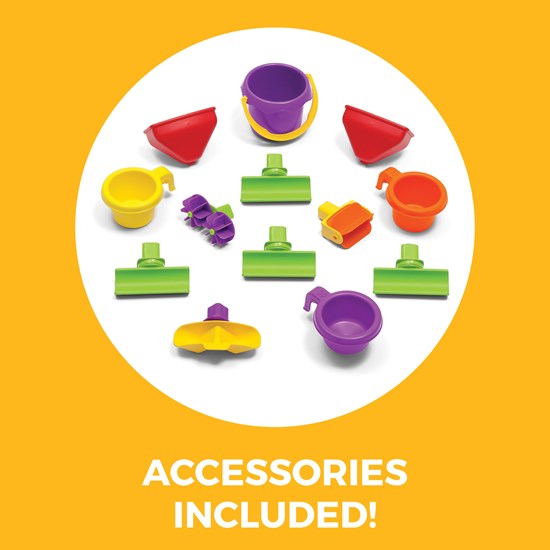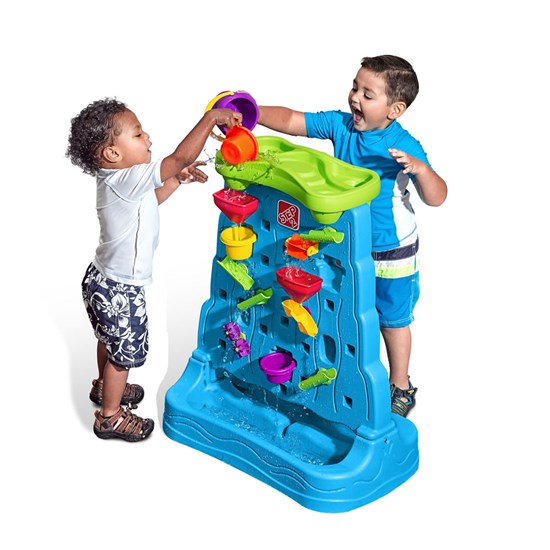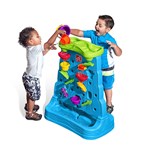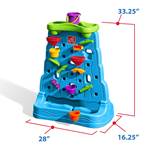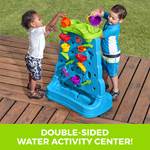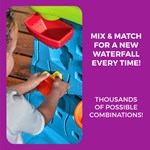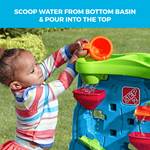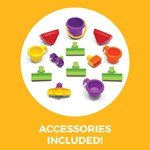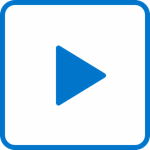 Waterfall Discovery Wall™
In stock
$69.99 $64.99
+$5.99 shipping (via FedEx)
IS THIS A GIFT? DON'T SPOIL THE SURPRISE!
This item ships with an image of the product on its outer packaging.
Rated 4 out of 5
by
Jack & Lucy's Mom
from
Waterfall Wall is great but needs more accessories!
We have a Step 2 Water Table already and I knew kids would love this since they already love pouring water out of the other table. Kids love moving parts around and watching the water flow down wall. Unfortunately, it does not come with enough to parts to utilize both sides of the wall when multiple kids are playing. You can order extra parts for about $20 if you call Step 2 but it's silly to have to do that when the toy is advertised as "double the fun" with a "two sided wall". Nevertheless, we like the toy.
Date published: 2016-05-19
Rated 5 out of 5
by
mwallace
from
Lots of fun for all ages!
My 16 month old is very short, so he struggles to reach the top of the wall to pour the water. No fear, he enjoys pouring water straight onto the wall. I love the fact that the wall is two sided as we packed it up and took it to a play date for kids ranging from 16 months to 12 years. Everyone played with the wall, and it was the center piece of the playdate for much of the time! We purchased an extra set of the accessories, even above and beyond the two packages that came with our box which made it nice because the older kids who understood basic engineering and cause and effect had a blast working with just the shoots! I would absolutely purchase this again!
Date published: 2018-05-21
Rated 4 out of 5
by
KKs Mom
from
Good, but the accessories keep falling out
My daughter was so excited for this toy but after 10 minutes of play, she got frustrated that the accessories kept falling out the the holes. For example, when water hits the spinner accessory, the little spin it gets causes it to fall out. This happened with the majority of the included accessories. Unfortunately, we already threw the box out so I guess we will have to modify the pieces to help them stay in the holes as intended. Overall, the premise behind this toy is excellent, I just wish it was better crafted.
Date published: 2019-04-11
Rated 1 out of 5
by
Momma Mia
from
Huge disappointment
Came with 8 screws and no screw holes. I'm not comfortable screwing through 3 layers of plastic with no pre drilled holes. There was such a huge amount of anticipation regarding this toy that I actually put it together without screws and stood and held it for safety. Next issue the paddle wheel looking things were very hard to get together. I actually thought I'd break them trying. Once I was successful with that endeavor I realized they don't work. 2 reasons. 1 most of the other pieces have a back piece allowing them to move that gives them more depth. So the wheel pieces are too close to the wall. They spin when you spin them, but the water isn't enough to make them move they don't spin easily enough for the water to move them. Over all a huge disappointment. I expected more from step 2
Date published: 2017-09-09
Rated 1 out of 5
by
Jess
from
Not enough toys for STEM exploration
As a preschool teacher, I was really disappointed with the Waterfall Discovery Wall I just ordered for my three year old. When I watched the videos, I could see kids playing on both sides. But the truth is that ALL the toys are shown on the one side when you look at the product picture. I think this is INCREDIBLY misleading. I opted to order an extra TWO sets of materials so that kids can actually use both sides and experiment with different designs. Also, I can't stand the bucket that kids are supposed to use to scoop water from the bottom to the top. It is large and awkward. And if they try to use the cups instead, there are holes in the bottom that pour all over their feet as they try to lift water to the top. I ordered measuring cups from Amazon instead. Overall, this is a great idea that is poorly executed. I'm really hoping that my extra materials arrive before my daughter's birthday party. What a disappointing experience from a company I typically trust. If I could improve this product, I would include twice the toys. If you decide to purchase this product, an extra set of materials will run you $6.99 and another $5.99 shipping and handling. But I think it's what the toy needs to be good for learning.
Date published: 2018-06-15
Rated 5 out of 5
by
Andromeda
from
Parents of trajectory-schema toddlers rejoice!
My daughter is 19 months. She's not quite tall enough to pour water in the green thing at the top but she is still having a blast with this! It has kept her entertained every afternoon this week! It was easy to put together. It's easy to move the attachments around. I followed other suggestions and made the holes in the green basins bigger (just twisted a flathead screwdriver in) so now lots of water flows out and makes all the attachments spin and flip with ease. I just wish it came with a few more attachments, there's really only enough for one side to be fully utilized.
Date published: 2021-05-22
Rated 4 out of 5
by
ALGauthor
from
Great fun, needs more accessories
I agree with most of the comments and reviews here that is is an excellent toy, but we were disappointed with the small number of accessories and building pieces included. With three children (ages 5, 3, and 2) who all love the Discovery Wall, there are most definitely not enough pieces to appease them all. $50 is already a large investment to then have to add on for extra toys. That being said, this came straight out of the box at the birthday party and entertained all the kids for quite awhile.
Date published: 2016-07-20
Rated 5 out of 5
by
Anonymous
from
Fun Water Play!
Thank you to Step2 for providing this item for review as part of the Step2 Ambassador program.This toy is great for summer water play! My kids love the movable maze parts. They play with it individually and as a group. I like that the toy is vertical, allowing for easy storage in the garage to keep it out of the elements or during colder weather. It does not have a drain plug, but it is very lightweight and turns over for dumping easily. I typically let my boys play with it until they have splashed out all the water so that there is less to dump. Assembly did not take long at all! It is probably the simplest Step2 item that we have every put together! My husband assembled it in about 30 minutes or maybe less.
Date published: 2016-04-21
Is it possible to purchase just the accessory set? 
Please contact our Consumer Service Specialists at 1-800-347-8372 Monday through Friday, 8AM -5PM Eastern Standard Time and we will be happy to help you.
Date published: 2020-09-08
Can we buy the accessories separately? our water wall has lost all its parts.
You can find replacement parts available for sale on Step2.com, or contact our Consumer Services team at 1-800-347-8372 Monday - Friday, from 9-3 ET and we will be happy to assist you further with this request.
Date published: 2020-06-16
Can u purchase addition accesorues for the waterwall
Please contact our Consumer Service Specialists at 1-800-347-8372 Monday through Friday, 8AM -5PM Eastern Standard Time and we will be happy to help you.
Date published: 2020-05-30
Would like to get all parts for the toddler water wall.
Contact step 2 they are very helpful and always very nice to deal with. My Grandson totally enjoys his water wall and uses other toys of his with it. And we can never forget the paw patrol figures. Lol
Date published: 2018-08-28
Can the bottom base come off easily to transport it?
I have done both, travel with the base on or travel with it off. Works fine. I probably like the "on" version as it is easier to get in and out of car for use.
Date published: 2018-07-22
Our unit came without any holes pre-drilled for the screws that hold the base and top in. Is this normal?
Ours did too, just use a little muscle on the screws.
Date published: 2018-06-11
May I know the weight of the shipping box?
The shipping weight of the Waterfall Discovery Wall™ is 14 pounds.
Date published: 2018-05-21
May I know the size of the shipping packing box?
The packaging dimensions of the Waterfall Discovery Wall™ are as follows: 28.25 x 7.75 x 28.25 inches
Date published: 2018-05-15