WaterWheel Play Table™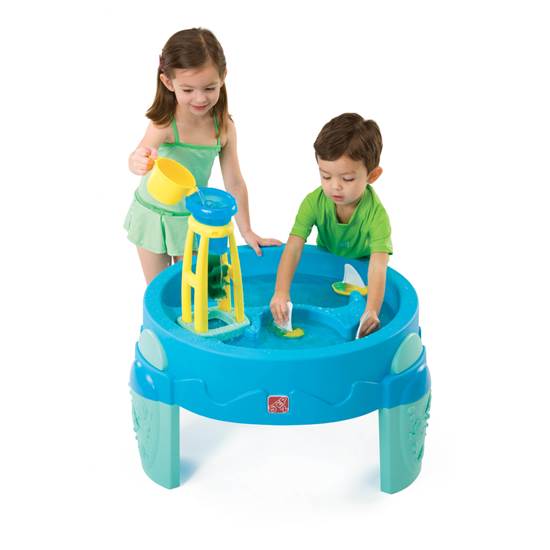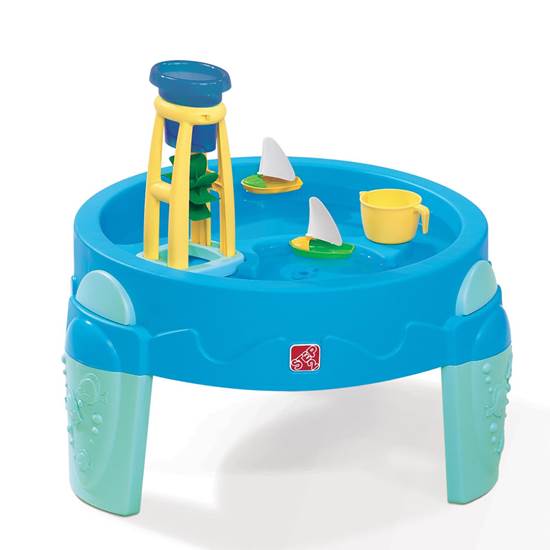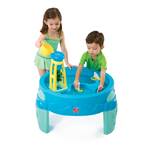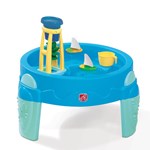 WaterWheel Play Table™
Out of stock
$39.99
+4.99 shipping (via FedEx)
Falling water action from the Step2 WaterWheel Play Table encourages hours of outdoor fun!
IS THIS A GIFT? DON'T SPOIL THE SURPRISE!
This item ships with an image of the product on its outer packaging.
Rated 5 out of 5
by
Anonymous
from
Great product!
I recvd this toy from a friend after her kids grew out of it. My son (18 months) and I loved it so much that I just purchases one for my niece's 1st birthday. The birthday girl loved it too, and so did her parents. The one I have is probably 5 or 6 years old and is still in great condition. The plugs still work great, no leaks. I love to set this up for my son on hot days. He loves to dump water on himself. It keeps him occupied for long periods of time and he gets so excited when he sees me getting it out of the garage. I would recomend this product again and again, and will probably buy another one for other birthday gifts in the future.
Date published: 2010-05-17
Rated 4 out of 5
by
Kalipta
from
Good buy for the price.
Very fun, great for multiple activities. The legs dont remove however it is small so doesnt take up much storage space. The table itself is durable and easy to clean. The boats are really terrible, they are too top heavy and flip over and are constantly falling apart. This is easily fixed because walmart and the dollar tree sell boats that are better quality cheap. The water wheel doesnt attatch to the table so it does knock over easy but they can stand it back up just as easy. Overall this is a great item to have for young children to play in, whether its with the water or other good sensory items like, rice, rocks, ice, mud, etc...
Date published: 2013-08-01
Rated 5 out of 5
by
MommaMolly
from
i use as a general sensory table. love!!
I first discovered this table of my visiting family out of state. The neighbor brought it over for my older two kids to play with, ages 2 and 4. They played outside with it for 3 hours that evening and many hours the rest of the weekend. I bought one as soon as we got home. I looked around and found that buying it direct from step 2 was the best value. There are a variety of uses for this table. I have put water in there with measuring cups and spoons, sand, dry macaroni noodles, dry rice, mud... great for hot summer days outside with water and little dishes or boats, great inside with macaroni noodles or Playdoh ... love this "all purpose" play table!
Date published: 2010-08-22
Rated 3 out of 5
by
I love spoiling my son's
from
Deffinitely gets used!
Very nice toy, BUT.....COME ON THE TWO BOATS THAT COME WITH IT ARE A JOKE. I know STEP2 can do better. I had to go to [...] to buy some squirt toys and better boats to make it fun. My son 17 months likes it now and it keeps his attention for at least an hour. I put it next to his pool in the yard and its worth the money spent. Another great product (that just needs better boats). The water mill is a nice touch also, but Younger kids like mine will keep knocking it over. The product would be a 5 with better boats, but with these bad excuses for boats I take off 2 points. With the [...] squirt toys and [...] boats its 5 STARS.
Date published: 2011-04-19
Rated 5 out of 5
by
ArtsyFartsyMomma
from
Awesome Summer Fun!!
I know many of the reviewers complained about the water wheel system falling over a lot... Our 3 year old has been playing with it for an hour and it hasn't fallen over once. She's even stacked tons of other items inside and on top of it to see how tall she could make the *tower*. The boats however, are pointless... they really need to be glued together, because if the sail gets tilted to one side or the other the boat will tip over, fill with water and sink. But we just replaced the boats with some bath toys and she's happy as a clam. I definitely recommend this... especially for the price. We had an online coupon and got it for [$] delivered to our door!
Date published: 2012-05-08
Rated 5 out of 5
by
Patty
from
One of the BEST outdoor toys!!
I bought this for my son, as he's always moving, loves the water and always wants to be outside. It is the perfect toy for the backyard. My 17 month old and my 3 year old niece love this...it's a fun toy and they don't get soaked, but they stay cool playing with the toys in the water. It is bigger than I thought it would be which is great so more kids could play with it. DS and Niece fight over the pitcher so I bought another one at [@]. They move the water back and forth from the kiddy pool to the water table for hours. The boats it comes with don't float too well, but they love them anyway! AWESOME buy!
Date published: 2012-06-14
Rated 4 out of 5
by
Miss Marie
from
Great product
I have a family home daycare, and bought this table for our outside time. It was incredibly easy to put together- took about 3 minutes. It came in the middle of the day, so my kiddo's were anxious to play as soon as they saw the box and I had to get it set up quickly, for outside time. It's big enough for 2 toddlers and a preschooler to stand around it and play together, but also entertaining enough for just one child at a time. After 2 weeks it is still a favorite. The only complaint I have is that it needs to be height adjustable. The height is great for 1-2 year olds, but a little low for most 2-3 year olds.
Date published: 2010-04-22
Rated 5 out of 5
by
YoungWizard11
from
Awesome Table! Kids will love it!
When we first had received the table we had to use it indoors. My daughter would play with the table using her little action figures and she had them slide down the slope in the table (without the wheel) and made believe they where at a park. My daughter loved playing with the water table pouring water in it and watching the wheel spin. We also used it at birthday party and a barbeque and the kids couldn't get enough pouring the water in and out of the table and playing with the boats and wheel spinning. Plus when your kids out grows the table it makes a good cooler for drinks when you have a barbeque!:)
Date published: 2010-09-12
Can I get a replacement water wheel & accessories for table?
You can find replacement parts available for sale on Step2.com, or contact our Consumer Services team at 1-800-347-8372 Monday - Friday, from 9-3 ET and we will be happy to assist you further with this request.
Date published: 2020-06-16
We have a sand and water table and I put the legs on before realizing when tables are connected you don't use a leg but a different piece, now I cannot remove the leg and need another in order to use the table.  What can I do?
Please contact our Consumer Service Specialists at 1-800-347-8372 Monday through Friday, 8AM -5PM Eastern Standard Time and we will be happy to help you.
Date published: 2019-07-22
Is this table compatible with the accessory kits sold at Canadian tire?
The Water Wheel Play Table is not compatible with the accessory kits offered at Canadian Tire.
Date published: 2019-07-08
How tall is the actual table (not the water wheel)? It makes it hard to compare this to other products without that measurement. 
The Water Wheel Play Table™ measures approximately 23 inches tall.
Date published: 2019-06-27
How do you take the legs off?
If you place the table upside down on the ground, sit down and place your legs on either side of the legs to help anchor the table to the ground, with an alternating twist and pull up motion, you should be able to pull it out. It is not easy but it was the best way I found to remove the legs. I understand it's stated the legs were not designed to be removed but, if you're like us, trying store for the winter/out of the elements, it's easier to do in its disassembled state. 
Date published: 2019-03-05
Do you have any water tables that don't have drain plugs? I would like to have one if you have the old version available. 
The WaterWheel Play Table™ does not require a plug.
Date published: 2018-05-08
How to dismantle this table?
Unfortunately, once the legs are assembled onto the WaterWheel Play Table™ they are not designed to be removed.
Date published: 2018-03-27
Hi there - we bought the Waterwheel play table for our daughter last Christmas but the dog chewed up the toys that go with it! We are in Australia (Melbourne). Do you have any distributors in AU where I can purchase replacement accessories? Many thanks
Please contact: Little Smiles Pty Ltd. Suite 1404, Level 14, Tower 2 Westfield Bondi Junction Plaza 101 Grafton Street, Bondi Junction NSW 2022; Australia 1300 665 882 (p) 61 2 9389 6766 (i) 1300 665 883(f)
Date published: 2018-03-27