WaterWheel Play Table™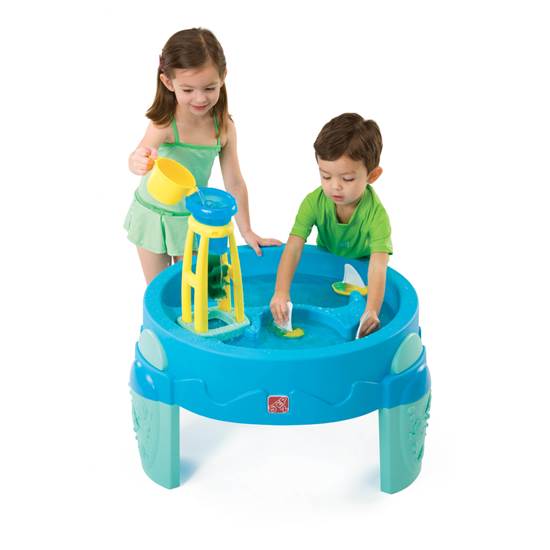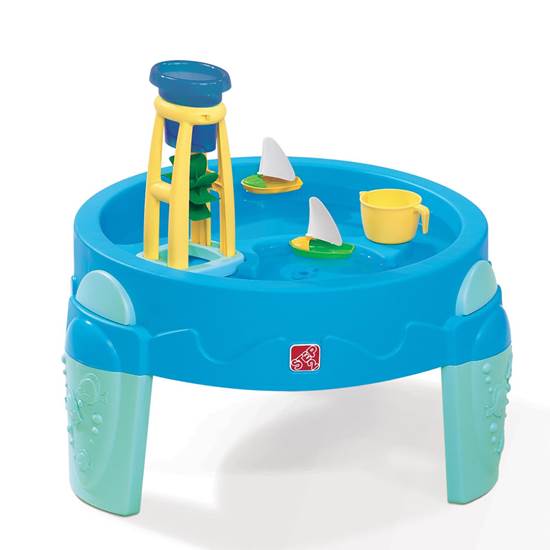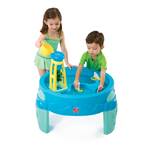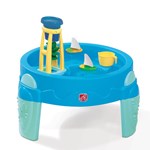 WaterWheel Play Table™
Out of stock
$39.99
+4.99 shipping (via FedEx)
Falling water action from the Step2 WaterWheel Play Table encourages hours of outdoor fun!
IS THIS A GIFT? DON'T SPOIL THE SURPRISE!
This item ships with an image of the product on its outer packaging.
Rated 5 out of 5
by
Grandma Carol
from
Summer Delight!
Outstanding fun for all of our Grandchildren. From the very first nice day until Grandpa puts it up in the fall. If the sun is out, no matter what the temp is, "Can we play in the Water Table" is being asked. They measure, pour, and splish and splash. It has gone through 3 Grandchildren and still going. I have given this as several baby gifts as I think it is a gift that can be used and passed on through many children. What child doesn't love to play in the water? I will miss sharing this magical time when the grandchildren are truly too big/old to play with this. At least I have scads of pictures!!!
Date published: 2012-02-10
Rated 5 out of 5
by
CASMOM
from
We love this table
I considered this for my daughter last summer and didn't purchase it because I thought she was too young. She is now two and half, so I bought it for her this summer. She loves it. I love it too. It is just the right height for her now. I love that she can get as wet as she wants to, and since it's outside it's fine. The accessories that came with the table are great and have been used by my little girl every where from the water table, to the pool, the sand table, and the bath tub. We bought this to go along with the Step 2 Naturally Playful and and Water table (which we use as a sand table only) and they are a great compliment to each other. I wouldhighly recommend both.
Date published: 2007-06-14
Rated 5 out of 5
by
Eastyns mama
from
Great toy, great price!
I have loved this toy since I pulled it out of the box! I have an almost 3-year old son and I also watch 5 other kids from my home. This toy is a huge hit! My 8 year old stepson even enjoys playing with it. It is super durable, as all Step-2 products I have purchased have been. It is very easy to fill and clean. It is the perfect height for toddlers to stand and reach everything. I was worried my 3 year old might be a little too old for it but I couldn't have been more wrong! I can see him enjoying this toy for years to come and I know he will be sad to see it put up for winter. I absolutely love it!
Date published: 2009-07-21
Rated 5 out of 5
by
Nanna
from
Water Fun
I am a retired Kindergarten teacher and now take care of my 2 year old grand daughter while her parents work. I set this up in my small laundry room in case water gets on the floor. On the weekends I can just put it out of way in the garage. It's not too deep I don't need to put a lot of water in it to make it fun. There is no plug to empty the water but that also keeps it from leaking. Since there is no plug it takes a few minutes to empty.We also have a play date with other little ones once a week and they love it. They do get wet and water does get on the floor but that will happen less and less as they get older. I will probably put it on the deck when the nice weather gets here.
Date published: 2011-02-23
Rated 5 out of 5
by
Mielmonster
from
3 years and still a favorite
We use the Water Wheel Play Toy as a beside-the-pool toy, so it is not used year round, but it's been used for three summers straight and it has not lost any of its appeal. My 3 and 5 year old LOVE LOVE LOVE this toy. They watch the water run, they play boats and they create their own aquarium with (non-included) fish and sea mammals. The colors have dimmed only a little bit from the sun and all of the parts are still in good working order. I highly recommend this product to anyone who has kids who love water - and who doesn't? Now they are playing in the sink and I wish it was summer again.
Date published: 2009-11-04
Rated 4 out of 5
by
Nongni
from
My son loves it
This water table is so much fun. My son spends hours playing with it. It holds his attention well unlike other toys he has. This is the best investment we've made so far. I like that the water wheel tower is not attached to the table because my son loves to move it around and positions it where he wants which is good for his creativity. It seems sturdy enough though the legs seems wobbly at times. One thing though, I think there should have been a drain plug built in this water table for easy draining/cleaning when the kids are done playing. Over all my son loves it and that's all that matters.
Date published: 2009-07-31
Rated 4 out of 5
by
Anonymous
from
Great Fun
I bought this for my 15 month old, who loves water. However, my 6 and 4 year old are enjoying it just as much, if not more. You do have to empty it each time, or the water will get dirty and attract bugs. And since my 15 month old tries to drink the water, it's best to keep it clean. It's a little difficult to empty, no plug or drain. Filling it just requires a water hose or several trips with the water pitcher. I liked the fact that this was a water table and not a sand and water table. Those have never worked well. The water and sand mix, then you just have a mud table, clogging up all the draining toys. The water tower is fun, but do wish it popped into place to stay put. It falls over easily.
Date published: 2009-06-22
Rated 5 out of 5
by
Michaela's Mom
from
Lots of fun for toddlers!
My daughter got this for her 2nd birthday. She loves playing with it. She has fun carrying water in the yellow cup that comes with it, and pouring it into other sand toys that we purchased separately. She has also brought sand from the sand box and poured it into the water table, which I don't really recommend because the grains of sand will get stuck in the water wheel and it won't turn. (Although you can fix it easily by snapping it apart to remove the sand.) She has had so much fun with this toy, we purchased one for my nephew for his 1st birthday and he loves it, too!
Date published: 2007-08-24
Rated 5 out of 5
by
Mama Jen 2011
from
Hours of Endless Fun!
It's the perfect height for my 13 month old daughter! The first time she played at it, she stood for a total of 2 hours one afternoon. I was so impressed! It has two fun sailboats; she likes pulling the sails off of the boats and then splashing them in the water. The shark cup is easy for her to hold. The water wheel is fun to watch, but she also likes taking it apart and dropping it on the ground! That can be a tad frustrating for her parents who want to watch the water wheel in action, but we remind ourselves that this is how she is learning now.
Date published: 2012-05-07
Rated 4 out of 5
by
Ashley's Mom
from
My daughter loves it!!
I bought this for my 20-month-old daughter, and she adores this! Every day we come home from daycare, she goes running to the back patio to play with it. The boats it comes with aren't exactly exciting and she doesn't play with them much, but she loves filling the cup with water and dumping it on the water wheel, back into the water table, or onto herself or me. :-) Since we live in an area with a large mosquito population I have to empty this out every day, but since there's no plug at the bottom or side I have to tilt the entire table on its side to empty. Can be difficult to do when full, and also leaves large rivulets in the ground where I dump it. But overall, I'm pleased with this because of how much joy it gives my daughter.
Date published: 2010-06-04
Rated 4 out of 5
by
Dad of a Water-Lover
from
Easy, Lightweight Water Fun
We got this table to give our 15-month-old a place to play with water other than in our kitchen sink, where he was splashing water all over the place. It has worked out great, as it is the right height for him, and gives him full access to the water and water wheel. It keeps him occupied for a good while. My only small complaints are that the water wheel structure is not attached to the table, so it tips over a little too easily (though it's easily put back up), and there is no drain to let the water out (though it's easily tipped out).
Date published: 2007-09-17
Rated 4 out of 5
by
Lizaluuu
from
splashy fun
Our 13-month old boy loves this toy and has so far had a blast splashing about and playing with the cups. He's not quite old enough to figure out the water wheel feature, but he does like batting at the wheel to make it spin. I just let him at it in his diaper, as he ends up totally wet, splashing around and pouring water outside the table onto our deck. The only con is that we live in San Francisco, and the summers are so cool that we don't get to play with this very often. However, I think it will work well as a sand table if we find that the water isn't used very often. Overall, I think this is a good value, even though it's a very simple toy. I think our boy will enjoy it for quite a while, as he grows and figures out other ways to play and splash.
Date published: 2009-07-09
Rated 3 out of 5
by
mommy of 2
from
Lovely place for mosquitos to breed
my mother in law thought this watertable would be a good investment for my son to play with his first summer. It's fun while he is using it, however once he's done, it MUST be emptied, so mosqitos don't breed in it. It collects water on the bottom if turned upside down for storage, still posing the mosquito issue. It would work better for me if the legs folded in, so I could store it in a more compact place. Also, the dog ate all the accessories for it, and I can't find a place to buy replacements on the web sight :(
Date published: 2008-05-19
Rated 5 out of 5
by
Grandma Ditto
from
A Wheel of Fun
Purchased this for our 3 year old granddaughter, whose birthday is in March. Not wanting to disappoint her in not being able to use her new toy outdoors (still snow and cold in Upstate NY), I decided to use the water wheel in her bath. Tried to get the whole table to fit in the bath, but didn't work. Not only does she look forward to her bath, she is now learning how the water makes the wheel turn. This has become a year-round toy no matter where you live. Can't wait to get it outside and watch her imaginative play.
Date published: 2007-04-19
Rated 4 out of 5
by
StinaC1976
from
Playing with the waterwheel play table
My daughter is 11 months old. She loves to splash in the water. This table is the perfect height for her. The boats that came with the table are fun for her to play with. I needed to enlarge the hole in the waterwheel to increase the water stream. The waterwheel is not attached to the table so I do not think that it is something that I will have her use. She has tried to pull it down onto her head... I will put that part of the toy in it for her when she is older. I would recommend this toy to other parents!
Date published: 2007-06-22
Rated 5 out of 5
by
dol
from
A great toy for my young children!
We bought this product for my baby's 1st bday, but it gets equal usage from my toddler and preschooler. They all LOVE it. The baby loves splashing in the water, and it's the perfect height to help her while she cruises and perfects the whole walking thing. My only warning: she will get wet, so be prepped with bathing suit/ extra clothes! My older ones love the water wheel and just pouring water into old cups that we have also thrown into the table. We just used it for my baby's party and everyone enjoyed it.
Date published: 2010-05-18
Rated 4 out of 5
by
ZooKeep
from
Fun for many!
My 2yo with Down Syndrome loves this table with rice (soon be warm enough for water). It has been encouraging her to stand and play. The sensory play of running her hands and arms through it is perfect for her (as will the water be fun to watch and play in). We hide little toys in the rice and use the cup for pouring it out. My other children (9,7,5) have also loved playing in it. My eldest and the neigbor boy wanted to fill it with water the other day to play! Definitely an outside toy, but one we already love.
Date published: 2009-05-05
Rated 5 out of 5
by
Neo and Xander's Mom
from
Great Summer Fun!!
My son played with it nearly every day on our deck this past summer -it really kept him occupied. Sometimes we filled it with bubbles, mini plastic fish, or fake bugs. He loved scooping the water up and making the water wheel turn. He always got soaked but thats okay. It's a good size, easy to fill, easy to empty. Looking forward to using it again this summer for play dates. My only suggestion would be to make it a bit taller or the side lip shorter so you could scoot a chair under to sit at and still reach.
Date published: 2009-01-05
Rated 5 out of 5
by
Teacher Mom
from
FORGET THE POOL!
I should have stuck with my first thought...forget the pool! This WaterWheel play table is perfect! This had been on our "wish list" for many months! After many "water" struggles, the WaterWheel finally arrived at our home! It is a winner! It is exactly what you imagine and a perfect water table! My 2 year old son and his friends love this one. Very easy to assemble, fill and empty! I'm considering bringing this indoors for the winter! As always, Step 2, you have done it again! Thank you!
Date published: 2009-08-03
Rated 5 out of 5
by
Katie H
from
saved a rainy day
I bought this for outside use this summer and some inside this winter with rice or sand.The weather has turned bad and my daughter needed a distraction with physical activity so I opened the box early, lined my bathroom floor with towels and filled it up. She loved it!!!!It was easy to put together. The water wheel works great. It includes a cup to fill up the basin for the water wheel.One aspect that isn't stellar are the little boats: they fall over, fill up and sink rather easily. But they're not integral to the fun, so no big deal.The only negative is that you have to empty by bucket until it's light enough to flip over (if you're doing this outside, no big deal just tip it). A plug would be nice but that would likely be a place it would leak so I guess this is the best it could be.
Date published: 2010-04-07
Rated 5 out of 5
by
Jessica
from
11 mo old loves it
I chose this water table based on other reviews and it's great. It's simple, the right height for little kids and not too deep. I think this will be great fun for our daughter for years, as we can add more complex toys as she gets older. The water wheel works great and always catches her attention, too. I would definitely recommend this table. I don't know how well it will hold up to older kids, since we don't have any yet, so I'm curious to see how it holds up over the long haul.
Date published: 2009-09-14
Rated 5 out of 5
by
Anonymous
from
Life saver....
My grandchildren have been using it for 5 years, still like new, but the best of all, is the legs come off easy enough for transport, so my daughter and husband took it on vacation to a camp ground for them to play with when not at the pool, and my granddaughter accidently stepped on hot embers, and they immediately put her foot in it and it stopped the burn from burning further, and the doctor at emergency room said it was the best thing they could have done for her...so it possibly saved her life, she did have 3rd degree burns...so it stopped the burn and relieved the pain before going to the hospital...I'm so glad we got her that...so are they...besides they just love to play with it..all kids love to play with water, we've never tried it with sand, we use the sand box for that...Grateful Grandma
Date published: 2010-04-06
Rated 4 out of 5
by
nina
from
A drain plug would make it perfect!
My 2-year-old son absolutely LOVES this water table. He plays with it for hours. He enjoys pouring water through the water wheel tower and splashing water all over himself. I like the fact that the water wheel is not attached to the table so that my son can put it on the lower level where he can reach it better. He's not tall enough to reach the top of the tower to pour the water through it yet. I was watching him sovle the problem himself. He moved it down from the station and put it in the lagoon level closer in front of him so he could reach it. He gave me a big smile like "Are you proud of me, mommy?" The assemble only took 2 minutes. Only one thing I wish it had is a drain plug. I think it's useful and kind of necessary for a water table to include that feature. That's why I only gave it 4 stars.
Date published: 2009-07-16
Rated 1 out of 5
by
Anonymous
from
Cheap
I bought this for my son and returned it. I thought this would be a great toy. The waterwheel did not work well. It didn't lock into place so my son always got upset when it tipped over. You have to put a lot of water on the wheel for it to actually work. And once the legs are on this table they do NOT come off. This makes it hard for storage and for when you try to return it because you are unhappy with the product. Overall this wasn't a hit with my 2 year old or his parents!
Date published: 2012-04-02
Rated 5 out of 5
by
Mother Heather
from
What a find!
The set up was easy, and I put this up on the deck so that my son could play outside. He was out there for hours! What is great about this water table is that it is a simple open ended toy so it encourages your child's imagination. Its simplicity makes it easy to clean, and because it doesn't have fountains and other things to break, I think it will last for some time. My favorite feature is the slide dividing the two basins. It's great for rubber duckies and the boats!
Date published: 2010-04-24
Rated 5 out of 5
by
Anonymous
from
Great toy for hot days!
I love this product! We'd had a small blow-up pool for the kids to play in but it was difficult to clean and would kill the grass if it sat there too long. This table is easy to fill, easy to clean, and endless entertainment for the kids. They brought out all their pretend pots and pans from their play kitchen so they had plenty of things to play with in the water. It's portable and was fun for all the little kids who were here during a recent barbecue. Money well spent!
Date published: 2009-08-01
Rated 4 out of 5
by
Cathy
from
WaterWheel Play Table
My son is 2 1/2 years old and he absolutely loves this toy. He is tall for his age, but this table is a good size for him I think. I had looked at other water tables and chose this because it looked simple, easy to use, and seemed to be easy to move around if needed. [...] was very simple for me to assemble by myself. The 2 sailboats are a good size, but they are always coming apart and they don't float well. My son loves playing with the waterwheel. It does not snap into the table, but we haven't had any problems with it falling off. The table doesn't have a plug, but it is small enough that I can easily tip it over to dump it out. I like that the table isn't so huge that we can't move it easily. My son has played with this daily and often will ask to play with it first thing in the morning! A great purchase!
Date published: 2011-06-28
Rated 4 out of 5
by
Gina
from
Fun times!
We use this year round, outdoors as much as possilbe but also in the kitchen w/ towels during winter!For extra use I use this as a sensory table and put dry noodles or beans instead of water.Easy to empty outside, would loved to have some sort of drain for inside use.. but isn't to hard to empty by hand.I think 4 legs migth have been better than 3 but it hasn't tipped over yet, just seems wobbly to me at times.Over all my son loves it and it's fun to play with!
Date published: 2010-05-15
Rated 4 out of 5
by
Anonymous
from
cute little water table
I purchased this water table for my 2 children ages 15 months old and 3 year old who love splashing around in water. We have a very small back yard and wished to get something that would keep my little ones entertained for hours during the warm summer months and this item fit the bill. Although it is true the water tower does tumble over easily my children are so entertained with the water table. I initially thought it would be too small but it appears to be perfect for my two and forget it when the bring their other boats, pots and tea cups their imaginations run wild. It was a great deal for the price. The only thing that is a hassle is the fact that I have to consistently bring it in and out of the garage, and wash it in the event that any water gets in it from the rain. It would be ideal if they devised a cover for it.
Date published: 2008-07-07
Rated 5 out of 5
by
Photographer17
from
Great Water Table
I purchased this water table for my two and four year old boys. I was worried the four year old may not enjoy it as much. Both equally enjoy the table. They have used it for all sorts of creative tasks (washing their clothes, making "soup" with pods from the tree in the yard). We were looking for a table that was water only since we were worried about the mess sand would present. The price point was also great. I would highly recommend this product.
Date published: 2009-07-27
We have a sand and water table and I put the legs on before realizing when tables are connected you don't use a leg but a different piece, now I cannot remove the leg and need another in order to use the table.  What can I do?
Please contact our Consumer Service Specialists at 1-800-347-8372 Monday through Friday, 8AM -5PM Eastern Standard Time and we will be happy to help you.
Date published: 2019-07-22
Is this table compatible with the accessory kits sold at Canadian tire?
The Water Wheel Play Table is not compatible with the accessory kits offered at Canadian Tire.
Date published: 2019-07-08
How tall is the actual table (not the water wheel)? It makes it hard to compare this to other products without that measurement. 
The Water Wheel Play Table™ measures approximately 23 inches tall.
Date published: 2019-06-27
How do you take the legs off?
If you place the table upside down on the ground, sit down and place your legs on either side of the legs to help anchor the table to the ground, with an alternating twist and pull up motion, you should be able to pull it out. It is not easy but it was the best way I found to remove the legs. I understand it's stated the legs were not designed to be removed but, if you're like us, trying store for the winter/out of the elements, it's easier to do in its disassembled state. 
Date published: 2019-03-05
Do you have any water tables that don't have drain plugs? I would like to have one if you have the old version available. 
The WaterWheel Play Table™ does not require a plug.
Date published: 2018-05-08
How to dismantle this table?
Unfortunately, once the legs are assembled onto the WaterWheel Play Table™ they are not designed to be removed.
Date published: 2018-03-27
Hi there - we bought the Waterwheel play table for our daughter last Christmas but the dog chewed up the toys that go with it! We are in Australia (Melbourne). Do you have any distributors in AU where I can purchase replacement accessories? Many thanks
Please contact: Little Smiles Pty Ltd. Suite 1404, Level 14, Tower 2 Westfield Bondi Junction Plaza 101 Grafton Street, Bondi Junction NSW 2022; Australia 1300 665 882 (p) 61 2 9389 6766 (i) 1300 665 883(f)
Date published: 2018-03-27
How do I get the legs off the table to store it?
Unfortunately , once assembled the legs for the WaterWheel Play Table™ are not designed to be removed.
Date published: 2018-03-27