Woodland Adventure Playhouse & Slide™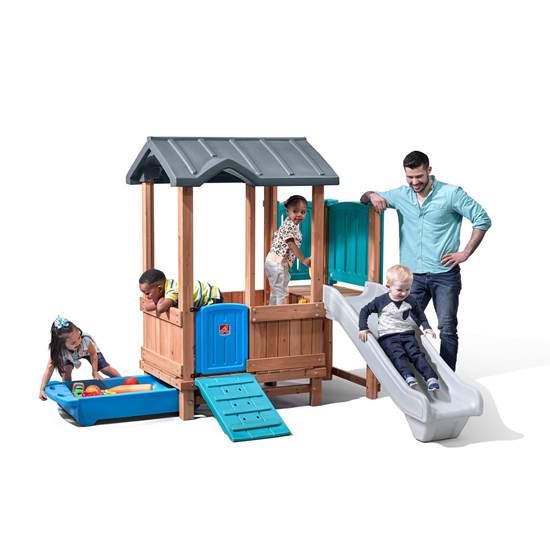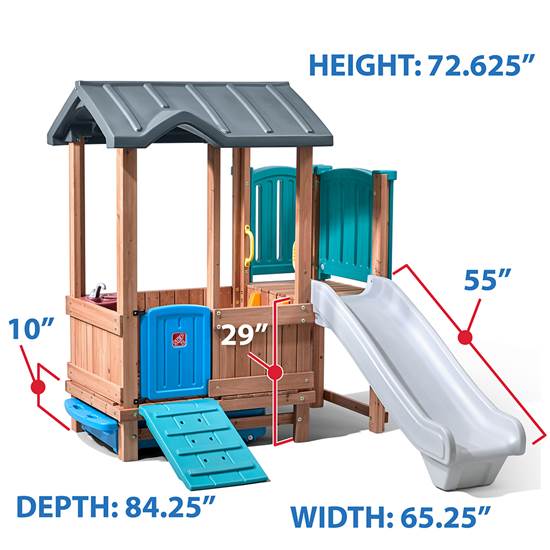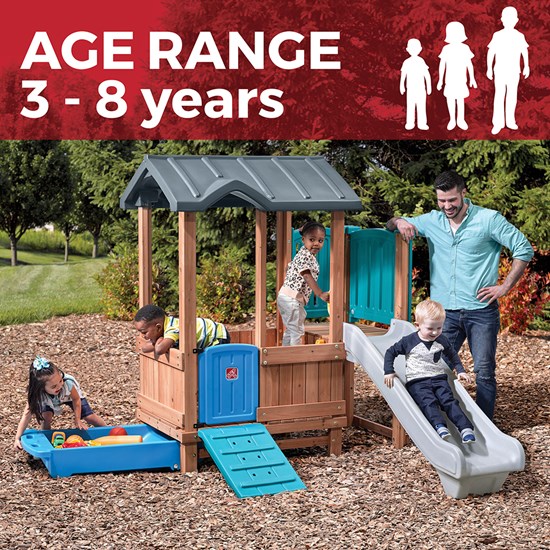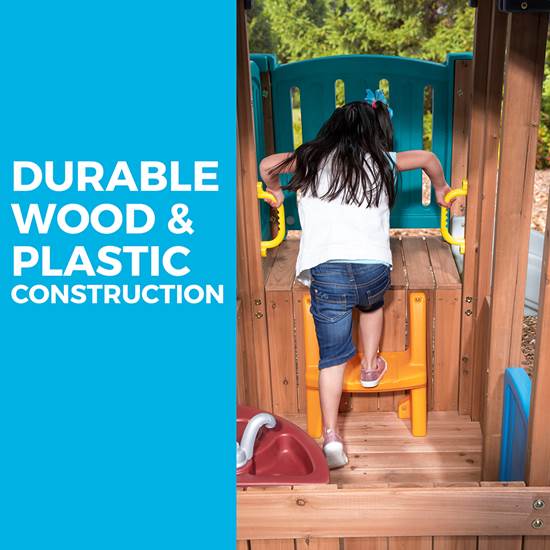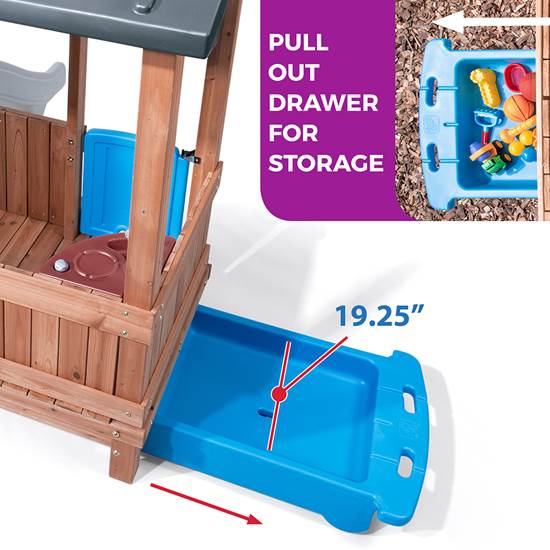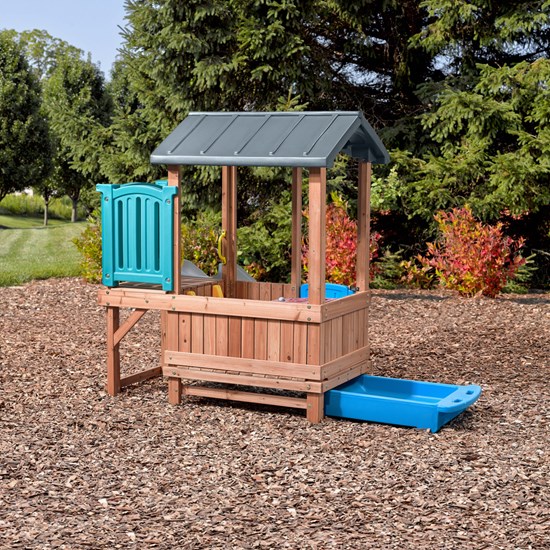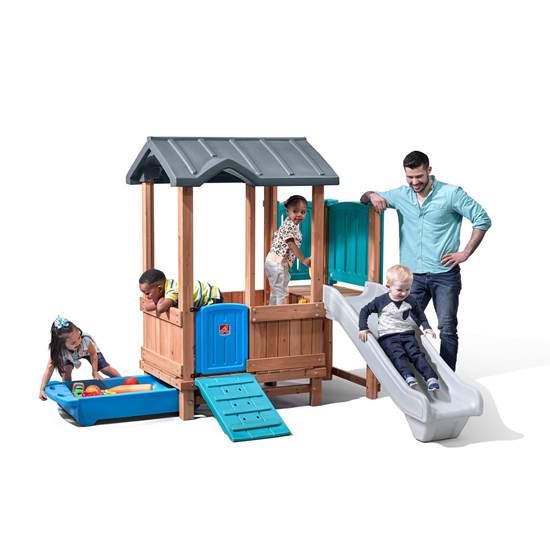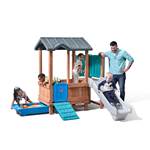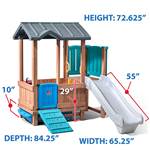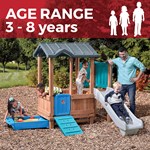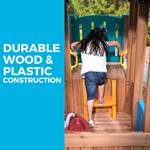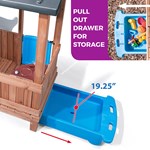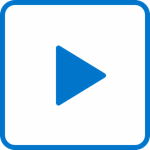 Woodland Adventure Playhouse & Slide™
In stock
$519.99 $499.99
+19.99 shipping (via FedEx)
IS THIS A GIFT? DON'T SPOIL THE SURPRISE!
This item ships with an image of the product on its outer packaging.
Rated 5 out of 5
by
KimberlyP
from
Woodland Adventure playhouse & slide.
We love our Woodland Adventure playhouse and slide. My children helped to put this playhouse together. The instructions where perfect and helpful. Every box was labeled with different numbers which made it easy to understand what went where. I loved the wooden smell as soon as you opened the box. This product was super fun for all three of my children ages three , six and nine. It comes with the amazing slide. The door to the playhouse opens. The playhouse has a play sink. It also has a spot on the side to fill up with sand. Which can be pushed under when not using. The sand doesn't have to sit out in the rain. We really like this sturdy playhouse.
Date published: 2019-07-07
Rated 5 out of 5
by
Brittany D
from
We love this!
This playhouse very much exceeded our expectations. We were pleasantly surprised that it was made with high quality wood, giving it a real playhouse feel! The many different features give it such a uniqueness that you cannot find in other typical toddler playhouses. We love the hideaway drawer and climbing ramp! It's no secret that our toddler is very much in love with this product.
Date published: 2019-09-14
Rated 5 out of 5
by
Nana K
from
Fun Playhouse!
I ordered this playset for my granddaughter to have something to play on during the stay at home order for the cornavirus. It came much quicker than we anticipated. My husband and my son worked on constructing it. It took one afternoon and one morning to finish. The quality is very good. My granddaughter absolutely loves the slide! Her favorite thing to do is to pretend the Big Bad Wolf is coming to get the pigs. She has a blast! She can't wait to come to Nana's house to play in the playset. It has been a great purchase! I would definitely buy it again. The house and slide are so sturdy another adult can get in and play with her. We received the playset just before Easter, so we hid eggs in it. My granddaughter loved opening eggs at the top of the slide! She thinks her new "house" is "so fun!"
Date published: 2020-04-25
Rated 5 out of 5
by
Megan13
from
Wonderful playhouse for adventure!!!
The woodland adventure playhouse and slide is a excellent playhouse for boys and girls of all ages! Allows them to use their imagination and sink into adventure and fun. It has a wonderful step up outside and inside, from the climbing ramp to enter the playhouse to the sink inside which allows imaginative play and slide is a wonderful way for children to learn and explore. I would highly recommend this playhouse as it provides hours of fun and adventure for all children!!!
Date published: 2019-09-03
Rated 5 out of 5
by
mrmz
from
Great PlayHouse
This product exceeded my expectations. I was able to assemble the Woodland Adventure Playhouse & slide with the help of another person. The assembling was straightforward. After assembling the Woodland Adventure Playhouse & slide the kid's were very happy with how fun & amazing this playhouse was. The design of the Woodland Adventure Playhouse & Slide exceeded my expectations as well. The kid's had fun & they said that the Woodland Adventure Playhouse & slide was very fun.
Date published: 2019-07-29
Rated 5 out of 5
by
Anonymous
from
Great first playhouse!
Finally, a first play set that's a stunning addition to our yard! The Step2 Woodland Adventure Playhouse and Slide is as beautiful to look at as it is fun for my little guy to play on! My 19- month old is a busy little boy who loves to be outdoors, so we knew a small play set was a summer must! HE LOVES IT! Hours of fun combining active play on the slide and ladders, with imaginative play at the playhouse sink. When we started shopping for a small play set, the majority we found were all plastic, lacking the aesthetic and weather resistance of bigger-kid play grounds. Our yard is newly landscaped and while we were looking for something to keep our little guy busy outdoors, we didn't want to ruin the appeal of our beautiful back yard for adults. This Woodland Adventure Playhouse and Slide actually keeps our yard neater with its convenient storage drawer underneath! All the tiny outdoor toys (shovels, pales, bubbles) that used to be strewn across the lawn are now packed away in his playhouse! I know this play set is higher than some plastic alternatives, but you're paying for longevity. I know won't have to replace this in a few years because it's sturdy, and I know it will grow with my son. The bigger kids in my neighborhood love it just as much as my toddler! I only had two VERY MINOR concerns with this playhouse. Firstly, the ramp can be difficult for smaller kids to manage on the way down, a problem I remedied by encouraging my toddler to exit the playhouse using only the slide. He initially wanted to run down the ramp because he enjoyed it so much! For the most part assembly was simple! The only (again minor) problem my husband ran into while putting it together was the instructions mixed up the part number for the bolt and washer in one of the steps, which I hope Step2 will fix. We figured out the miscommunication pretty easily. Customer service at Step2 is also very accessible so any confusion during assembly is easily remedied. Overall, I would recommend this product to any parent searching for the perfect toddler play set! I'd definitely buy another one, but with the great design of this product, I know I won't need to! The Woodland Playhouse and Slide will definitely stand the test of time! Thank you Step2 for letting me test this item as part of the Step2 Toy Tester Program!
Date published: 2019-06-18
Rated 5 out of 5
by
Kristy78
from
Great Playhouse!
The playhouse was easy to put together. My 9 year old loved helping his father assemble it. i love that my 9&3 year old can play on it at the same time. The center is nice and high and since I am only 5'1 I can stand in it.
Date published: 2019-09-13
Rated 5 out of 5
by
Kayla M
from
A Little Bit of Everything!
This is one of the coolest play sets we've had! It has a little bit of everything to keep young children and toddlers occupied. The cooking section has a sink and stove top for children who love to pretend to cook! The slide is designed, almost to perfection...it's high enough so you can actually slide down, but low enough so you don't go too fast. The roofing over most of the play set, helps to keep the sun exposure to a minimum. There's also a section stored under the playhouse, that you can wheel out and store some of your outdoor toys. As a Mom, having storage is a major plus! The play set itself, comes with high-quality plastic material and sturdy wood pieces with pre-drilled holes that were actually in the correct place. We never once had to create our own drill holes to make it fit. Everything honestly fell into place, as it should have. The instruction manual says it takes an average of 6-8 hours to build with two people, but it only took us 4 hours to put everything together. Overall, we are impressed with the entire play set. Thank you, Step2, for allowing us to test out this item as part of the Step2 Toy Tester Program!
Date published: 2019-09-07
What is the width with the drawer pulled out
How does this play set hold up to the elements specifically water?