Anniversary Edition Up & Down Roller Coaster™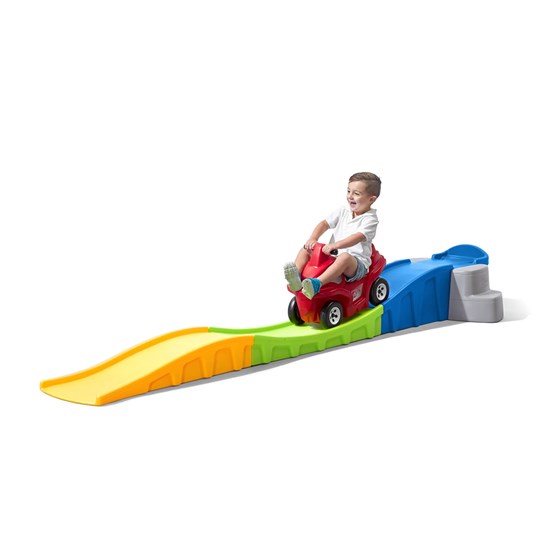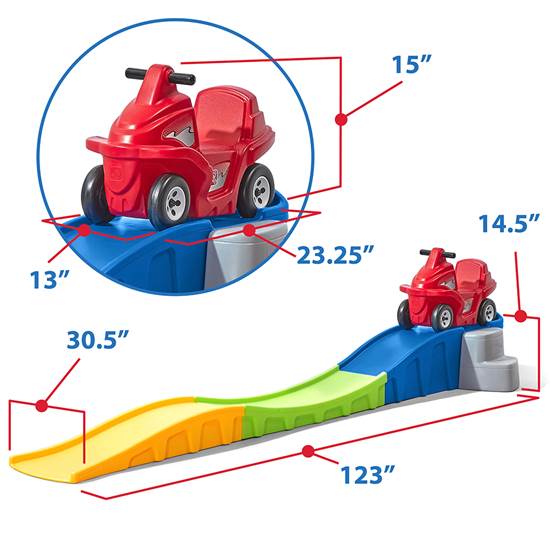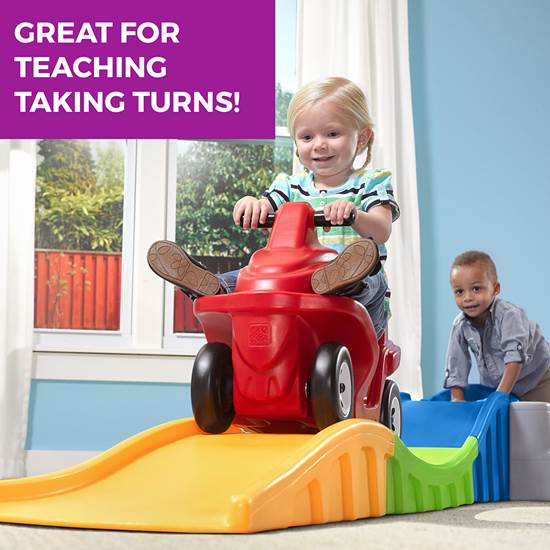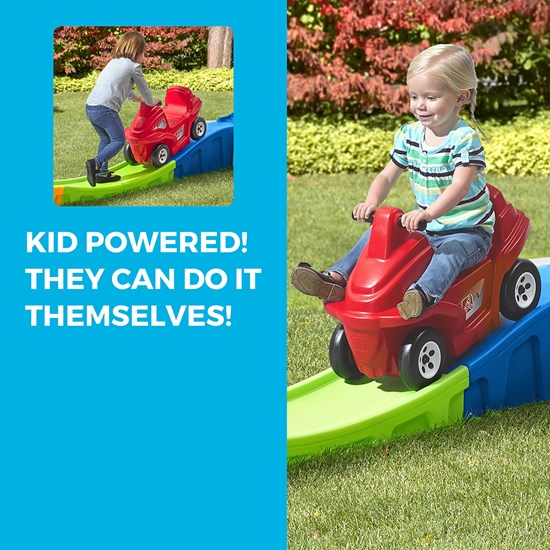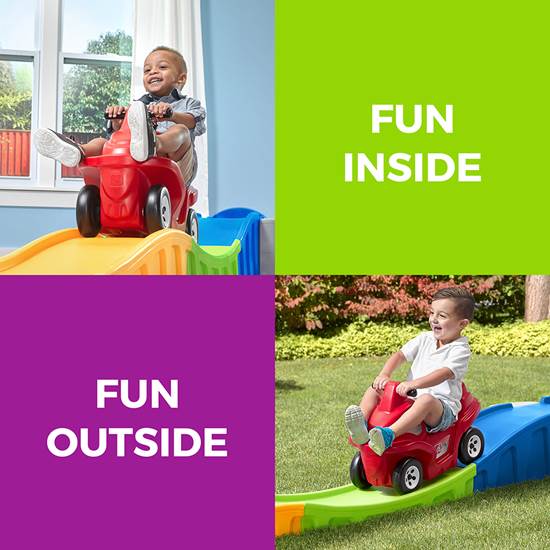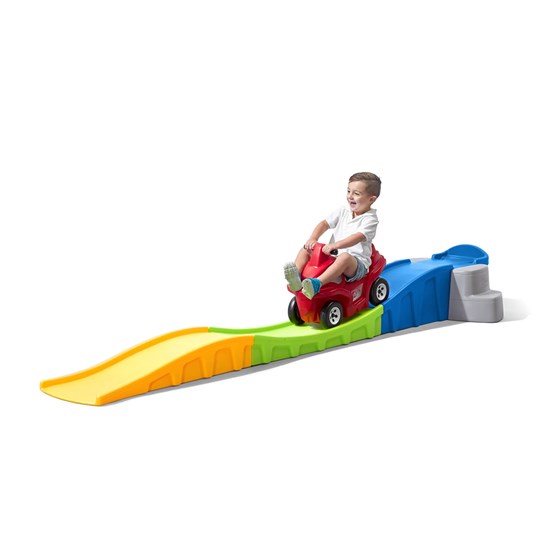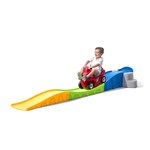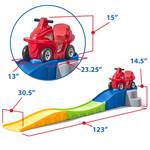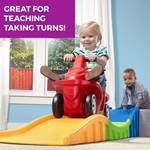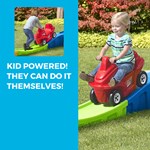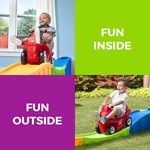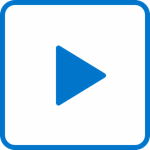 Anniversary Edition Up & Down Roller Coaster™
In stock
$139.99 $129.99
+$12.99 shipping (via FedEx)
IS THIS A GIFT? DON'T SPOIL THE SURPRISE!
This item ships with an image of the product on its outer packaging.
Rated 5 out of 5
by
Anonymous
from
New favorite toy!
Wow my kids LOVE this sooo much! I literally don't have enough good things to say about this product! My 2 year old and 5 year old fight over who's turn it is to use it haha! It could keep them entertained all day long! It's been so fun to see my 5 year old help my 2 year old on to it! They don't really need much help from me to get on and off of it which is great for busy moments when mom needs to get some stuff around the house done! I'm super excited about this purchase and would recommend this to anyone interested!
Date published: 2016-12-26
Rated 5 out of 5
by
MilaariMom
from
Endless Entertainment!
We absolutely love this roller coaster by Step2. Its super easy to assemble and also store away or bring indoors on a rainy day. I love how it's also a breeze to keep clean. My toddler is 3 and can easily bring the car on the ramp herself and push off without help. With the pandemic going on we have been home so much so this is a toy that provides endless entertainment. It's fun, safe and exciting. Even our baby giggles while watching his big sister play on it. We are trying to keep toys around that provide more than five minutes of fun and this is exactly that my daughter played on it all day outside and we were able to sit back and watch her enjoy it independently. Once our son is a little older I know he will enjoy it too! I can see this being an awesome gift for the holidays as well. Thank you Step2 for letting me test this product as a part of the Step2 Toy Tester Program!
Date published: 2020-10-05
Rated 5 out of 5
by
Diane
from
Great purchase!
I bought the ANNIVERSARY EDITION UP & DOWN ROLLER COASTER for my daughter's 2nd birthday and I'm glad I did! I was worried she would be too little, but she has mastered it. She can climb on the car, push off to get herself going, and push it back up to go again all by herself. The track is slightly textured so she is able to walk up it without slipping, even in socks. Some people said the steps were too narrow, but we haven't had a problem with it. I also have a 4 year old that loves it too. The only problem I've had is the kids don't want to share! Also, I love that I can buy the Track Expansion Set when they grow a little bigger. It has been a great purchase, and I would definitely recommend buying it.
Date published: 2020-05-07
Rated 5 out of 5
by
Anonymous
from
Absolutely love!
Couldn't be happier with this kid-coaster! My husband and I bought it for our baby for when she gets older (7mos currently), but were excited once it came and set it up.. Our niece who's almost 5 absolutely loved it.. It's not intended to hold over 60 pounds, but I was able to scoot down the coaster holding our daughter. She had the best time! Definitely buy one if you have kids and the money for it! We'll be buying more Step 2 products in the future for sure! :))
Date published: 2017-01-04
Rated 5 out of 5
by
Anonymous
from
we like it.
It arrived in one piece and was efficiently packaged. My little girl initially loved it the first day and then the next day all she wanted to do was push the car down the track and watch it go. It is almost as if it scared her somehow. Now she just wants to go up and down the track like a slide. I wish she used it more like it was meant to be used. Not sure how to store it but I dont want to keep it outside 24/7 and I cant get all of the pieces back in the box.
Date published: 2017-01-08
Rated 5 out of 5
by
Dmcf
from
Excellent gift idea
I gave this to my almost 2 year old granddaughter for Christmas. After two rides where we kept our hands right by her we just set her up and let her go!! She loves it! She is not able to set it back up alone and needs someone to hold it in place when she climbs on because she is so small but it is obvious she is going to love this for a long time!! I wish the one for up to 70 pounds wasn't 3x's the cost of this one. Then I would get my almost 3 yr old granddaughter one also (she is too close to the 40 lb limit to invest in her own smaller one.
Date published: 2018-01-04
Rated 5 out of 5
by
Jenni X
from
Absolutely love it!
My 3 year old daughter loves her roller coaster. Everyday she has wanted to get on and ride it. It's very easy for her to get on, and push it back up to ride again. It is well made, and I have no doubts it will last her, and her 7 month old sister will be able to use when she gets older. The roller coaster snapped together so easily, my 9 year old could've put it together.
Date published: 2018-01-04
Rated 1 out of 5
by
Karin
from
USELESS without the expensive upgrade!!!!
This roller coaster is absolutely USELESS without the new (And VERY EXPENSIVE) upgrade they finally made that makes it "higher and faster". Such a joke!!!! It's a scam that now they make you buy a separate part to make it even somewhat fun for the kids-it should be included for this price-not an additional $90 to get it!!! Trust me everyone... you will wish you did.
Date published: 2020-04-21
Rated 5 out of 5
by
Joey
from
The best gift for a toddler
15 years ago I purchased this product for my own child. They played with it for years! It held up in all weather and gave them many fun days of play. I recently purchased another roller coaster for my niece. It was easy to deliver. Easy to set up. And she loves it! She can play indoors or outdoors with it it is durable and the best gift ever.
Date published: 2018-01-18
Rated 5 out of 5
by
karrot40
from
Your kids NEED a Roller Coaster!!
My kids had a roller coaster when they were younger and it was always a favorite. Now mine are all grown and I'm a Nanny, so we bought another for the littles I look after, ages 2-6. It's super sturdy, easy to store when not in use, and the kids LOVE riding it over and over! No regrets!
Date published: 2021-02-02
Rated 5 out of 5
by
Lisa
from
Sooo fun!
Absolutely love this roller coaster so easy to put together and i cant get my kids off of it. I have a 4 yaer old and a 19 month old we set it up with the expansion pack and it was perfect for both. I will say a little uneventful without the expansion pack.
Date published: 2021-01-06
Rated 5 out of 5
by
X man
from
Great roller coaster !
My son is 15 months old. I thought this rollercoaster was going to be too advanced for him and I was afraid he was going to fall. Not the case !! My son loves it and he will ride it over and over. He climbs up by himself and sits on the car! Love it
Date published: 2021-01-29
Rated 5 out of 5
by
Stephanie
from
"Favorite toy"
Great price, shipped and received quickly. Given to my daughter for her 2nd birthday. She can't stop riding it. She keeps saying "favorite toy"!!
Date published: 2021-01-02
Rated 3 out of 5
by
Jelly Belly
from
Thank you to Step2 for letting me test this item as part of
I love that its small and takes up less space. However, my child has to push really hard to get over the last bump otherwise he gets stuck.
Date published: 2016-04-16
Rated 4 out of 5
by
Asking too much
from
As described
As described, a little pricey but its great. Sturdy plastic for longevity
Date published: 2021-01-01
Rated 5 out of 5
by
Grandma
from
The Best Birthday Ever!
This gift was for my 2 year old grandson's birthday. He immediately loved the red car. I was pleased that he had the option of putting his feet up on the side of this car while riding. He seemed to figure out that he could do that all by himself. After riding the car he was introduced to the track. He took to it right away and had a great time riding down the track and pushing the car back up it. I am sure that he will have hours of fun with this toy.
Date published: 2019-08-29
Rated 5 out of 5
by
Asarwary
from
Great for active toddler!
Our son is two years old and full of energy. We wanted an active toy he could use indoors in our basement. We choose the up & down roller coaster and were not disappointed. It was a breeze to assemble. When our son first used it he was terrified but has loved using it since. He can spend up to 30 minutes on the coaster. Outside of riding the toy he likes to stand on the coaster or play with his car and train toys on it. This has been a great buy.
Date published: 2020-07-23
Rated 5 out of 5
by
Anonymous
from
Best toy purchase ever!
Our little guy LOVES his coaster. Not only does he like to ride the car down but he uses it to climb along and practices walking on the inclines, as well as using it to race his other hand held cars. I love that it's good up to 50 lbs because with a little guy at 21 lbs, we are going to get A LOT of use out of it. The car is a huge improvement on the original, being able to keep his feet up is awesome for safety and helps him go faster.
Date published: 2017-05-17
Rated 5 out of 5
by
Jamien
from
Timeless toy, will not disappoint!
Timeless, Wonderful! In 2002 we bought this roller coaster for our youngest who was 18 mos. It was well worth the money. This year, we bought the roller coaster for our Grandson who is 2. To watch him roll down the coaster endless times and push the car back up reminded us of our youngest and how much joy this toy bought her 14 years ago. This is a timeless toy that you can't go wrong with whether you are a parent or grandparent!
Date published: 2017-01-01
Rated 5 out of 5
by
Anonymous
from
A great toy for any back yard
This the second one of theses roller coasters I have purchased. The first was 4 years ago for my grandson. It has been enjoyed, and is still being enjoyed, by younger grandchildren and their friends. It is sturdy and has held up well over the years. When a new set of grandsons came along, I couldn't think of a better Christmas gift for them. They love to play outside and the roller coaster is a wonderful addition to their backyard.
Date published: 2017-01-05
Rated 5 out of 5
by
Grannyk
from
This ride on toy is the best ever!
I bought this for my grandson (nearly 2 yrs old) for Christmas. One ride and he was hooked. He must have ridden it a hundred times that day. He also climbed up and slid down the track (on his bottom) as well as sending a number of his other gifts down it. It was the first thing he headed for when he got up the next morning. I would highly recommend it to all. Very durable and will survive to be passed on to the next child as well.
Date published: 2018-01-04
Rated 5 out of 5
by
Anonymous
from
The Surprisingly BEST gift of Christmas!!
Santa set this up in our living room and it was by far the favorite gift of the day. Our 5 y.o. and 2y.o. are still riding it morning, noon, and night. Just high enough to be thrilling yet low enough to be safe. The notches up top to hold the coaster in place are perfect. This coaster is well designed and will clearly provide hours of fun for years to come. My big kids (14y.o.ds, 12 y.o. dd) were jealous!
Date published: 2016-12-31
Rated 5 out of 5
by
Anonymous
from
Up and Down Roller Coaster
I've been wanting to get the "Up and Down Roller Coaster" for my grandson who moved in with me last year. I could never afford it. Your email came in, showed it on sale AND free delivery! I ordered it for Christmas and it was here ON TIME! My grandson couldn't be happier! And it was so simple to just piece together in 2 minutes! Love it! Thank you STEP 2 for having a name I can trust! :)
Date published: 2017-01-07
Rated 5 out of 5
by
GrandmaK
from
Awesome product
This was easy to assemble and my grandson loved it!! We set it up in living room and it was his favorite Christmas gift. He is 18 months old and was showed once how it works needs a little help occasionally on getting car up ramp but car is sturdy and stays on track. Only suggestion would be availability to buy more track for when we move it outside. Would definitely recommend to friends.
Date published: 2019-12-29
Rated 5 out of 5
by
Anonymous
from
Best Toy Ever!!!
This toy is phenomenal! Not only is it the easiest setup ever, but it's light weight and easy to move. I love the fact that you don't need any hand tools to set this up. All the pieces interlock and it creates a sturdy foundation to play on.As soon as my daughter saw the coaster, she squealed in delight! She loves the car and the fact that it is red, her favorite color. She adores pushing the coaster up the ramp and gets a lot of energy out by doing so. She also enjoys walking up and down the ramp, over and over again. Great to get out a bunch of energy!My daughter loves riding the coaster down the track! Her smile is huge and she says "Weeeeee!" all the way down. Over and over again and hours of playtime fun!Great for indoors and outdoors. If the weather is warm, with how easy it is to disassemble you can bring it out and set it up under 5 minutes. And when it's cold, bring it on in. A great toy and wonderful quality!
Date published: 2016-03-14
Rated 4 out of 5
by
EMJF
from
Easy and fun but wish it was longer
If you are looking for something that can entertain your child and can be assembled/dissembled in seconds, this is it. My 2.5 year old loves it. It's also held up under rain and sun just fine. BUT it is kind of short and your child will likely lose interest eventually. I wish I could buy more pieces or an extension kit just to increase the longevity of the item.
Date published: 2020-07-26
Rated 5 out of 5
by
Ellie
from
Step2 rollercoaster
The best birthday gift ever! So well made and our one-year old loves it and can sit and ride safely on it. As a nursery teacher, I was already aware of how much children loved this rollercoaster and it takes indoor and outdoor use and abuse and still looks new. When it came to choosing a birthday gift, I knew Step2 rollercoaster was my first and only choice.
Date published: 2020-06-10
Rated 5 out of 5
by
Maestra2430
from
Awesome roller coaster
I was hesitant to buy this roller coaster. I wasn't sure if my grandkids would use it. I was pleasantly surprised. I gave this to my granddaughter for her 2nd birthday. Both she and her older brother (age 3 1/2) love this roller coaster! It's the first toy they go to when they go outside. Their laughs and shrieks of joy makes me glad that I purchased it.
Date published: 2018-04-11
Rated 5 out of 5
by
Tiffany
from
Anniversary Edition Coaster
Bought this for my soon to be 2yr old grand daughter. A huge hit! She instantly grabbed the car and pushed it up the slide, went around to the stairs to climb on and ready, set, go!! Over and over again. She also gives her baby rides, pushes cars down it, walks up and down backwards, and slides down on her tummy- all with a huge smile!
Date published: 2020-08-11
Rated 5 out of 5
by
Johnna278
from
Amazing!
I've been wanting to purchase one of these for my grandchildren for a few years. When I came across this anniversary edition, I just couldn't pass it up. I bought it in September for Christmas, so we haven't opened it yet. However, I know all of my grandchildren will love playing on this roller coaster. I can't wait for the fun to begin!
Date published: 2017-10-05
Can I set this up on grass in the backyard or will the car come to a sudden stop/potentially throw my child?
Definitely. Your child will be safe and thrilled with the continuation of the ride through the grass. 
Date published: 2021-05-29
Can i use the unicorn on the regular up and down track?
The Unicorn is designed for the Unicorn Up & Down Roller Coaster™ only.
Date published: 2021-03-10
Can I purchase an replacement car for the roller coaster? 
We are unable and do not to sell any of the small or large plastic rotational molded pieces such as this due to how the products are manufactured. All products are manufactured and packaged in complete sets or as a family. We do not run individual pieces, stock extra pieces and therefore cannot sell individual pieces. We can provide these parts as ONLY as no charge replacements if the product fails within the warranty period under normal use to the original purchaser who can provide proof of purchase or a receipt.
Date published: 2021-02-24
We purchased a unicorn up-and-down roller coaster, Model 493700. How do you activate the unicorn horn to light up and make sounds?
Once the batteries are installed motion should activate it. Please note that there is a 30 second delay between each activiation.
Date published: 2021-01-19
Is the Anniversary Edition's track longer & taller than the original Up&Down's track? Pictures of the anniversary show a 123" length & 14.5" height, while the Up&Down's 121" L X 11" H. However, under the details the dimensions are the same for both. 
No I think it is the same, the colors are just different. However the carts are built different. They both are great, I built my niece the original one and my nephew got the anniversary one when it came out. 
Date published: 2020-12-31
Can you add the extension to this?
I'm not sure. I purchased it for my grandson to have at our house and he was two years old at the time. He's very tall for his age and outgrew it by time he was 3 1/2.
Date published: 2020-11-29
Can the track be expanded?
Yes there is an extension you can buy
Date published: 2020-09-04
How do the 3 options compare anniversary vs Thomas vs original? Each as fast? Comfortable? Stable?
I head the orgional is the most stable its not as long and tall as the avaersy one. Also the unicorn is the same length and height as the an. One It lights up but isn't as stable and no expansion for it. The anv one is taller and longer and you can get an extension for to make it about 5 inches taller. The cart is smaller So if your an adult and want to play with your kids get the orgional and the expansion
Date published: 2020-09-03