Cakes & Coffee Kitchen and Café™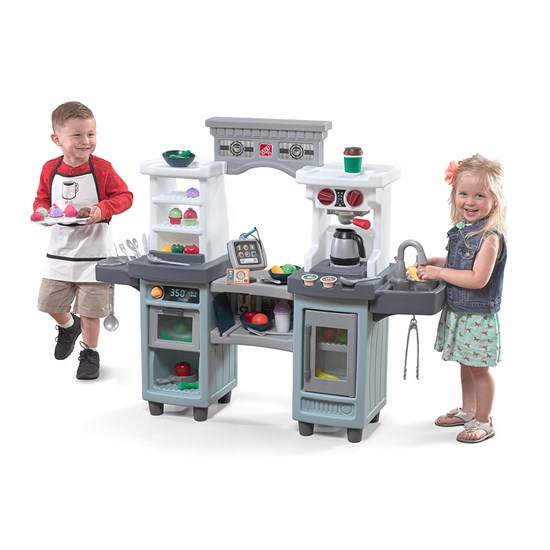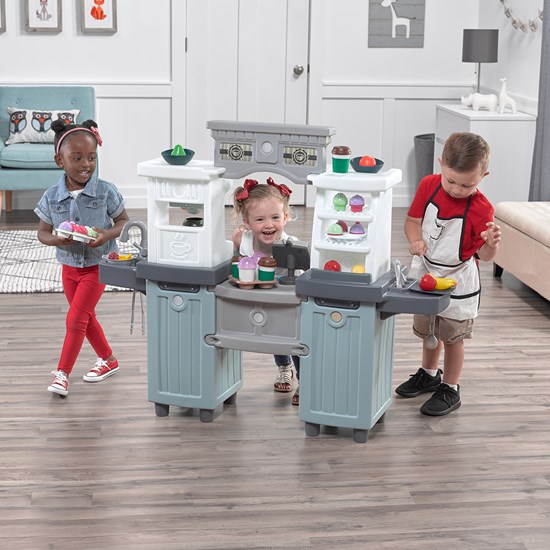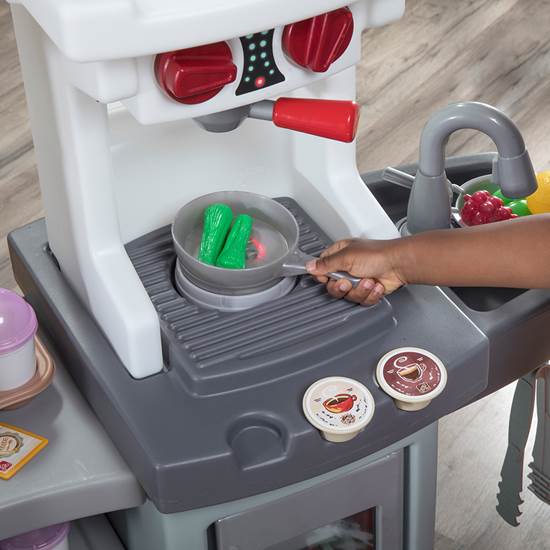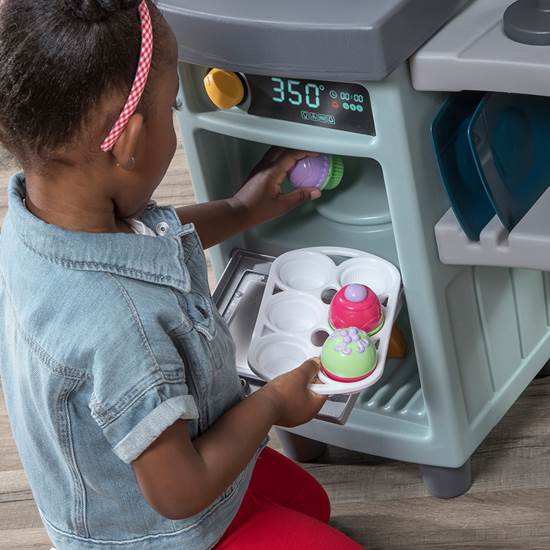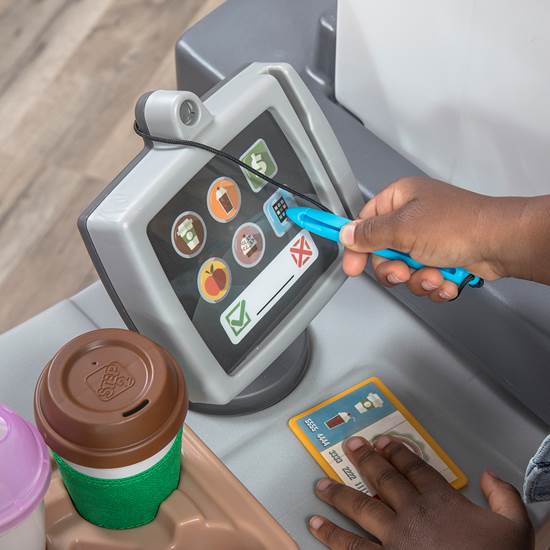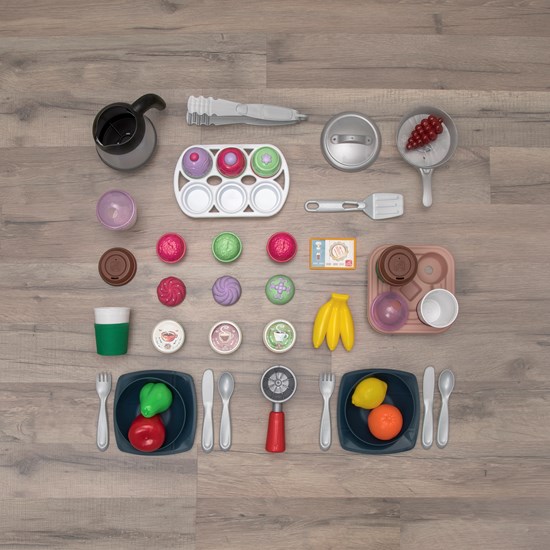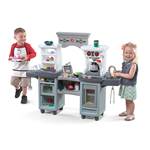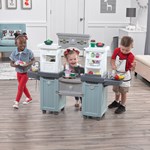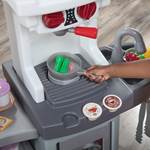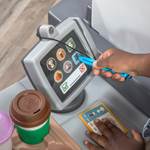 Cakes & Coffee Kitchen and Café™
In stock
$129.99
+4.99 shipping (via FedEx)
Little entrepreneurs will love running their very own café with the Cakes & Coffee Kitchen and Café by Step2!
IS THIS A GIFT? DON'T SPOIL THE SURPRISE!
This item ships with an image of the product on its outer packaging.
Rated 4 out of 5
by
Jaysonsmommy
from
Great daycare toy
First of all I didnt get this for free! But we still love it anyways...my husband assembled this at night and the next morning my 2yr old son spent over an hour playing coffee shop! As each of my daycare kids arrived they too were so excited to play coffee shop and have done so for an entire week. Every day they play with it. I even ordered more coffee accessories from step2. Since it is meant to be played with on both sides, we don't have it against a wall. Just sat it next to the step2 ball house! The kids take turns on each side of the coffee shop, playing so nice! Just watch out for the faucet coming off, had to order a replacement.
Date published: 2018-09-29
Rated 5 out of 5
by
Morgan
from
Great, modern product perfect for many ages!
This product was fantastic! Allows for great imaginative play and the colors and design make it seem so "real life!" It kept my toddler entertained for hours. My son (age 3) loved the cupcakes and how you can assemble different "toppings." He also enjoyed taking people's orders on the screen and swiping the credit card! The coffee cups are adorable and even come with coffee sleeves! :) The only down side to the product was it took about 2 hours to put together... BUT... it was worth the wait! Thank you Step2 for letting me test this item as part of the Step2 Toy Tester Program!
Date published: 2018-09-22
Rated 5 out of 5
by
designerjen
from
Great for boys and girls of all ages
Our 4 year old son loves playing with his coffee and cake cafe. The assembly was very easy, instructions were detailed and very clear. The cafe came with all of the accessories needed to run your own cafe. Thank you Step2 for letting me test this item as part of the Step2 Toy tester program!
Date published: 2018-09-29
Rated 5 out of 5
by
Mila
from
Great Kitchen & Cafe
This was easy to build and there are so many fun toys included that my daughter could play while I put it together. She loves the cupcakes and making coffe with real coffee brewing sounds. The Point of Sale cash register keeps her entertained and pretending. I also like the colors, great nuetrals for a boy or a girl's room. Thank you Step2 for letting me trst this item as part of thr Step2 Toy Tester Program!
Date published: 2018-09-28
Rated 4 out of 5
by
Chrissy
from
Super cute and lots of fun!
We received our Step2 Cakes and Coffee Kitchen and Cafe yesterday and my daughter (age 3) is still really enjoying serving us our hot and iced coffees, fruit and cupcakes today. That's always a good sign when they go back to it a second day! The assembly took me 2 hours. This is probably not typical since I had a few setbacks. 1. My kids were "helping." 2. I put one of the white shelf pieces on backwards and noticed two steps later... 3. I am weak, and the directions say use a screwdriver not a screw gun so I had a hard time putting all of the screws through the plastic without predrilled holes. I have a blister on my hand to prove it. I'd say it would take a normal person 1 hour or less. All in all it is super sturdy, well-made and has a nice amount of detail. The decals were limited and easy to put on. Decals can be rough so I figured that was worth a mention. There was one concern, on the bottom of the middle section there are 4 spots that look like they should get screws. I've been through the short directions 3x and nowhere does it say those spots get screws, and I didn't have enough for it anyway with only two different "spare screws" left at the end. I added a picture of this area for reference. Okay, now for the playing part! My daughter absolutely loved pretending to make coffee and sell us things. I only had to show her once how to put the little coffee pod in the holder and "brew a pot." She very much wanted to be able to "bake" the cupcakes but the oven won't fit the tray. I added a picture of that as well. It seems like you should be able to bake them since the icing part is removable so you can ice the cupcakes over and over. The icing is a bit hard to take off and put on as are the coffee lids. My daughter wants the lids off every single time she pours a new cup so that requires assistance each time. The fruit and cupcakes are adorable as well as the "display area" for the baked goods. She doesn't use the tongs, spatula, bowls, utensils or the pan. I suppose you could use the tongs to distribute cupcakes but that seems a little hard for a 3 year old. Maybe those are extras if you want to add more play food. I felt like this could have come with a bit more of a baked goods assortment - maybe donuts or a croissant for variety. There is space on the shelves for plenty so maybe the intent is to add more Step2 food yourself. The realistic sound of the coffee brewing is a big hit! She keeps brewing it over and over letting me know if hot or iced will be available. She has us dispose of our cups and plates in the sink part for washing and has been really good about putting everything back in its place each time because it is her "job." The check out pad is probably my absolute favorite part. She uses the pen to put in our order (realistic sounds) and then flips it around for us to swipe the pretend credit card and sign! All in all we really love this kitchen especially because of its uniqueness. Thank you Step2 for letting me test this item as part of the Step2 Toy Tester Program!
Date published: 2018-09-22
Rated 4 out of 5
by
Nicole
from
Fun for more than one at a time!
The Cakes & Coffee Kitchen and Cafe is a very cute, modern looking play kitchen with a focus on coffee brewing. My boys, ages 3 and 5, really enjoyed figuring out how the different parts of the kitchen work (register/credit card machine, coffee maker, sound effects on the stove-top.) The accessories that come with the set are basic kitchen needs, though there should be a few more coffee-related add-ins like fake cream and sugar or syrup flavors, like a real coffee shop. My boys LOVE the cupcakes with the interchangeable frosting! The double-sided feature to the kitchen where one kiddo can be the barista, and the other can be the customer, is really entertaining for my kids, but it does create a space challenge when deciding where to put it in my house. The assembly was fairly simple, though it would be nice to have at least small pre-drilled holes to help with this. Thank you Step2 for letting me test this item as part of the Step2 Toy Tester Program!
Date published: 2018-10-08
Rated 5 out of 5
by
KristenM
from
My daughter loves it!!
The product arrived quickly. The directions were easy to follow. I especially appreciated the pictures of the screw lengths, so I knew which ones to use without having to measure them. It did take me over 2 hours to assemble and took some arm muscles since I had to push the screws through the plastic. I wouldn't say it was difficult, but it was a bit more time consuming than I imagined. I put it together during my daughter's nap time and she was so excited when she came downstairs! The green sleeves for the coffee cups are adorable and iced coffee/smoothie cups are cute too. All of the accessories seem sturdy and should hold up well to repeated use. My son has enjoyed making the coffee pot and frying pan make noise! The "touchscreen" register is also a cute touch that makes realistic sounds. I appreciate how sturdy the overall unit is and that the accessories can fit inside the oven/fridge/shelves for more compact storage. Thank you Step2 for letting me test this item as part of the Step2 Toy Tester Program!
Date published: 2018-09-24
Rated 4 out of 5
by
Thedole
from
Fun times for my son
The toy coffee stand has a lot of fun features and easy to assemble. Just wish the credit card pad had some realistic sounds instead of giggling noises when pushed.
Date published: 2020-04-22
What are the dimensions of the original packaging?
The packaging dimensions for the Cakes and Coffee Cafe' Kitchen are as follows: 24.25 x 19.375 x 30.25 inches
Date published: 2020-02-24
I am trying to choose one for my child. what is the height from floor to counter top? Thank you.
The approximate height of the countertop for the Cakes & Coffee Kitchen and Café is 20 inches.
Date published: 2018-12-03