Complete Choo Choo Train Combo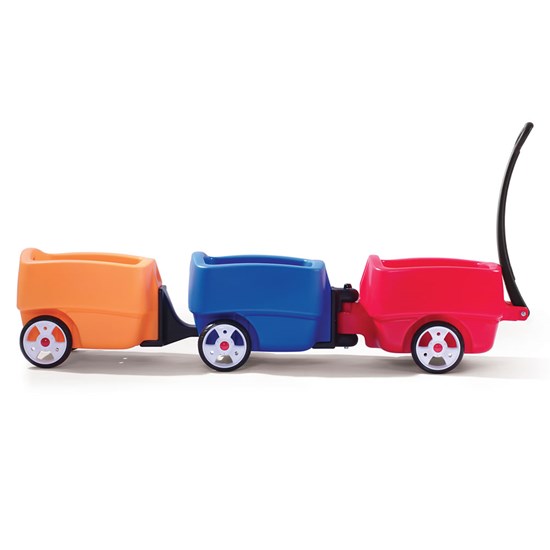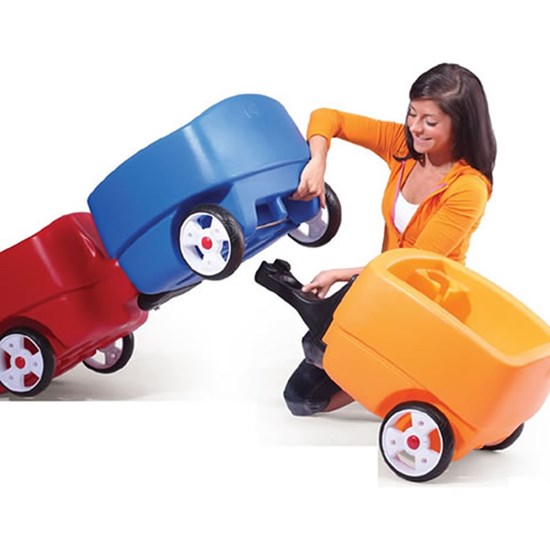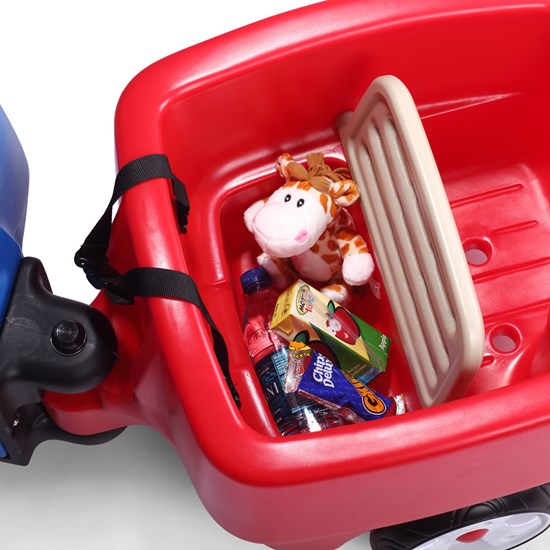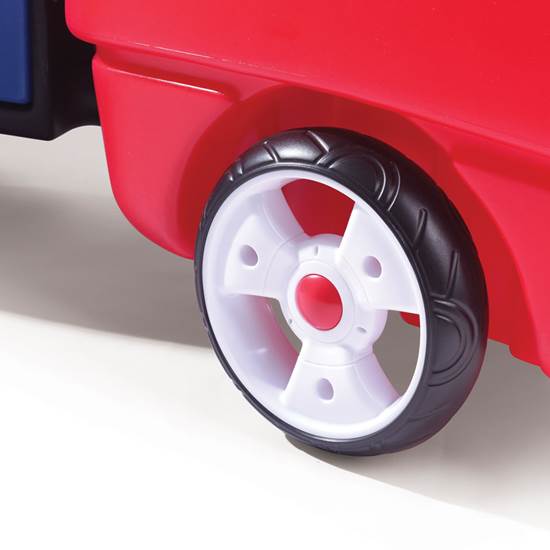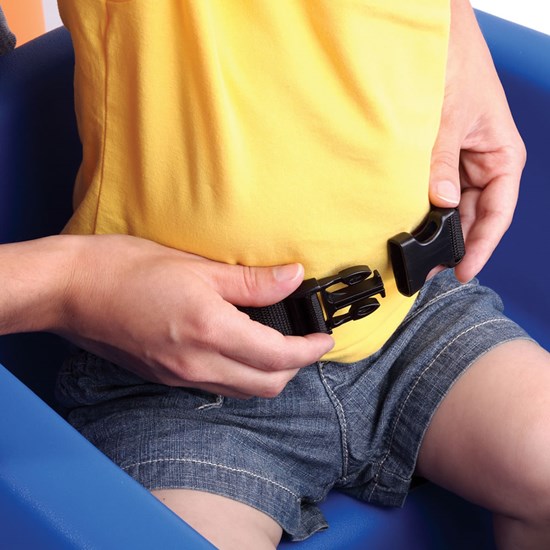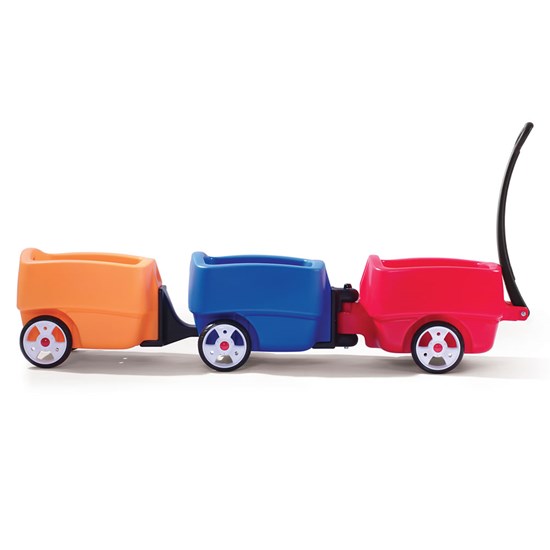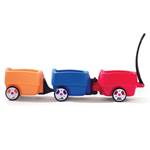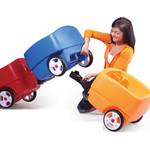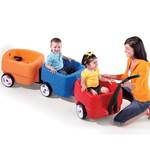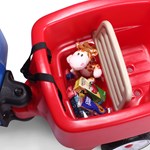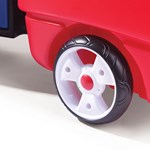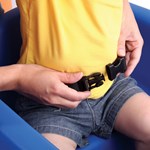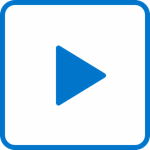 Complete Choo Choo Train Combo
In stock
$172.96 $149.99
+ FREE Shipping! (via FedEx) When will my item arrive?
This Step2 Multi Seat Wagon and Trailer Combination is the ideal wagon for kids that like their space during rides to the park, or around the neighborhood!
IS THIS A GIFT? DON'T SPOIL THE SURPRISE!
This item ships with an image of the product on its outer packaging.
Rated 5 out of 5
by
Anonymous
from
This is what I call a "Swagger Wagon"
We use the choo choo wagon almost daily for our walks. We have taken it out occasionally to run errands. Each child has their own car so that they have their own space. I wish that every car had storage under the seat rather than just one car. The cup holders are neat because they also hold a rectangular base juice box. I was very impressed with the wheels. I thought they were rubber, but they are a hard plastic, not like the old plastic ones that are loud and rough riding. I purchased the Radio Flyer clip on umbrellas for each car. It makes the ride comfortable for the children since they can be adjusted to avoid direct sunlight.
Date published: 2012-07-17
Rated 5 out of 5
by
Brianne
from
A must have for multiples!
We have a 3 year old and 18 month old twins. I cannot say enough wonderful things about the Choo Choo Train. The kids loved it from the second they saw it and climbed right in. We strapped them in the belts and headed out for our first ride. It was easy to pull (hills are a little tough but that's expected when you're pulling 100 pounds!) The train is light-weight and manuevers pretty well. It has a very wide turn radius but you can just lift up the first cart and drag it around if you prefer. Love that each car is a different color so the kids know which is theirs. Also, when seated they cannot touch/kick each other which Mama loves!!! :)
Date published: 2013-06-02
Rated 5 out of 5
by
Anonymous
from
Great multiples mover
We were hitting the upper weight limit on our Foundations Quad stroller and were looking for something to move our triplets around with. This is wonderful! Each toddler has his or her own compartment which means no more kicking the person in front in the back or the head, no more hair pulling, and no more stealing toys or blankets. (Hey, what's a baby to do when bored and overcrowded?) Each baby can see and interact with surroundings so much better than in a stroller and they all really seem to love it. The turn radius is pretty wide, but its easy enough to compensate for. This is a great outdoors toy for my little ones and tool for me.
Date published: 2013-04-21
Rated 5 out of 5
by
cf3
from
best money ever spent
this is a great wagon. We have a 3 1/2 year old, a 2 year old and a one year old and was looking for a way to get them to the pool and playground since they grew very fast and out weigh their strollers but are too young to be comfortable to walk on their own. This was perfect- they all have their own space(no kicking or touching each other) and their was three seats so nobody was left out. My kids live it and don't fight goning into it and each seat hld up tpo 50 lbs so even my largest kid still has 15 lbs before they won't fit. It i easy to pull and my kids weigh about 100 lbs together. I would suggest this to anybody who has kids.
Date published: 2012-05-31
Rated 5 out of 5
by
SUPER MOM!!
from
I have WAITED FOREVER for this WAGON!
I have WAITED FOREVER for the CHOO CHOO TRAIN to come back for sale! I had the last one years ago, and was sad when a family member sold it without telling me. I now have 7 children, they are very hard on things, and this is very sturdy, my kids LOVE to go in the wagon, they also are not touching each other in it! They take the wagon around the house and play in it. We're looking forward to taking it to the park tomorrow for my sons birthday. This is just a FUN wagon! It's different, and the kids LOVE playing a CHOO CHOO TRAIN!! I would recommend this wagon then any other wagon that is out there. The kids and I, just LOVE it!
Date published: 2012-01-20
Rated 5 out of 5
by
Family of Seven
from
"Perfect for Large Families/Small Children"
After looking at all available options for transporting three children 2 and under, we finally found what we were looking for. Strollers that fit 3 are pricey and the reviews were not that enticing. This item was perfect for our family of 7. If you are looking for an item that's easy to assemble and that your children will love...this is it. We use it regularly for neighborhood walks and trips to the zoo, etc. While it is rather large and somewhat difficult to transport (will fit safely in minivan disassembled and with a little creativity), we are happy with our decision and would recommend to other families.
Date published: 2015-04-21
Rated 5 out of 5
by
Anonymous
from
Best wagon EVER!
I purchased the two car set and an extra car for my daughter who has triplets as well as a 5 car set for our grandkids. Both are used constantly. My daughter has completely given up any type of stroller and uses her wagon for everything. The kids are now two and a half and she's been using it for over a year. People stop her all the time and ask where she bought it.We use ours whenever the grandkids visit and they all love playing train and being all together. We couldn't be happier with this product. I highly recommend it for anyone with multiples, grandkids, or anyone who has friends who visit.
Date published: 2017-01-10
Rated 5 out of 5
by
Crazy Momma!
from
TRAIN WAGON
We love this train wagon. All the kids in the neighborhood want to ride in it. I have three under 5 years old and it is the only reason I can go places without my husband. We use it to go to the park and bus stop mostly but we even take it on trips. Fits in the van. When our youngest wasn't sitting up it even fit his carseat.(It was a little sideways, but felt safe and snug?) It's very difficult to turn a sharp corner, so I avoid taking it into department stores. I use it mostly for the outdoors. I't taken it to the doctor, but that was hard too. We are a wagon family and this is a winner in our book!
Date published: 2012-05-23
Does it come with 3 seats or just one?
This wagon combo includes 3 seats.
Date published: 2018-03-27
Jusqu'a quel âge maxi ou quel poids maxi ou taille maxi enfant est ce utilisable ?
Le poids maximum de chaque voiture de la remorque est de 50 livres.
Date published: 2018-03-27
I have quadruplet grandbabies just turning one year old....they are not sitting well as yet, but wondering for future if a fourth car could be added? ...this is so very cute and would love for them to have it when they are able to sit better...bought a quad stroller for this year's birthday, but my husband saw someone with triplets in this at Walmart today and told me about it. Thanks.
Yes, a forth car can easily be added.
Date published: 2018-03-27
My daughter has twin sons and a daughter. What is the difference between two cars and the trailer or just ordering three cars? Is there an advantage to one over the other?
Great choice for our family gift to twin grandbabies when they were 2, knowing they were expecting a little sis. I would definitely recommend the 3 sweater over the 2. The third can often be used for eager neighborhood friends wanting a ride and also storage of jackets, snacks and animal ride along friends etc. Our twin grandchildren are now 4 and are still using it for trips to zoos, festivals, long walks, and play.
Date published: 2018-03-27
What kind of tires does this wagon have? Are they plastic or rubber. Noisy???? Durable???
They are plastic. No problems with them so far. They are alittle noisy. I would say the main thing I would tell you about this item is that it is heavy (Not accounting for the weight of children). I found it much heavier than a regular two seater wagon. It can be difficult to pull with the weight of three children it it.
Date published: 2018-03-27
What is the youngest age you have used this for? I was wondering if I would be able to use this for an 8 month old? Thanks!
As long as your child can comfortably sit up without neck support they are probably ready for this wagon. I would say it would work for an 8 month old. The sooner you get this wagon, the more years of use you will get out of it. I waited until my triplets were over 2 and now at almost 4, they have pretty much outgrown it. Wish I would have bought mine sooner!
Date published: 2018-03-27
I have had a choo choo wagon for 3 years and I love it. I was wondering if there is any umbrellas or canopy that I can get for the wagons? thank you. Jackie
Yes, we had triplets in the choo choo and bought Radio Flyer brand red/white stripe clip-on umbrellas for each car. It worked great! It barely clips on there, but it works. The clip is like the large one on a clip-on fan. Wish I still had mine to sell you. Good luck!
Date published: 2018-03-27
Does the Choo Choo Train combo come complete with 3 separate cars, suitable for triplets?
Yes, three separate cars. I use mine for my triplets. At almost 4 years old, it's getting a bit heavy to haul but they still love. Everywhere we go, people love to see all the kids lined up in their little wagon. Fun!
Date published: 2018-03-27
Can you get a shade or umbrella to go with the choo choo wagon combo?
When I purchased the choo choo wagon it did not come with an umbrella or shade attachment. There really isn't anywhere to rig one up either.
Date published: 2018-03-27
How high does the handle reach? Could a 6'4" person comfortably walk with this, or would they be leaning down awkwardly to pul the cars along?
I am 5'2". So I have no idea...
Date published: 2018-03-27
I have a 6 year old, 4 year old and 1 year old. My 6 year old has cerebral palsy and can walk ok but not long distances. She is probably 3.5 feet tall and weighs 40 lbs. I need something to take for walks. Is my 6 year old too big for this to ride comfortably?
I think she would be able to fit, my petite 7 yo niece fits for walks around the neighborhood. It may get heavy if you have all three kids in the wagon.
Date published: 2018-03-27
I want to get this for my triplett grandsons. I see that there are only 3 cars but I want an extra one for there stuff for now or a brother or sister later. How do I go about ordering an extra one or two cars for the wagon trolley? What part do I ask for? How much? Would I be better off buying 2 complete 3- car wagons ?
We have a daycare and we purchased 2 extra wagons for that reason....we can manuever through the grocery store and our local bank. We live in a very small town of 2000plus and it was nice to see people stop my husband and comment how nice to see him out again with the kids....We highly recommend this combo and the added wagons. We purchased this product from Step 2 on-line along with the other added wagons. Have fun with your Choo Choo Train and its a great workout.
Date published: 2018-03-27
I need a wagon that will hold my three children (4 years old, 3 years old and 1 year old) and while this one seems like my best bet, I was really hoping to get one with a canopy. Do you know of any canopies that work with this model? Thank you so much!
I LOVE this train!! I don't know of any canopy that would work with this wagon! Sorry, Sherrie
Date published: 2018-03-27
Can you add more wagon sections to this? I work at a Preschool and have 20 four & five year olds (at full capacity). I would like to purchase a wagon so we can walk to the local park, about 1 & 1/2 miles from our center. I'm curious if they would be durable enough for that kind of ride and also how many I would need to get to comfortably walk with them. Do you think it would be easy to pull 4 wagons with 5 "cars"?
It appears you can add on to the third cart. However, I don't think that it would be easy to maneuver especially with 4-5 year olds. I would say it's more for 2-4 year olds. A 4-5 year old would not have much leg room. With five 4-5 year olds, your talking about 200 lbs. I think you have a good idea, but I don't know if this is your best option. At that age, kids are outgrowing this wagon. I have two girls one is three and the other one turned five one week ago. Both of average size. For a while now, we have only been using this with our three year old. Our five year old will rather walk. Hope this helps
Date published: 2018-03-27