Corvette® Z06 Toddler to Twin Bed™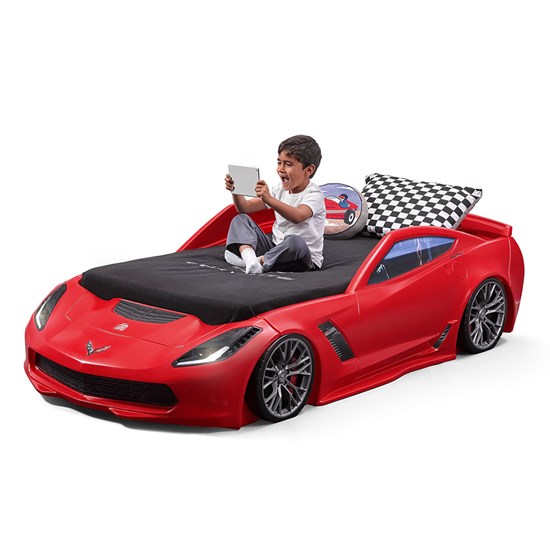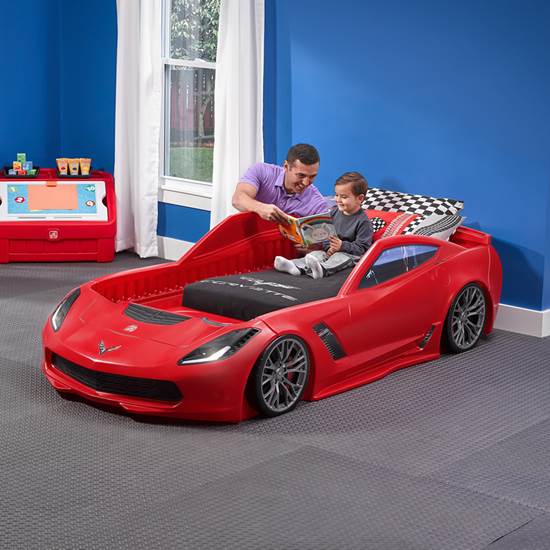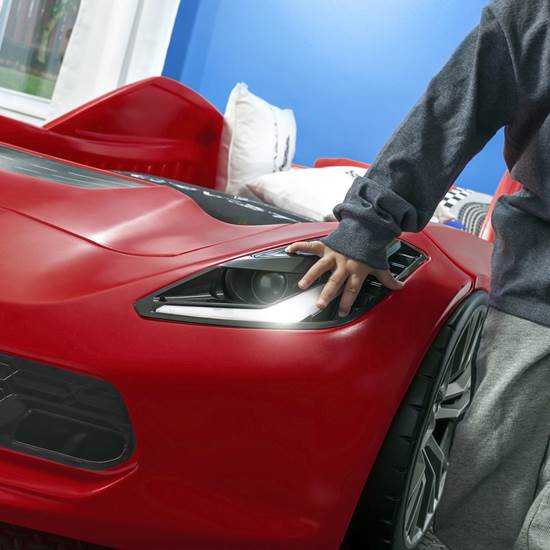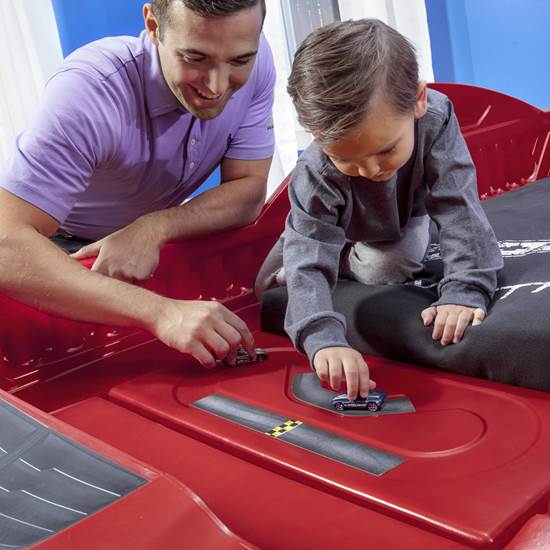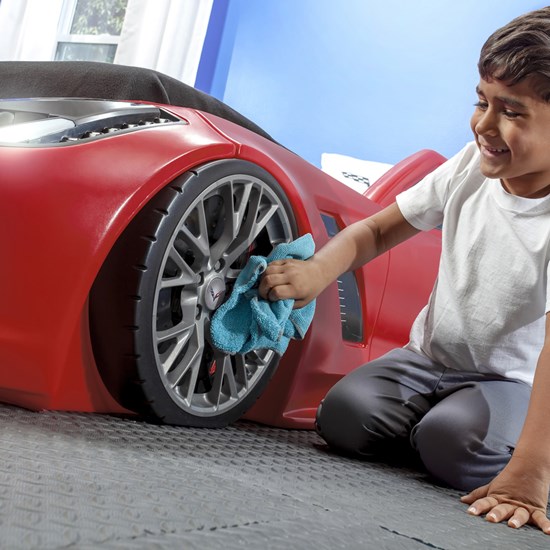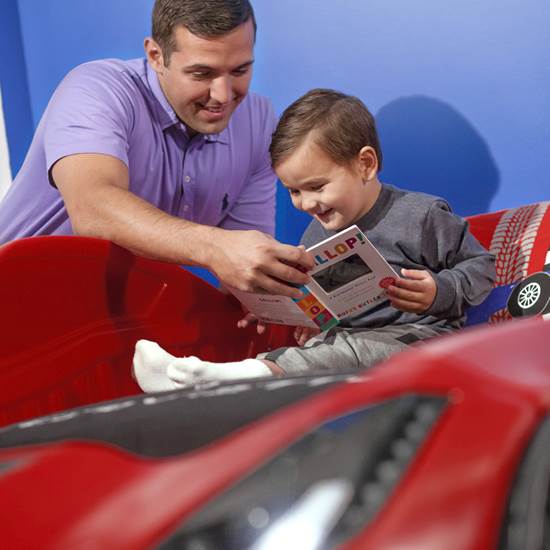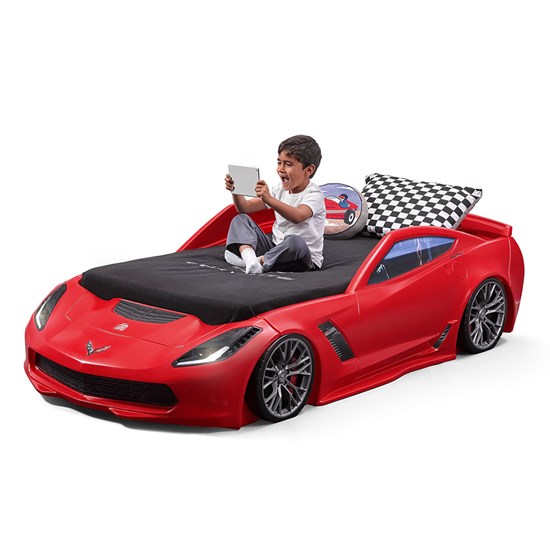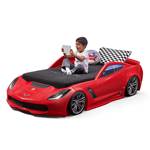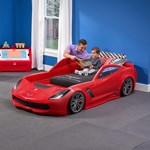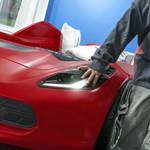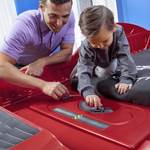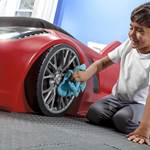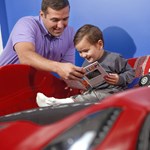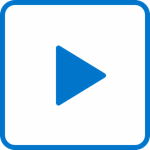 Corvette® Z06 Toddler to Twin Bed™
In stock
$424.99 $419.99
+89.99 shipping (via Truck)
IS THIS A GIFT? DON'T SPOIL THE SURPRISE!
This item ships with an image of the product on its outer packaging.
Rated 5 out of 5
by
Dr mom
from
Thrilled 3 year old
our three year olds expression was priceless. The bed is being used as a twin bed with the Ikea foam mattress. It's great! Very sturdy, easy to put together, comfortable and safe. The bed is quite large, so make sure you check the dimensions and draw them out in your room before you order. The headlight feature is awesome. If you're looking for a good transition to a big boy bed, this is it, and it's cool enough to to use for at least another 5 years. It looks very durable, so i'm sure it will last that long, which makes it an awesome value!. Great purchase!
Date published: 2012-09-03
Rated 3 out of 5
by
James1704
from
My son loves the bed
My son loves this bed, although he prefers to play in it rather than sleep in it. Upon assembly of the bed I noticed a good size scratch on the front (hood) part of the bed it's not worth the time or hassle to send it back considering the size of the product and my son doesn't seem to mind. Another issue I have noticed is the red coloring on the plastic seems to be rubbing off onto the bedsheets. I would be weary putting this product on carpeting for that reason. Overall my son is happy with it so I am happy with it.
Date published: 2019-03-04
Rated 5 out of 5
by
Jenthemom
from
I'm so excited for this bed!
I bought this bed for my 3 year old for Christmas. We had no problems whatsoever with the delivery process. Both boxes were intact with no damage.Assembly was pretty straight forward and didn't take too long. The only thing we didn't realize is that we were putting it together for the toddler bed instead of the twin but it was an easy fix. We did not have any problems with the stickers being wrinkled either.This is such an attractive bed. I know my son is going to love it! We got the bed with the headlights and I am glad we did. It's a fun feature. I think it might be a little over priced for lights, but they will make a great night light when falling asleep. I couldn't be happier with my purchase. I can't wait for Christmas to get here.
Date published: 2012-12-10
Rated 5 out of 5
by
Anonymous
from
Ready for a Race!
I have twin boys that hated going to bed! They fought us at bedtime and we thought there would be nothing to get them to go to bed on time. Then we found the Step 2 Corvette beds. They fell in love with them immediately! After assembling them they wanted to play in them, and now they are up the stairs before we can even say "bedtime!"The bed is very easy to assemble, we had no issues, and even had extra screws in case something went wrong. The delivery was great, we were called ahead of time to ensure things went smoothly. I would recommend this bed for any parent with a little boy that fights bedtime.
Date published: 2014-03-05
Rated 4 out of 5
by
Anonymous
from
Corvette Toddler to Twin Bed with Lights
My 2 year son asked me for this bed after seeing it on display at the toy store. At first I was hesitant because although I have bought many Step2 products in the past none were as expensive as this bed.The bed wasn't the easiest to put together but once together the bed is very sturdy. This is a bed big so make sure you consider the size of the child's bedroom. I love that this bed is convertible to a twin size bed. I also love that it's easy to clean.We are very pleased with this bed and we plan on buying another convertible bed in the future.
Date published: 2015-12-19
Rated 5 out of 5
by
Peds Mommy
from
Dream bed!
My son loves his new bed, and the night light/ head lights feature is brilliant. The bed is big, and in toddler mode there is a little too much plastic exposed,which can get cold in the winter. However, with a twin mattress in place, the bed is perfect. Other models ( who shall remain nameless) have a plastic overhang at the head of the bed that I find to be concerning for entrapment of little ones - the Step 2 does NOT have this feature which seriously reduces my fears of entrapment. It is large so make sure you've done the measuring correctly for the space it will be in. Also keep in mind that you will need to get a twin mattress with a low profile - 8 in. Recommended- or the bed will be too tall. For the price point it was a fantastic purchase that he will love for years to come.
Date published: 2012-10-16
Rated 5 out of 5
by
Mom of car obsessed kid
from
Sturdy and kid approved
Thank you to Step2 for letting me test this item as part of the Step2 toy tester program!This is a great bed and my four year old loves it. He brings his cars to bed every night and plays on the racetrack. He's put this bed to the test with jumping on it, sliding down the front and ramming cars and trucks into it. It's a toddler to twin which is awesome since it grows with your child. Assembly was not too bad, it took about an hour. We did have a problem with sticker placement as some of the decals were labeled incorrectly but no major problems.Everything on this is realistic looking down to the tires and decals. The headlights are great little night lights and are battery operated.If I had one con on this bed (and it's nitpicking) is that the little racetrack's decal is not full, it only fills in pieces of the track.
Date published: 2016-04-22
Rated 3 out of 5
by
Annoyed
from
Terrible packaging and shipping
we waited months for this bed to come out. we already had the stock car bed and loved it, but the corvette was much cooler as i am a huge chevy fan. im normally not one to rate products but had to say something on this particular purchase. i ordered it the day it was released (aug 2.) got it within the 10 day period but when it arrived the box was destroyed and pieces laying out in truck. refused the shipment, and had another sent. didnt get the next one until a week ago (sept 5.) again the box was torn up but was tired of waiting so i accepted it. opened the box to find the boards laying directly on top of one of the side pieces which was scrathed all down size. i love the bed. but as much as it costs, you would think they could spend a little more on better packaging, so it doesnt get destoyed/scratched on the way to its destination.
Date published: 2012-09-12
Rated 5 out of 5
by
Manny123
from
Looks like a real Corvette!
Cons: Some pieces had minor scratches out of the box due to poor packaging when shipped. The pieces were filthy and I had to wash all of them with soap in our soaking tub. Since there are no screws in the panels, assembly isn't super easy and requires two people. Having a power drill is a must, as assembly cannot be done properly with just a screwdriver or would take forever, especially for the wheels. Pros: Once the bed is assembled, it looks awesome and appears to be sturdy. The bed is pricey for a plastic bed, but our toddler son loves it and is now more interested in sleeping in his room. The "doors/windows" of the car help keep our toddler inside and prevent him from rolling out at night, which is a huge plus. The LED headlights as really cool looking and the perfect brightness at night. Looks like a real Z06 and is the best looking car bed out there, by far.
Date published: 2019-09-12
Rated 5 out of 5
by
Anonymous
from
Love it.
Got this bed for my two year old, he abosuletely loves cars so I knew he'll love this bed. It's really a nice huge bed since he's still not yet ready to sleep alone, I've slept a couple nights with him. The stickers were easy to place went on smooth. Only thing is the wholes aren't pre drilled so we had to just drill the screws in, instead of just using a Phillip screw driver as the instructs suggested.
Date published: 2017-01-26
Rated 5 out of 5
by
Anonymous
from
Awesome bed!
I love this bed and my son does too! Once I saw it was a corvette design, I knew I had to get it for him. My dad has a corvette and is obsessed with them, so it was only fitting to get my son one! My son is always in his room now playing in his car bed. It is very sturdy and durable and Im using it as a toddler bed right now, so I love that the sides are a little higher than most toddler beds. I have gotten so many comments about how how cool te bed looks! I would definitely recommend it.
Date published: 2013-04-19
Rated 4 out of 5
by
Anonymous
from
Great bed
Really great bed, easy assembly and switching between toddler and twin bed. My son loves it, helped with transition to sleeping in his own room. Started with the toddler bed which was great because it wasn't an intimidating change in size, and doesn't let him fall off the sides. Then switched to the twin which I expect to last well into his teens.The only thing is that it collects a lot of dust and dirt inside the bed and is too big for small rooms.
Date published: 2015-04-29
Rated 5 out of 5
by
Anonymous
from
Awesome toddler bed!
I bought this awesome Corvette bed for my 21 month old grandson for his 2nd birthday and just couldn't wait to give it to him early! The transition from the crib to this Corvette bed was unbelievably easy! He had no problems giving up his crib for this car bed! He slept all night in it the very first night without any problems! Grandma and mom and dad couldn't be more impressed and excited for our little guy! Thanks Step 2 for an awesome product!
Date published: 2013-02-03
Rated 5 out of 5
by
Anonymous
from
One happy 3 year old
We've had the bed about a week now and our son just adores it. He loves the design, he loves the track, and he loves turning the headlights on and off. My husband assembled it, and it took no time to put it together. The stickers took more time than anything, but the stickers are very realistic looking. It is much larger than I imagined it would be.Thank you to Step2 for letting me test this item as part of the Step2 toy tester program.
Date published: 2016-04-19
Rated 5 out of 5
by
Anonymous
from
Awesome kids Bed!
Once this bed is put together it is stunning! Took about three hours to assemble. Simple enough instructions, time really came from applying the decals. I like things perfect so that took some time. The boys LOVE it! My daughter has kicked her little brother out of it so she can sleep in it!!! I highly recommend this bed to anyone it is built to last! Another quality product from step2! Well worth the wait! I say Well Done Step2!
Date published: 2012-08-29
Rated 5 out of 5
by
Anonymous
from
Absolutely love it
My son got this for his second birthday from my Aubt. Its his first bed after thecrib and its perfect. The crib mattress is dropped into the frame so it ddoesn't move around and the sides are high enough that I'm never worried about him rolling out onto the floor. He loves to just sit in it and play with the race track in the end, and what little boy wouldn't sleep better in his own "big car" as he puts it? We have NO complaints!
Date published: 2012-12-11
Rated 5 out of 5
by
Anonymous
from
LOVE IT! Highly Recommended
Love the bed. Had been waiting for months and was one of the first to order it. The headlights are really cool. Very unique bed and well made. Shipping was fast and delivered via truck. Assembly was pretty self-explanatory. Fun part was applying the decals. Very happy to have made the purchase. My son loves it. Would be perfect if they came out with a girl's sports car so we can buy for my daughter.
Date published: 2012-08-13
Rated 5 out of 5
by
Karen R
from
Would highly buy these beds again
my grandsons love these corvette beds they use for play and sleeping on.The boxes and the beds in the box came in perfect condition was worried about that. It was easy to assemble with 2 people, the directons were simple. After putting the beds together we thought the quality and the look of the car was so awesome. Our grandsons just love these beds so much. we would highly recomend these beds.
Date published: 2013-01-09
Rated 5 out of 5
by
Anonymous
from
Fun and Functional
We bought this bed for our 3 1/2 year old son. He absolutely loves it and it made the transition to a big boy bed very smoothly. We have purchased several Step 2 products and as usual we are VERY happy with the product. It is nice to have the "doors" on the side to work kind of like a bed rail guard. Thanks again Step 2 for making a fun and functional product.
Date published: 2012-08-29
Rated 3 out of 5
by
HC in NY
from
Step2 Corvette Bed
Cute bed & easy to assemble, but expensive considering it's made of fairly cheap plastic. You will need a drill to assemble because there are no pre-cut holes for the screws. I did not like the fact that the pieces were quite dusty/dirty when they arrived. For the amount I paid, I expected it to come squeaky clean with the pieces individually wrapped in plastic.
Date published: 2020-05-24
Rated 5 out of 5
by
Anonymous
from
For every little boy!
My three year old grandson absolutely loves his red corvette car bed!It has great features and is well made. It has great headlights that serves as a night light, the wheels look real even the look of real breaks and a built in race track until he gets his twin mattress. He has plenty of years to enjoy it! What boy grows out of loving cars! It is so worth it!!
Date published: 2017-02-11
Rated 5 out of 5
by
aboyce7878
from
Thank you Step2 for letting me test this item
Thank you Step2 for letting me test this item as part of the Step2 toy tester program! My son just turned 3 years old and loves it. He is still in the toddler bed and I love how it goes to twin size for him to grow. It gets him excited for bed that he will drive into his dreams! Even when awake him and his friends love to play on it and use their imagination!
Date published: 2016-05-15
Rated 5 out of 5
by
Anonymous
from
Very Happy Son!
My 4 year old son hated sleeping in his old toddler bed and used to constantly get up in the middle of the night to sleep with me. Once I got this and purchased a quality 8 inch twin mattress to go with it he goes to sleep with no fussing what so ever! He now sleeps soundly through out the whole night! Best money ever spent! He love playing with the lights.
Date published: 2013-09-12
Rated 5 out of 5
by
Vault 4 Fun
from
Best Bed Ever for the Corvette Fan
This is a GREAT bed. If you are a Corvette guy you will notice that the rear break calipers are in the wrong position in the instructions. All 4 break calipers should not be in the same position. Front calipers follow the instructions and the REAR calipers should face the front of the Vette. Yes I noticed :)When are they making a Queen size?
Date published: 2012-09-10
Rated 2 out of 5
by
Nico
from
Could have been better
The assembly if the actual bed was easy, the wheel assembly was horrible and I had to use additional nails to secure the wheels to the bed since the nails provided did not pierce the plastic bed. There are not enough stickers for the mould if the bed. The night lights are dim. For the price of the bed, I would have liked a better product.
Date published: 2017-11-22
Rated 3 out of 5
by
1Dad
from
It is, what it is
So, right out the box the wheels are all scuffed up and nice "rash" on top passenger side window. Not to mention cracked rear piece. Not a structural location, or visible with mattress in place. Not worth the hassle to send back, I'd only recommend buying if you don't have to ship it. It's still the coolest bed out there.
Date published: 2018-06-02
Rated 5 out of 5
by
Anonymous
from
Rad bed!
This bed is amazing. Although it did take 3 hours to assemble, my husband was very particular when placing the stickers, our 2 year old LOVES the bed. It's a hit with our 4 year old daughter too. We put a twin mattress in it and it can easily hold us. The bed is awesome looking from every angle. Great job step 2!
Date published: 2012-09-24
Rated 5 out of 5
by
Tre's Mom
from
Perfect gift
Purchased as a Christmas gift for my 2 1/2 year old son. We're expecting our second child this summer and wanted to find a fun way to transition him to a "big boy" bed well ahead of time. He absolutely loves it! Hasn't had a second thought about his crib. Ever so grateful for a seamless transition.
Date published: 2012-12-28
Rated 5 out of 5
by
CruzsMommy
from
USED and STILL looks BRAND NEW!
My sons birthday is coming up, so I thought this would be a great idea, especially since his Grandpa loves Corvette! I purchased this bed from someone on a local buy, sell, trade group on Facebook and I am amazed at how perfect and intact every part of this bed is! I cant believe I didnt ask, but it is around 4 years old, judging by the age of her son. It could always be older or newer though. We did not purchase it with a mattress, because we had our own for or son. The seller informed me she has never had to change the batteries in the headlights, and we havent had to yet. My son adores turning on the lights and we love the auto turn off feature. Before this bed, our son had an older red Corvette 'racecar' bed that I believe was actually also Step 2 brand, and he loved it. He is especially happy about his new one and tells everyone about it. It looks great together with the dresser and toy box. We will be purchasing the toy organizer to complete the set since we are so happy with this so far!
Date published: 2013-07-28
Rated 4 out of 5
by
Hopkins7817
from
Beautiful Design
I like the product. It is as described. However, I would like the inside of the sides to be padded so my son doesn't roll over and bump his head on the hard plastic. He doesn't roll off the bed which is why we purchased this product of others, but the padding would be a welcomed addition.
Date published: 2019-11-22
How many boxes come with the bed? Mine says 1 of 2 but never received number 2
This bed comes in 2 boxes. If you only received 1 we reccommend contacting the place of purchase to receive the second box.
Date published: 2021-01-19
What length twin mattress does this take. Mine is too long at 75 inches?
Dont buy this product too expensive for its quality ..its a rip off..
Date published: 2020-12-10
I got the bed as a gift but doesn't have the mattress support. Can I buy them separately from you? Also what other accessories you have for the room?
The mattress supports are two pieces of 1/2 inch plywood, if they don't sell them separately, just cut your own to fit. You can download the assembly instructions, this will help to see where they go so you can measure the sizes you would need to cut. We have no other Step2 accessories, just a vinyl Corvette wall decal.
Date published: 2020-11-11
Is this bed comes in red only ? 
Blue also from Walmart
Date published: 2020-11-07
Can I purchase the decal stickers for the step 2 race car bed separately.
Please contact our Consumer Service Specialists at 1-800-347-8372 Monday through Friday, 8AM -5PM Eastern Standard Time and we will be happy to help you.
Date published: 2020-08-07
Can I get replacement stickers
Regretfully, the Pick Up Claws have been discontinued.
Date published: 2020-08-07
What is the recommended height for the twin mattress?
I just purchased an 8" plush twin mattress and it fits great.  I contemplated 10" but I think that would bring the mattress up to a bit high. Keep that in mind especially if you need a mattress topper.  We do have plywood slats on the bottom for support. 
Date published: 2020-07-08
The side piece of the frame got broken on the move for my son bed, is there a way to replace this. Please help.
I don't know you should call customer service to see if they sell that part only.
Date published: 2020-06-26