Deluxe Canyon Road Train & Track Table™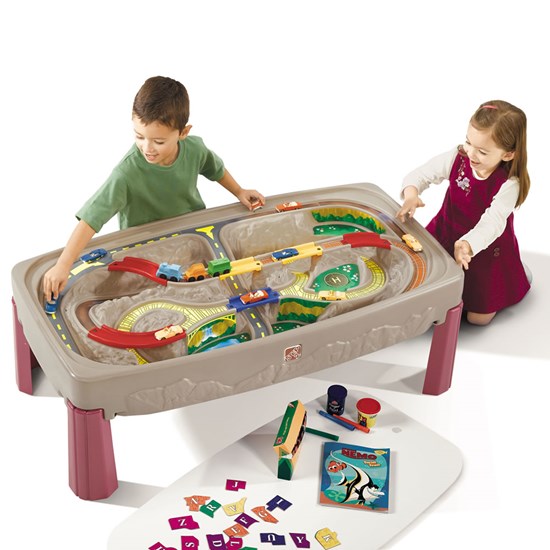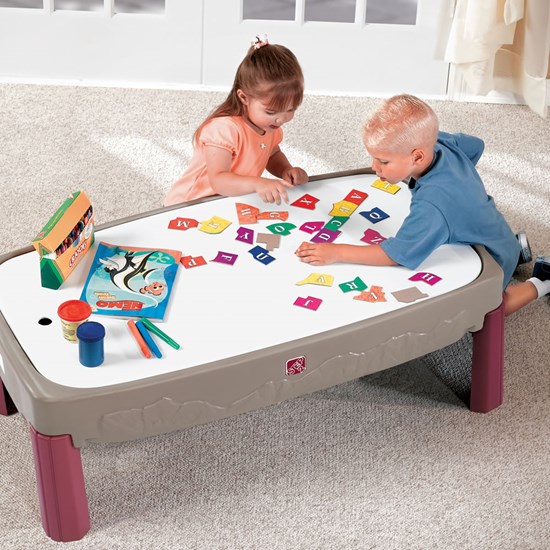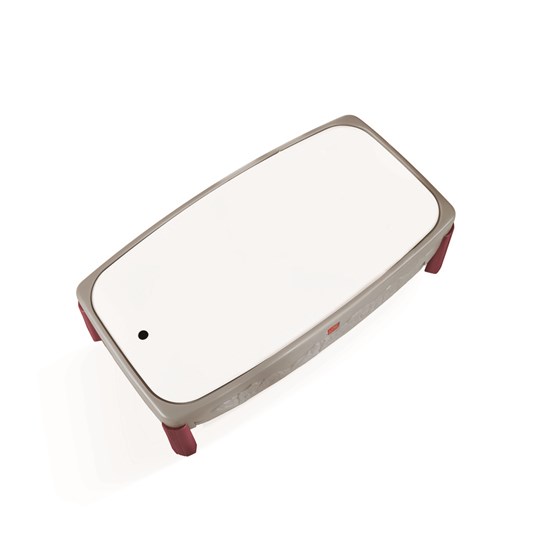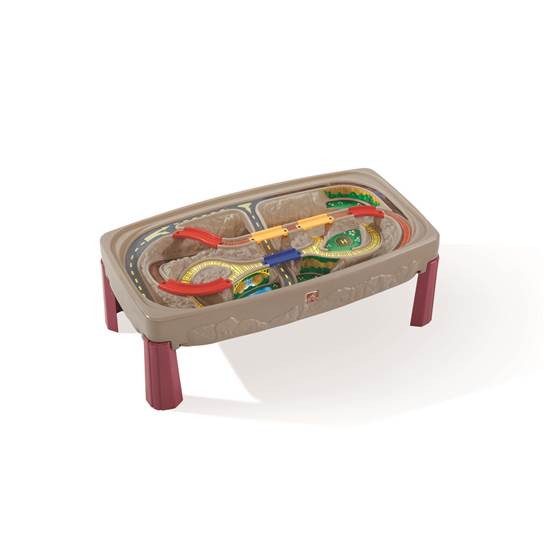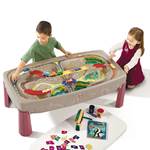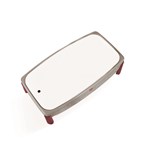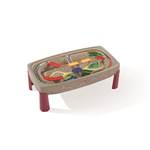 Deluxe Canyon Road Train & Track Table™
In stock
$144.99 $129.99
+$12.99 shipping (via FedEx)
IS THIS A GIFT? DON'T SPOIL THE SURPRISE!
This item ships with an image of the product on its outer packaging.
Rated 4 out of 5
by
Anonymous
from
using your imagination!
I purchased this item for my 7 and 4 year old grandsons. I decided to glue on lego plates to the cover of the table. It turned out great. I used 6 plates for regular size legos and finished off with using some bigger plates for the duplo legos. Everyone who sees the table raves what a great idea for a lego table, and the boys love building with the legos. Everyone enjoys playing with the cars and trains on the inside. which by the way Thomas the train battery operated trains fit perfectly on the tracks. The boys have the best of both worlds, they enjoy building with the legos as we as playing with their hot wheels and trains.
Date published: 2014-01-03
Rated 5 out of 5
by
Mrs. R.
from
YEARS of play!
I bought this for my Grandsons when they were 2 & 3 years old. They are now 7 & 8 and this is still used almost daily! They recently moved from a house to an apartment & this is the one large toy they kept. When I think about all of the expensive toys I've bought them in the past 5 years, this was by far the best investment. You can use cars or trains in it or put the lid on, making it a table for crafts & puzzles! I can't think of any other toy a child could get more use out of! My sister just bought one for her 2 year old granddaughter after seeing how much she loved playing with it! It's worth every penny!
Date published: 2013-07-14
Rated 5 out of 5
by
Anonymous
from
My sons love this!
This is a great product and is so much better than train tables where you have to put the tracks together. My son really wanted a train table since he played with one at his cousins's house - but after seeing my nephew get so frustrated over his tracks falling apart, I was pretty reluctant to get one. However, once I found this I ordered it immediately. He uses the tracks for his many cars and trains and also as a marble ramp! And the table aspect is great also and gives us a place to play with his blocks or games. Both of my sons play with it peacefully since you can play from all sides - definitely a pro to be able to entertain more than one child at once!
Date published: 2007-04-19
Rated 3 out of 5
by
Sleepless with 3 Little ones...
from
Good table...great for first days
Great fun at the get go, but the boys got bored with it fast, as there are limited ways to drive on the track. So they play with it when a friend comes over that is in "awe" still. But then it get ignored. It is very well made and good fun for special times, if you can save if for once a month/quarter type play time. The cars that come with it are a joke - their were 3 in our package but only one came with all the doors. I didn't bother calling as their are definitely 'low end' even if they came with all the doors and replaced them with alternative cars. Overall, a good product (table) and good fun for a limited time.
Date published: 2008-10-13
Rated 4 out of 5
by
love my kids
from
Great for younger kids
Purchased this for my sons 2nd birthday. Chose it because he is into the "destroy and knock over" phase, so the fact that the tracks and roads are built in means no parts all over or parts to keep track of-which is great! Downside is that I can definately see that he will probably get board of it over the next year (or less) and we will need to graduate to a real train table. So just know that this is a [$] toy that may be collecting dust in a year or less. Definately for 1 to 3 year old range-any older and I think they would get bored with it. All in all though it is very sturdy and I would recommend it to anyone.
Date published: 2008-10-30
Rated 5 out of 5
by
Shazi
from
Great Buy
Santa brought this for our Hot Wheels car loving boys in place of one of those track systems we know they will destroy in less than five minutes!!! Our oldest will be 3yrs. in March the younger will be 2yrs. in April. They seem to really like it. Again they received this along with many other toys so nothing but GEO Tracks has captured them for long and again it hasn't even been a week. I will say this it's durable because... I've seen them climbing on it and walking that top road like a tight rope...I've even found the little guy sitting in it and playing so this table seems really sturdy!!! I'm thrilled.... I'm sure once the hype settles this will be a true favorite!
Date published: 2007-12-30
Rated 5 out of 5
by
Anonymous
from
Lasts Forever! A favorite!
I bought this almost 8 years old for my now almost 10 year old... this was past down to my now 8 year old, and currently my 3 year old. They are rough boys, who climb on it, climb in it, sleep in it (lol), jump over it and run around it. Provided hours of fun for all three. Stickers all still in perfect place, and still as good as the day I bought it. Pieces don't come apart, so no pick up for later. All 3 and I have LOVED it!!! Best purchase ever for little boys!! It has been an indoor toy for us, never stored outside, and always the toy the other little ones go to when they come over. You can put hot wheels, and Thomas the train pieces on it... My FAVORITE toy!
Date published: 2015-10-03
Rated 5 out of 5
by
Jeni mom of 3 under 3
from
NEAT for kids & NEAT/TIDY for parents
This was a gift for my 16 month old son and my 2 1/2 year old daughter. Both play with it and love it. It's large enough that they both can play and "share" nicely without any conflict, but yet it's compact enough to hold the extra cars and trains.Some features I like the best is that it acts like a safe coffee table in the playroom. Since it is plastic, there are no sharp edges that my toddler can fall into and get bruises. I like that fact that when the top is on they can enjoy a snack, draw and play games. I also like that it cooridnates nicely with my daughter's Step 2 kitchen which is in the same room.
Date published: 2007-11-09
Is there any way I can order just the top? Ours snapped in half! 
Replacement parts availability and cost can be obtained by contacting Consumer Services toll free number at 1-800-347-8372 Monday through Friday between 8am and 5pm EST.
Date published: 2021-01-19
How can I get a replacement lid for this iten
I was told if you need a replacement lid for the table to call Step 2 customer service at 1-866-429-5200 reference SKU -#754799. I hope this helps.
Date published: 2020-12-19
Can I purchase replacement track for this product?
Yes on step 2 website
Date published: 2020-09-19
Can you use it with chairs and if so what chairs would work with this table?
The Deluxe Canyon Train and Track Table from the floor to the underside of the table measures and 3/4 inches.
Date published: 2020-08-07
My table is missing two of the bridge pieces, is there any way to get replacement parts?
Did you get a replacement part? I am interested in knowing this before i purchase a second hand one!
Date published: 2020-04-02
Will the Disney Cars fit?
Yes the Disney Cars fit, very sturdy play table also.
Date published: 2020-02-08
Can dry erase markers be used on the white board. Is the white board magnetic? 
No, I wouldn't try to use dry erase markers on the white board and it is not magnetic, It is basically a plain white board that covers the train table, so it can be used as a regular table when not using trains.
Date published: 2019-12-12
Does the magnetic Thomas trains fit this track ? 
They should, I have two different sizes of Chuggington trains on mine. One is magnetic and the other snaps together.
Date published: 2019-08-06