Dino Dig Sand & Water Table™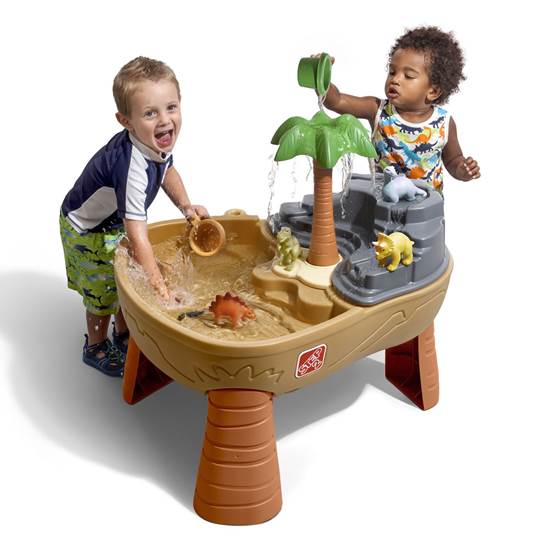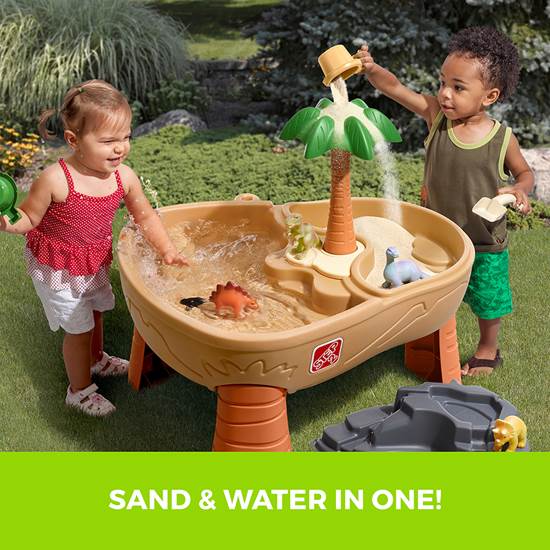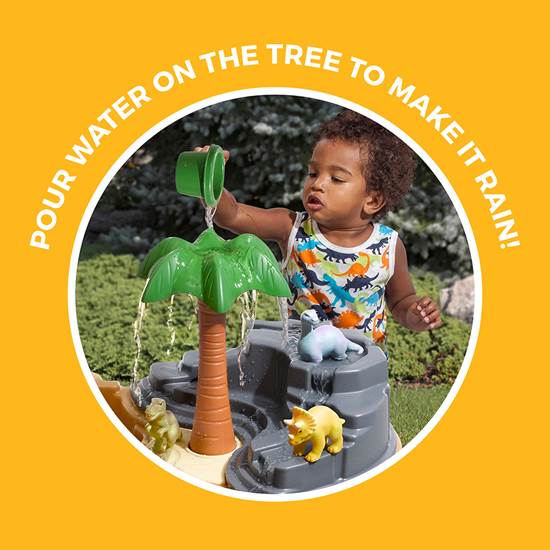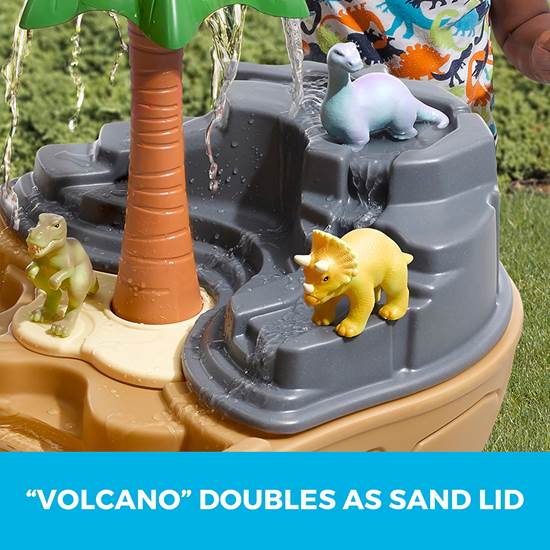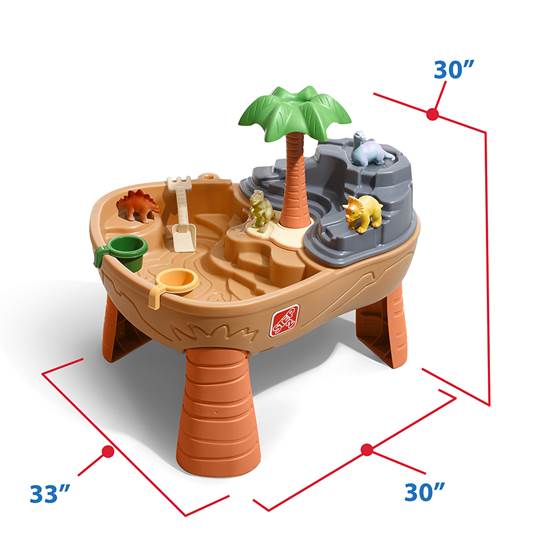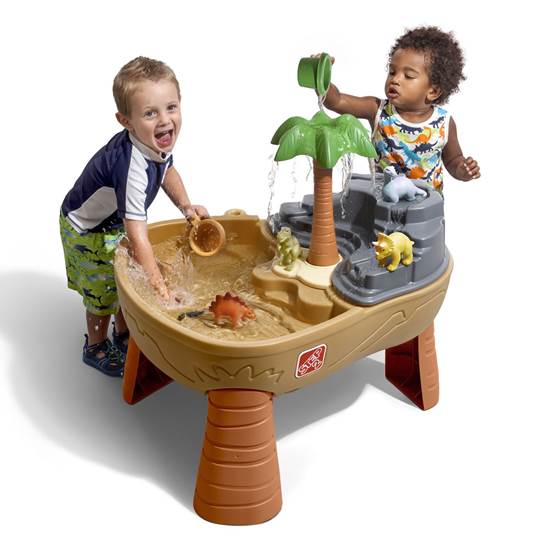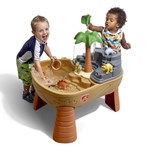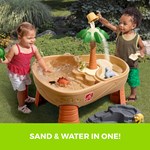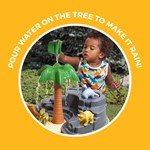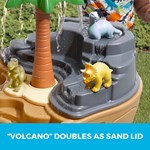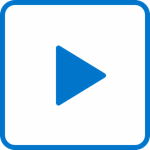 Dino Dig Sand & Water Table™
In stock
$69.99
+4.99 shipping (via FedEx) When will my item arrive?
Mini explorers can go on a dynamic dinosaur adventure with this Step2 sand and water table.
IS THIS A GIFT? DON'T SPOIL THE SURPRISE!
This item ships with an image of the product on its outer packaging.
Rated 3 out of 5
by
mmsmeow
from
Okay and won't last long
Terrible instructions-there are little to no written instructions and the pictures are confusing-we did finally figure out there are no holes for the screws in the base because there aren't supposed to be, but it should be written in the directions. Also, the plastic is super cheap! When pulling the pieces out, one of the legs was already stressed from being bent in transit. Also, when putting it together the tree top split where the screws go in To attach the tree trunk because it is cheap plastic and now we have a broken part on arrival day. It is disappointing and probably won't last long as a result. Plus is the height is good and it will work for what we purchased it for for outside play.
Date published: 2020-03-27
Rated 3 out of 5
by
Anonymous
from
We love Step 2 products!
Thank you for Step2 for letting me test this item as part of the Step2 toy tester program. It was finally a warmer day to test the table outside. My daughter is 2.5 years and loves the Dinosaur theme and the 4 dinosaurs it comes with. She even sleeps with them too. As far as the water table, it has big side for water and sand ( I plan to use cornmeal in the other side or another sensory item. I'm not a huge fan of sand). She enjoys dunking the dinosaurs and cups in the water but there's not much to do, activity wise with the whole thing. They'res a top " volcano" part that you can put on top of the sand part but it falls off quite easily. My daughter enjoyed the palm tree feature to pour water on top but there isn't much else to do. I would recommend this to a friend but maybe with a child who is younger.
Date published: 2017-02-13
Rated 4 out of 5
by
Bambii
from
Excellent for Dinosaur fans!
This was a gift purchased for my 4 year old son by his Nanny, he absolutely loves it he was straight on the phone saying 'thank you'. He enjoys getting all his Dinosaurs out to play with and has hours of fun. Really clear easy to read instructions no problems putting it together, delivery was very quick. Can only give 4 stars unfortunately due to it not having the spade/sand rake which is a shame and also the lid for the one side to cover the sand is slightly bent so doesn't stay put very well to keep sand clean and dry, overall a great purchase for Dinosaur fans.
Date published: 2017-04-22
Rated 5 out of 5
by
Anonymous
from
Great First Sensory Table For Toddlers
Thank you to Step2 for letting me test this item as part of the Step2 toy tester program. My twins loved the Dino Dig Sand and Water Table. We only used water in the table at this time due to the time of year and locating play sand easily. However, my children had to be pried away from it because they were having so much fun. They were very interested in the dinosaurs and making them roar and growl.The table was easy to set up and clean. The drain makes cleaning up much easier. However my children saw the drain and will most likely get the hang of it themselves. When they were spilling the water on the top of the palm tree it splattered everywhere. They were not splashing the water just yet at that point. I definitely see us using it in the kitchen on cold days and outside once spring and summer come around.
Date published: 2017-01-30
Rated 5 out of 5
by
Anonymous
from
Definitely "
Bought this my Grandson s 2 nd birthday & he absolutely loves it!He occasionally uses it with another little boy and they have plenty of room to play together!Right now we are using it as a sand table & when the weather gets warmer we will use it as a water table.Very well made which is great as we just became grandparents again to identical twin girls so it will get plenty of use in the next few yrs!
Date published: 2017-05-11
Rated 5 out of 5
by
Anonymous
from
A good choice for 3 year olds
My 3 year old son really enjoys this water/sand table! It comes with chubby dinosaurs that fit perfectly into his hands. The dinosaurs squirt water from their mouths. There are also 2 cups, one is a sand sifter and the other holds water. One side can be covered with what looks like a Rocky Mountain. There is a drain on one side to let out water. He loves it very much!
Date published: 2017-04-12
Rated 5 out of 5
by
Zander
from
Grandson Loves It !
This sand and water table went beyond my expetations, So fun to play with. Even I enjoyed it and i am 66 years old. The dinosaurs are much larger than I expected, and the sand and water table its self is much bigger than i thought it would be. Plenty of room for many children to play. And the cover for the sand ,keeps it dry. Great Idea !
Date published: 2019-07-24
Rated 5 out of 5
by
Anonymous
from
Fun activities for different ages
Thank you Step2 for allowing me to test this product! I have 16 month twin boys and a 5 year old daughter. Even before we added water they had a blast playing with the product and accessories. Easy assembly and has enough room for multiple children which is very important to me. A perfect outdoor toy for kids
Date published: 2017-02-21
It looks like the legs of the table don't really fit in the space where they're supposed to be put in. It looks like they won't go in deep enough. Is this reported before?
We did not have any problems when we put ours together 
Date published: 2019-10-22
Is there any way I could just purchase the four dinosaurs, two scoops, and shovel/rake? If so how much? I bought the table but no accessories? 
Please contact our Consumer Service Specialists at step2-company@step2.net or 1-800-347-8372 Monday through Friday, 8AM -5PM Eastern Standard Time and we will be happy to help you.
Date published: 2018-07-18
Do you have a date when these will restock?
Typically when we have a backordered item it will take up to two weeks to be available. We suggest filling out the fields of the Notify Me section, please view the following link : https://www.step2.com/soldout?productid=2447
Date published: 2018-06-04
Why are there no holes to screw the screws into for the legs ? Am I missing something ? 
Our manufacturing process does allow us to consistently place holes into parts without creating plastic shavings which are considered small parts per the toy safety industry standard for USA. We instead provide location points for screws as shown in the product instructions. The metal screws are self-tapping and when a downward pressure or force is applied onto screw with driving in with screwdriver, they will drive into the plastic and create their own hole. This would be the same or true of driving screws into a wood board without a hole. If needed or preferred, you can use a small nail with a hammer and pound a nail in a bit to create starter hole and then take out install screw. A power screwdriver or rechargeable drill can also be used to aid installing screws but we do not always recommend as driving screws in too far can strip out the plastic and cause other damage.
Date published: 2018-06-04
Is the palm tree supposed to click? Or is it supposed to be easily removable 
It is easily removable 
Date published: 2018-05-20
Are the dinosaurs made from PVC? Do they contain phalates or BPA?
What kind of material are the dino made of? Does it feel soft or hard?
Date published: 2018-04-21
How much sand in lbs does just the sand side hold?
The Dino Dig Sand & Water Table™ holds up to 20 pounds of sand.
Date published: 2019-06-11
Is sand included
No sand is not included.
Date published: 2018-03-27