Fiesta Cruise Sand & Water Table™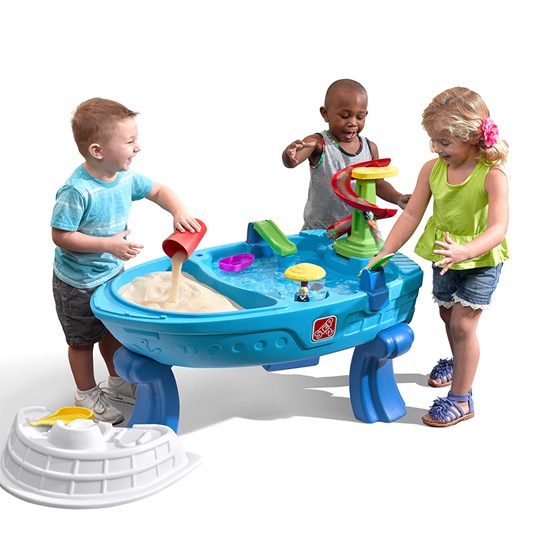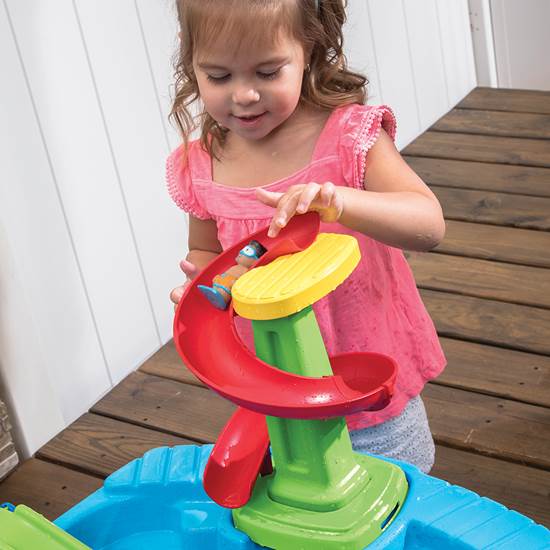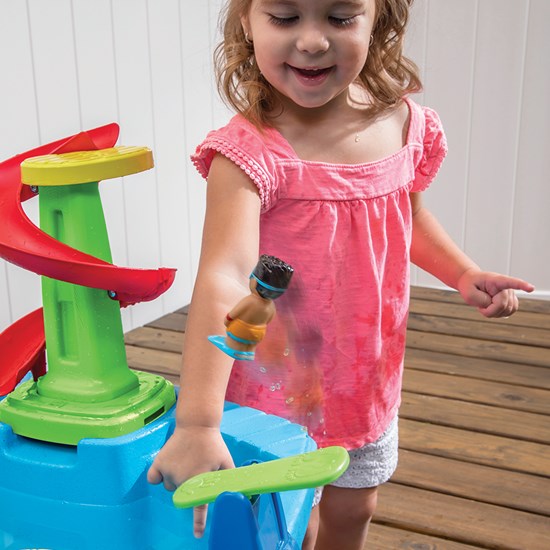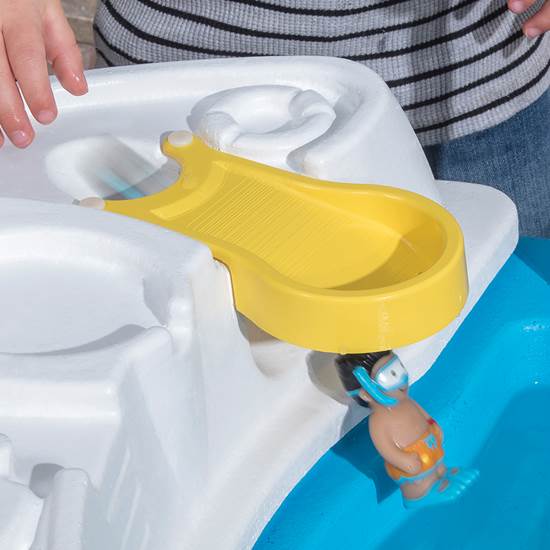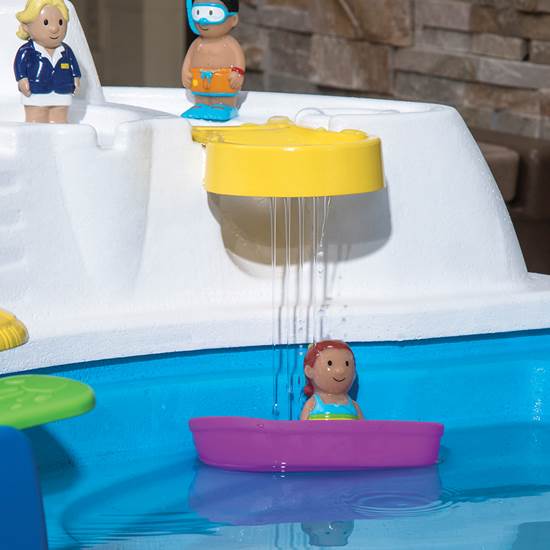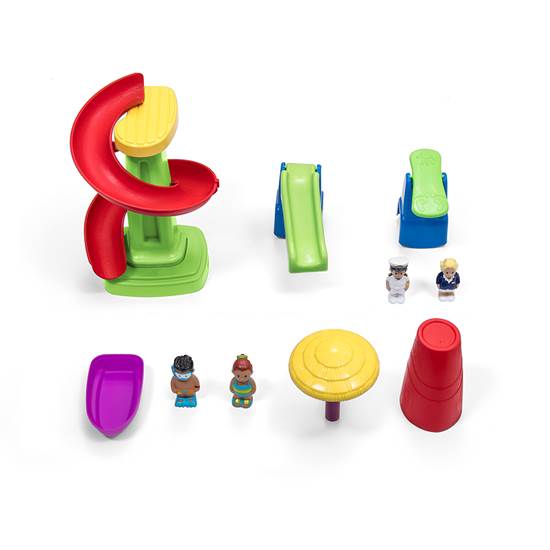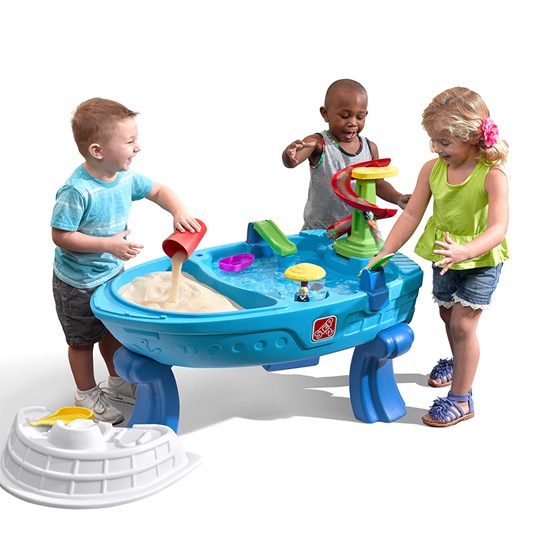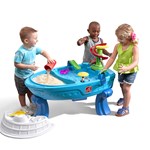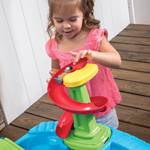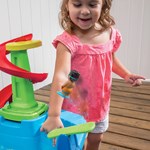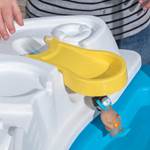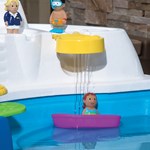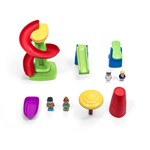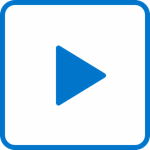 Fiesta Cruise Sand & Water Table™
Out of stock
$74.99 $69.99
+4.99 shipping (via FedEx)
Kids can be the captain of their own cruise ship with the Step2 Fiesta Cruise Sand & Water Table!
IS THIS A GIFT? DON'T SPOIL THE SURPRISE!
This item ships with an image of the product on its outer packaging.
Rated 5 out of 5
by
Brooke123
from
Excellent water & sand table!
This Fiesta cruise sand & water table is an instant hit with my little ones! They love the toys that came with it, making it much more fun to play and explore with as there is a slide and creative fun! It is excellent that the other side you can take the cover off and have a sand table to play with also! This is a summer must have outdoor toy kids will love to play and have fun with as I know mine do! We are very pleased with this product and it puts a smile on their face so a smile for me too! :) Outstanding company as this is well built and easy to assemble for the parents and fun for the kids! A win, win scenario :)
Date published: 2019-07-09
Rated 5 out of 5
by
Faronrae
from
Great Water Table with Sand Option!
This product is great for my almost three year old little girl. She spends a lot of time playing with it most days of the week. It is visually appealing and comes with many pieces which keeps her entertained over time. It does take a little extra time to put together because of this and we used a power drill to speed up that process. We have a second water table that does not have the sand option and she no longer has any interest in that toy. The only real downfall is that it can be difficult to get completely clean as the drain isn't an ideal situation. Other than that absolutely great little water table that has a separate sand section for added fun!
Date published: 2019-08-11
Rated 4 out of 5
by
Tim Y
from
Grandaughter loves it.
I bought this for my granddaughter when there was still snow on the ground. I put it together on Memorial Day. I had to go online for the instructions as they were not in the package. Also all of the STEP2 emblems were off the boat and stuck to the inside of the box. Being a male, 90% of the assembly was done without instructions. The slide was the only thing that got me. The assembly was very easy even with my granddaughters help. ;-) All that being said, my granddaughter loves it! She plays with similar ones at her day care so "Popa" bought her one for at home.
Date published: 2018-05-29
Rated 5 out of 5
by
Debbie
from
Great Product
Thank you Step2 for letting me test this item as part of the Step2 toy tester program....This product has surely exceeded my expectations... My son doesn't like to get dirty but loves water... I love the fact that its water resistant.... We have just recently got him to use the sand part which is a huge accomplishment... It is very durable and safe for him.. It keeps him busy and entertained for hours... It was so easy to assemble and all parts that you need are included... Thank you for a wonderful product... Step2..
Date published: 2018-04-02
Rated 5 out of 5
by
Steph123
from
Great Sand and Water Table
This sand and water table is perfect for toddlers! It keeps my toddler entertained for hours every time we use it. The cruise ship is sturdy and my 18 month old loves all the features of this table. My son loves playing with the water table. I am very impressed with this product and I love the smile it brings to my son's face. Thank you Step2 for letting me test this item as part of the Step2 Toy Tester Program.
Date published: 2018-04-15
Rated 5 out of 5
by
Jcarson
from
Amazing toy!!!!
Thank you to Step2 for letting me test this item as part of the Step2 toy tester program. We absolutely love it!!!! Easy assembly it's the perfect size and has a lot of different parts to keep my son entertained!!!
Date published: 2018-03-19
Rated 5 out of 5
by
Angieh042385
from
Great size for little hands!!
I love that this table is made from the hard plastic that holds up to time like most step 2 toys. The table it self was super easy to put together. All the kids loved that it held both water and sand the little people were a nice bonus. As a parent my favorite parts were the lid for the sandbox so you dont have to constantly change the sand and I also loved that both sides had a drain plug.
Date published: 2019-07-30
Rated 4 out of 5
by
MamaJen
from
Very Cute!
Great quality, very cute, my 2 1/2 year old really loves the slides and people to play with. My only complaint is that the diving board and slide on the sides aren't staying put very well! They keep falling off. But he usually takes the whole thing a part anyway but so far he loves it! My 6 year old has even played with it a little too. I love the two separate basins too.
Date published: 2020-05-02
Do you ship to Canada, and can it be delivered by February 7,2017? 
Step2 Direct does not ship directly to our Canadian Consumers. A wide range of Step2 products are available at Amazon.ca, Costco.ca, ToysRUs.ca, and Walmart.ca. Additionally, Step2 products are available at Toys "R" Us Canada, Costco Canada and Wal-mart Canada retail locations. You can also contact: Mini Circuit at 416-240-1988 Play Value Toys at 613-722-0175 We appreciate your interest in Step2
Date published: 2018-01-15
Does this have a spot for an umbrella, if so wheee?
Do you sell the sand that goes onto the table?
How much sand fits in the sand side? 
How much sand does it hold?
How high is the table itself? Does the 28" include the height of the circular slide? My niece is almost 4 - is this table to juvenile for her?