Great Creations Art Center™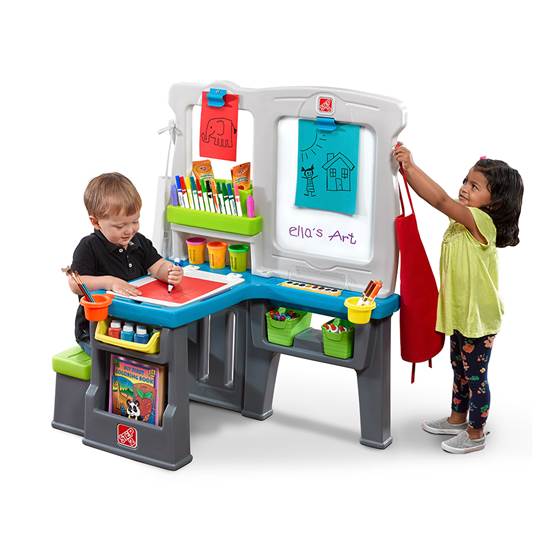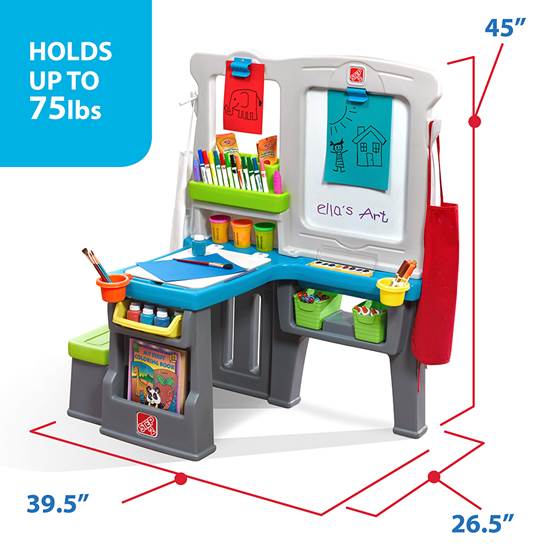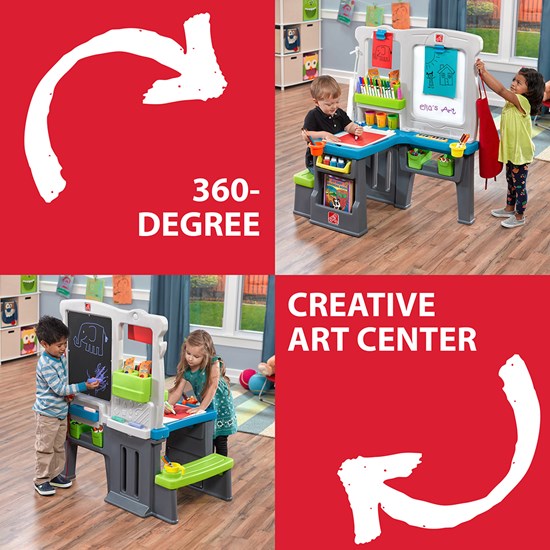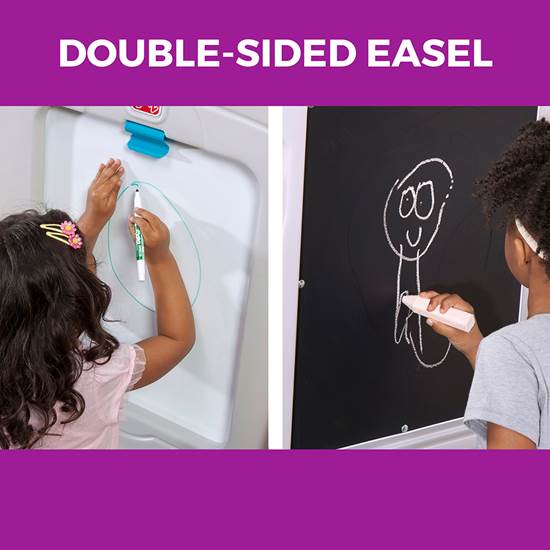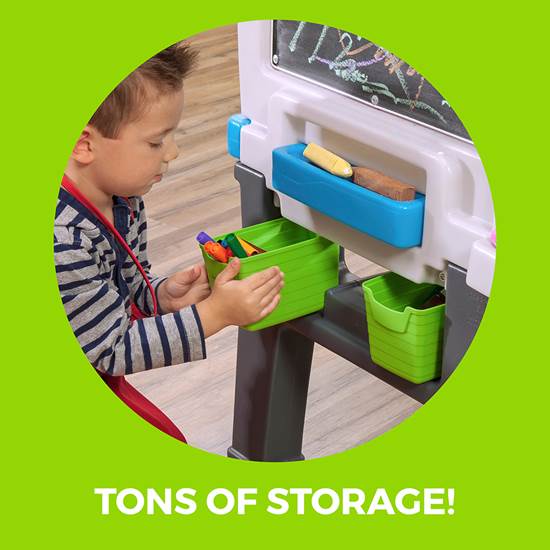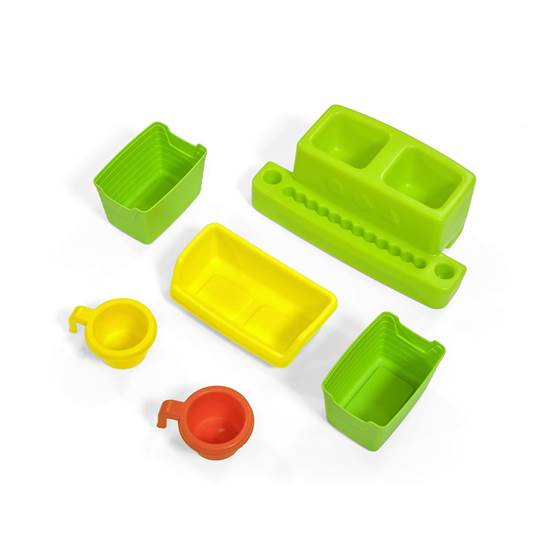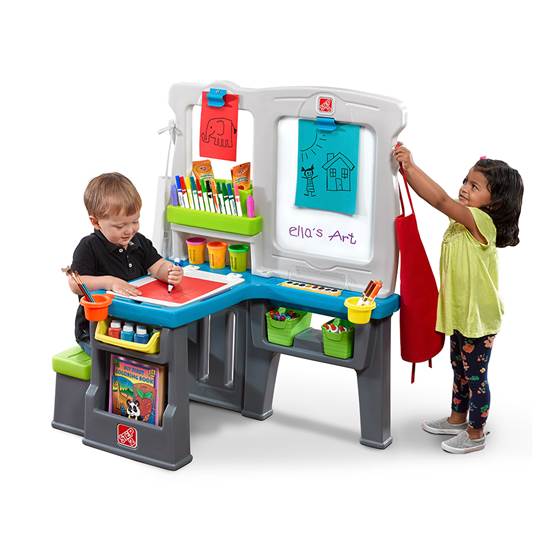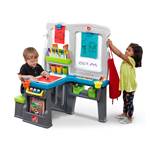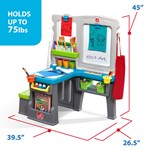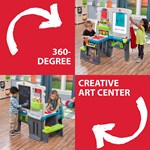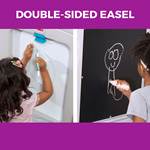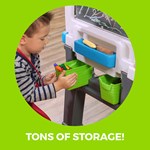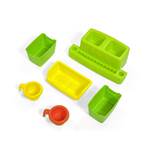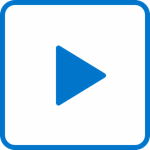 Great Creations Art Center™
In stock
$129.99 $117.99
+$12.99 shipping (via FedEx)
Mini artists can have their own multi-station art studio with the Great Creations Art Center™!
IS THIS A GIFT? DON'T SPOIL THE SURPRISE!
This item ships with an image of the product on its outer packaging.
Rated 5 out of 5
by
Jennifer Morgan
from
compact but big all in one!
Wonderful art center. It has a spot for everything and then some. It is comfortable - per my daughter. very sturdy. The product was relatively easy to put together. Holds ALOT! even my 10 year old ASD child likes it! He enjoys the chalkboard the most. My daughter enjoys every single aspect of the toy. Easy to clean. A real chalkboard (not that fake stuff that don't wash off after first use). Dry erase board is very easy to clean (even with marker... oops) Has clips to hang pictures the kids have drawn. I believe this is a well made product. This is my opinion and my children's opinion. It was not influenced by STEP2 or any other company. Video posted on their YouTube channel.
Date published: 2016-08-10
Rated 5 out of 5
by
Kristy H
from
Greatest art center
This is a great art center. There is a ton of storage for different types of art supplies. Markers, crayons, paint, and coloring books..And so many different things that can be done with this center. There is a great bench/desk with a nice flat surface that can be colored on with dry erase. It is a great little place for young school kids to practice the things they learn at school. There are a couple of clips that can hold paper and allow painting and drying. It also has a chalk board. My four year old loves this center. Even my 11 year old has enjoyed playing with the dry erase and chalk board. I really think my four can use this for years. Thank you to Step2 for letting me test this item as part of the Step2 toy tester program.
Date published: 2016-08-11
Rated 5 out of 5
by
MomofMonk
from
Perfect for Storage and Play
This item is the perfect addition to our play room. There is enough storage for us to put all of my son's art supplies and it fits neatly in the corner when not in use. The colors are modern, fun, and inviting. My son even used the desk surface for building block construction. Please note that I am a staff reviewer and received this item as part of a sampling program, though I would have purchased this item as a Christmas gift if not given that opportunity. My son is five years old.
Date published: 2016-08-08
Rated 4 out of 5
by
AmyG
from
Cute little art desk
I bought this for my 3 year old daughter for her birthday and she absolutely loves it, as does my 6 year old son! This did not take me too terribly long to put together. There were some points that would have gone smoother had I had someone helping me. This has a good amount of storage for all your art supplies. I do, however, wish that some of the storage containers would snap into place, as little hands can easily knock them off and send everything in them flying. Overall, this has been really great.
Date published: 2019-07-15
Rated 4 out of 5
by
Deee
from
My kid enjoys it
This product is perfect for my 2 year old. He loves to write and color - so that is why I decided to purchase it. Putting this thing together was WORK! I thought I would snap a few pieces together, but I was wrong. I had to actually screw holes, no, drill holes into the "dents" that was provided. I didn't look at any videos. I probably should have though. Overall, My kid and his cousins enjoy it whenever they're in the mood to color or write. Oh, and it does not come with any utensils.
Date published: 2020-01-13
Rated 3 out of 5
by
Momof2
from
Ehh disappointed!
We are huge fans of Step 2 but this was the first Step 2 product that I ever bought that I was disappointed with. The desk space was a little smaller than I expected but my biggest complaint was the size of the storage compartments. Most are so small they don't fit the art supplies we bought to go along with it. Even the spots that are specifically designed for markers are so shallow that the markers are very wobbly and constantly fall out.
Date published: 2019-07-02
Rated 5 out of 5
by
FRANCES
from
MY LIFE SAVER
Bought this item for my Toddler. (shes almost 2) She LOVE LOVE LOVES THIS. Wakes up goes straight there and stays there for hours. While i'm cleaning and cooking.. there is my little girl so entertained. LIFE SAVER LET ME TELL YOU.
Date published: 2018-07-31
Rated 4 out of 5
by
James
from
Assembly instructions need improvement
I'm sure my granddaughter will love using this product. How about improving your instructions and using pre drilled holes. I don't think it would affect your bottom line.
Date published: 2017-12-25
I received the Step2 great Creations art center and desk as a gift for my child. It is missing the red and yellow round cups that you can put craft supplies in. How do I go about getting those.
Please contact our Consumer Service Specialists at 1-800-347-8372 Monday through Friday, 8AM -5PM Eastern Standard Time and we will be happy to help you.
Date published: 2021-02-26
Where can I purchase the supplies shown on picture? Does the desk come with the supplies? I want my set like it shows.
No it doesn't come with all the supplies, it comes with few baskets. You have to purchase crayons,narkers,paint,paper and all you see on the pucture. It show's how it can looks if you buy everything you see.
Date published: 2020-12-19
Do you sell the little bins separately? We lost a couple and would like to re-purchase to make this more functional.
Please contact our Consumer Service Specialists at 1-800-347-8372 Monday through Friday, 8AM -5PM Eastern Standard Time and we will be happy to help you.
Date published: 2020-12-08
How long will it be for this item to be in stock
Thank you for contacting The Step2 Company. We apologize but we are currently out of stock and backordered on this item and several products. We are now running limited production as we were previously shut down due to the COVID-19 environment and unable to produce at that time. Our current production has been limited due to social distancing guidelines. We do not anticipate having this item & other products back in stock until mid to late August. Please note this is an estimate as the timing could move back again based on demand, production schedule and retailer commitments. Continue to check our website daily for availability and updates.
Date published: 2020-08-11
Do u sell Easel/Blackboard Replacement Parts?
No
Date published: 2020-08-10
Shipment box size please.
This product ships in a box sized 19 inches in height, 13.25 inches in width, 40 inches in depth.
Date published: 2020-11-10
Is the whiteboard magnetic?
The whiteboard of the Great Creations Art Center™ is not magnetic.
Date published: 2020-03-01
Will this be available before Christmas 2019
Unfortunately, we do not have a date of availability to share. Please visit the following link: https://www.step2.com/p/great-creations-art-center and click on the notify me button to submit your email for notification of availability.
Date published: 2019-12-05