Handyman Workbench™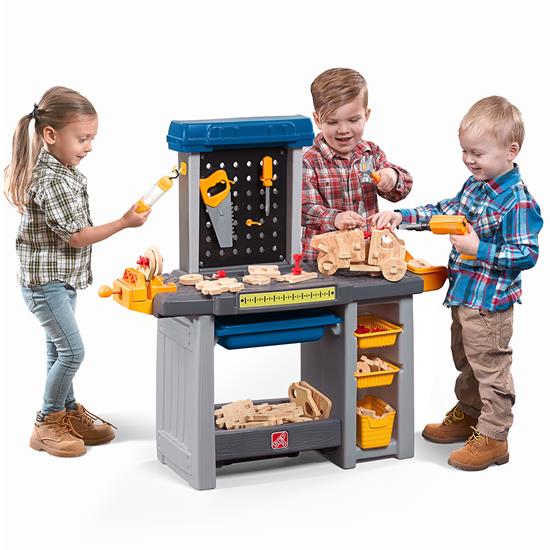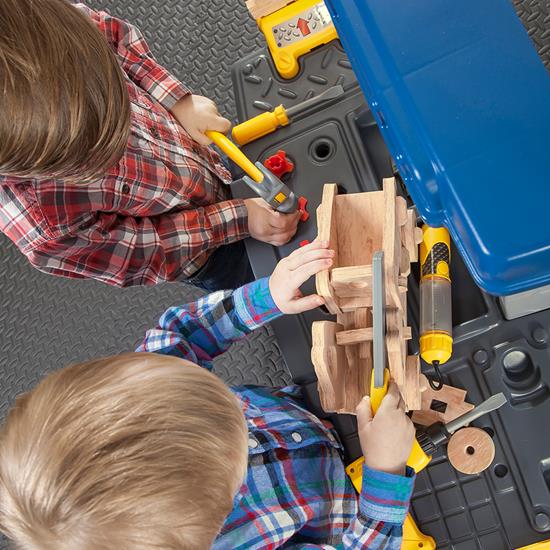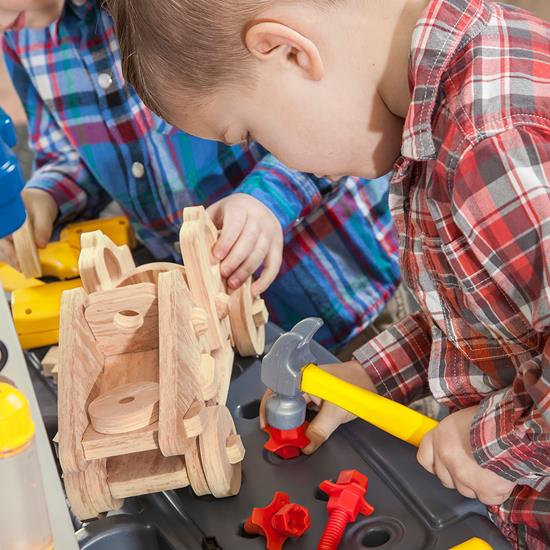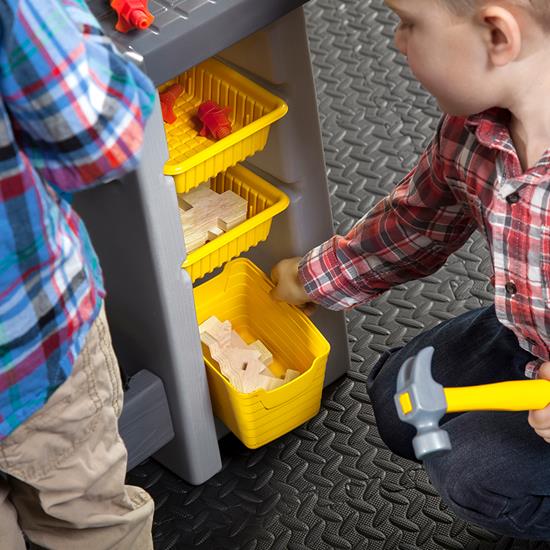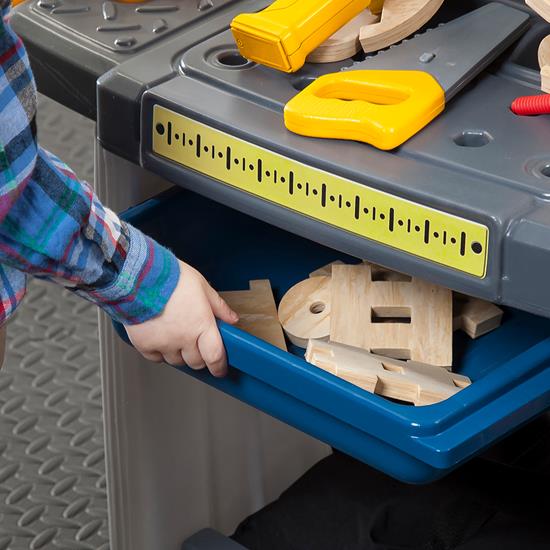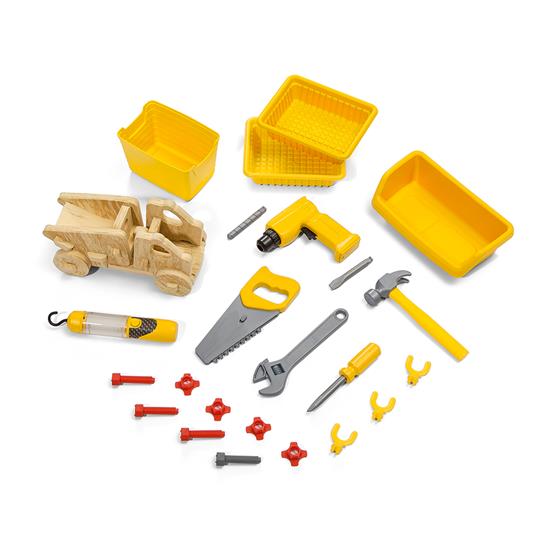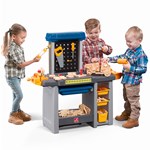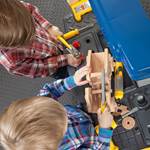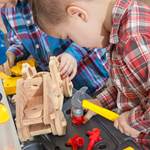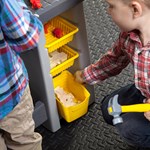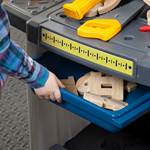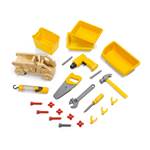 Handyman Workbench™
In stock
$89.99
+4.99 shipping (via FedEx) When will my item arrive?
The Handyman Workbench by Step2 is the perfect workshop for a little handy boy or girl!
IS THIS A GIFT? DON'T SPOIL THE SURPRISE!
This item ships with an image of the product on its outer packaging.
Rated 5 out of 5
by
Lcwill
from
LOVE this workbench!
From the moment my husband and I started assembling the Handyman Workbench my daughter was extremely excited to play with her new toy. The assembly was pretty easy, my one critique would be to have all the holes predrilled out of the box. It was a bit tricky trying to get the screws started. Overall, I like that the workbench product really has a lot to offer between the bench itself, the tools, flashlight and the wood look foam which can be assembled into different items like in a real shop class. My daughter really enjoys playing with this toy! Thank you Step2 for letting me test this item as part of the Step2 Toy Tester Program!
Date published: 2019-06-18
Rated 5 out of 5
by
Greenfae30
from
He gets to Fix and Build "Just Like Daddy"
I absolutely love this product. I love the attention to detail, such as the vice grip. My son loves to bring his toys over to the workbench to "fix" them. He also loves to pretend to cut the wood for the truck that comes with the bench. Beyond the developmental aspect of pretend play, there is plenty of other developmental skills at work. Fine motor skills putting the nuts and bolts together. Gross motor skills in turning the screwdriver. There are some toys that only fulfill a short season in childhood. However this is one I am sure he will be able to enjoy for several years!
Date published: 2019-07-16
Rated 4 out of 5
by
StephanieD
from
Toddler loves this!
Overall, this is a great product for toddlers. My son is 2.5 and as soon as it was set up he started to use the drill and screws. If my husband is working on a household project, my son now grabs his own tools to help. The only reason I didn't give it 5 stars was because it was kind of a pain to put together--I thought it would be a bit simpler but we needed an actual drill to make sure everything was put together tightly enough so it wouldn't be wobbly. Thank you Step2 for letting me test this item as part of the Step2 Toy Tester Program!
Date published: 2019-06-14
Rated 5 out of 5
by
Kristina45
from
Great Product!
This product truly went above my expectations! When the package arrived my husband put it together which was easy, took less than an hour! There was only one screw missing, but we had extras! Once together we got batteries for the drill and flash light! My two year old daughter absolutely loves the product. She loves the real life sounds the drill makes and is sawing away. Also it comes with foam building pieces that we used to make a car for her dolls! I would highly recommend this product as it has kept my daughters attention!
Date published: 2019-07-12
Rated 5 out of 5
by
Abby
from
My sons new favorite toy!
My son is LOVING this From the minute the package arrived, he was so excited about the contents- and was even more excited when he saw what was inside! Super Simple to assemble for an impatient toddler wanting to play! What my son loves most is that the toys WORK! The drill and the light are his favorites. He loves pretending to fix his firetrucks with all of his tools. This is by far one of his favorite Step2 products he owns! Thank you Step2 for letting me test this item as part of the Step2 Toy Tester Program!
Date published: 2019-06-24
Rated 5 out of 5
by
Wcg154
from
My son LOVED this workbench!!
My little one really enjoyed this workbench. My husband put it together in less than 20 minutes and once he was done, my son immediately started playing with it and had a lot of fun using his little workbench "fixing things"!! From the drill that makes real "drill like" sounds and the drill bits that can be changed, this set is amazing!! It comes with a saw, a real working flashlight, the drill, screwdriver, hammer, and the wood like pieces with which you can build a truck! My 2 year old son loved playing with this workbench and has so much fun with it!! No matter what he is doing, he always comes back to keep playing with the workbench. I love how this product is really sturdy and it seems like it will last a long time!! Thank you Step2 for letting me test this item as part of the Step2 Toy Tester Program!!
Date published: 2019-07-31
Rated 4 out of 5
by
Tish
from
Building Fun
Ever since receiving the handyman work bench my toddler keeps telling me she's "working on stuff;" then she is off to play on the work bench. She is obsessed with the flashlight and drill; I'm obsessed with the multiple buckets and areas of storage. Even more suprising when our cousins age 4 and 6 came for the weekend they also spent hours playing with the work bench so I'm looking forward to years of play!
Date published: 2019-07-22
Rated 5 out of 5
by
Bniehaus
from
Awesome Workbench!
This product was super simple to put together. My kids loved being able to help with the process. I enjoyed the realism of the drill and flashlight. I think it's a great product as my son and daughter both enjoy it. Thank you step2 for letting us test this item as part of the Step2 Toy Tester program!
Date published: 2019-06-13
It says projects but it looks like it's just the one. The truck. Are there more?
Please open the following link to view the detailed instruction and diagram for the projects of the Handyman Workbench™ : https://images.step2.com/media/pdfs/489299_assembly.pdf
Date published: 2019-01-25
 Is this product including accessories BPA free? Where are there details on what products are made of? 
Step2 products are manufactured from Polyethylene and/or Polypropylene plastics. Step2 products are third party tested and are compliant to the CPSIA phthalate and heavy metal requirements per ASTM F-963 Toy Safety Standards as well as EN71 - Part 2 and 3 for UK chemical requirements.
Date published: 2018-12-18