Hot Wheels™ Toddler-To-Twin Race Car Bed™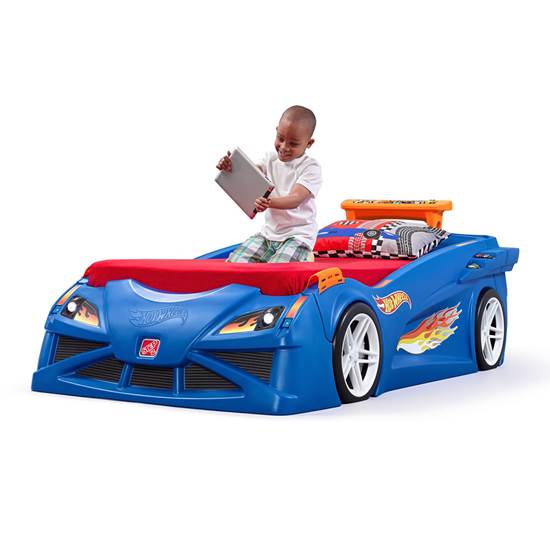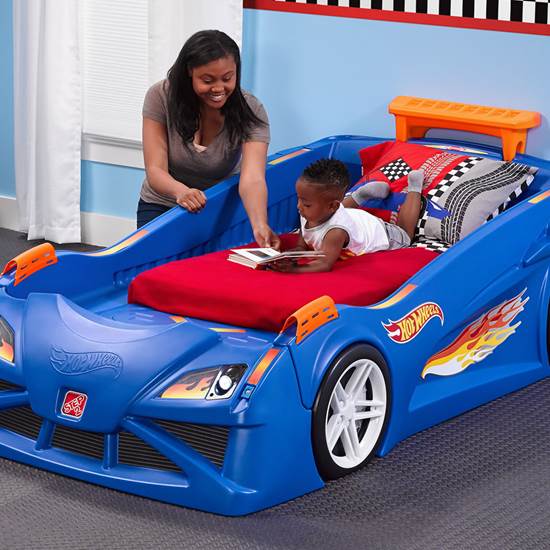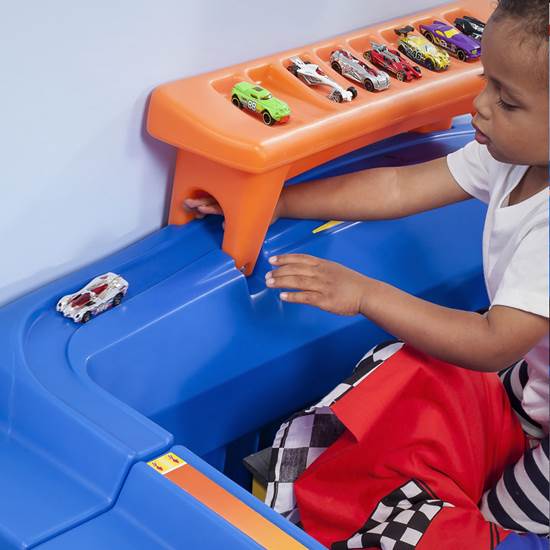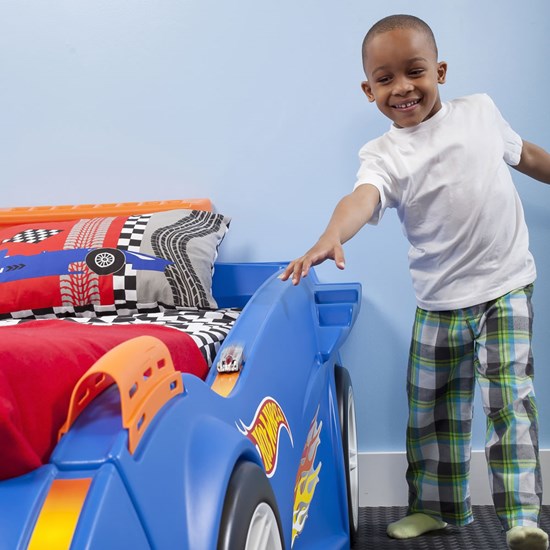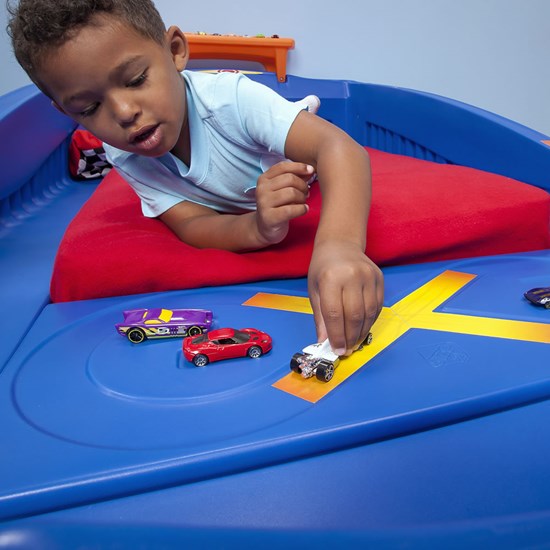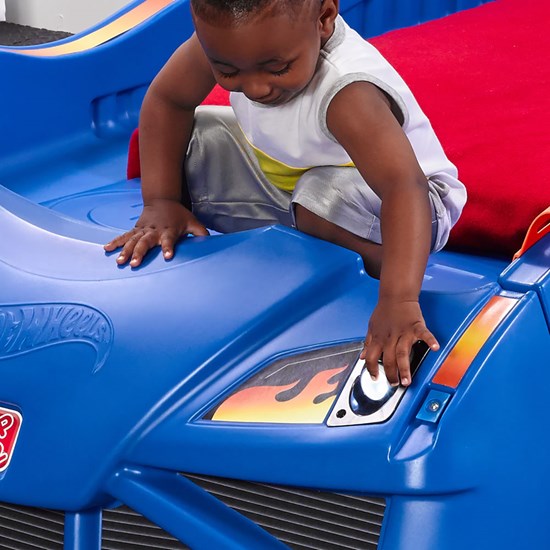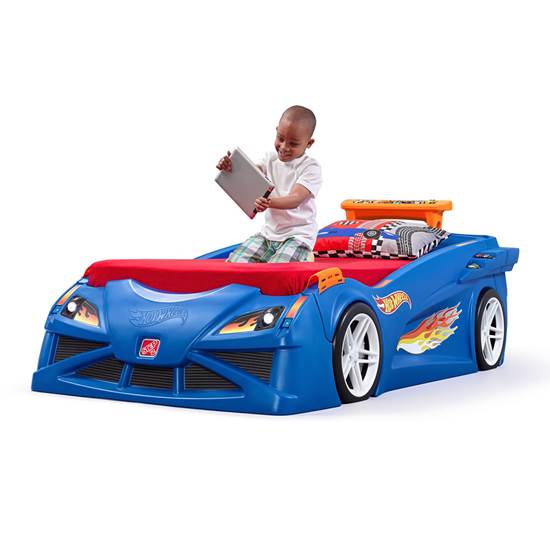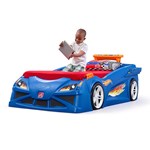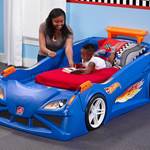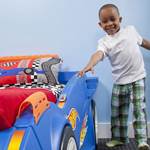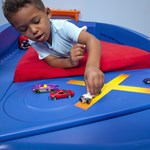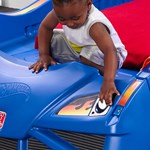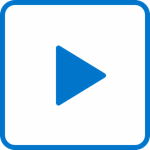 Hot Wheels™ Toddler-To-Twin Race Car Bed™
In stock
$404.99 $399.99
+89.99 shipping (via Truck)
Little car lovers will race off to dreamland at 100 smiles per hour in this race car bed by Step2.
IS THIS A GIFT? DON'T SPOIL THE SURPRISE!
This item ships with an image of the product on its outer packaging.
Rated 5 out of 5
by
Anonymous
from
Perfect night's sleep on the Step 2 Hot Wheels bed!
We could not be happier with the Step 2 Hot Wheels Race Car bed! Our youngest son received this bed for his 4th birthday and he immediately exclaimed his full approval with "oh my gosh! a race car bed! I am a big boy now!" He has slept in it without fuss every night since. The bonuses of this bed include the race car storage at the head of the bed, and the race car tracks down each side of the bed, and of course the headlights that really work! The bed is solidly made, and a twin mattress fits perfectly. We bought a 9" deep mattress and there is still enough of a buffer so that our boy does not roll off. We love this bed!
Date published: 2017-02-15
Rated 5 out of 5
by
Anonymous
from
Best Toddler Bed
We just got this bed for my 3 year old son and let me just say dreams came true tonight when he saw it. It melts my heart to see him so happy. Kudos to Step2 on this bed. The packaging was awesome and it was beyond easy to assemble. The headlights even double as nightlights (so awesome!!!). I also love that it has no sharp edges - it's hard to find a bed frame with no sharp edges which was a huge safety concern for me. My son went to sleep after talking to his race car bed for about 10 minutes. They hit it out of the park with this design. Love love love love love it. Thank you to Step2 for letting me test this item as part of the Step2 toy tester program.
Date published: 2015-09-25
Rated 5 out of 5
by
Anonymous
from
Awesome!
My 2 year old still sleeps in his crib, but we wanted to give him this bed so he could start playing with the racetrack before transitioning to a "big boy" bed because his birthday and Christmas are so close together. He asks to go play with the "big blue car" many times a day and absolutely loves the race track and sending the cars down the ramps. While most toys don't keep his attention for long, he plays with this for hours at a time. I ordered this bed the first day it was released because it combined my son's 2 favorite things: blue and cars (and I wanted to make sure that we were able to get one before his early November birthday). It definitely did not disappoint!
Date published: 2015-11-09
Rated 4 out of 5
by
Anonymous
from
Great product. Would recommend
Got this for my 20 month old for a Christmas present. It's made out of some heavy duty plastic. Love that there are no sharp edges so I don't have to worry about him hurting himself. It fits a crib mattress perfectly. Haven't gone to a twin size mattress yet but it seems easy to do. The only issue I had was when we got it the sides were bent in from shipping and the other side had a huge scratch on it. I figured if I'm pay over $300 for something it shouldn't have these issues. I did call step2 and they shipped me both pieces at no charge. This bed can hold a grown man and my 20 month old so I don't think we will have any issues as he gets older. He loves the track on the bed and uses it all the time. We didn't put batteries in the headlights. All in all this was a great long term purchase and would recommend this to anyone looking to buy.
Date published: 2017-02-11
Rated 5 out of 5
by
Anonymous
from
Hot Wheels Bed crosses the finish line as first in beds
Bought this bed for my grandson who turned three in June. He loves cars so the bed was awesome to him. The twin bed size is great because he is a big boy. The built in ramps and parking area are perfect for little guys who play with cars all the time. Rex calls it his race car bed from team hot wheels. Was easy to put together and delivered in a timely manner. Did not pay extra for help in delivery but the delivery guy helped this grandma and her toddler get the box in the house when it was just about to rain.
Date published: 2016-07-26
Rated 5 out of 5
by
Paola
from
Best bed ever
I love the bed. We bougth it for mi 3 year old kid and was the best surprise ever. He's very proud and happy sleeping in his new Bed. It's much better than the one that my older (6) son has from another brand.Amo la cama. La compramos para mi hijo menor fue la mejor sorpresa. Ahora el esta muy orgulloso y feliz durmiendo en su nueva cama. Es mucho mejor que la que tiene mi hijo mayor (6) de otra marca
Date published: 2016-11-25
Rated 5 out of 5
by
AMarco
from
My son loves it!
Delivery was easy, I paid someone to assemble but it only took him an hour. The stickers took the longest. My son couldn't be happier.
Date published: 2017-09-16
Rated 5 out of 5
by
Junior
from
Beautiful car
I bought for my son and he love it ! First time in a " big bed" Arrived in time and good quality
Date published: 2017-09-24
Do you ship to Thailand?
We do not ship outside of the 48 contiguous US states.
Date published: 2021-01-19
How long does it take to receive this bed? I ordered from Amazon 3 weeks ago and still haven't received and they can't even give me an estimated delivery time. I would cancel and order here if I knew I could get the bed quickly. It was supposed to be a
As this ships via Freight Truck, depending on what state you are in will depend on shipping. It usually takes about 2-3 weeks.
Date published: 2021-01-19
My son is going to be 10 in 1 month. He has autism & LOVES HOT wheels and wants a car bed. It says this is best for 3-10 yrs. He is only 65 lb. Would this bed be ok for him?
The Hot Wheels Toddler Bed is for ages 2 & up. The weight limit in toddler size is 50 pounds and 200 when bed is in twin size.
Date published: 2021-01-18
What kind of track do I buy that clips into the bed race track by the headlights. I tried different pieces that we have from other sets and nothing holds the straight track piece in place - need a piece that connects the additional track pieces to bed.
Please contact our Consumer Service Specialists at 1-800-347-8372 Monday through Friday, 8AM -5PM Eastern Standard Time and we will be happy to help you.
Date published: 2020-08-07
Is there anyway to buy the Hot wheels step 2 bed replacement piece to make it back into a toddler bed? 
Regretfully, we do not offer this part separately.
Date published: 2020-08-07
Does the bed include the track as shown in the picture?
No. Extended tracks that connect to the bed are available for purchase separately.
Date published: 2020-08-03
Is this bed available in green?
I have only ever seen it in blue and in red.
Date published: 2020-01-29
Where can i find this bed in canada or do u ship to canada ?
Step2 Direct ships within the Contiguous United States only and does not ship directly to Canada. We suggest checking with a Walmart manager as they have the ability to special order Step2 products.
Date published: 2020-01-27