McLaren® 570S Push Sports Car™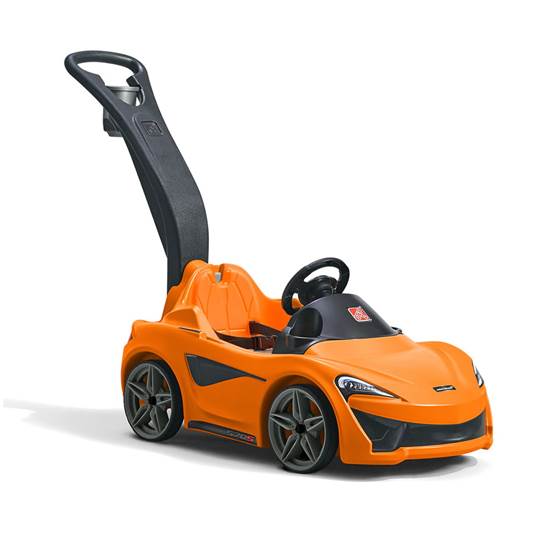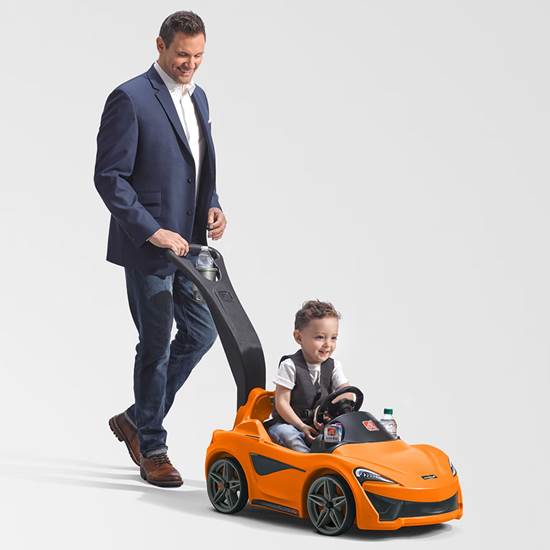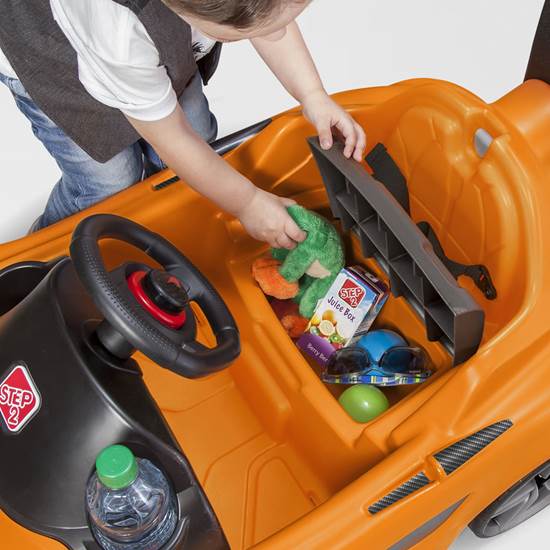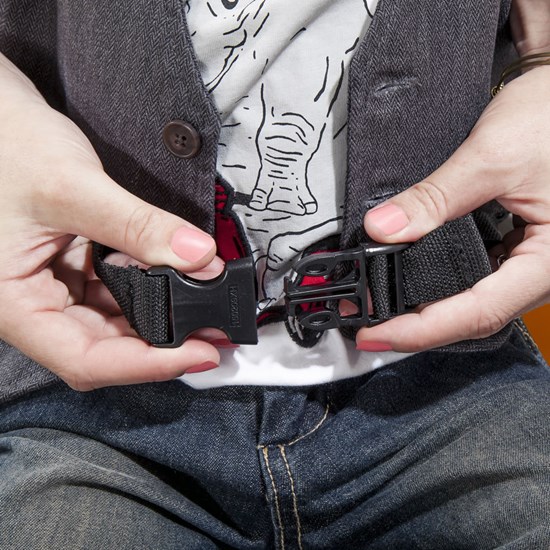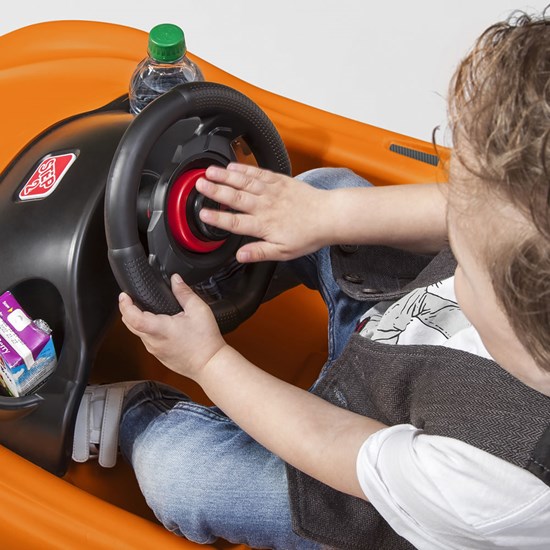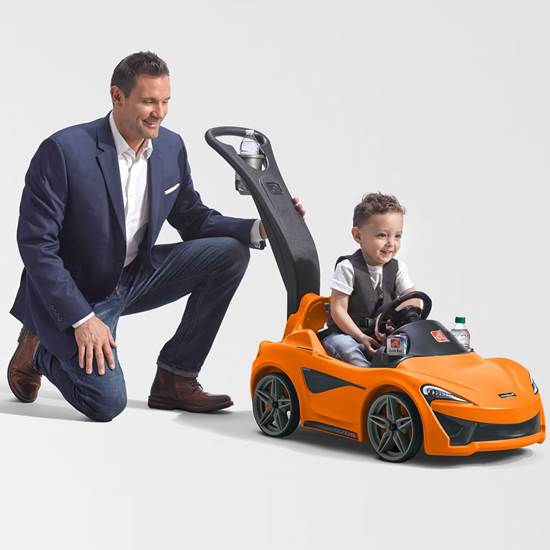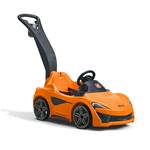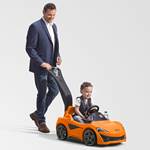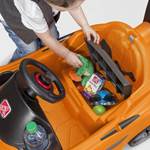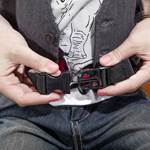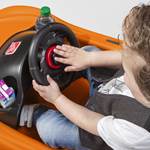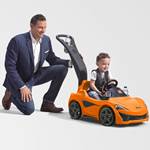 McLaren® 570S Push Sports Car™
In stock
$79.99
+4.99 shipping (via FedEx) When will my item arrive?
Bring to life the thrill of driving the ultimate, luxury dream car with the McLaren 570S Push Sports Car.
IS THIS A GIFT? DON'T SPOIL THE SURPRISE!
This item ships with an image of the product on its outer packaging.
Rated 5 out of 5
by
MommyinFlats
from
Awesome Ride for Christmas 2017
Santa is already shopping at our house and this was on the top of the list. My youngest is car obsessed so this was a must have for under our Christmas tree (he already got a test drive but luckily he won't know the difference). My favorites: smooth ride even on grass/bumpy surfaces. The design is realistic and the bright color attractive for the baby. The horn plays realistic car sounds at a reasonable volume. My 15 month old loved it and pushed it over and over on our walk but it didn't bother me- I even prefer it to squeaky horns. Best part, the excitement over the ride. No complaint like stroller rides can sometimes elicit. The assembly time was slightly more than I expected but still really reasonable- maybe 30 minutes for one person to do at a leisurely pace- don't plan to put this one straight under the tree but still Christmas Eve doable. Kid tested, mommy approved. This is a great, sturdy, well put together toy. Thank you to Step2 for letting me test this item as part of the Step2 toy tester program.
Date published: 2017-09-30
Rated 5 out of 5
by
Baby Jex
from
Best stroller!!!
Everywhere we go people ask where we bought it and ask for picture or snapchat. I added JBL sound system and Streetglow LEDs and now its a head turner.... Love the stroller, my boy is like a celebrity riding on it. Thanks Step2....
Date published: 2018-08-03
Rated 5 out of 5
by
LAM1
from
Best purchase yet!!
We bought this awesome "Sports Car" for our grandsons 2nd birthday. He's very tall for his age, 98% in height, and he has plenty of room. We've purchased most of his big toys from The Step 2: Roller Coaster, Playhouse, Jeep and Water Table and Swimming Pool and they are all of the greatest and sturdiest quality. Our grandson loves everything and now his car. Aside from being beyond cute, we love the handle which makes it so easy to push him on his long walks. And what I especially love is the seatbelt. I wish all children's riding toys had them. It teaches children at a young age to get used to wearing a seatbelt and will encourage them the importance of using it when they are old enough to drive. Keep building your great products!
Date published: 2018-10-27
Rated 5 out of 5
by
Young
from
Envy of all kids at the playground!
Got this car to push our little one around, and we love it! it makes a nice engine sound when the horn button is pushed, and there's also adequate storage space. The only improvement i would recommend is make the wheels more rubbery so it's a smoother ride, Fortunately i was able to purchase some rubber strips to glue to the wheels for a nice quieter and even smoother ride.
Date published: 2019-10-09
Rated 5 out of 5
by
Queentresa
from
Smooth Ride
Purchased for my 2 year old Grandson, he loves it much more fun than his stroller. Easy to push and maneuver around the neighborhood. The style of the car is sweet and color is bright. The instructions were easy to understand and the car was put together in less than 1 hour.
Date published: 2018-03-27
Rated 4 out of 5
by
Jack10McLaren
from
Great product but why not improve it?
Awesome product, BUT, cup holder doesn't hold a reasonable sized cup=useless except for holding keys. Also the really cool electronic horn button is so quiet it can barely be heard. I'm going to order an old style horn to replace it with.
Date published: 2019-10-04
Rated 5 out of 5
by
Simmy
from
Great product
This car is beautiful and my son loves it. Assembling the car was simple and it's a head turner. The starter noise is a great addition and I've gotten a few people to purchase car after seeing my son with his. Great Product.
Date published: 2018-06-26
Rated 4 out of 5
by
chele71
from
Love it!
My grandson got this for his birthday. He loves it! grandpa takes him for rides and he thinks its just the best. Not giving 5 stars only because my husband said putting it together was time consuming.
Date published: 2019-11-19
The steering wheel broke.  Can I order a replacement?
Please contact our Consumer Service Specialists at 1-800-347-8372 Monday through Friday, 8AM -5PM Eastern Standard Time and we will be happy to help you.
Date published: 2019-09-09
how can i replace the nut of the part where the car is pushed
Please contact our Consumer Service Specialists at 1-800-347-8372 Monday through Friday, 8AM -5PM Eastern Standard Time and we will be happy to help you.
Date published: 2019-08-23
How can I get replacement safety belt ? 
Replacement parts and decals can be ordered by calling our Customer Service team at 1-800-347-8372, Monday - Friday, 8:00 am - 11:00 am and 12:00 pm - 5:00 pm EST. Please have your product close by during your call so that we may quickly assist you to answer your question, find a resolution and or provide product or part pricing and lead-time(s). Various replacement parts and decals can now be ordered on line. Check our website at www.Step2.com and refer to the replacement part section located at the bottom of the website page and shop parts by category or look up your product(s) pertinent replacement part choices.
Date published: 2019-08-22
How do you take out the car horn so I can change the batteries?
To access the battery pack of the McLaren® 570S Push Sports Car™ , you will need to remove the steering wheel and locate the battery pack in the backside of the wheel. You will then need to take a screwdriver to one of the three tabs and press on the circle this should free the battery pack. Please view the following link to see the instructions: https://images.step2.com/media/pdfs/879900_assembly.pdf please view steps 26 -32 . If you should need further instructions please call us at 1-800-347-8372 Monday through Friday 8 am - 5 pm Eastern Standard Time.
Date published: 2019-04-24
I'm assembling this but the steering wheel doesn't snap into place. Any ideas? It slides into the shaft but sits loosely in it.  I see the holes at the end so I'm thinking I could thread a bolt through at the back end if need be but....
Please contact our Consumer Service Specialists at step2-company@step2.net or 1-800-347-8372 Monday through Friday, 8AM -5PM Eastern Standard Time and we will be happy to help you.
Date published: 2019-04-22
I'm I able to purchase the stickers on their own , I bought the car of a friend but the stickers were damaged. 
Yes, call customer service and they will send you replacements.
Date published: 2019-03-13
Does the handle of this car actually turn the car? We bought one from another place (site unseen) and had no idea that the handle would not actually control the direction of the car and we are limited to only straight paths.
No, the handle does not steer the car, straight path only. Although we absolutely love this push car! Go around the block daily in it! Got it for my son when he was 18 months and now he's 2 and still loves it! 
Date published: 2018-08-22
What are the box dimensions and weight? i need to know for shipping purposes. Thank you!
Please see below for the packing dimensions of the McLaren 570S Push Sports Car : 39 x 15 x 20 inches 21.5 pounds
Date published: 2018-11-20