Mighty My Size Table & Chairs Set™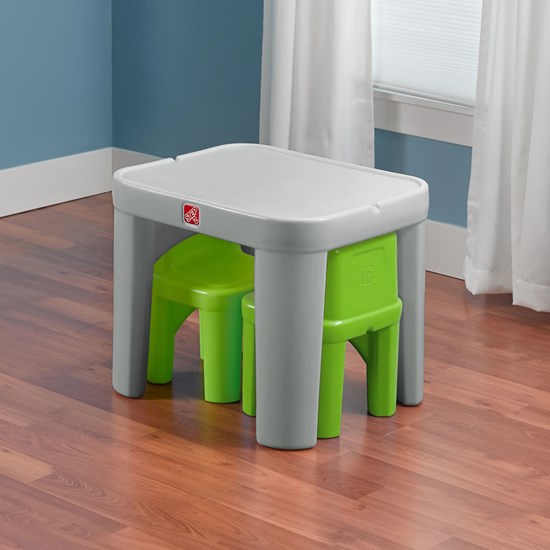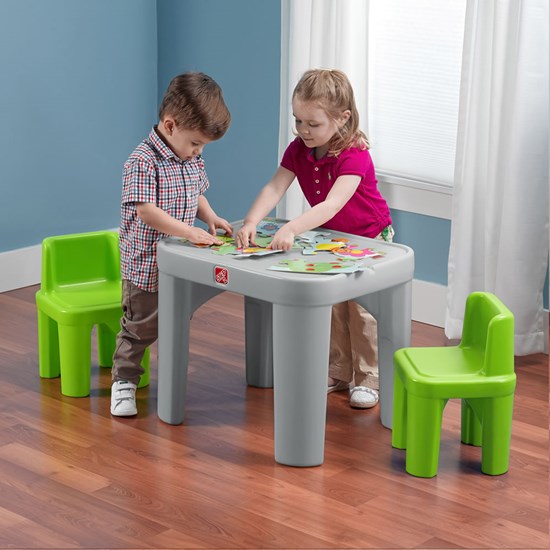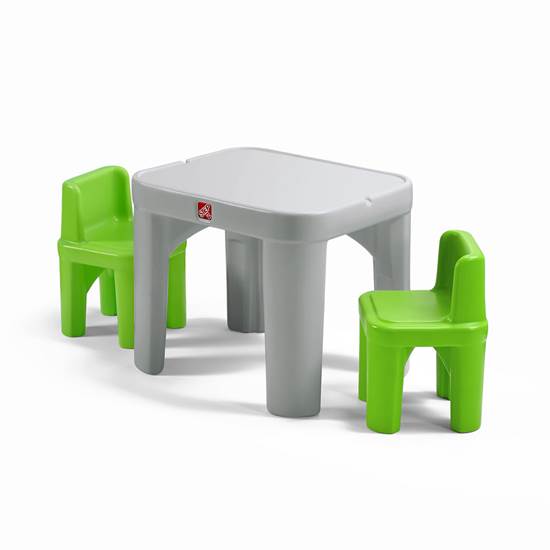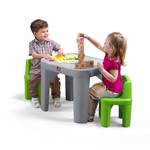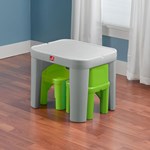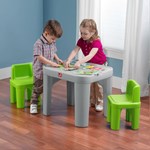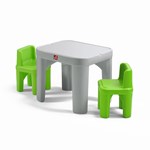 Mighty My Size Table & Chairs Set™
In stock
$59.99 $54.99
+4.99 shipping (via FedEx)
IS THIS A GIFT? DON'T SPOIL THE SURPRISE!
This item ships with an image of the product on its outer packaging.
Rated 4 out of 5
by
Disappointed25
from
Top of table is not a sturdy flat surface
This table is an example of "could have been awesome"! Don't get me wrong my son loves playing on it and when he is a little older I'm sure he will do arts a crafts on here without any issues. It is a good table but not a great table. The legs and chairs are a hard rigid surface, but not the top of the table. Why didn't you make the top of the table rigid? There are waves in the top that make the block stacking tip over.
Date published: 2018-01-14
Rated 3 out of 5
by
subedoo
from
It will do
I really like the gender neutral colors and the chunky style. I believe this set will last many years. The size of the table top is small. It's fine for one child, but two kids using it simultaneously (i.e. for crafts or coloring) would be pushing it. Also, the surface of the table is bumpy. I am assuming the inner structure, used to strengthen the table, is at fault. For most uses by the toddler, this won't matter. But really, it's a bad design. I've seen similar table sets by a competitor and did not notice this problem.
Date published: 2016-01-04
Rated 1 out of 5
by
Christine M
from
Wish I could love this
Want so bad to love this table but the bad construction makes it hard to. The surface is so uneven and bumpy on the table, no way my son can stack blocks like seen in the product images.
Date published: 2015-12-10
Rated 5 out of 5
by
Anonymous
from
Durable, cute, economical kids table and chairs set!!
I had one of your table and chairs sets for my 2 boys twenty years ago and it took a beating back then. We went on to give that set to another couple and they used it for years themselves. So when we had a grandchild I knew I had to get a Step 2 table and chairs set for her also. Its the perfect size and the chairs fit neatly underneath so you can store it just about anywhere. It cleans up extremely good with soap and water. Your product is a smart purchase and I know when I see the Step 2 logo its durable. Love this set!
Date published: 2017-03-10
Rated 5 out of 5
by
Anonymous
from
Cute,sturdy and fun.
My granddaughter loves her Mighty My Size Table & Chairs Set! It's made really well and is very sturdy. It's not heavy so it's easy to move around. It's usually in her bedroom but sometimes she wants to have a tea party while she watches tv. and we'll move it into the livingroom. My granddaughter is almost 3 and the table and chairs are a perfect size for her. The set is really cute. We are very pleased with our purchase and would recommend to anyone wishing to purchase a table and chair set for their child.
Date published: 2017-03-03
Rated 5 out of 5
by
Callie
from
Great for my two under 4
I bought this to help my two little guys (3 and 1) sit at meal times since our kitchen table was just too big. This has been great and they love having their own accessible space to eat. It is also small enough to fit in our dining area without blocking our normal walk ways. The only downside is that it slips easily on the tile floor, but I cannot fault the product since I knew what material it is made of prior to buying. We just put a rug underneath the set and it works great.
Date published: 2015-12-07
Rated 5 out of 5
by
Anonymous
from
Great size and colors!
We received this product from Step2 in exchange for our review, and we absolutely LOVE it! Our two children, ages 3 and 5, use this nearly every day to play, do crafts and each lunch on. We've been able to move our play-doh creations and coloring activities to this table instead of the floor! It is a great size and fits nicely in a nook in our kitchen. I also love the neutral and trendy colors which really complements my gray and white kitchen. Would highly recommend!
Date published: 2015-09-03
Rated 5 out of 5
by
Anonymous
from
Happy with purchase
Bought this for my granddaughter for Xmas gift to go along with kitchen set she received. It is a perfect size and the fact that the chairs slide under the table out of the way is a plus. It is lightweight which is good and bad. It will slide if put on hardwood floors. The colors are nice and it is easy to clean and my granddaughter enjoys having a table to put "things" on. She has a little trouble getting into the chair, but not for long.
Date published: 2015-12-22
What is height of the chair from the floor to the top of the seat?
10 inches and very light weight. my grandson keeps slipping trying to get on because it is so lightweight.
Date published: 2020-09-17
Is this bpa pcc and pthalate free?
All Step2 products are non toxic and do not contain bpa pcc or pthalate .
Date published: 2019-04-10
Do the legs on this table disconnect?
No they do not. It is one piece.
Date published: 2019-03-24
What is the actual color of the step 2 storage unit. It says blue. Is the frame a grey color? On the table and chairs it looks like the table is grey and the chairs are green? Are there sets that match?
Please contact our Consumer Service Specialists at 1-800-347-8372 Monday through Friday, 8AM -5PM Eastern Standard Time and we will be happy to help you.
Date published: 2020-03-12
can you purchase extra chairs
Thank you for contacting Step2. Replacement parts and decals can be ordered by calling our Customer Service team at 1-800-347-8372, Monday - Friday, 8:00 am - 11:00 am and 12:00 pm - 5:00 pm EST. Please have your product close by during your call so that we may quickly assist you to answer your question, find a resolution and or provide product or part pricing and lead-time(s). Various replacement parts and decals can now be ordered on line. Check our website at www.Step2.com and refer to the replacement part section located at the bottom of the website page and shop parts by category or look up your product(s) pertinent replacement part choices. Regards, Step2 Consumer Service
Date published: 2019-02-01
My grandson was given this table but chair was broken and my husband threw it away. How do I get another chair ?
Please contact our Consumer Service Specialists at 1-800-347-8372 Monday through Friday, 8AM -5PM Eastern Standard Time and we will be happy to help you.
Date published: 2018-02-26
Would this table and chair set match the new Elegant Edge Kitchen?
Being made of the same material with a simple decor, I believe it would fit the detailed kitchen. I bought the table and chairs for my grandkids and they love it and use it all the time. It is used outdoors in a pink play castle and weathers well.
Date published: 2018-03-27
What is the height of the table? And height of chairs?
The table is 19 inches high and the seat of the chair is 91/2 inches high..
Date published: 2019-01-15