Motorcycle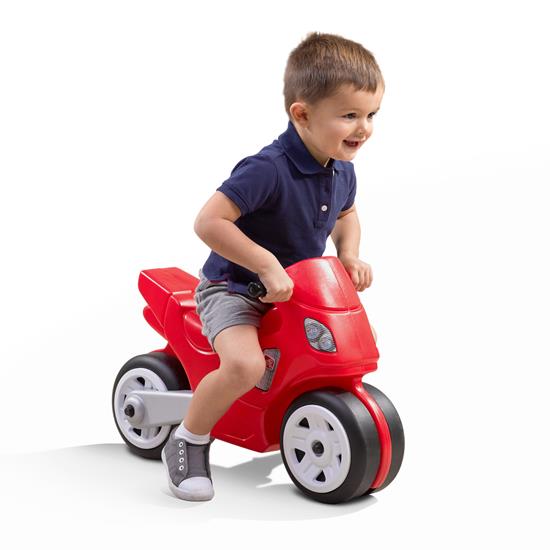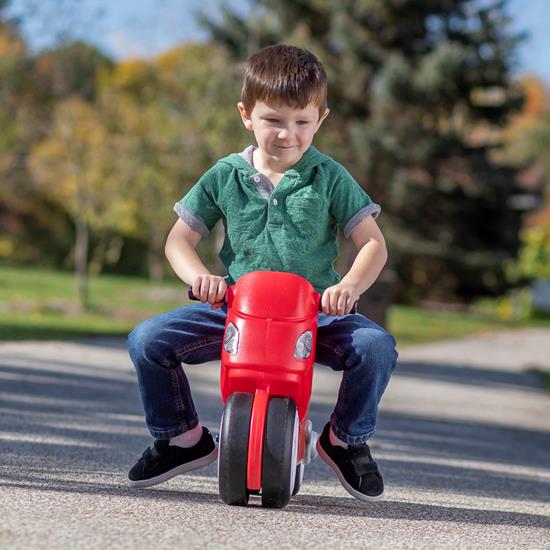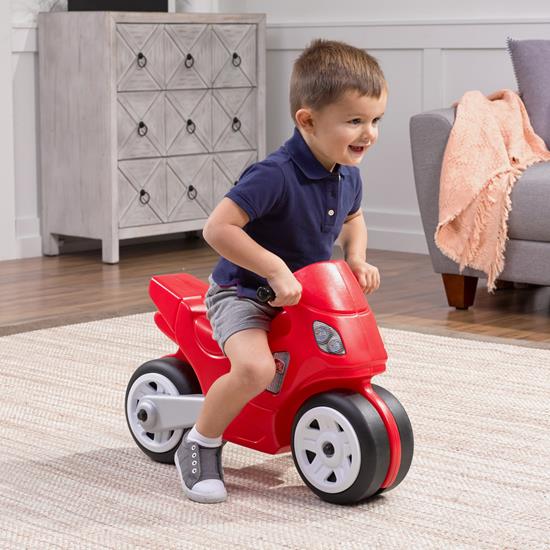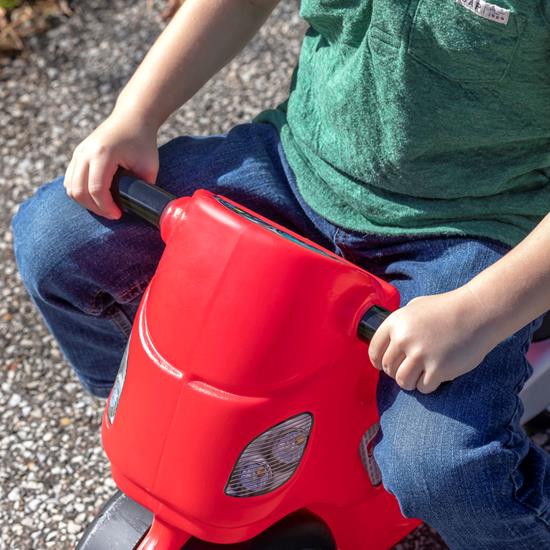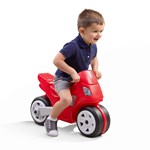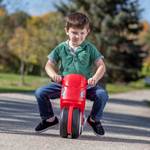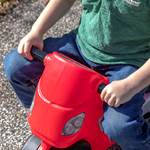 Motorcycle
In stock
$34.99
+4.99 shipping (via FedEx) When will my item arrive?
Set your child into high gear with the exciting miniature racer-like Step2 Motorcycle!
IS THIS A GIFT? DON'T SPOIL THE SURPRISE!
This item ships with an image of the product on its outer packaging.
Rated 1 out of 5
by
Anonymous
from
Wishing for old version of motorcycle
Was very very disappointed in this model. We bought the previous version of it 12 years ago for our oldest and have looked for another one like it every since. We were so excited to see Step 2 was again putting it back into production only to find that this was the newer model. The 1st requires balance and taught young children much needed motor skills. All of our children including our girls have ridden the old one, that is still very much being used, and at the age of 4 taken off on a bike without the aid of any training wheels. Very disappointed in this newer bike and desperately wanting the old one to be put back into production.
Date published: 2010-04-28
Rated 4 out of 5
by
@ home mama
from
So much fun!
We purchased this motorcycle for my son for his 2nd birthday. He absolutely loves it! It is the perfect size for him now and will grow with him for at least a few more years. We live in a small home and don't have much room inside or out. The motorcycle is great because it isn't too big to put out of the way and is easy to use inside and out. I had a hard time trying to assemble it but my husband got it together ok. The only problem we had was with the grips that "slide" onto the handle bars. They were way too tight to slide on easily and it took us forever to get them on all the way. Other than that we have enjoyed it!
Date published: 2008-09-14
Rated 4 out of 5
by
Janna, mother of the Triad
from
Fun Ride One
We purchased this motorcycle for our 16 month old and my 3 year old twins love it just as much. It requires them all to work on their balance skills, but it steady enough for them all to climb on it and push, preparing them for bike riding in the future. My 16 month old is a big guy, so are my twins, and they are all great sized for it. (All in the upper 30lbs for weight and the little one is 34in tall.)I checked difficulty to assemble, only because, like others have said, getting the rubber grips on the handles was a bit of a pain. That being said, it will take a feat of great toddler strength to get them off. People who talk about the wheels not spinning need to be more careful in getting the end caps on straight.
Date published: 2014-12-29
Rated 5 out of 5
by
Heather B
from
My twin boys LOVE their bikes!
My twin 2 year old boys LOVE their bikes. And I love them because they don't take up too much space in our home which is great since we live in an apartment. I noted a con that this was difficult to assemble - it's not really the case - the directions were difficult to follow because they were all images & no text - I'm a text follower so I messed up the first bike by not putting in the little black things into the wheels - oops. However, the bike was inexpensive enough that I was ok with buying another one. At the end of the day, my boys love their motorcycles and ride them in the house and outside too.
Date published: 2012-05-31
Rated 1 out of 5
by
Anonymous
from
Not as expected
Very disappointed in this item. I am a loyal purchaser of step 2 items because my son usually loves everything w/the step2 brand and I love the quality!...I bought this item for my son's 2nd b-day. He is way too big for this toy and the wheels don't freely turn as I expected them too. The wheels fit too tight on the wheel base and therefore are practically stationary and barely move. So my son says it's broken because he can't make it move and gets off right away. This toy is for 1 year olds not 2 year olds.
Date published: 2008-06-06
Rated 1 out of 5
by
Chloe's Mommy
from
DISAPPOINTING
This product was very disappointing. I am returning it back to step2. The back wheels do not roll good at all and it is very difficult to maneuver. If step 2 put on rubber wheels, then it would be a great product. The platic wheels makes this a poor product. Don't waste your time and money. Look for something with rubber wheels that will roll easy.
Date published: 2008-03-31
Rated 2 out of 5
by
Anonymous
from
Slightly Boring Toy
The motorcycle is very durable and easy to assemble. The only problem is the handle bars don't turn so my son can't turn when riding it, he can only go straight. We got it for him for his third birthday so he had something other than his bikes, but becuase he can't turn the handle bars he uses it a lot less than we thought. The tires also pick up dirt really easy so if he rides it outside and then inside on the tile it makes a horrible fingernails on chalkboard sound. He does enjoy it and I would reccomend it for maybe a 2 year old not a 3 because he will probably not use it for very long since it is so limited in what it can do. becuase he can't turn it and go places as fast as he would like to. Great gift for a younger child.
Date published: 2009-01-24
Rated 3 out of 5
by
Anonymous
from
Fun toy but enthusiasm is short-lived
We bought this product after my son tried it at a Recreation Center. He has played with it a couple of times but scoots across the house then gets off and moves on. He has had much more fun and use out of a car that he can push, ride, hide things under the seat, turn a key and steering wheel. He got bored pretty quickly when there is only one activity to the motorcycle.
Date published: 2007-04-19
How do I order new handlebars?
You can order replacement parts through our Customer Service Department. Please call toll free 1-800-347-8372 Monday - Friday, from 8-5 ET and we will be happy to assist you further with this request.
Date published: 2018-03-27
Is this item available in green?
No, the Motorcycle is currently available in red only.
Date published: 2018-03-27
Can you tell me the height of the seat? That is, the measurement from seat to floor. My toddler is very tall and most riding toys have his knees practically on the floor. Thank you.
I'm not home at moment but my 2 year old son is average in size and when he sits on it, it's the perfect size. I will say that there is some room for growth as well. He loves the toy. Like a real motorcycle to him. Good luck. ;)
Date published: 2018-03-27
After reading the many great reviews, I'm convinced that the motorcycle is highly recommended but to my surprise, I couldn't find any Q&A about whether the handle bars make the entire front end turn or just that front wheel to turn OR neither one? I'm asking because in the past, I've bought some off brand, much cheaper versions with steering wheels attached but not for steering and front wheels that don't turn side to side. I'd appreciate an answer from anyone that owns one, it's really urgent, my grandson will be 2 on March 7th 2014 and I would love to give this to him at his party. Thank you so much.
The motorcycle doesn't turn at all. The handle bars are basically just to hang on to. But don't let that deter you. I have 4 kids from 3-5 and they ALL love this motorcycle.
Date published: 2018-03-27
how its work? with battery?
no. the child rides on it and runs. my kids love it. 2 and 5 yo and my nephew who is 8 loves it too.
Date published: 2018-03-27
Is the blue motorcycle available anymore?
The blue model was discontinued.
Date published: 2018-03-27
Hi! I am looking to get my son a step 2 motorcycle for xmas. There are two different ones listed on walmart's web site and one listed on yours. The product dimensions and price differ on all three. I guess I am wanting to know the difference between them. Walmart lists a step 2 ride on toy - motorcycle for $23, and a free wheeling motorcycle for $38.86. And then you have one on this site for $29.99 that looks like the one on Walmart's website for 23. But it is listed with different dimensions and weight requirements?? Please help me in this matter as I am clearly confused??
The Free Wheeling Motorcycle has different decals than the classic Motorcycle. The Motorcycle listed on this product page is 15.5" x 23.5" x 11."
Date published: 2018-03-27
Does the child need to wear a helmet to ride this?
no
Date published: 2018-03-27
Is there a pink model manufactured?
The pink model has been discontinued.
Date published: 2018-03-27
In the process of putting together the step 2 motorcycle, my wife accidentally put the wrong part on the rear wheels. How can we get it off!? Please help!
I'm sorry . I'm only the money bank,Dad in Chicago put it together for the boys (triplets).I'd call or e-mail Step2
Date published: 2018-03-27
do you have something like this but a four wheeler style? not a motorcycle? thanks!
I bought this motorcycle two different times for two different grandchildren. It is great! They push with their feet, and it teaches them balance. They can really go very fast. It's better on a smooth pavement rather than bumpy.
Date published: 2018-03-27
The left rear wheel doesn't move. The other three do. I was wondering if anyone else had this problem, and if so, what they did about it?
My Motorcycle works fine. It gets used almost everyday and we haven't had any problems. I have a small home day care and I keep it in the playroom year round so the kids use it through the winter for exercise.
Date published: 2018-03-27