My First Advent Calendar™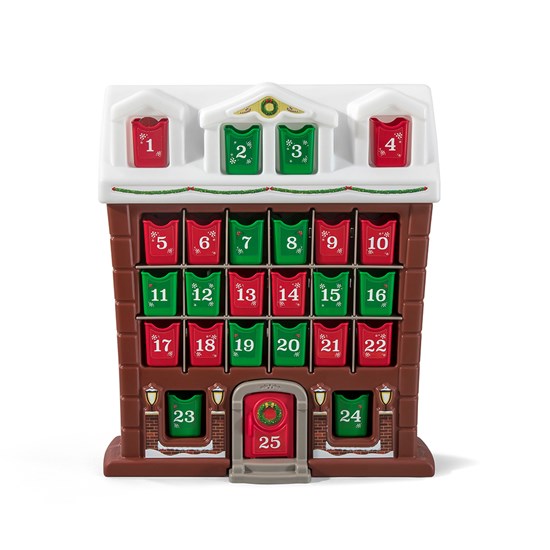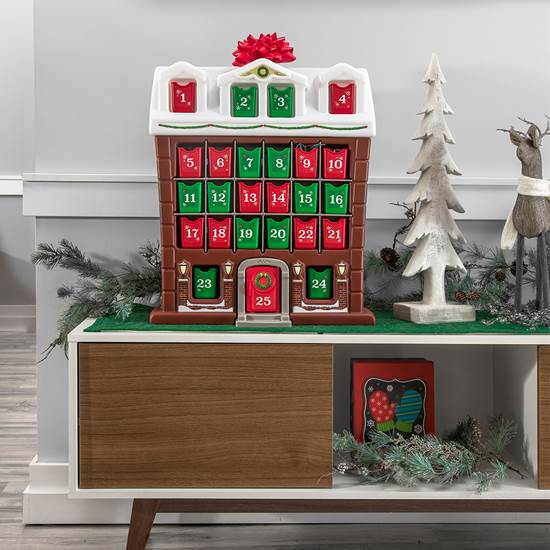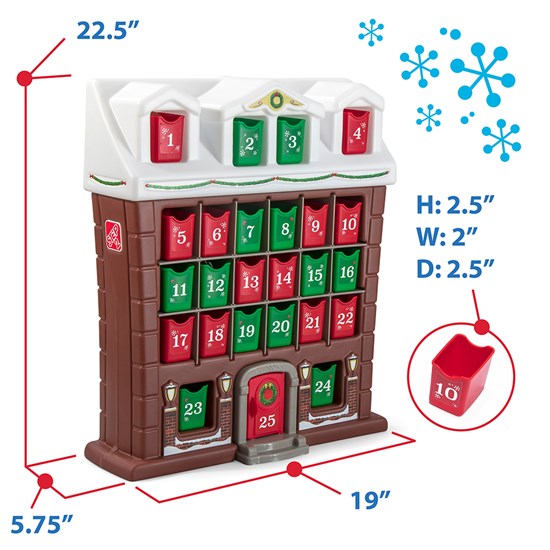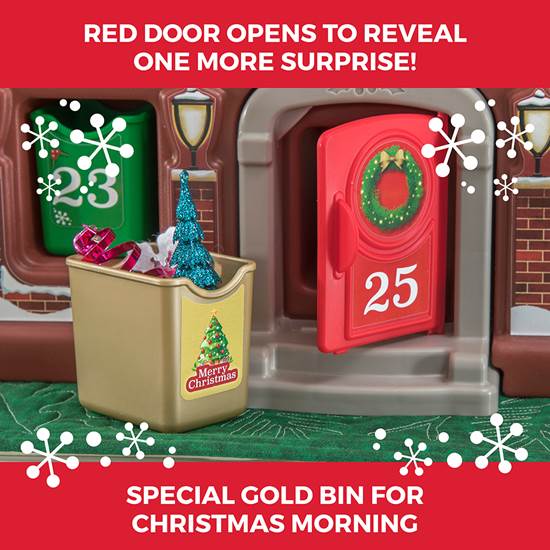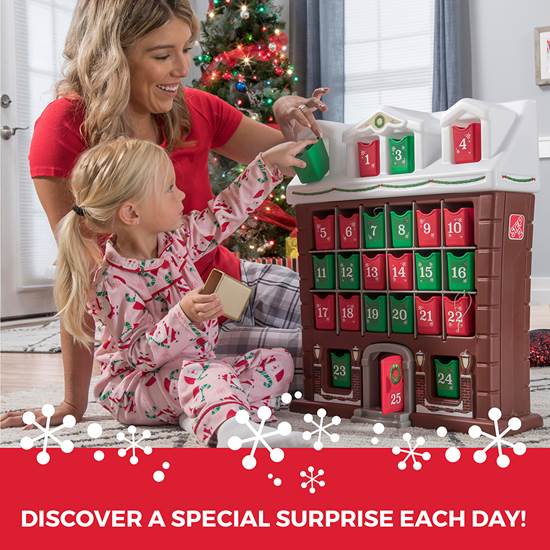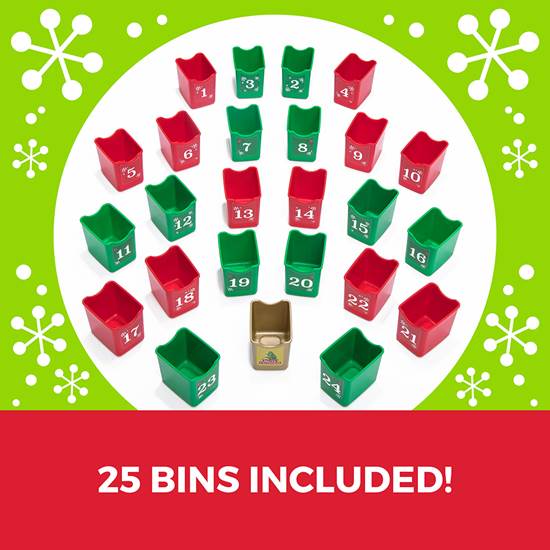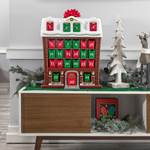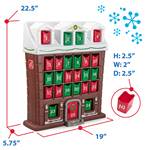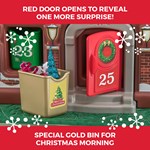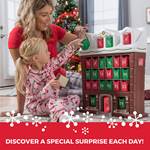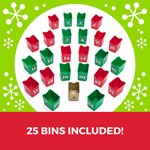 My First Advent Calendar™
In stock
$49.99
+2.99 shipping (via FedEx) When will my item arrive?
Take the excitement of counting down the days 'til Christmas up a notch with the new Step2 My First Advent Calendar!
IS THIS A GIFT? DON'T SPOIL THE SURPRISE!
This item ships with an image of the product on its outer packaging.
Rated 5 out of 5
by
Nlewis
from
So cute!
My daughter is going to loves this! The bins are large enough for a mashum or small play doh.
Date published: 2019-11-18
Rated 5 out of 5
by
JoEllen
from
cute calendar
very nice. bins are big enough for small gifts. durable for years to come
Date published: 2019-01-08
Rated 5 out of 5
by
Stephanie
from
Very cute product for 2 year old!
Assembly is easy although I was surprised it did not come fully assembled out of the box. My daughter is learning her numbers so loves playing with the bins and saying the numbers. She's not quite old enough to just pull one bin out per day but hopefully by December she'll understand. The numbered bins are larger than I expected so great for fitting a small toy or snack. It's a very cute product for both boys and girls.
Date published: 2019-10-08
Rated 5 out of 5
by
Whitney
from
Will be enjoyed for years to come
So cute and perfect for a toddler. I've bought a few Step 2 products since having a child. I'm really impressed with the quality, durability and design. This was easy to assemble as well. I do wish that they would pre drill the holes and that the packaging box was slightly larger to accommodate storage of the advent calendar once assembled... but those are nit picky things. Really fantastic product!
Date published: 2019-11-25
Rated 5 out of 5
by
Theresa
from
Great product
Yes, I purchased 2 of these. One for a 1 year old, and the other is going to be filled and be a surprise for my grandkids, a 6 and 10 year old. They are going to love it, for years to come!!! It really was easy to put together, I do wish the box was a little wider, so when the holiday was over, you can store it back in the same box.
Date published: 2019-08-08
Rated 4 out of 5
by
IW31
from
Cute and durable
Havent actually used it yet as it came after Christmas time, but it looks great. I like that I can put what ever I wish in the little bins. It will be durable year after year and can grow with my child because I determine what goes into it. The only con I can foresee is the bulkiness of it.
Date published: 2019-04-07
Rated 5 out of 5
by
Ninnie
from
Can't wait until Christmas!!
Another great addition to all our other Step 2 Christmas products. I'm a grandma who loves Christmas and I'm always looking for new Christmas items that the grandkids can play with!! Can't wait to fill these for my youngest grands!! Thank you Step2 for making the holidays so much fun!!!!
Date published: 2019-08-28
Rated 4 out of 5
by
kapaul
from
Will use for years to come
We're looking forward to using this product for years to come. Knocked off one star because it's a bit of a pain to put together - so many stickers, and if you don't put the top set of screws in perfectly the top will slide off.
Date published: 2019-11-30
Rated 5 out of 5
by
GeorgiaGirl
from
Perfect for toddler
My grandson is almost 14 months and this is as tall as he is. He LOVES it! He takes the little trays out and looks in them and puts them back. I highly recommend this purchase.
Date published: 2019-12-16
Rated 5 out of 5
by
Spacecowgirl385
from
Love it!
My 2.5 year old daughter loved this! It was fun for her to go through the numbers each day. We also counted each and it helped her recognize numbers!
Date published: 2019-10-14
Is there any way to get replacement bins or stickers? I think my one year old may have thrown one of the bins in the trash! It's no where to be found and I am so upset! I am planning to use this for many years. 
I don't know.  Contact the company.
Date published: 2020-01-09
How big are the bins?
I had this question as well, so I contacted a representative. The bins are 3" High x 2" Deep x 1.5" Wide
Date published: 2019-09-17
Is this for sale anywhere in Canada? 
We suggest checking Amazon.ca for the My First Advent Calendar™ as this is an Amazon exclusive.
Date published: 2019-02-05