Naturally Playful® Countryside Cottage™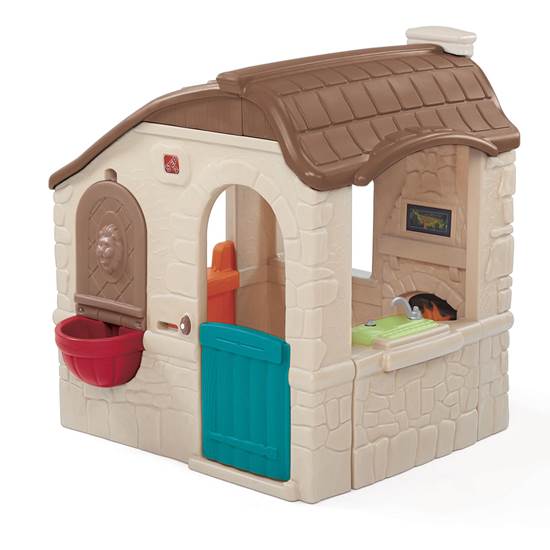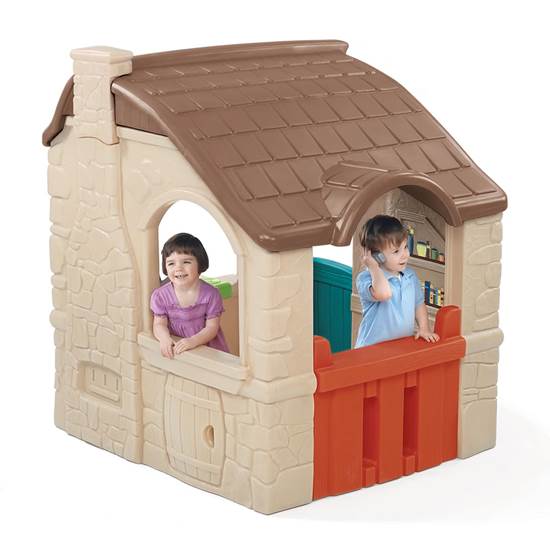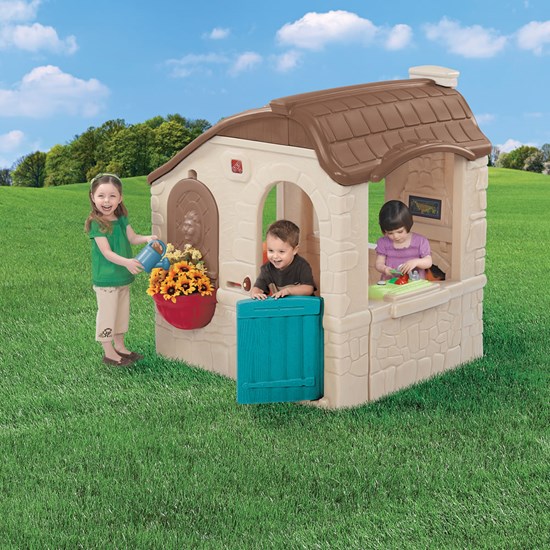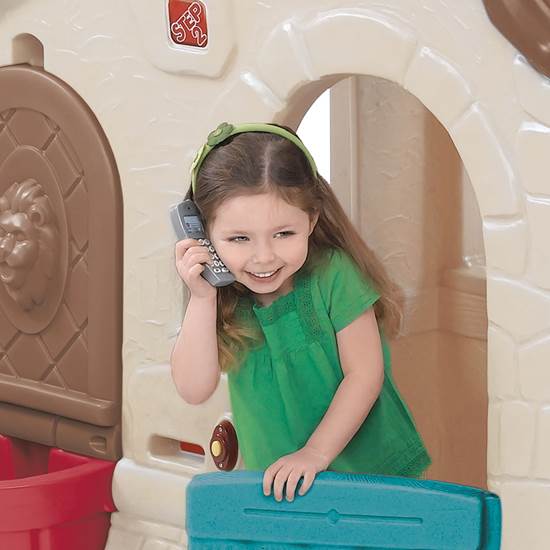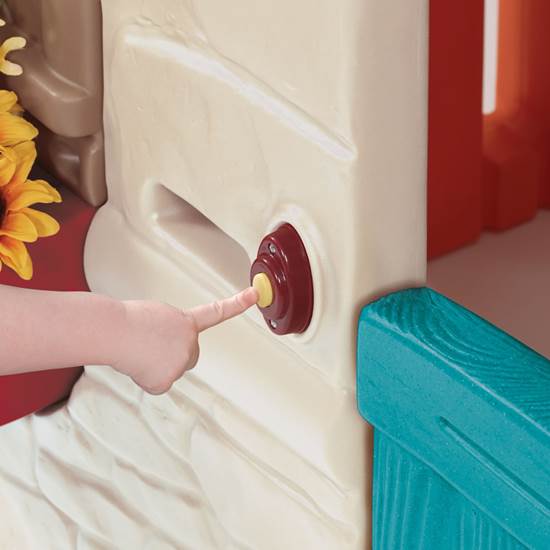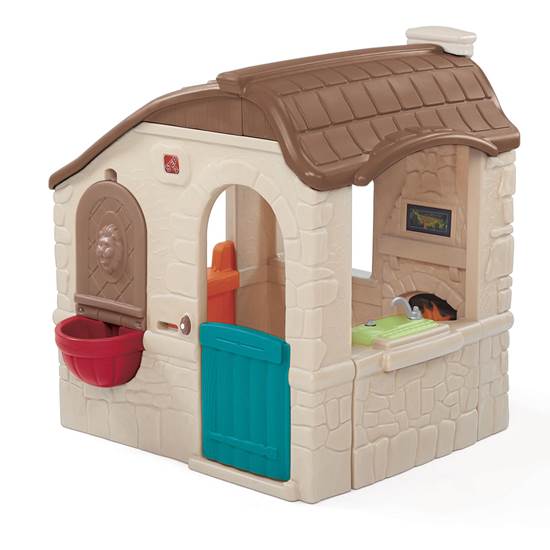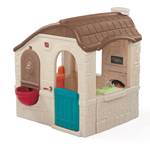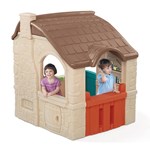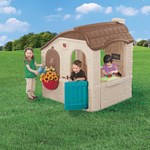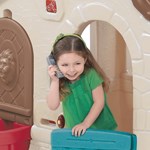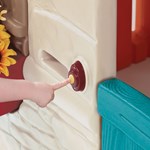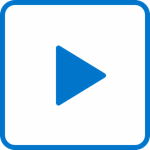 Naturally Playful® Countryside Cottage™
In stock
$329.99
+44.99 shipping (via Truck) When will my item arrive?
The Step2 Naturally Playful Countryside Cottage is an old-world inspired playhouse that brings a charming look into today's backyard landscapes.
IS THIS A GIFT? DON'T SPOIL THE SURPRISE!
This item ships with an image of the product on its outer packaging.
Rated 1 out of 5
by
Michelle R
from
Mold/Mildew and Water Inside this product
My kids love this house, but I would never buy it again. After having this product for a short time, water has seeped in and collected in the bottom on the house causing mold and mildrew inside the house. Something I hardly want my kids to come in contact with. When I called Step 2 the explaination I got was that water over time would find it's way in there and to drill some holes in the bottom or to use a flathead screwdriver to pop off connecting holes and wash it out with bleach and water. Something I'm not happy about doing since we paid so much for this cottage. Very disappointed in this product and Step 2's response. I'd only get this cottage if you planned to keep it inside your home.
Date published: 2015-08-07
Rated 5 out of 5
by
Doc West
from
Love it
We got this for my foster child and it was a huge hit. Unfortunately, I never got around to cleaning it up and making it usable for my own son until just this year. He's now 4 so it sat unused for over 4 years. I was afraid he'd be too big for it but he fits and moves around in it perfectly fine. Shocked that the doorbell still worked after all these years outside in the snow and rain. The phone got run over by the lawnmower long ago - too bad because it was a fun addition. We have the original version with the water fountain (instead of the flower pot) and somehow that still works too. No need for a water table. He just splashes around in that thing all day. Love, love, love it.
Date published: 2014-06-03
Rated 2 out of 5
by
Unhappy Mom
from
Not worth the money
I was so excited to get a play house for my son because everytime we visited someone with one he played in it for hours. We got it for him for his second birthday. That was 4 months ago and he has played in the house a total of three times. Though the description makes it seem like there is so much to do in it, there is really very little. The phone breaks easily, the sink and stove are boring after a minute, the stickers fall off in the rain, and the flower pot holder fills with water and gets slimey and dirty and it hard to clean. The best part is the doorbell, and for the money I can think of many better toys to buy than a doorbell. I have put toys in the house and a chair, but there is nothing I can do to lure my son into it. A big disappointment.
Date published: 2010-08-18
Rated 5 out of 5
by
Anonymous
from
We likey!!
Bought this today for my daughter. Really happy with it. It is big enough for an adult to fit inside with a child or 2 if they are small. We considered getting a wood house but decided against it when we saw how small they were compared to this one. We like it because we can hose it off if it gets dirty, move it around easily for mowing and such, and no worries about wood rot or rusting of hardware, and I also felt like wasps and other bugs would be less attracted to the house than they would to a wood one. I think we will get years of enjoyment out of this one since we have a toddler and a 1 year old. [...] It was easy to put together and my daughter was playing in it 15 minutes after pulling it out of the box.
Date published: 2010-03-06
Rated 3 out of 5
by
Anonymous
from
Lots of fun for 2 year old
My two year old son loves the cottage. We keep it on the deck and when it rains, the brown flower pot fills with water. We have to tip the house to empty it and you can never get rid of all the water that accumulates in the crevice at the base of the pot - unless you completely flipped the house over. Also, the phone got wet during a heavy rain and no longer works. We've had the cottage for only 3 weeks. Our son loves it, but I wish the phone was better quality - and tipping the house to empty the flowerpot is inconvenient.
Date published: 2010-05-27
Rated 4 out of 5
by
Anonymous
from
5 Grandchildren loved their playhouse
It is a really nice size, since I have 5 grandchildren under the age of 4 who will be spending time playing in it. It was a Christmas present but they cannot wait to plant flowers in the lovely planter on the outside of the house. Love that it is so easy to see the children inside from any angle. It has a good height so the kids will be using it for a few years. Of course the working doorbell is a big hit. It has a really nice sound but once installed it is much quieter and could be louder.
Date published: 2015-01-09
Rated 3 out of 5
by
Mad mom
from
Disappointed
My daughter received this house for being a good little girl as she has always wanted one. I did alot of research and since I am a big fan of Step 2 products, we decided on this one. Also, because this is only 1 of 2 houses that are sold in stores from Step 2. Within 1 hour (husband did not even finish building it yet) the phone did not work. THe house has not been built for 24 hours and I went outside to let her play today and the doorbell did not work. If it wasn't such a pain to get this home I would return it. THe roof on top does not meet up properly either. I love the house but for being something for small children and suppose to be durable, too many things are going wrong. I put at the bottom wouldn't recommend, but I am borderline. THe phone and doorbell are the best parts to her and now they don't work.
Date published: 2011-03-27
Rated 5 out of 5
by
Anonymous
from
Cozy & Colorful!
Our daughter received this adorable cottage from her Mimi & Pawpaw about 2 years ago. When we got it we lived in a 2 bedroom apartment and so we actually set it up in our living room! It was very easy to put together and one of my daughter's favorite features is the flower box in the front. She also loves the fire place and sink. My husband and I loved that there were 3 windows and that the door was a "farm-style" door so we could see her at all times. She was about a year old when she first got the house and now she's turning 3. She plays with it everyday and has even camped out in it. haha! She plays everything from "Bake Shop" to "princess castle" in this cottage and it may just be her favorite toy of all time. She has at least 3 more years if not more to enjoy it. We have moved since then but we are still in an apartment just a larger size. It is set up in her room and she couldn't be happier about that!
Date published: 2015-03-16
Is there a way to get replacement parts and stickers?
Please contact our Consumer Specialist Staff at 1-800-347-8372, Monday through Friday, 8am-5PM Eastern Standard Time for assistance.
Date published: 2019-07-22
What tools are needed for assembly?
The Countryside Cottage requires a Philips head screwdriver. Please open the following link to view the instructions : https://images.step2.com/media/pdfs/802000_assembly.pdf
Date published: 2019-06-06
Can you leave the lion panel over the flowers out Sonora just another window ?
The lion face and planter attach to an existing solid wall of the Countryside Cottage™ with no window.
Date published: 2019-05-29
We are getting water inside between the roof panels. Had to drill I small hole and drain it. Any idea what could be causing it. 
Please contact our Consumer Service Specialists at step2-company@step2.net or 1-800-347-8372 Monday through Friday, 8AM -5PM Eastern Standard Time and we will be happy to help you.
Date published: 2018-05-23
Do you sell a replacement for the pump motor? Ours has gone out and I'd like to replace it
Regretfully, we no longer have the pump as it has been discontinued.
Date published: 2018-03-27
Can this playhouse be left outside during the winter months?
Step2 outdoor products are specifically designed for outdoor use and are extremely durable. The plastic resin used in Step2 products has been tested successfully at temperatures up to 32 degrees below zero Fahrenheit.
Date published: 2018-03-27
How do I get the lion fountain to work?
The "lion fountain" is not a fountain at all. It is a decorative plantar.
Date published: 2018-03-27
where do I buy another doorbell ?
You can order replacement parts through our Customer Service Department. Please call toll free 1-800-347-8372 Monday - Friday, from 8-5 ET and we will be happy to assist you further with this request.
Date published: 2018-03-27