Naturally Playful® Sand Table™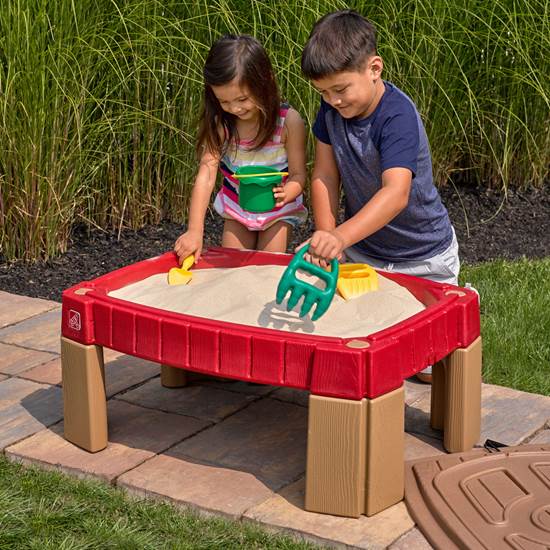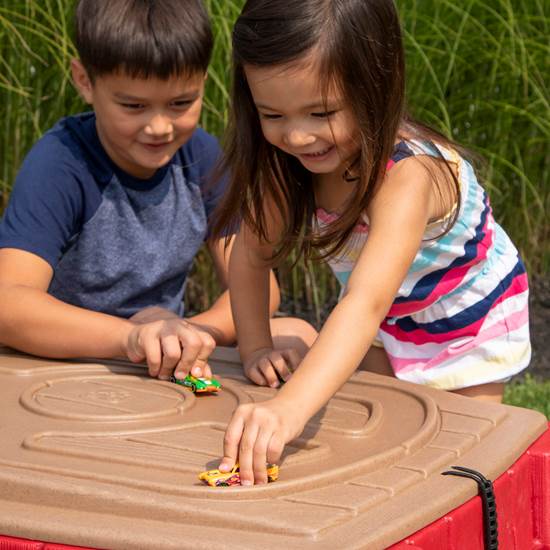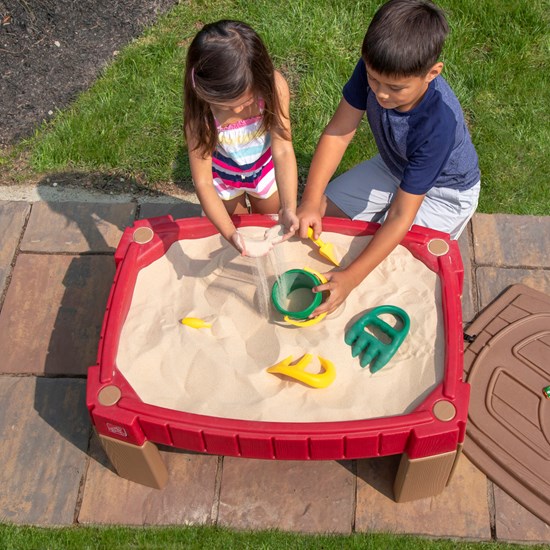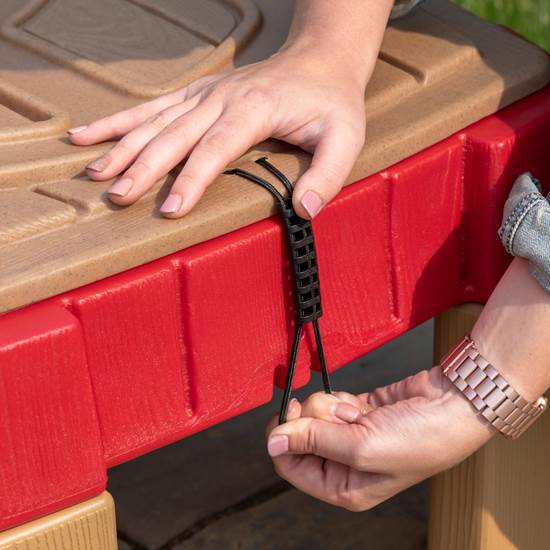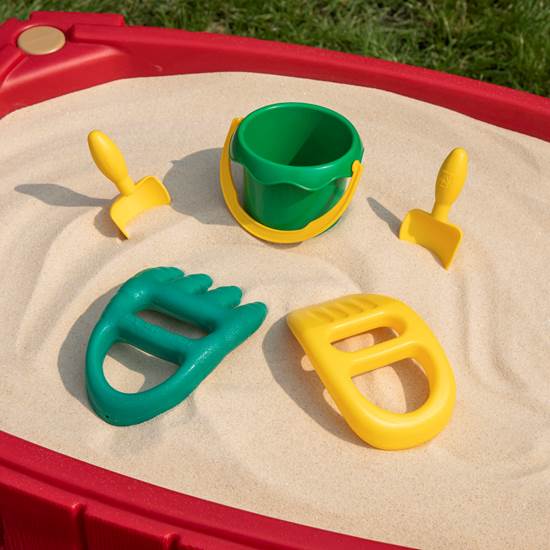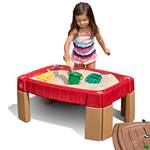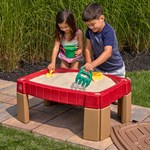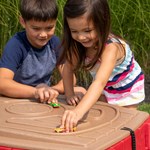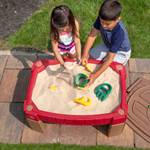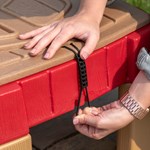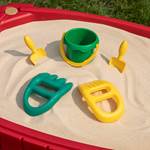 Naturally Playful® Sand Table™
In stock
$59.99 $54.99
+4.99 shipping (via FedEx)
IS THIS A GIFT? DON'T SPOIL THE SURPRISE!
This item ships with an image of the product on its outer packaging.
Rated 2 out of 5
by
NJ3GirlsMom
from
Beware! It leaks!
We recently purchased this sand table for our 3 yr old, as she loves to play with sand, but were disappointed in it very quickly. We placed it on our deck with the lid securely attached, but after 1 night of rain, the entire inside is filled with water and the sand is ruined! There's no place for the water to go, so we now have to dump the entire thing. I've contacted Step 2 directly and was told by their Customer Service Rep that there's nothing they can/will do and she suggested we try putting silicone around the holes where the cable goes through. Just another poorly created product that the manufacturer continues to make money off of!
Date published: 2007-09-18
Rated 2 out of 5
by
Grandma Cuckoo
from
Great idea, but frustrating flaw
The sand table would be perfect for my grandchildren, except that it fills with water every time it rains, then algae and mold grow in the sand unless I constantly empty water and air it out. I'm very disappointed in that particular aspect. It seems strange that others report that their sand stays dry. A drain with a screw-in plug might help, or at least make it easier to maintain adequately. I have tried to position the lid to repel rain, but nothing has helped. I have had to replace the sand several times this summer.
Date published: 2007-08-23
Rated 4 out of 5
by
Anonymous
from
Nice sandbox, but could be better
This is a very nice sandbox. The kids really like it and it keeps them cleaner than a sandbox they sit in. It would be nice if it had adjustable heights. My five-year-old daughter has to bend over quite a bit to play in it and if I put a chair up to it her legs do not fit underneath. I would like to be able to make it higher. I also thought it was going to be deeper to put more sand, but there is adequate room. I hope step two comes out with a sandbox for a little bit bigger kids. This one seems more suited for 1 to 3-year-olds.
Date published: 2012-08-20
Rated 4 out of 5
by
Darkhorse
from
Great product, little upkeep
Great sand table. Great hight, perfect depth. For those that complain about the water:1) Yes, some water gets in. Ours has been through multiple tropical storms, the sand got very wet but it wasn't a disaster/water table situation.2) mold/mildew will grow regardless of whether it's super wet or just humid and closed up. If you've got mold, you don't have it open enough. (This also means you probably have to throw the sand out for the winter unless it's frozen). Solution: Play more!So, if it's too wet, leave it open. Frankly, we had to water ours to keep the dust down many more times than letting it dry out.I couldn't be happier but I took off a star because it may not be best for those who wouldn't use it all the time (e.g. grandparents, etc) unless you lived in an arid climate.
Date published: 2008-09-16
Rated 3 out of 5
by
tennismom
from
Great table but rain gets in...
This table is lots of fun albeit a bit messy but what do you expect when you put sand and a 3 and 2 yo together:) Easy to assemble. My major complaint is that the cover does not keep rain out at all. I called the company and they said the top was redesigned due to new government guidelines so it is not air tight. I think there must be a way to design a better top in line with the guidelines and I am going to gerry rig something myself so I don't have to dump the water out ever time it rains. Wish me luck!
Date published: 2009-07-02
Rated 1 out of 5
by
Anonymous
from
Sand table?? More like WET sand table
The top of this table is not designed well and I'm not sure why this got past toy testing and has made it onto the sales floor. The lid does NOT keep water out and the sand is wet wet wet. It takes a VERY long time to dry the sand out, so it's almost always wet. Very disapointed, we are pretty frugal and this was a big splurge for our daughters first birthday. I have tried to use silcone to seal the holes near the holes where the water gets in like a previous poster suggested, but that has not worked.
Date published: 2008-05-22
Rated 4 out of 5
by
Columbiawife
from
Kids are loving it!
Assembly took all of about one minute - the legs just snapped on and it was ready to go. We put it in the backyard, added sand and let the kids go. It was a bday gift for our 2 yr old and she is very protective of it already! Description says it will hold up to 80 lbs of sand, but we've discovered that a 50 lbs bag works just right. It doesn't overflow but allows for the lid to go on top and close properly. (It was tested out the first night we had it. A huge rain storm came thru and the next day there was no water inside whatsoever!!)
Date published: 2007-04-19
Rated 5 out of 5
by
cd
from
perfect
This sandbox is great. I bought this for my little girl when she was just 1 and now is is 3. It still looks like it did when we pulled it out of the box. It has been moved all over our yard. She even sits in it. Its been great having during parties. All the kids love it. I was kind of weird about her sitting in sand so this was a perfect buy. It also came with a lid so its easy to keep the cats out!!!!!! I'm glad we have it and my daughter still loves it. She go's to it everytime we go out. Its real fun to put colored sand in it.
Date published: 2009-11-28
Is this item available & not able to get it into shopping cart. Thank you!
This product is now available for purchase.
Date published: 2020-08-07
I cannot get the legs in and had three different people try, what s the deal
Unsure, our legs popped in with no issues at all.
Date published: 2020-07-18
I can not get the legs to fit in the slot? What do you suggest? Is there a trick?
I put silicone spray around the hole and the round top of the leg. Had to put a thick cloth on the leg and with a wide top hammer pounded it in!
Date published: 2020-06-16
The lid for this sand box went missing. How would I go about obtaining a new lid? It's not on the replacement part list.
I would try to contact step2 maybe they can help..
Date published: 2020-05-21
My table has water in the legs, sloshing around but inaccessible. How do I get the water out?? Can I remove the legs somehow to drain them? Please help!
Please contact our Consumer Service Specialists at 1-800-347-8372 Monday through Friday, 8AM -5PM Eastern Standard Time and we will be happy to help you.
Date published: 2020-07-03
I tried to put the sandbox together yesterday but I'm having trouble getting the legs to lock in place. Is there a certain way i should be doing this? Should i use a hammer?
Please contact our Consumer Service Specialists at 1-800-347-8372 Monday through Friday, 8AM -5PM Eastern Standard Time and we will be happy to help you.
Date published: 2020-05-02
Our sand table always fills with water after rain. I have checked the lid (no cracks) and it is securely fastened. Is there somewhere else it could be leaking that I should check?
Please contact our Consumer Service Specialists at step2-company@step2.net or 1-800-347-8372 Monday through Friday, 8AM -5PM Eastern Standard Time and we will be happy to help you.
Date published: 2020-07-22
Does it have a plug to drain the water out? I'm thinking of using this in my preschool classroom as our sensory table. 
The Naturally Playful Sand Table™ does not have a drain plug.
Date published: 2018-02-19