Naturally Playful® Sand & Water Activity Center™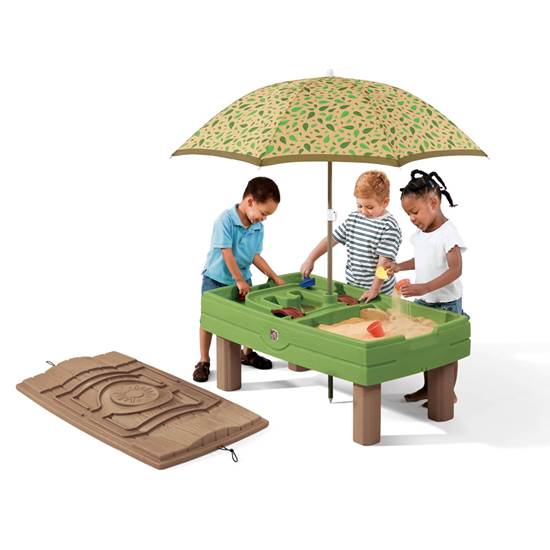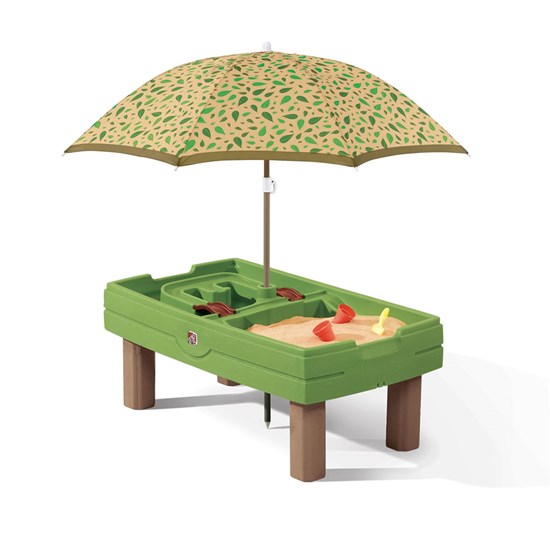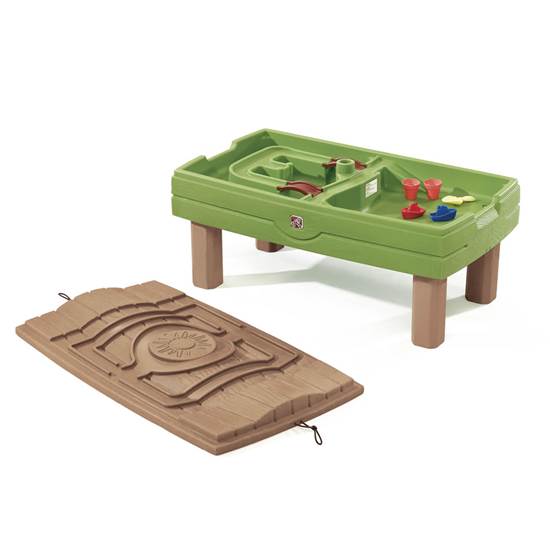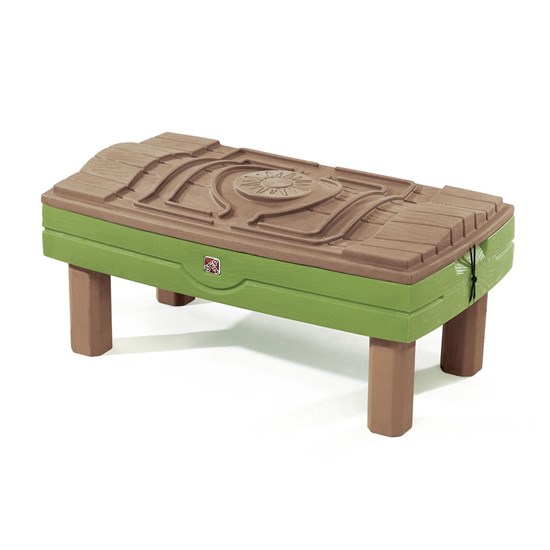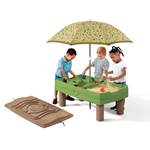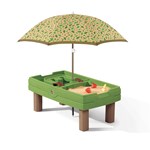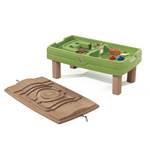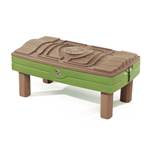 Naturally Playful® Sand & Water Activity Center™
In stock
$89.99 $84.99
+4.99 shipping (via FedEx)
Sand and water sensory play with plenty of shade!
IS THIS A GIFT? DON'T SPOIL THE SURPRISE!
This item ships with an image of the product on its outer packaging.
Rated 5 out of 5
by
Lanie25
from
Fun Outdoor Toy!
My 15 month old son looks forward to playing with his sand/water table any time we go outside. He seems to prefer the water side more, and ends up soaking wet from all the splashing fun he has :o) This toy can get messy when sand and water mix, but in my opinion part of play involves learning about different textures, even if things get messy! I love that the cover fits onto the table so tightly- I never have to worry about critters/bugs getting inside. The umbrella is great for shade too- I placed an old flower pot with sand in it under the table, so that when we place the umbrella in the table it has a more sturdy base.
Date published: 2009-05-01
Rated 5 out of 5
by
Drea
from
What a GREAT toy
I purchased this sandbox because my 2 year old son's turtle sandbox was leaking. We have had many storms since I set up the new step 2 sand table and it has not yet leaked, The top stays on very well and it looks very nice in our yard. My son loves the roads for his cars. I really love the umbrella, just becareful that heavy winds don't catch it and pick it up. It has blown away a few times but I just dug a small hole in the grass underneath to push it in.It does get messy, but hey, that's the fun of it. it's like we have a little beach at home!I also LOVE that it is a table, now my dog can not dig in it while my son plays.VERY GREAT products Step 2...your the best!
Date published: 2009-07-31
Rated 5 out of 5
by
Mom of three, Kelley
from
Worth every penny!
Wow! Bought this table for my 2.5-year-old son, and was happy to find that my 6 and 7 year-old daughters have enjoyed it, too! The table is very attractive in the yard, and is large enough so that all three of the kids can have plenty of room playing around the table (with room to spare). The first day we set it up, we just filled up both sides with water and threw in some measuring cups and a plastic tea set. All 3 kids played with it all day - from 11am-4:30pm while my husband and I sat and looked on. And now, weeks later, it's still the favorite toy of the household. I am so happy that we chose this table - the rectangular shape works great for multiple children.
Date published: 2009-06-18
Rated 5 out of 5
by
Liz
from
BEST WATER TABLE!!!!
My son LOVES this table! He received it as a gift for his first birthday from a group of moms of under 2 year olds (most of which actually have this table for their children) It's a wonderful table. I haven't had any problems with leaking (and I fill both sides with water) I love how this table looks. As a stay-at-home mom, I have other SAHMs/children over for playgroups and all the kids just love this table. And I love the umbrella! It's nice a big and creates a ton of shade for the kids. All-in-all... worth the price, hours of playtime for the little ones, great look, no leaking, easy to put together, tons of fun!!!!
Date published: 2007-06-02
Rated 5 out of 5
by
Mom 'o 3
from
Great investment!
At the time of purchase, my daughter was 8 and my son, 2. They both stay entertained with this for long periods of time. We don't always fill up the water side, as my son dumps large scoops of sand in the water, but they both love it when we do add the water. The only thing I might change is the height of it to accommodate seating. My kids end up kneeling or sitting on a bucket to play. I also love the cover it has on it for rainy weather or the winter season. It is easy to put on and take off - my 8 year old can handle it. It has withstood some strong storms without any signs of wear. Overall, it's been a bit of a lifesaver for my husband and me when we do yard work!
Date published: 2009-11-09
Rated 1 out of 5
by
Anonymous
from
Waste of money!
I am very disappointed in this product! This was not a cheap $20 table so to pay the high amount to get what should be a better table and have it leak is a huge let down. Typically I am meticulous about reviews and comparing stuff but I bought this table on a whim when I found it on sale in store, so I hadn't read the reviews ahead of time to know that they leak. On top of the constant leaking making it pointless to put water in, the whole thing is made cheaply as the legs don't stay put causing the whole table to fall apart if barely touched. The legs do not stay attached to the table. I bought this at the end of last season so the store will no longer take it back otherwise I would return. I want my money back!
Date published: 2014-06-20
Rated 5 out of 5
by
Anonymous
from
LOVE IT!
We got this play center for my 3 year for his birthday. He loves it! It is very sturdy, does not leak and is easy to clean up when he is finished playing. The umbrella is great to block out the sun and is very easy to put up. The other great thing is the cover. My 3 year old can put the whole thing (can't take down the umbrella yet because he isn't tall enough) away by himself because the cover is lightweight and easy to use. Even my older children like to play with this fun toy, it has provided hours of fun for our family! My only suggestion is to check at your local stores to see if it goes on sale. [...]
Date published: 2009-05-18
Rated 3 out of 5
by
E&A's Dad
from
Excellent Design (almost)
This is a well designed table that provides hours of unstructured water/sand play or just water play(this is the way we use it). My only complaint is that water leaks out of the table where the top of the legs attach. The company provides rubber caps for the legs in an effort to prevent leaks, however, unless you have two people install the legs (one to push the leg down HARD into the leg socket on the table while the other person installs the mounting screws) the design is likely to leak. I've fixed mine by disassembling the legs, applying a bead of silicone caulk on each rubber cap, and reattaching the legs.
Date published: 2010-05-04
Rated 2 out of 5
by
Heather the mom of two boys
from
Poor design - very disappointed
I did a lot of research before selecting this table. I weighed buying separate water and sand play tables and varying designs and sizes. I chose this table because it had a cover for both the sand and water sides plus a large umbrella. The problem with the table is that the umbrella gets screwed into place by a part under the table and you can't use the cover if you plan to use the umbrella. So this is a lose, lose because I need the cover of both sand and water (lots of cats in my neighborhood) but I also need the umbrella because lots of direct sun during the day. I am very disappointed and considering going through all the trouble of disasembling so I can return it.
Date published: 2012-03-20
Rated 5 out of 5
by
Doug
from
Too Much Fun
We just bought this for our six year old and 20 month old boys. The big boy played with it for quite a while, before running around the yard & returning for more play. Our toddler, however, took MAYBE two steps sideways over the course of an hour. We can tell already that this will be his favorite spot this summer. We eventually spirited him away, soaking wet & sobbing that we had removed him from his new found bliss.[...]This is a fabulous product made by a fabulous company. I will look for more Step 2 products in the future and would recommend this Activity Center to anyone with young children.
Date published: 2008-04-28
Rated 4 out of 5
by
LibraryMom
from
Almost Perfect
We live in a second floor condo and were looking for a fun toy that our son could use on our balcony. This product has been wonderful except for one small detail - the water side of the table seems to leak. This would definitely not be an issue for those who would use it on the lawn or patio in their backyard, but it's a bit of a disappointment for us (and our downstairs neighbor!). And as soon as we have a lawn of our own, this disappointment will dissolve, too! :) I've heard that some people fill both sides with sand OR water - so it has options, as well. So far, we think we've made a very good purchase!
Date published: 2009-05-12
Rated 5 out of 5
by
Anonymous
from
Great table for children!
We needed a sandbox for visiting grandchildren. Our daughter has a Step2 sand and water table that comes apart. I did not want something like that...too much to worry about the separation. I found this table and it was perfect. It has been 4 months now and I would buy it again. It can be either all sand or sand and water. The umbrella is great as we live in Arizona. It comes with a cover that attaches with elastic straps so it is easily protected between their visits and easily moved out of site as well. Very sturdy. We did have to drill some holes for the screws to hold the table legs to the table which had not been pre-drilled as said. That is the only negative so far.
Date published: 2009-04-05
Rated 5 out of 5
by
Home day care mom
from
My boys LOVE this!
We've had this sand/water table for a year. I just purchased one for my nephew. It is a wonderful, well priced product. There are so many ways to use it. Sometimes we just put water in both sides, sometimes sand, and sometimes both. On hot days, we'll even throw in some ice cubes for variety. The kids can play, standing up, so no sand in the shoes or pants. The umbrella is a nice touch, so that I know they are protected from the sun. My very active boys will play for hours together. It is low enough that a toddler can play, but my 5 year old still loves it too. Great product and well priced!
Date published: 2007-06-07
Rated 3 out of 5
by
Shelly H
from
Great toy - poor construction
My son loves this water table, and so do I. I rated it a 3 out of 5 due to the construction. Putting it together was not so fun. All of the screw holes were missing! There was 1 hole on each leg piece, and it didn't line up to the holes on the bottom of the table. Also, the leg holes leak as others have mentioned.Regardless, my son loves the table! He is only 14 months old, but his daycare has a water table and he liked it so I bought him his own. I love the cover that goes on top of the table. It keeps out dirt and bugs. The umbrella is nice too, but it blew away into the next yard when it was windy.
Date published: 2009-06-11
Rated 5 out of 5
by
Anonymous
from
worth it's weight in gold!
We bought this when our now 7 year old was turning 1. Three kids later and it's still holding up very well and is in excellent condition. My kids LOVE this toy - even the 7 year old spends hours each day with it from the time we set it up in the spring until we bring it back inside the garage for the winter. Very sturdy. Very durable. Easy to clean. Easy to store (you can remove the legs to take up less room).I don't buy too many new toys for our kids (I'm garage sale queen) and was very hesitant about spending the money on this... but it's been one of the best kid-related purchases we've made.
Date published: 2010-03-08
Rated 5 out of 5
by
Researching Mama
from
Big Hit!
This was a big hit with my two year old daughter. It was also a hit at her birthday party. We had a jump house and most of the kids played with this the whole time. They didn't even look at the jump house! We filled it with sand only. I didn't want to mess with the water. I knew that it would just be problems and a big mud puddle. But it was still very enjoyable with just sand on both sides. Hubby had it set up in no time. I love that it has the top with elastic tie downs! We can leave it outside and don't have to worry about anything getting in the sand. The umbrella comes in handy too!
Date published: 2009-02-12
Rated 5 out of 5
by
gramma6
from
This product actually is great
My two grandchildren immediately helped me assemble the play table and fill it with water and didn't even need the sand to start playing. The umbrellais very good for shading the sun and also for carry around the yard to be a cover for our parades. It is an item that moves with ease from the garage: on a rainy day, to the yard: on a sunny day and having the hose handy also--water fun. The table is sturdy and strong as my grandson and his sister got right in and sat to play. He's 40lbs and she is 30lbs. Now I know you don't recommend children in the play table but thought you should know that it stood up to their test!! Oh, the cover closes really well and keeps out unwanted critters.
Date published: 2009-05-29
Rated 4 out of 5
by
Suzy
from
Everything great except umbrella
The table itself is great and very sturdy I actually use both sides for water instead of sand the only Thing that sucked was the umbrella broke literally upon opening it because it's cheap and flimsy
Date published: 2020-05-31
Rated 3 out of 5
by
Kimmy824
from
Not great
I have always loved Step2 products, but this one disappointed. I followed the directions perfectly, and it leaks. The legs were pushed all the way in, screws placed correctly, and still leaked.
Date published: 2020-05-31
Rated 5 out of 5
by
Leslie
from
Love this sandbox/ water table!
Although this is a sand and water table, we are just using it as a sand table right now. I love everything about it. The colors and design are neutral and cute. The umbrella provides shade and goes up and down easily and stores simply inside. The lid stays fastened on and the toys included are just the right size. The kids have to stand at the table, but they are having so much fun they don't notice, and having it elevated helps keep them clean, keeps critters out, and makes clean up easy with just a sweep of the broom! I recommend this to any parent whose child(ren) like sand/ water play!
Date published: 2009-05-27
Rated 5 out of 5
by
Anonymous
from
Even more fun than expected!
After reading lots of positive reviews of this product, my husband & I decided to purchase it for our daughter. Minus the fact that some of the screw holes were missing, my husband put it together in about 30 minutes with a drill. He said it would've been next to impossible if you only had a screwdriver.Our daughter is 21 months old, and has had so much fun with this table, that she gets really upset when it's time to come inside. It's really easy to cover and keeps out bugs and other debris. We are thrilled that we made this purchase. It's been the hit of the summer! It's easy to clean too!
Date published: 2010-07-21
Rated 4 out of 5
by
Gram/Babcia
from
Grandkids Love It!
All five of my grandchildren love playing with this water/sand activity table--and they range in age from 15 mths to 8 years old. I couldn't keep them from playing in the water even though the temperature has not really been warm enough yet. I added small cars for the sand side and a magnetic fishing pole and fish for the water side. Keeps them all entertained for hours!Only problem with it, as several reviews have indicated, the water leaks from the water side down the legs. I have sealed it and now there is a very slow leak. Will try more seal. But this is still a great activity table.
Date published: 2009-04-08
Rated 2 out of 5
by
None
from
Umbrella won't even go in and it leaks
Took a very long To receive and after I assembled it and put water it leaks and umbrella don't fit in.
Date published: 2020-05-31
Rated 5 out of 5
by
Cindy & Kids
from
I love it!
I have a 3 year old and a 1 year old and bought this for our deck. We have had months of fun with it and it has been worth every penny.The first day I put water and sand both in it, and within minutes my little girl discovered how to make mud! Both kids had a blast with that, but I did decide that for my own cleanliness on my deck, I would only use sand or water not both. I think that both of their ages are ready to discover and not to keep them 'separate', so when I move it to my lawn they can mess away!I have had many leisurely afternoons playing dinosaurs and boats with this toy! Thanks!
Date published: 2007-08-22
Rated 5 out of 5
by
SuperMommy
from
Super Value for Great Sensory Experience
I purchased this sand/ water table for my two youngest boys (then 1 yr/ 3yrs) for a birthday gift. They absolutely love it! It provides great shade for extended play periods in the sun. The umbrella is easily removable, and the cover secures with bungies to keep out small critters. It still looks very new, although it sees frequent use, and hasn't faded after 2 years in bright sunlight. The table is a great height for growing boys, the areas empty easily, and it is rugged (my little guy has climbed up to sit in it on occasion!) Great developmental product for kids with special needs, that require multisensory experiences. It was a must have in our play yard, and will be used for years to come!
Date published: 2008-12-07
Rated 5 out of 5
by
Laura, Mom of Twins
from
Great Product! No problems.
This table is great. It looks good on our nice stone patio, and the kids love it. They get soaked when they play with it, but they have so much fun. I love that it has a large umbrella for sun protection. I have twins, and there is plenty of room for them to both play. Assembly was easy...I just popped the legs on and didn't use the screws. It really doesn't seem to need the screws...and this way, I can just pop the legs off and put them inside the table to store it out of season. It is really sturdy. I love the cover that straps on securely, and again has an attractive outdoor design.
Date published: 2009-06-09
Rated 5 out of 5
by
ZW's Mom
from
Love It!
We love this table! It is still kind of chilly here so we filled both sides with sand and the kids (2 & 4) are having a ball. It's the first toy they run for when they go outside and they have a couple little chairs to sit in while they dig in the sand. A few people have complained about the umbrella not being sturdy but I thought it was nice and it was larger than I expected. I do take it down every night anyway and put the table top on. We might have to buy another table just for water play! I do wish there was a way to purchase additional sand/water toys that come with it.
Date published: 2009-04-27
Rated 5 out of 5
by
Grandma Kathy
from
Terrific Toy
We set it up in our livingroom for Christmas! The umbrella and the sheer size, caught their eyes immediately! Once seen, it had their full attention. This is our second purchase of the sand and water table....two families, two tables! They played with the dry table with their cars, and when the weather breaks they will take it outside to enjoy! It is a great toy. The umbrella adds a delightful touch with its playful stripes, and is protective of their tender skin. The cover protects their sand. We learned from the first table purchase that this table is very well made,and despite its size, it is very unobtrusive in the yard. I would HIGHLY recommend this very well designed toy! The kids love it!!!!!
Date published: 2008-12-29
Rated 5 out of 5
by
Anonymous
from
Love, Love, Love it !!!
My son received this as a first birthday present. We immediately put it together and he had the time of his life playing with the water table. It's the perfect height for him to stand at and cruise around on the back porch during the hot summer months. It's a great alternative to filling up the baby pool when the day is hot. I immediately bought one for my 22 month old neice in Seattle who loves it just as much. My sister filled the sand portion with beans instead of sand to keep it clean and easy. My niece spends hours at the table, giving her pregnant mom a bit of a break.
Date published: 2007-06-21
Rated 4 out of 5
by
Dr. Kazmierczak
from
Great gift for my 2 & 3 yr olds!
I just purchased this table for my son's 3rd birthday and figured it would be great for our almost 2 yr old daughter too! They are loving this table. Because of their ages we have the whole table filled with water. One leg leaks water for some reason but it is at a very slow pace so I don't have to refill it often. They also love to have the table empty so they can run their cars around "the track." We plan on adding sand to the table and putting it in our garage for the winter. I love Step 2 products and continue to buy them as they have all worked out extremely well for us!
Date published: 2011-10-11
How much sand will I need for this product?
My husband filled it with 3 bags of kinetic sand but the bags were not very big and could have used more. Playground sand in a 60 lb bag would be fine. 
Date published: 2020-04-22
Does this prduct contain any latex materials? Asking due to allergy.
Not that I am aware of. It is all hard durable plastic. The umbrella may contain latex not aware of what it is made of. We have shade so never used umbrella.
Date published: 2020-01-13
How do you get the part G3 to fit in the hole underneath? The opening is too small to be able to thread it on! How frustrating!
Please contact our Consumer Service Specialists at 1-800-347-8372 Monday through Friday, 8AM -5PM Eastern Standard Time and we will be happy to help you.
Date published: 2019-08-05
I can't get the drain plug to tighten up enough to keep the water from leaking out of the water side. How do I fix this? 
We had the exact same issue. The plug that came with the table (hard plastic with rubber washer) won't work. We had to contact them to send a different plug (all rubber). Once we received the all rubber plug, we had to use some vaseline and elbow grease to get it into the drain hole so that it was a snug fit. Once it got into the drain hole, we no longer had issues with water leaking.
Date published: 2019-07-04
Are the bridges in the water side permanent structures, or can they be added and removed? We'd like to have 2 sides to just use with sand (no bridges) so each of our kids can have a side to play with. Thanks!
The bridges of the Naturally Playful® Sand & Water Activity Center™ are not a permanent fixture and may be added and removed.
Date published: 2019-06-28
How do you stop the leak ?
Please contact our Consumer Specialist Staff at 1-800-347-8372, Monday through Friday, 8am-5PM Eastern Standard Time for assistance.
Date published: 2019-06-14
Does this water table have a Prop 65 warning associated with it?
Our products contain no chemicals regarding prop 65 but regardless in order to sell in California we must place the prop 65 label on the product. If you should have more questions please contact our Consumer Specialist Staff at 1-800-347-8372, Monday through Friday, 8am-5PM Eastern Standard Time for assistance
Date published: 2019-08-05
What is the height from ground to top when assembled? Confused by the given dimensions under "Details". Need to make sure it isn't too tall for my 15 month old grand daughter. Thanks!
The basin of the Naturally Playful® Sand & Water Activity Center™ is approximately 18 inches from the ground.
Date published: 2019-03-11