Naturally Playful® Sandbox™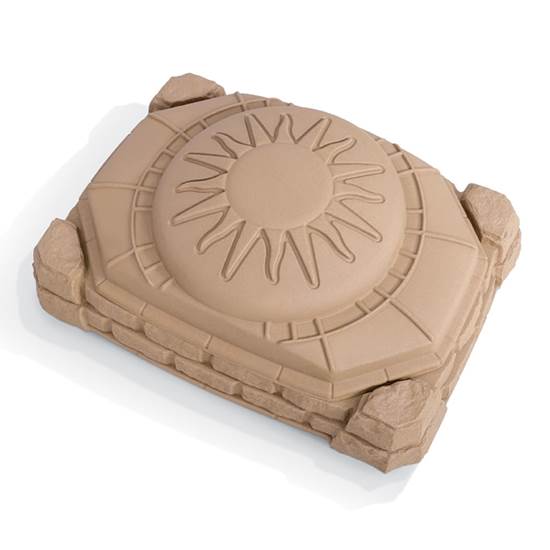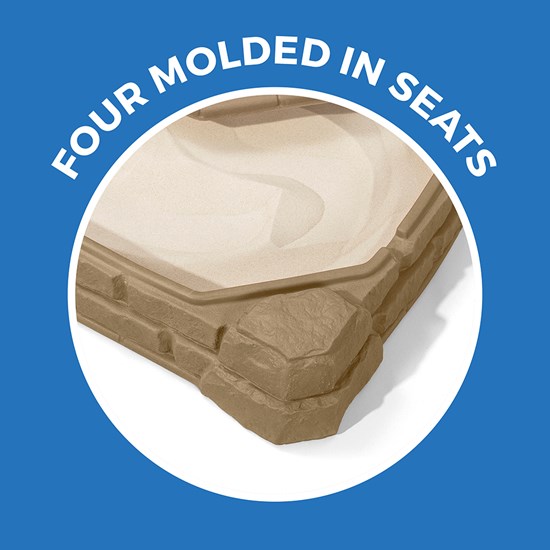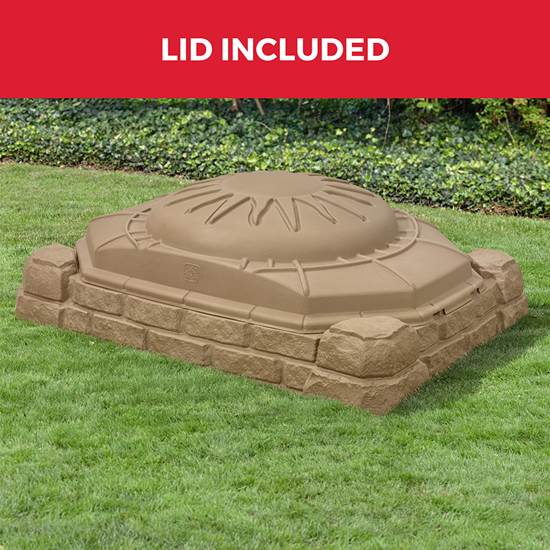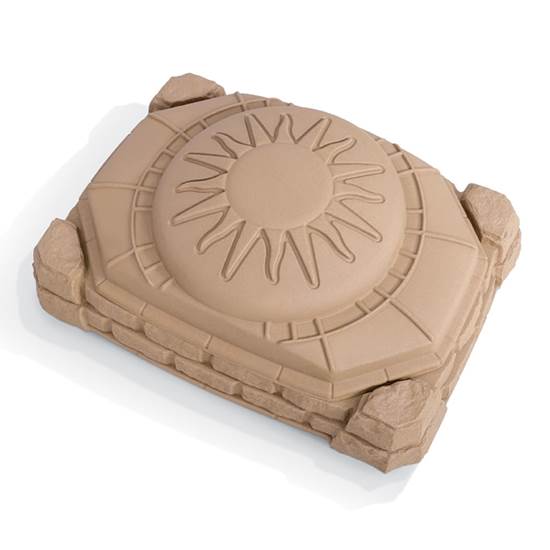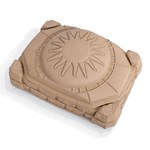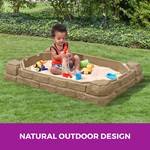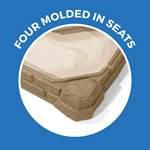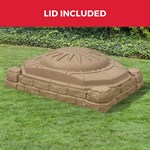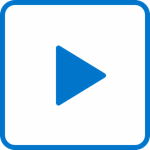 Naturally Playful® Sandbox™
In stock
$119.99
+39.99 shipping (via FedEx)
The Step2 Naturally Playful Sandbox is an attractive and durable sandbox that combines outdoor textures and natural colors to blend in with any backyard.
IS THIS A GIFT? DON'T SPOIL THE SURPRISE!
This item ships with an image of the product on its outer packaging.
Rated 5 out of 5
by
MomCheckAgentAllison
from
Great sandbox! Highly recommend it.
We bought this used at a garage sale, but there was no wear at all when I purchased it, and over a year later, it still looks brand new. I like that it's not overly bright and obnoxious-looking, but most of all, it's very functional. The corners all work as chairs, and I can sit on the corner comfortably with my feet in or out of the sand while my daughter plays. The top is sturdy enough to hold my child's weight, and it's only blown off once in a very, very bad storm (but we've had many bad storms and the top has stayed on without issue). The top keeps bugs and water out very well. This box is large enough to accommodate 3-4 children at once.
Date published: 2007-05-22
Rated 4 out of 5
by
KatieG
from
Attractive sandbox
I'm not giving a 5 because my granddaughter hasn't been in it yet. It came quickly, in an intact box, and it fits nicely on a deck.
Date published: 2020-07-10
Rated 1 out of 5
by
Anonymous
from
Great sandbox, terrible lid
This is a great sandbox, very large and roomy for my two children. However, since we bought it, the lid has always blown right off. It also is very flimsy, and does not stay in place. After about a month it started getting holes in it, and now the box is filled with cat poop from the local neighborhood cats and lots of bugs and worms as well as debris from surrounding trees. I love this box, but wish the lid would stay on and be sturdy enough to keep animals out. I tried to buy just a lid from Step 2 but was told they can't do that. I have numerous step 2 products, (just bought the fold up picnic table) and they are all great, this is my only disappointment. Come on step 2, live up to your excellence and make a better lid or at least let us buy a replacement so we don't have to buy a whole new sandbox from an unnamed retailer who is not as good as you but who has sturdy lids.
Date published: 2010-03-22
Rated 5 out of 5
by
Julia
from
Perfect for Preschoolers!
My three year old son and 18 month old daughter can't get enough of this sandbox! We've had it a year now, and have no complaints about the lid leaking or not staying on. In fact, it's light enough that my 3 year can manage to get the lid on and off himself (which means they can go out to our little fenced in backyard by themselves while I am watching from the kitchen window cooking dinner). Initially I was going to get a sand table because I thought it'd be less mess, but they did not seem big enough for 2 kids and I didn't like that sand would inevitably fall out underneath it. I am really, really glad I went with this sandbox instead. My kids play in it every day that weather permits, and have so much fun with it!
Date published: 2011-06-23
Rated 5 out of 5
by
Stay at home father
from
We love this thing
Great sandbox. We have had this for more than a year now. Still gets plenty of use. Roof does stay on during high winds. How? I do not know.Only minor issue may be the roof. Kids stand on the roof all the time, causes it to buckle in. The roof pretty much stays in the 'buckled in' state all the time. It is a non-issue for us.Wish the corners were a little larger, as that is where I usually sit (180 lbs). It works, but gets a little uncomfortable after a while.We purchases four of these. Gave three away as gifts. For the money it was well worth it.Overall, no real complaints. We love this sandbox!
Date published: 2009-04-14
Rated 3 out of 5
by
Anonymous
from
Too small for 2 kids
I am suprised about the size of this sandbox. when I first look at it in store, I thought it was huge. Then, when it gets home, set up in the backyard. It is really too small for 2 kids (2 & 4). I wish Step2 makes a larger one. When my 2 kids play, they love to sit inside the sandbox. But, there are not enough space to sit both kids inside with the toys. If they sit at the corners, that works. But that is not as fun as sit inside the sandbox. I got this one to replace the sandbox I made for them, but apparently, they enjoy the one I made much better than this one, due to the size.
Date published: 2008-09-25
Rated 5 out of 5
by
momof1.5
from
VERY NICE!
I looked all over at a variety of sandboxes to give my 2 yr old for her birthday. Most are obnoxious shapes and bright awful colors and are not at all big enough for more than one child, but this sandbox is the complete opposite. It looks wonderful in our backyard and blends right in. My daughter LOVES IT. It holds a considerable amount of sand and sand toys which I leave in it. Its quite sturdy once together. I can't say enough about it. If you can get one on sale, or even if you can't it's way nicer and larger than anything I have seen elsewhere in the same cost bracket! BUY IT!
Date published: 2007-05-15
Rated 4 out of 5
by
mom of three sand-covered kids
from
This looks great (and works great, too)!
We just replaced our Crabbie sandbox after 4 years; although it was still perfectly functional, the color was very faded...and my kids are getting older. I bought the naturally playful sandbox this morning and it looks so great in the yard! My 6-year-old and 3-year old love it as much as they did old Crabbie, and the baby will love it someday. My only complaint, if you can call it that, is that I wish it was larger--the kids are getting older and bigger, wish the sandbox would get bigger, too (only reason I didn't give it 5 stars). Oh, well--they love the sandbox, and if they're happy, I'm happy!
Date published: 2007-07-24
How much sand do you need to purchase?
You need 4 50 pound bags.
Date published: 2020-07-04
Can I purchase another cover separately? 
Our Customer Service Department would love to chat with you further about your question. Please call us at 1-800-347-8372 Monday - Friday, from 9-3 ET and we will be happy to assist you further with this request.
Date published: 2020-06-16
What is the difference between natural sandbox and natural sandbox II? I noticed a few inches on the dimensions, is that it? 
The base of the Naturally Playful Sandbox is one piece, while the Naturally Playful Sandbox II base has eight pieces.
Date published: 2020-04-09
I'm asking if it's open or closed? For example, if you remove the lid could you stack them like you can stack cups or bowls? If you poked a hole in the top of one of the rock facade corners and inserted a hose would it fill
Please contact our Consumer Service Specialists at 1-800-347-8372 Monday through Friday, 8AM -5PM Eastern Standard Time and we will be happy to help you.
Date published: 2019-11-08
Is it sealed underneath or open and hollow? I assume it's hollow
The Naturally Playful Sandbox™ has a solid plastic bottom.
Date published: 2020-03-12
is a replacement cover available to purchase?
Unfortunately, we are unable to offer the lid separately from the Naturally Playful® Sandbox™ as this is manufactured in a set.
Date published: 2019-09-26
In the description for Naturally Playful Sandbox (not version II), it says "fully assembled." Do you mean that you have put all pieces together prior to shipping OR do you mean it is two large pieces - with no screws required? Just a bottom and lid?
The Naturally Playful® Sandbox™ arrives in two separate pieces and does not require assembly.
Date published: 2019-09-03
Is it frost resistant??
Step2 outdoor products are specifically designed for outdoor use and are extremely durable. The plastic resin used in Step2 products has been tested successfully at temperatures up to 32 degrees below zero Fahrenheit. Additionally, periodic inspection and general maintenance is recommended as a safety precaution as well as the prevention of surface contamination and potential for moisture to be trapped within the product.
Date published: 2020-03-12