Neat & Tidy Cottage™-Pink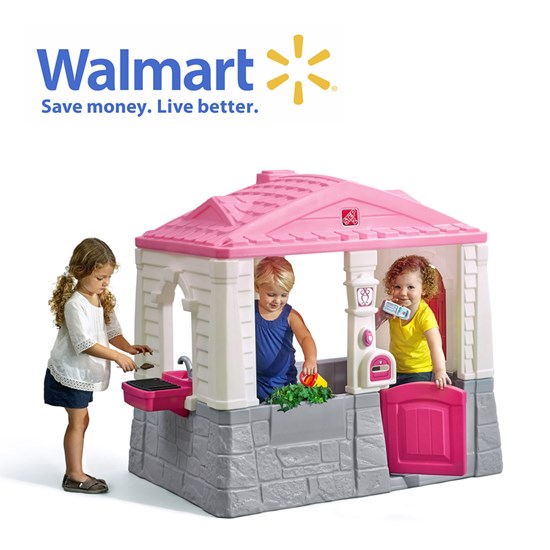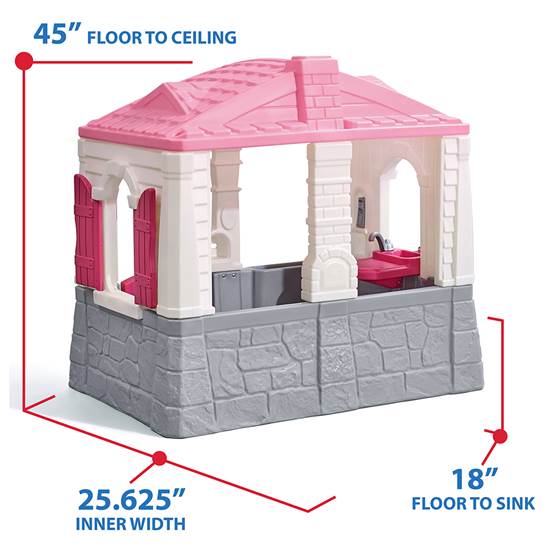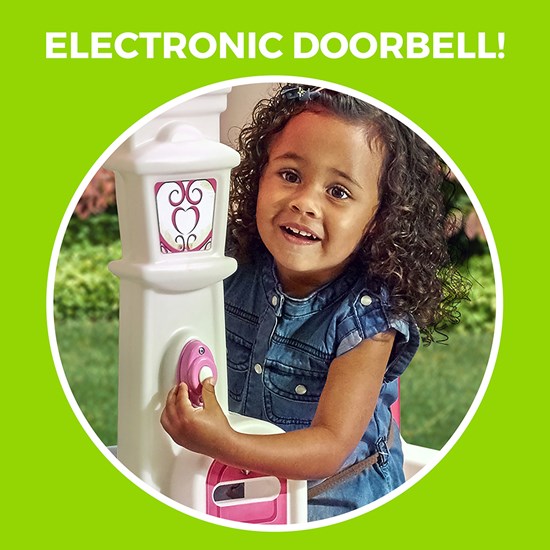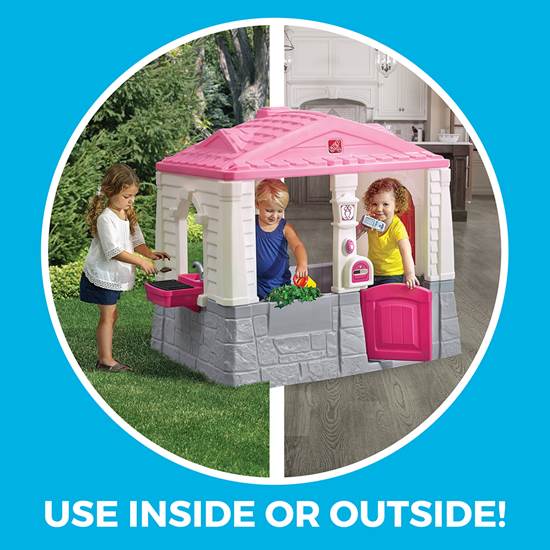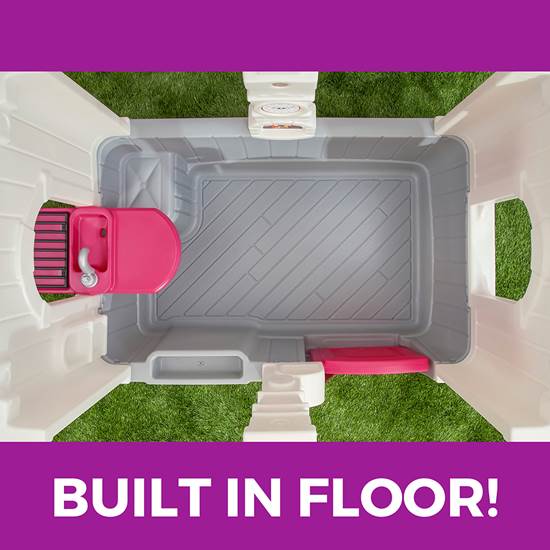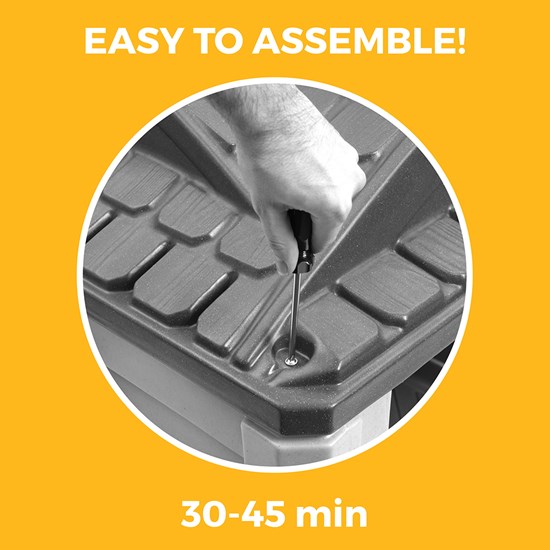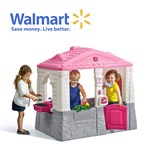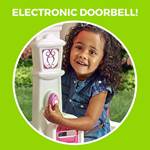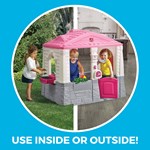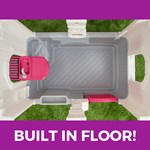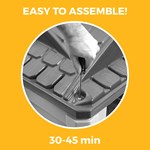 Neat & Tidy Cottage™-Pink
The Neat & Tidy Cottage™ in Pink is the ideal playhouse for toddlers to pretend play "house" in!
IS THIS A GIFT? DON'T SPOIL THE SURPRISE!
This item ships with an image of the product on its outer packaging.
Rated 5 out of 5
by
Pat and Tasha
from
happy here
We love the playhouse. It is perfect in size and very sturdy. The phone is the cutest thing. All the buttons work and everything.The only con is that the groves in the floor are cute and all but very hard to keep clean and not very comfortable for bare feet. We keep the playhouse in our home (not outside) and milk and such gets trapped in the groves of the floor. It is beyond a pain to keep clean.Besides the floor everything else is great. To make the floor work for us we put a bathroom rug in the playhouse. It covers just enough to actually catch some stuff and we just pull it out and clean it.By the way we have a 10yr old, 2yr old, and 8mth old.
Date published: 2007-09-13
Rated 4 out of 5
by
Anonymous
from
Kid Pleaser
Hi there,I am a 12 month old who loves my birthday present. I love to hold onto the sides and walk around the outside. I love to ring the doorbell and open/shut the door (constantly). My 3 1/2 year old sister loves playing house with her dollies inside.One feature my mommy and daddy kept talking about was that this cottage was covered so we can play while being shaded.Mommy was able to put the cottage together quite easily, but she kept scratching her head as to why Step 2 would use such a way to anchor the walls to the roof in such a way. I don't seem to notice though! Thank you for making such a great playcenter. I love it!
Date published: 2010-07-01
Rated 5 out of 5
by
CandaceD
from
Love it!
We purchased this cottage second hand and could not be happier. The cottage is a few years old but in amazing shape. My daughter is two and loves to ring the doorbell, open and close the shutters, and open and close the door. I really like that the house has a molded floor as opposed to other more expensive playhouse which do not. My daughter really enjoys taking her dolls inside the house and sitting at the table on the molded seats. The table is small but she still seems to enjoy it. She also really enjoys using the phone. For the money I really think we got a great product that will last my daughter for several years. Thanks Step 2 for making a great product
Date published: 2010-12-17
Rated 4 out of 5
by
Lauren and Peyton's grammy
from
The Girls Love It
I purchased one of the cottages through a store website but found this site cheaper. I have two granddaughters age 2 1/2 and 1 1/2. They "visit" each other. I put them outside but it is so hot I moved them into a play room. They love them and love taking their friends that visit to their house. I do wish the holes had been predrilled instead of just showing me where they went. I'm a 60 year old grandmother and found the plastic hard to break through. But overall, I am happy I bought them and would definitely recommend it to a friend. Very economical and like I said, the girls love them and that makes them great to me.
Date published: 2009-06-24
Rated 5 out of 5
by
ELBMom
from
Wonderful
We gave this to our now 20 month old daughter for Easter this year, and she still screams when it is time to go inside. She loves playing with it, her favorite part is the doorbell which is followed by her saying "Ding Dong". Since she is an only child I can say while there might not be a whole lot of room left my husband, myself, and most of our family and friends can fit in there as well (not all at once of course). It stays outside in the sun and has yet to fade. Her friend comes over and it entertains them both for an hour at least. We love it and wouldn't trade it!! Now we are looking at adding the picnic table that matches :)
Date published: 2012-09-23
Rated 3 out of 5
by
Anonymous
from
Difficult assembly!!!!
Item looks great but the screw holes aren't punched through. Takes quite a bit of force to get the screws in. And I had to put the in at an angle to get them to go through the bottom of the sink and the walls (as far as I got tonight). It took 3 tries to get the sink screwed in. I think they made tab A too short to fit into slot B (if that makes sense). Same with the walls. You have to put the screws in at an angle otherwise when you go to lift on the walls/sink to check the install it will come right up like you didn't even screw it in. Maybe mine was a fluke but that this into consideration. Not sure if it's worth the hassle to pay [$] for it.
Date published: 2011-08-26
Rated 5 out of 5
by
Anonymous
from
Fantastic Playhouse!!!!!
This little house is absolutely adorable. My husband and I bought this house for our 14 month old son for Christmas last year and he has loved it ever since. It is the only playhouse that I've found that has a built in floor. It has a working doorbell and a cute little phone that also makes sounds. We have his little house on our lanai and he loves opening and shutting the windows and ringing the doorbell. I wish it came with some mail for the play slot but we are going to laminate some pretend mail for him. It is very sturdy and was very easy to put together ( with a power drill). Took less then an hour to set up. I love Step2 and look forward to buying more of their products. =)
Date published: 2009-12-08
Rated 4 out of 5
by
Up North Mama
from
Fun, affordable playhouse ~ a bit small
We purchased this for our 2 yr old. She was thrilled! Loved opening and shutting the door and kept going back inside while outdoors playing to "wash her hands".She also loves having seats of her own ~ but she had to squeeze in (of course we're up north so at the time she was wearing her coat). It might be a bit better once she can be outside without being bundled up. But they are a bit too small.Her favorite part: having a place all her own; shutting the door to keep out Mommy & Daddy. Our favorite part: open air design so we can see her and she can get a breeze in summer; also having shade when it's hot out.
Date published: 2011-04-20
I Want to buy this playhouse but ı live in turkey. Shipping to turkey?? 
Step2 Direct ships within the Contiguous United States only. Thank you for your interest in Step2 product retailers in Turkey. Specific products and quantities vary by retail location, please contact Caka Egitim Araclari Oyuncak with your specific request. Caka Egitim Araclari Oyuncak Ve Turizm Ltd. 57 Abbasaga Mahallesi Ihlamur Yildez Cad. NO 39/4 Besiktas Istanbul 90-212-669-6071 (p) 90-212-669-6071 (f) bulentgocay@yahoo.com (e)
Date published: 2021-03-10
What is the difference between Neat &Tidy Cottage and Neat & Tidy Cottage II
The only difference between the two Cottages is the color scheme.
Date published: 2021-02-24
Can you change the batteries easily if the door. Roll stops working?
Yes, comes off with a screw driver fairly easily to change batteries.
Date published: 2020-12-02
Where do you find coupons code 
At this time Step2 is not offering coupon codes. Sales may be viewed on our website, www,step2.com .
Date published: 2020-12-01
I have a one year old and a 4 year old. Will the 4 year old fit in this?
Yes! I have a four year old and a 2 year old and they can both fit comfortably in it. They may have to duck a little but they can sit and play in it.
Date published: 2020-09-29
I ordered the Neat and Tidy Cottage on May 16, 2020. My estimated deliver date was June 1, 2020. When i call your number right now i've been on hold for over an hour now. Your message states you are a week behind. I waited a week so where is my order??
Usually leadtime is a week. Delivery leadtime for current orders is currently 10-14 business days in the current COVID-19 environment.
Date published: 2020-06-17
Can I get replacement sticker's for this, they peeled off after just on season? Thanks
FORGET ABOUT IT...EVEN AFTER CONTACTING THEM I WAS NEVER SENT ITEMS THAT WERE PART OF MY ORIGINAL ORDER!
Date published: 2020-03-19
After putting this together, is it possible to take apart to move? I'm interested in having indoors for the winter and moving outdoors for summer. Thank you!
Once assembled the Neat & Tidy Cottage™ may be unassembled and reassembled. Please note to be careful not to enlarge the holes where the screws attach.
Date published: 2020-05-11