Spill & Splash Seaway Water Table™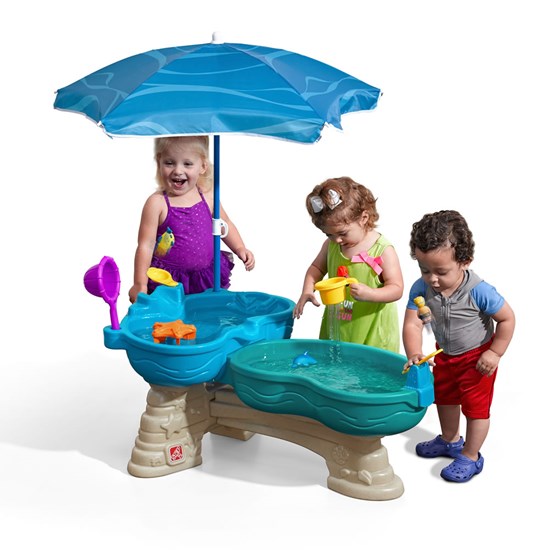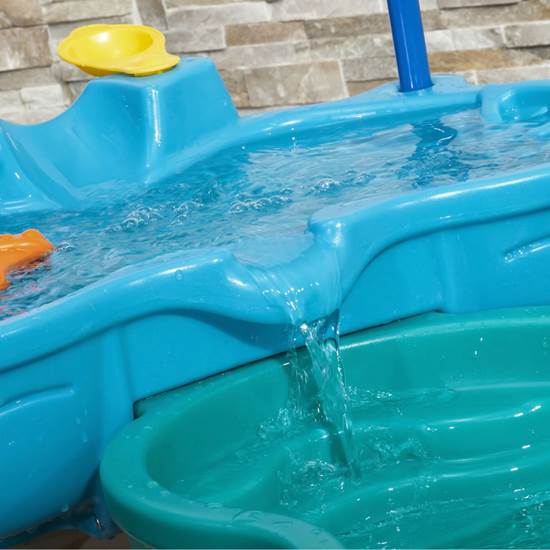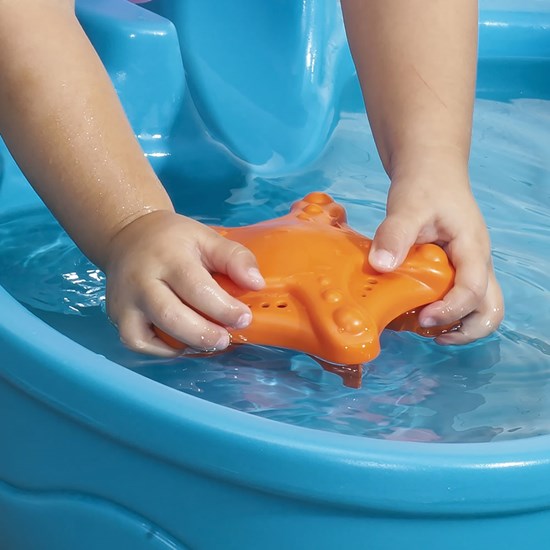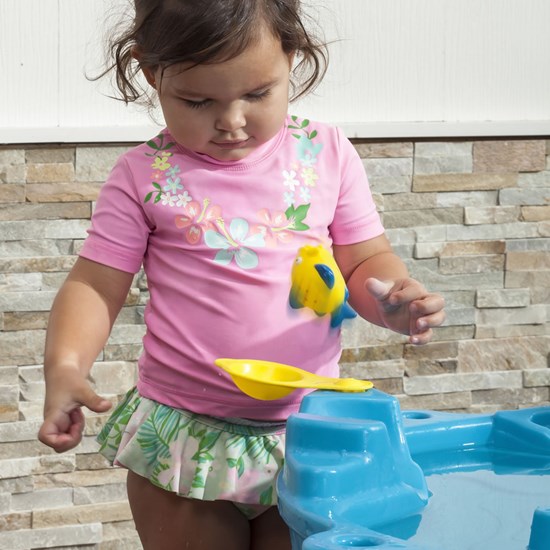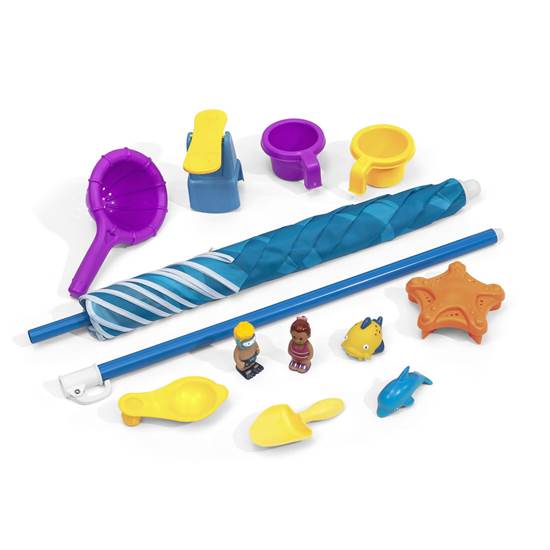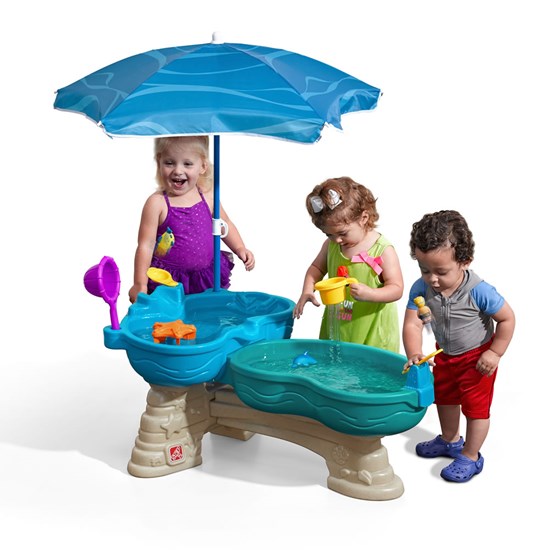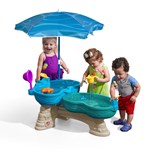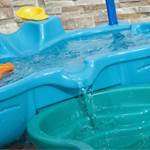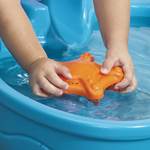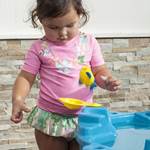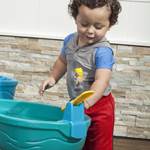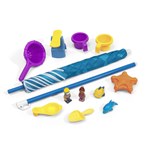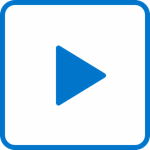 Spill & Splash Seaway Water Table™
In stock
$69.99
+4.99 shipping (via FedEx) When will my item arrive?
Kids have never seen a Step2 Water Table quite like the Spill & Splash Seaway Water Table!
IS THIS A GIFT? DON'T SPOIL THE SURPRISE!
This item ships with an image of the product on its outer packaging.
Rated 4 out of 5
by
ozzy mum
from
Robust and practical
Attractive, practical and sturdy. The lower basin height is ideal for a 12-18 month old and upper basin height ideal for a 18 month to 3 year old. If you're looking for a water table for a 3 year old or older, I would get a different one due to the height. The lack of drainage plugs is not a problem, if anything it's one less item to degrade or leak. Putting it together was also fine, screwdriver and a bit of muscle was all it took, no power tools. I plan to use this occasionally with sand, magic sand and maybe mud mixing. In the meantime it's been fun with water and some landscaping stones. See photo which shows a 17 month old next to it for height guide. Hose is running so as to make the water flow into the bottom basin.
Date published: 2018-01-22
Rated 5 out of 5
by
tennizgurl04
from
Fun Water Table!
We got this for my daughters first birthday and she played with it immediately! She loved splashing in the water and pouring the water in and out of the cup for a few hours at a time! The product is very well made and great quality. The umbrella works although we have shade so we didn't use it very much. You will need to purchase some additional things to play with in the water, it could come with a little more but overall good product. We haven't used it inside. I purchased some beans but it is just so large I didn't purchase enough!
Date published: 2018-02-15
Rated 5 out of 5
by
IZZY
from
THE PERFECT BIRTHDAY GIFT
I purchased this water table for my granddaughter's 3rd birthday. My daughter-in-law immediately put it together right after receiving it.Since Izzy and the family live far away, I can see them on Face Time while they play. I wish I could be there while they play with thiswonderful water table but I recently broke my leg and fractured my patella and will not be able to visit them until I've recoperated. This table is going to be their number one favorite activity this summer and many summers after. Thank you STEP2!!
Date published: 2017-05-02
Rated 4 out of 5
by
Jillian
from
Great because of umbrella
LOVE that this has an umbrella and an extension so more kids can play at it... Umbrella's should really be standard on all water tables to me, that is why we got this one... However I feel the play portion really lacks, if there was no umbrella I would give it 2 stars, but I can add more toys to it so not as much of a big deal but there are other ones with much better toy play portions to them, if I had a completely shaded ares to put it under then I would have gotten one of those but I needed the umbrella more...
Date published: 2016-06-26
Rated 5 out of 5
by
Anonymous
from
Perfect water table for your little one(s)!
My daughter loves this water table! From straining the water to propelling the two little people off the diving board, there are hours of fun to be had! There are a ton of accessories that come with this table that really make it stand out from the rest. The adorable fish and dolphin make for a fun time as they are squirt toys and spray out a nice long stream of water. Every time I did this, my daughter giggled up a storm. She loves to go from one activity pool to the next and moving all her toys with her. The design of this water table is sturdy and looks to last for many years. Which is another wonderful quality of this toy. Overall, I couldn't be more pleased and my daughter couldn't be any happier! I received this product as part of the Step2 ambassador program. All opinions are my own.
Date published: 2016-04-10
Rated 5 out of 5
by
Anonymous
from
I will definitely recommend this to my friends! #Sweepstakes
Great product. I bought this for my grandson who just turned 1. The play figures that come with this water table are Caucasian so I called Step 2 to see if they had any ethnic people. My service clerk said no but she would suggest that option. In the meantime they set a package of Paw Patrol for my grandson to use instead. She could not have been nicer. My other grandchildren have a Step 2 water table and they all just love playing with it during the summer. I love buying Step 2 products!
Date published: 2017-04-11
Rated 1 out of 5
by
Anonymous
from
Missing pieces
We bought this water table for our daughter for Easter. We opened it up and the hardware and instructions were for another toy. The company sent us the screws for the table and after we got it together we found out we were missing the 2 divers, 2 fish and a piece for the umbrella. Needless to say my daughter hasn't been able to enjoy her Easter gift. Definitely should have stuck with Little Tikes because this has been not thing but a hassle!
Date published: 2017-04-25
Rated 5 out of 5
by
Anonymous
from
Highly Recommend
My 1-year-old loves this water table. It's the perfect size and height. The two separate play areas are great to facilitate play with multiple children. The umbrella is also nice to provide a little shade, although it only covers a small area. I did a lot research by reading reviews of all of the available water tables, and this one by far seemed to be the best. Overall, I am satisfied with the purchase and recommend it to other toddler parents.
Date published: 2016-06-28
Is there any way to get just the accessories for this table? Our table is a few years old and is in great shape. But the accessories haven't really stood the test of time. I would love to keep this table and just purchase the toy accessories.
Please contact our Consumer Specialist Staff at 1-800-347-8372, Monday through Friday, 8am-5PM Eastern Standard Time for assistance.
Date published: 2019-05-20
Is this product bpa free
Step2 products and accessories are manufactured from Linear Low Density Polyethlene and/or Polypropylene plastics which do not contain Bisphenol A (BPA).
Date published: 2019-05-01
I got this table from a friend and it doesn't have any of the gadgets that come with it, is there any way I can buy just the small parts?
Please contact our Consumer Service Specialists at 1-800-347-8372 Monday through Friday, 8AM -5PM Eastern Standard Time and we will be happy to help you.
Date published: 2019-02-25
Can I buy the exact same accessories separately? I already have the table but the toys got moldy and trashed over the last 2 years. 
Please contact our Consumer Specialist Staff at 1-800-347-8372, Monday through Friday, 8am-5PM Eastern Standard Time for assistance.
Date published: 2018-05-08
What is the height of this table?
bottom water table is quite low and suits a 12-18 month old. The upper water basin suits an 18 month old to 2.5 year old. Obviously an older child is fine but they'll stoop over a bit while playing. You could raise the height of the table by placing it on some tiles or wood I suppose.
Date published: 2019-05-09
Installing the Umbrella into table?
I clip the white part of umbrella blue rod slip the other blue rod in and push into hole in table. Clip allows you to adjust height of umbrella up under umbrella is the clip that opens and closes it. Hope this is helpful
Date published: 2018-03-27
what is the box (packaging) dimension?
The packaging dimensions are as follows : 25.25 x 12.75 x 30.25 in
Date published: 2018-03-27
How big is the umbrella and does the 42" replacement umbrella work with this?
The umbrella for the Spill & Splash Seaway Water Table™ is 42 inches .
Date published: 2018-03-27