Timeless Trends Kitchen™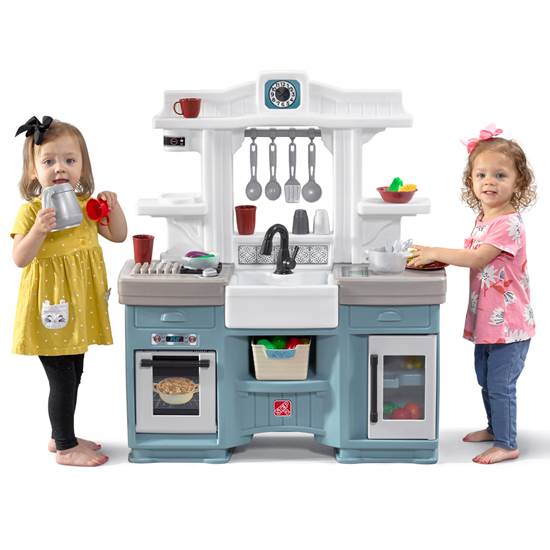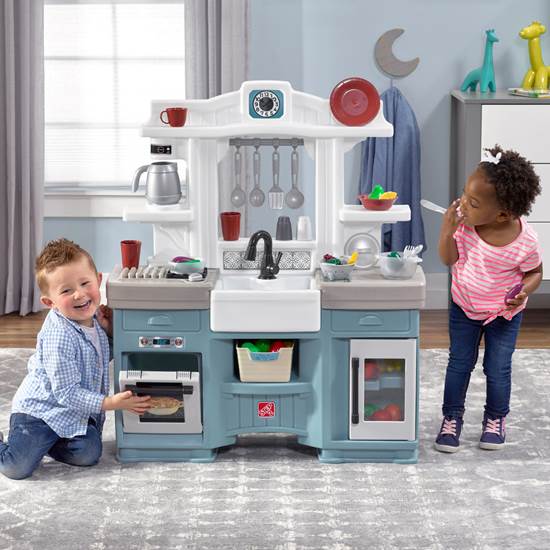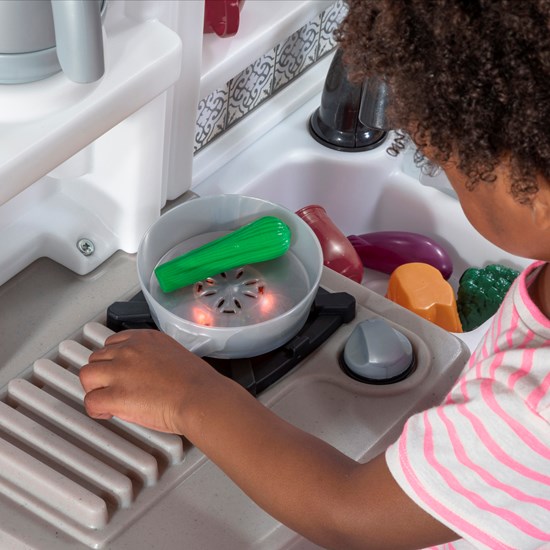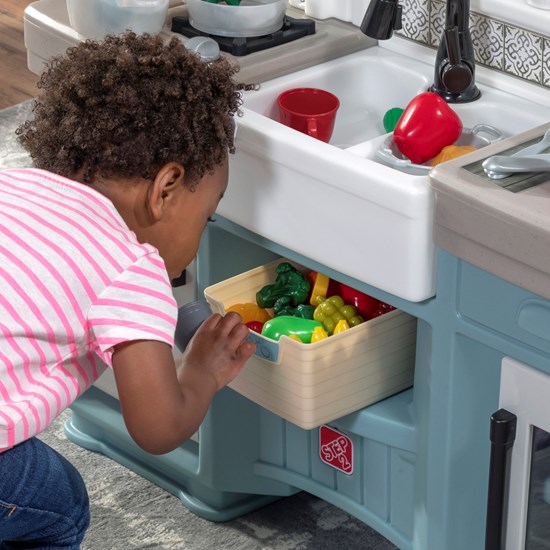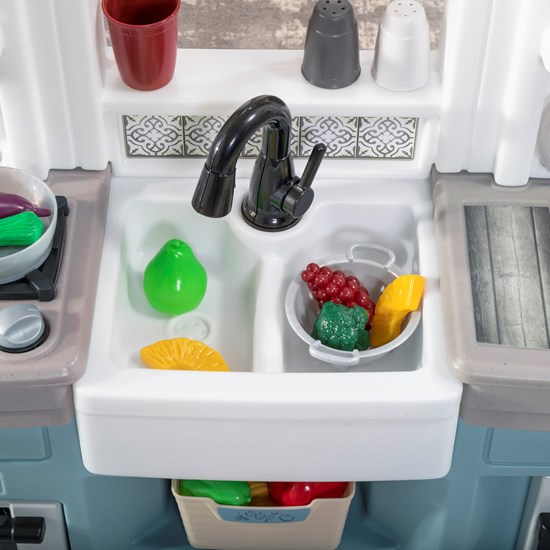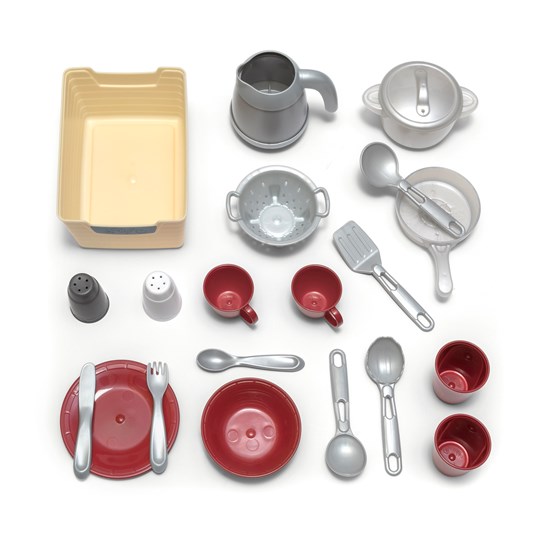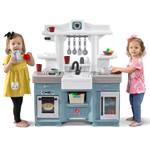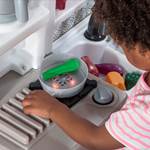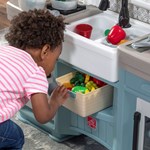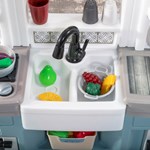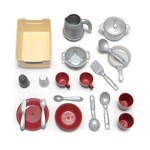 Timeless Trends Kitchen™
IS THIS A GIFT? DON'T SPOIL THE SURPRISE!
This item ships with an image of the product on its outer packaging.
Rated 5 out of 5
by
greekmamaof2
from
Timeless Trends Kitchen
received our Timeless Trends Kitchen and love it .. couldnt wait to open and the box and start playing with it!! my kids were so excited .. easy assembly .. only took a few minutes to set it up. they absolutely love it!! promotes creative play .and there are so many things to do they can either play together or alone.. there are so many features on it .. stove top burner features realistic electronic lights and sounds .the cutest lil farmhouse sink that even has a back splash with a faux slate faucet .. it also has an 18 piece accessory set that can be stored away in the built in storage area.. so it made clean up a breeze!
Date published: 2020-08-25
Rated 5 out of 5
by
Gayl
from
Wonderful Fun!!!
My daughter is 3 years old and she loves this kitchen set! It is made of super quality materials. She loves all the little dishes and utensils that were included. She just plays and plays for hours. You can put 2 different pans on the stove burner and they make noises. One is a frying sound and the other is the sound of water boiling. The basket that was included holds most of the accessories and can be stored in the space provided.With all the different activities this kitchen set has it keeps my daughters attention. This kitchen set was built to last. I'm looking forward to having this kitchen set for many years.
Date published: 2020-08-26
Rated 5 out of 5
by
The Homely Homeschooler
from
Sturdy, yet stylish!
What a nice looking kitchen this is! I was initially worried that it would be too big and bulky for our small home, but it actually fits nicely in a corner of our living room, and the colors are neutral and subtle, so it goes very well with the decor. The quality is great, but the finishing touches are the highlight... backsplash, faucet, compartments, and the realistic touches like the stickers for the coffee machine and ice maker, and the realistic sounds on the stove. Like another reviewer said, it would've been nice if the holes were pre-made for assembly, but I didn't have any trouble getting the screws to go through the plastic. Thank you Step2 for letting me test this item as part of the Step2 Toy Tester Program!
Date published: 2020-09-03
Rated 4 out of 5
by
rharpst209
from
Fun product, for all ages!
Installation was pretty straightforward, but definitely needed a strong arm to get the screws into the non-predrilled holes. My children (5 and 2 years old) were so excited to have their new kitchen put together, and they have spent endless hours on it since. My son did question why there wasn't any food that came with it though...(LOL), to which he was told he needed to use his imagination. The overall set it very durable, and is attractive to both boys and girls. The sound effects from the coffee pot and the skillet are a cool bonus too.
Date published: 2020-09-10
Rated 5 out of 5
by
Squeaksandcheeks
from
Great kitchen and adorable design!
This kitchen is the perfect addition to our home. The muted tones make it an easy to integrate item to any room while not being overstimulating. The setup for the kitchen was super easy and it's a good durable set for my bruiser of a little boy. It was so fun to see his face light up with the sounds from the stove. And I was so surprised to see all he must have been taking in naturally as he handed me a cup and said "coffee?" This is such a great grow with me type of toy. My daughter is 7 and loves to play house with her baby brother.
Date published: 2020-09-09
Rated 5 out of 5
by
Katie
from
Great kitchen for a toddler
My toddler loves this kitchen! It is the right size (not too bulky or tall) and the various little design elements are really adorable. My son is especially fascinated by the stove top, which makes different noises depending on which toy you set on top of it (the coffee pot bubbles, the frying pan sizzles, etc.). He enjoys actually having a place to "cook" all of his toy food. The only place where this toy could improve is with assembly. It would be much easier to put together if it came with pre-drilled holes. I did not find that the screws went as easily through the plastic as the instructions said they would, so I ended up drilling holes myself before installing screws. Beside that, it's an awesome kitchen! Thank you Step2 for letting me test this item as park of the Step2 Toy Tester Program!
Date published: 2020-09-08
Rated 5 out of 5
by
Jakep90
from
Quality design
Great product and design to keep my littles safe when I am cooking. My kids always liked to be involved in the kitchen when I was cooking. Sometimes it is not safe for them to be there with the high temps and oils. Now with this Timeless Trends Kitchen my kids can cook dinner for us. They are always playing and serving us tea and coffee. It was easy to assemble and it is build well to have kids playing rough with it while holding up.
Date published: 2020-08-31
Rated 5 out of 5
by
Sparkle
from
Super cute!
I absolutely love the design of this kitchen. Super cute and modern looking. The instructions were easy to follow which I found very helpful. Took about 45 minutes to put together so not bad at all. Very very well made and sturdy. I love the cute accessories that came with it too. My kids havent been able to stop playing with it. Hours and hours of fun.
Date published: 2020-08-31
What kind of plastic is used for this item and the accessories? Is it all non-toxic? Is it BPA/BPS, Phthalate, PVC, Lead free? 
Step2 products are manufactured from Polyethylene and/or Polypropylene plastics. Step2 products are third party tested and are compliant to the CPSIA phthalate and heavy metal requirements per ASTM F-963 Toy Safety Standards as well as EN71 - Part 2 and 3 for UK chemical requirements.
Date published: 2021-01-19
The coffee pot and fry pan sensor ? What kind of sound ? How can we hear that sound ?