Wagon for Two Plus™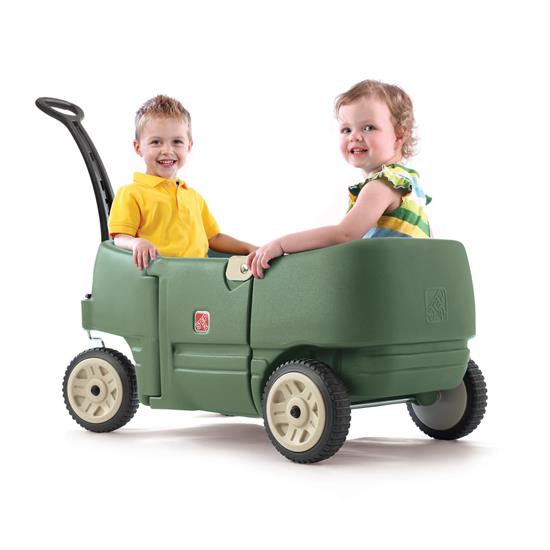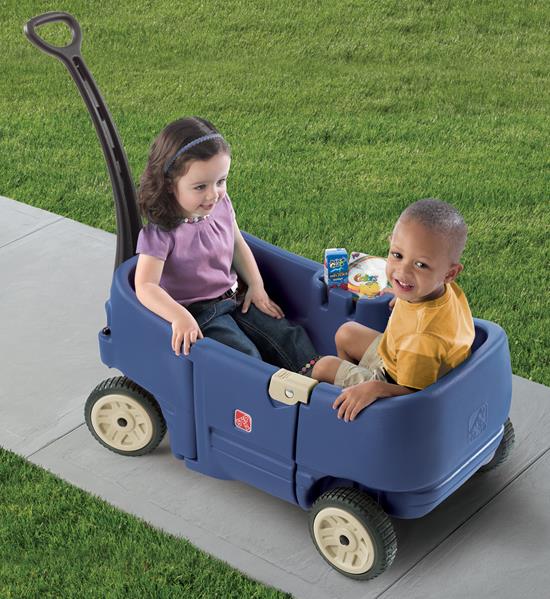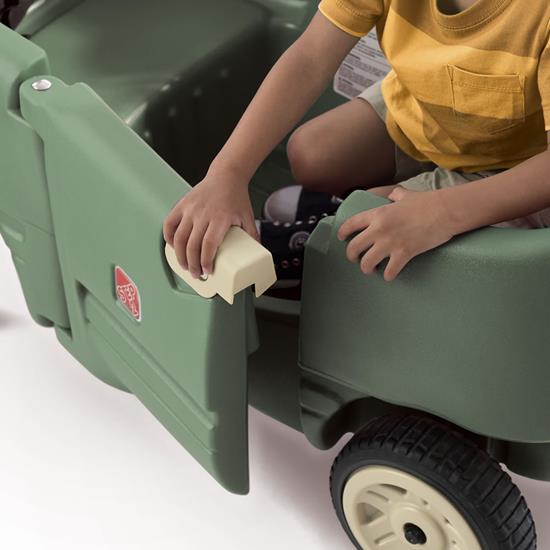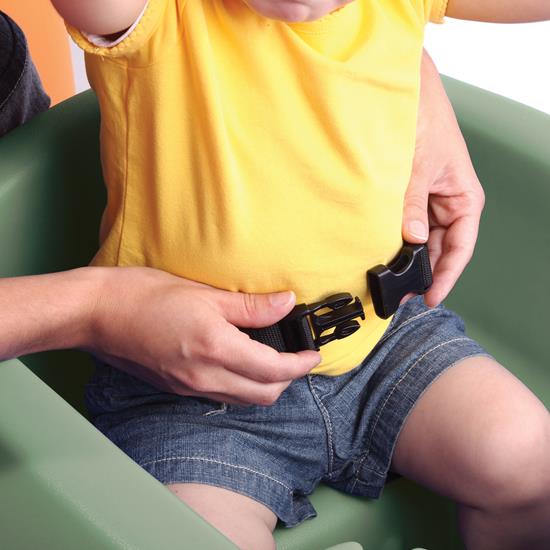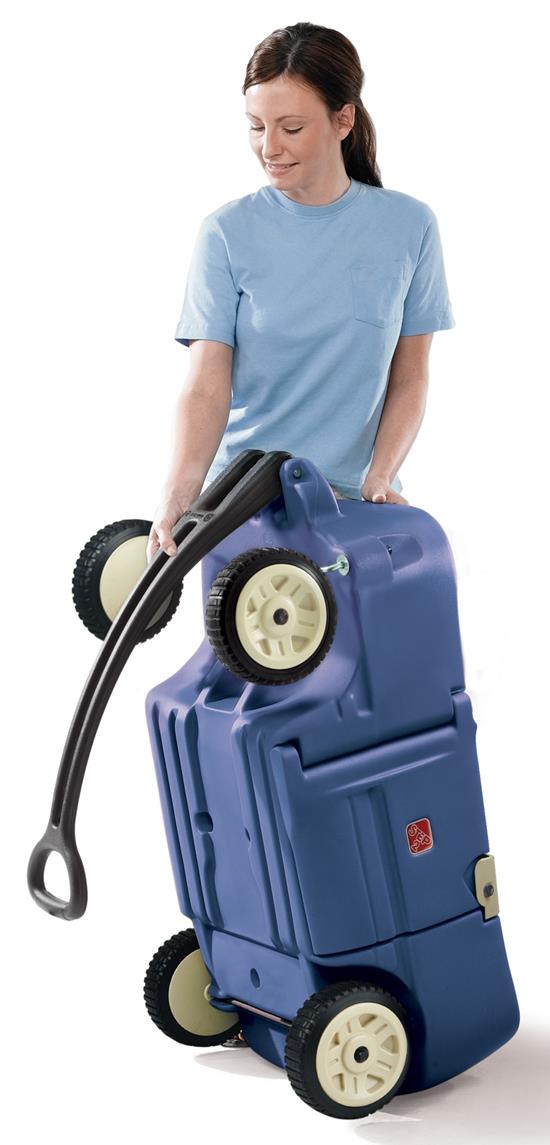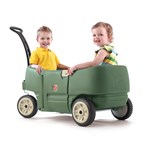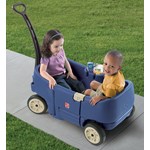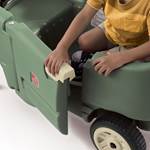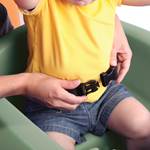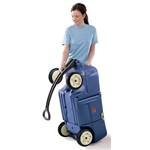 Wagon for Two Plus™
In stock
$79.99
+4.99 shipping (via FedEx) When will my item arrive?
The Wagon for Two Plus by Step2 is the perfect classic wagon for toddlers and preschoolers to ride in!
IS THIS A GIFT? DON'T SPOIL THE SURPRISE!
This item ships with an image of the product on its outer packaging.
Rated 3 out of 5
by
CaliTrish
from
We expected more from Step2
My now 18-month old son received the Wagon for 2 for Christmas. He was so excited that he was climbing in it before we could even put it together. It was easy to install, but the door has been difficult to close from the start. After only a couple easy walks to the park, the door has sagged enough that it takes some muscle to close and latch. It will likely become an indoor toy if this continues. We are also a little disappointed with the plastic wheels which don't provide a lot of traction. Rubber wheels would have been so much better. Reading the other reviews, we may have just gotten a lemon. If it wasn't for the door, I'd have given it 5 stars.
Date published: 2008-03-26
Rated 4 out of 5
by
MaMa_Bear12
from
My daughter loves this wagon!
My daughter and I both love this wagon. Im excited to purchase the extra storage add on to pull behind it for a small coolor so we can bring lunches to the park and have picnics. I like the storage under the seat and the cup holders. The color options are also wonderful, as well as the side door. The assembly was hard for me and I would like to see a canopy option for this wagon. Overall tho its a durable wagon and not too big or too small. A great first wagon choice. Oh and their customer service is excellent. I must have messed up putting on a wheel correctly and broke a piece off but the lady was so nice to me and I received a replacement in days.
Date published: 2014-08-04
Rated 5 out of 5
by
Anonymous
from
so far so good!
after reading the other reviews i might end up having to come back and correct my review, but so far i am loving this wagon. it only took about 10 mins to put together from start to finish and it's very well held together, it doesn't get to hot in the Texas sun. i wish there was a little more storage, but compared to the wagon i had growing up i can't complain. i love the seat belts and my son enjoys riding around in his wagon! great steering, and a smooth ride, the door is a little hard to open but i'd rather it be that way so my son doesn't mess with it. i love that you can add more storage by getting a trailer that hooks right on.
Date published: 2011-06-25
Rated 3 out of 5
by
Anonymous
from
Not too impressed!!
before we purchased this wagon we did alot of research and this seemed to have the best reviews so we went ahead and purchased one for our 17 month old.As soon as it was assembled we took our son for a ride.It seemed to be the perfect wagon untill I started pulling the wagon and I couldn't believe how noisey the wheels are. WOW are they loud.Also after the second use one of the seat belt clips cracked off in my hand when I was undoing it.All other reviews seemed to be great so maybe we just got a lemon. We are considering returning this product to buy a different one. All my friends have purchased this wagon and they say it's great, but mine is not so great.
Date published: 2010-05-29
Rated 3 out of 5
by
Joe t
from
No Manual
All in all, it seems useful, and the kids like it. Thats what really matters. The problem I had was that there was no assembly manual that came with it. Instead of me checking on the web first, me, as a man, decided I could figure it out. When I finished, I had 2 washers left, and they are very important washers. They keep the metal rods of the wheels, from digging into the plastic. And, once you snap the black things in, they dont come off without breaking them. So now I am trying to obtain 2 more snaps, so I can break the old one and put the washers on. Moral of story, make sure you follow instructions, and double check before you snap the black things on.
Date published: 2011-09-07
Rated 5 out of 5
by
Broacher
from
Old Step2 wagons never die...
My son will be turning 25 this summer and I remember how much we used our Step2 wagon when he was little. Shopping, school, visiting his friends. We purchased one of the very first models and loved it a lot. We had one problem, about a year in, and that was that the axles were getting bent. A call to Step2 and we quickly received stronger, thicker shell and axle replacements. After junior outgrew the 'wagon stage' my wife adopted the wagon for all-purpose garden duty which it faithfully provides decades later. I just thought you might like to hear from a very satisfied customer who remains very impressed with the performance and design of your product. Cheers!
Date published: 2019-05-26
Rated 2 out of 5
by
Anonymous
from
wheels broke after normal use
We loved this wagon at first. My son got it for christmas and it worked great...my 78 year old grandfather put it together with out a problem. We wheeled him around the neighborhood with ease and he loved it! In June we took it to the zoo my 4 year old son who weighs about 35lbs was the only one in the wagon with a beachbag of snacks. We got half way in the zoo and the front wheel broke the metal rod of the wheel bent. I have tried to get a replacement wheel and rod but its impossible. I dont know how or why this happened..there was minimal weight in the wagon. So now it is unusable and we are looking for a different wagon. Also the door is very hard to open and close..we constantly had to help our child in and out.
Date published: 2010-05-23
Rated 2 out of 5
by
Anonymous
from
Broke after 2 years
I used this wagon for 2 years to tote around my 30 lb son and sometimes the 30 lb girl I watched. Well under the weight limit. My daughter is 10 months old and just now stable enough to sit in this. So we put her in it the other day with my son and realized the main wagon next to the wheel is cracked. The entire wagon is unusable. We didn't use it constantly (although it did see quite a bit of use it wasn't daily) and they were well under the weight limit.Now we have the trailer and no wagon to hook it to. I haven't decided if I'm buying another one yet or not. If I do it definitley won't be this one!
Date published: 2011-02-24
I just purchased this wagon (I am the 2nd owner). When I went to assemble I was missing the axel rod.  Everything else was there. Can I just purchased the rod? 
Please contact our Consumer Service Specialists at 1-800-347-8372 Monday through Friday, 8AM -5PM Eastern Standard Time and we will be happy to help you.
Date published: 2019-06-10
We ordered a item and we have a piece missing and was wondering how we get that missing piece 
Please contact our Consumer Service Specialists at 1-800-347-8372 Monday through Friday, 8AM -5PM Eastern Standard Time and we will be happy to help you.
Date published: 2019-05-20
Where can I find replacement belts? 
We now offer replacement parts online. Please view the following link : https://www.step2.com/parts/ Or you may also contact our Consumer Specialist Staff at 1-800-347-8372, Monday through Friday, 8am-5PM Eastern Standard Time for assistance.
Date published: 2019-03-08
Does the step2 caboose attach to this model???
The Choo Choo Trailer™ is designed to attach to the Choo Choo Wagon™ only.
Date published: 2019-02-19
Im looking at this Wagon for a Friend of mine Will it handle Snow?
The Wagon For Two™ will travel in light snow.
Date published: 2019-01-14
Can I get a replacement wheel for this wagon? Also, what's the max weight limit on it?
I'm sure you can I needed a part for another product had no problem. We love this wagon definitely recommend it!! I actually got the trailer wagon to hook up for the three kids.
Date published: 2018-10-17
Do your wagons have a lifetime warranty?
Please open the following link to read about our Warranty Policy on Step2 products : http://step2.custhelp.com/app/answers/detail/a_id/176/kw/warranty/
Date published: 2018-09-12
Is the wagon weather resistant, so can I leave it outside in the winter?
We advise bring the Wagon for Two Plus indoors when not in use in the winter months as it has metal hardware that may be compromised.
Date published: 2018-08-31