All Around Easel for Two™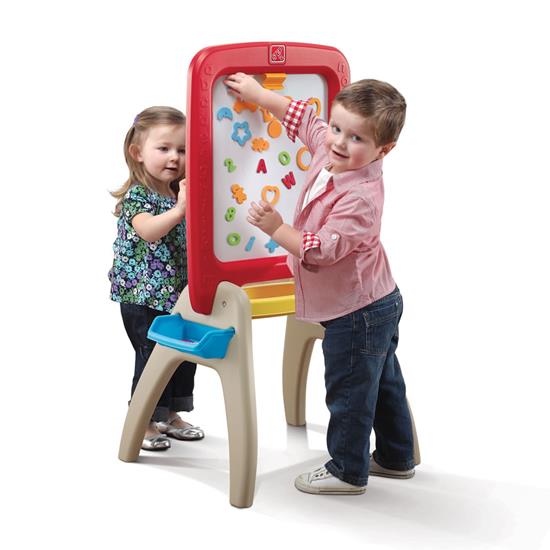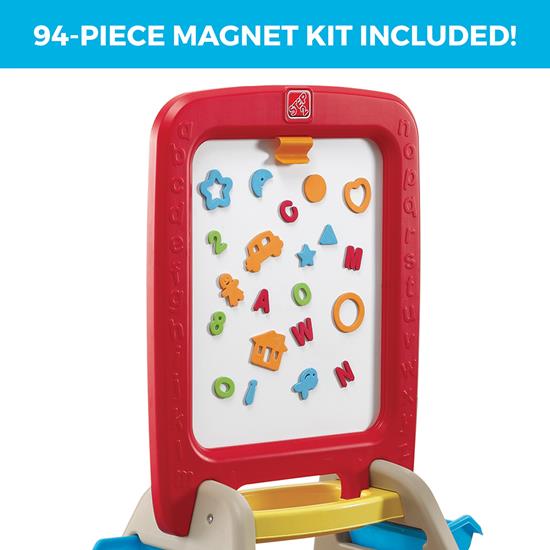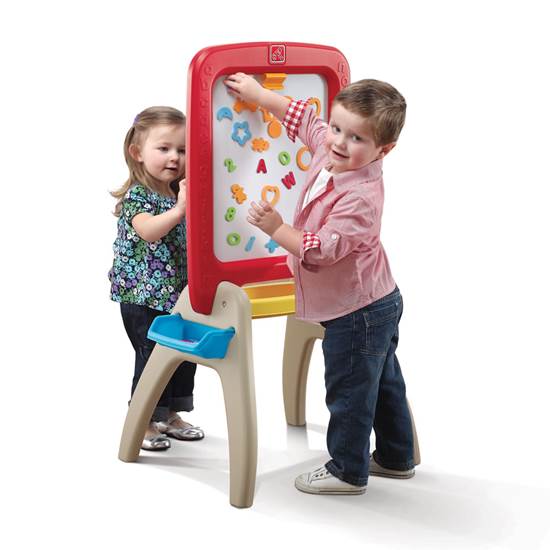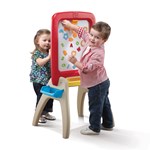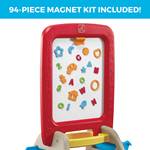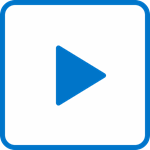 All Around Easel for Two™
In stock
$44.99
+4.99 shipping (via FedEx) When will my item arrive?
The All Around Easel For Two by Step2 allows little ones to get creative and develop writing styles.
IS THIS A GIFT? DON'T SPOIL THE SURPRISE!
This item ships with an image of the product on its outer packaging.
Rated 4 out of 5
by
shopwithmemama
from
My Kids Love This!
This is a great and entertaining easel for your kids. My kids are 6 and 4 and they use this easel all the time. We love that it has a front and back that can be used at the same time (no fighting from the kids!). It was very easy to put together and is sturdy and strong feeling. If I have to move it around, it is light enough to do so, from room to room. It did not come with chalk, as it has a chalk board, so that was the only thing I would have to say I did not like. Otherwise, it has cute magnets and fun things for the magnetic side of the board and my kids love using both sides!I received this product to review, all opinions are my own.
Date published: 2012-10-11
Rated 5 out of 5
by
Anonymous
from
fun and educational gift for a child
As a homeschool mom, I'm always on the lookout for items that can be used time and time again, in new and creative ways, and this writing, drawing and playing easel from Step 2 is perfect!Now, with the two sides both available for play, a big and little brother can both have a "piece" of Easel. very sturdy. The Easel is simple to clean, with smooth plastic and storage bins that come off to clean as well. It is lightweight and can be moved from one room to another for use easily.A nice addition to a childs room or toyroom.I am a Step2 Review Mom and I received this easel for review.
Date published: 2012-12-13
Rated 4 out of 5
by
Anonymous
from
recommend this sturdy easel
After checking numerous reviews I purchased this for my children, ages 3 & 5. It may look a bit little tike"ish" for an older child but it is very sturdy.My husband used a hammer to get it in place; it won't be going anywhere. It is not compact, but doesn't take up much space (we have a small house).My children love to draw and this saves paper.The magnets include a lot of smaller pieces that could be a choking hazard to an infant.
Date published: 2013-12-30
Rated 5 out of 5
by
Anonymous
from
A great toy for kids
I encourage creativity in my kids whenever possible. This easel is perfect for that. Whether the kids want to draw, color, practice writing, tracing or playing school they can. I love the chalk on one side and the dry erase on the other side. Plus the dry erase side has a magnetic board. My girls love to play with the magnetic foam pieces. They like to make shapes and practice copying the repeat the shape the other makes.
Date published: 2012-09-20
Rated 4 out of 5
by
Susan
from
Our granddaughter loves it
Our 18 month old granddaughter loves this chalkboard and also the magnet board side. Have not introduced her to dry erase markers yet due to her age. Very easy to assemble. A word of caution. I picked it up by the chalkboard to move the hole thing and it fell apart entirely. The pieces slip together but do not lock. Makes for easier storage I guess. Just wish the parts locked somewhat into place.
Date published: 2018-06-17
Rated 5 out of 5
by
DadBDV
from
Great for little ones
My 2 yr old son loves this Christmas present this year. I love that the wipe board cleans so easily and well, dry erase crayons work awesome on it. The clip works really well to hang paper for more permanent projects. One change I'd make is to divide the center material tray, to keep chalk separate from markers and crayons.
Date published: 2016-12-31
Rated 5 out of 5
by
Anonymous
from
Once is not enough
I am a grandmother of twins who are now three. I brought two and this was the best thing I did for Christmas. The twins play school and draw. They tell stories to each other of what they are drawing on the board. All of my four kids are expecting in 2013 and I see a lot of gifts coming from products of Step 2. Great gift.
Date published: 2012-12-31
Rated 5 out of 5
by
Anonymous
from
Finally the Perfect Art Easel
I think we finally found the perfect art easel the, it has been sitting out in our family room getting daily use for several weeks now which is huge for us. The kdis love all the magnets and the chalk board and I love how compact it is, very wellmade and easily accomadates 2 kids at a time.
Date published: 2012-09-22
Is this heavy metal, pthalate, pvc free?
Step2 products are third party tested and are compliant to the CPSIA phthalate and heavy metal requirements per ASTM F-963 Toy Safety Standards as well as EN71 - Part 2 and 3 for UK chemical requirements. Our products do not have vinyl, pvc or bpa
Date published: 2019-05-13
Is there a way to disassemble it?
Yes it is very easy. Most pieces snap into place and you can snap it out of place just as easily.
Date published: 2019-02-27
I can't get the top of the easel to "snap" to the base with wood and a hammer or anything else. Any advice?
Push both sides in at the very bottom while someone pushes the easel down. 
Date published: 2018-12-29
What kind of chalk and chalkboard eraser is recommended? Our chalkboard eraser won't erase the chalk. And we can't even get it to come off with wet rag.
Please contact our Consumer Service Specialists at step2-company@step2.net or 1-800-347-8372 Monday through Friday, 8AM -5PM Eastern Standard Time and we will be happy to help you.
Date published: 2018-10-07
How can I recieve more alphabets and shapes
Please contact our Consumer Specialist Staff at 1-800-347-8372, Monday through Friday, 8am-5PM Eastern Standard Time for assistance.
Date published: 2018-01-18
Do you sell parts separately? Our chalk board side got wet in the rain.
You can order replacement parts through our Customer Service Department. Please call toll free 1-800-347-8372 Monday - Friday, from 8-5 ET and we will be happy to assist you further with this request.
Date published: 2018-03-27
What kind of chalk can we use to write ???
Most chalk can be used as long as it is non toxic.
Date published: 2018-03-27
Does it come with chalk eraser (duster) and whiteboard eraser?
The All Around Easel For Two™ does not include erasers.
Date published: 2018-03-27